As a beginner, whether you're planning on detailing old furniture, making a few awesome t-shirts, or going all in on a huge painting project, it is imperative that you have the right airbrush kit. (Just need a compressor? Great! Check out the best airbrush compressors on the market today).
The art of airbrushing may seem like a thing that should best be kept to the pros, but it's a hobby that has been passed down in my family since the day my father first picked up an airbrush.
After years of experience under my belt, it's time to introduce my own child to the wonderful world of airbrushing, but as with anything, if we don't have the proper tools, we can't be successful.
The practice of airbrushing, like all things, takes time to perfect. It's a delicate art form that requires tons of focus and even more practice, but the sense of accomplishment that comes with mastering a new skill is more than worth it.
In honor of passing down the tradition in my own family, this list contains 4 awesome airbrush kits that all beginners should consider. Good luck and happy painting!
---
Master Airbrush MAS KIT-VC16-B22 Portable Mini Airbrush Air Compressor Kit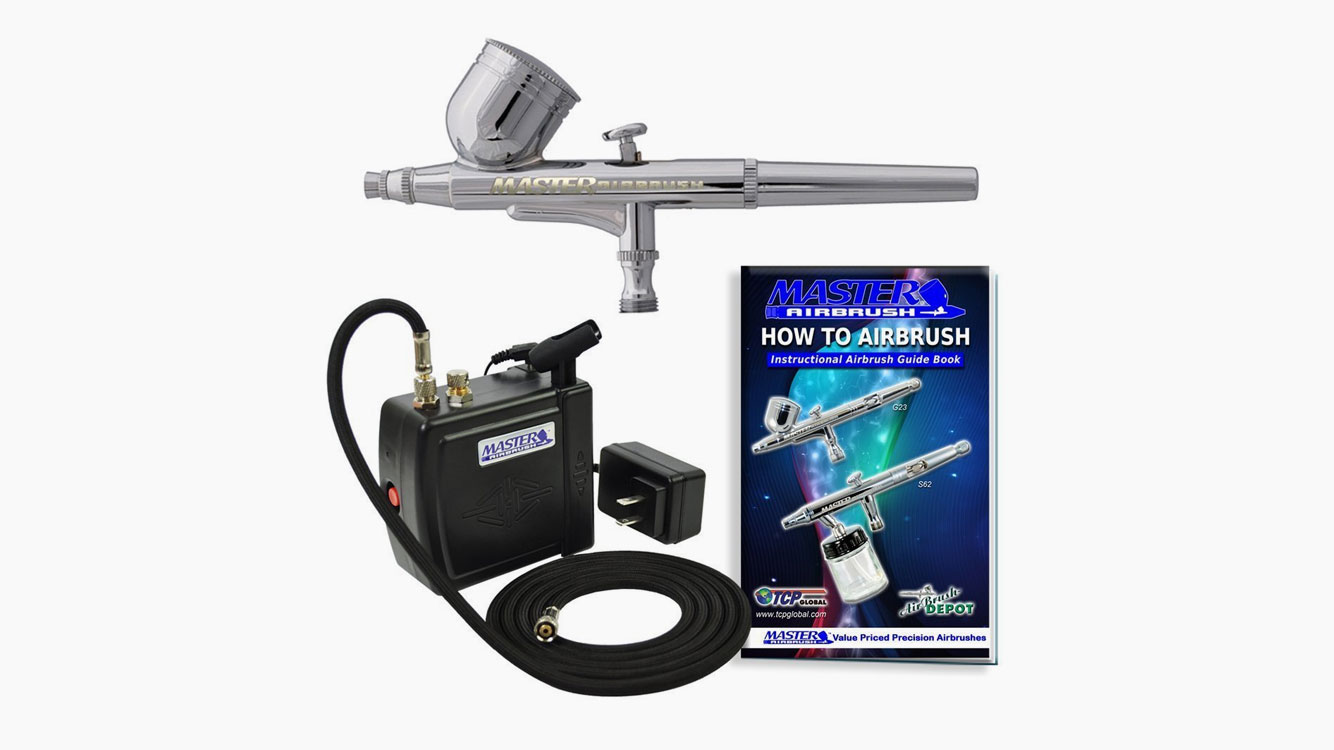 Perfectly portable, amazingly sturdy, and great for a wide range of airbrushing activities, the Master Airbrush MAS KIT-VC16-B22 Portable Mini Airbrush Air Compressor Kit is one heck of a steal.
This kit includes precision dual action gravity feed airbrush, along with a surprisingly small and quiet air compressor, a 6-foot long air hose, and one handy "How To Airbrush" instruction manual.
The versatile nozzle size along with the standard gravity fluid cup make this airbrush the perfect tool for projects ranging from cake decorating to makeup application.
While the airbrush has a tendency to clog from time to time and the compressor can get a bit loud, it's exceedingly reasonable price and relative reliability make this kit way too good to pass up.
Customer Reviews
Perfect for small or hobby projects that need something quick and easy
Excellent machinery, components and construction, especially for price
Ideal for beginners, but still performs well for seasoned airbrush artists
Very easy to understand and start using with good technique
---
IWATA HP-CS Eclipse Airbrush Kit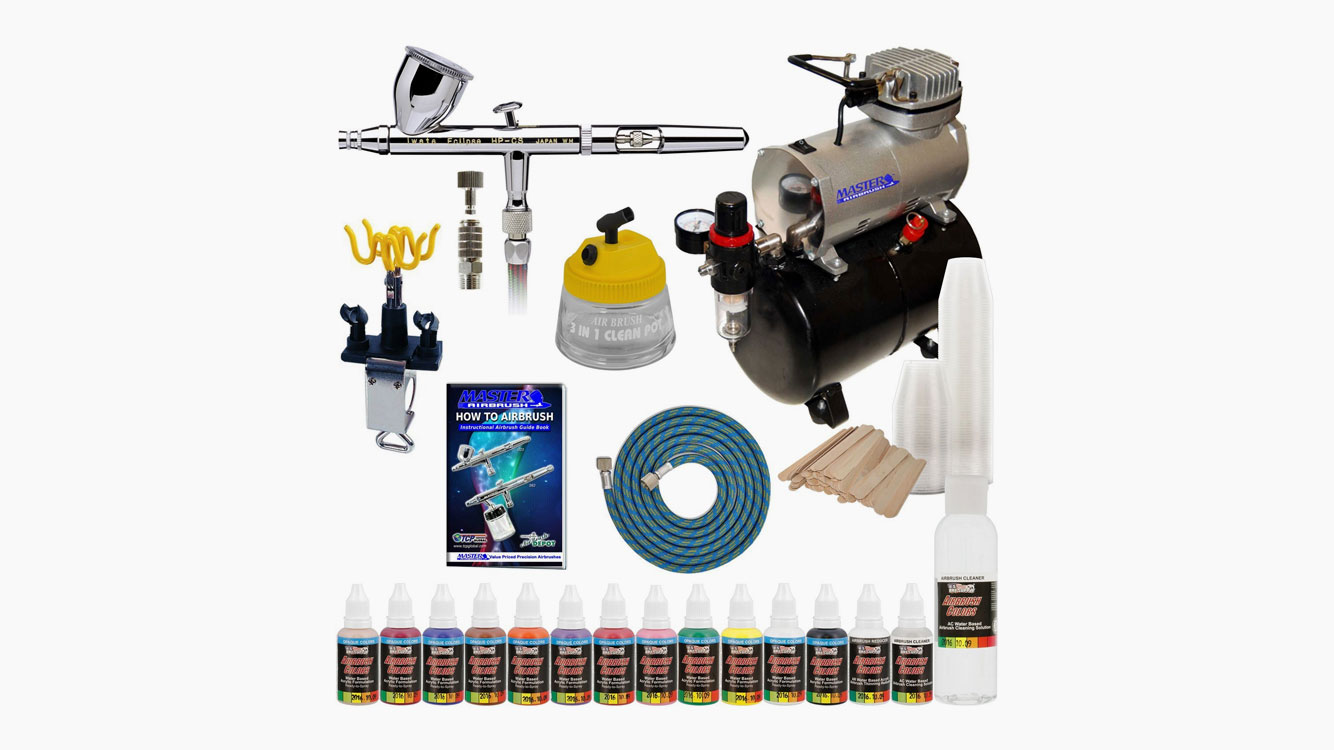 A bit more complex and full of airbrush necessary goodies, the IWATA HP-CS Eclipse Airbrush Kit has just about everything you could ever possibly want or need.
With the inclusion of an airbrush cleaning tank, a small supply of multi-colored paints, and an airbrush holder alongside the standard airbrush, compressor, and hose, this kit has more bang for your buck than almost any airbrush kit on the market.
The dual action gravity feed airbrush is perfectly sturdy without being too heavy to manage, the compressor, while a bit on the larger size, works like a dream, and the 6-foot air hose definitely goes the distance.
The IWATA airbrush does require a bit more upkeep, but the kit includes everything you need to keep the tool in tip-top shape.
Customer Reviews
Great starter package for those looking to get feet wet
Includes everything you need to get started
Recommended for beginners with any level of artistic ambition or ability
Great value for what you get
---
Paasche H-100D Single Action Airbrush & Compressor Package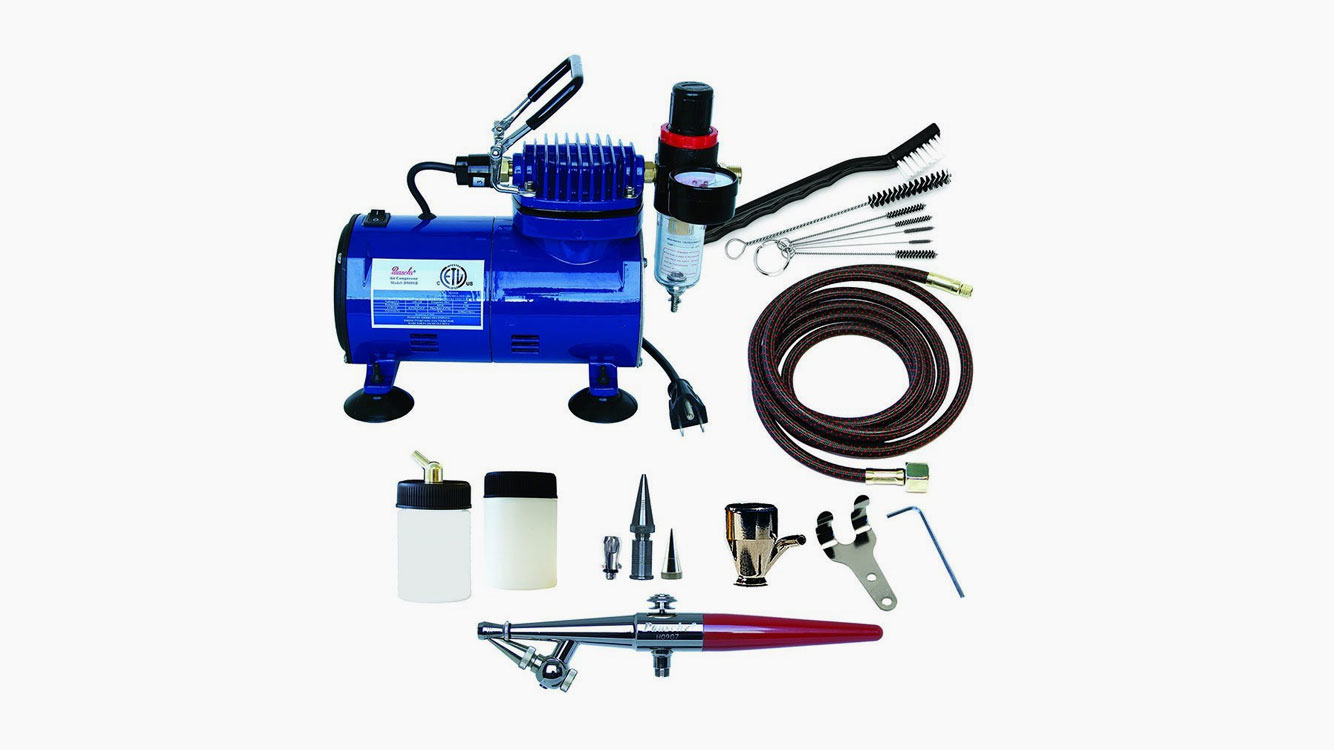 The Paasche H-100D Single Action Airbrush & Compressor Package may be a relatively small kit, but what it lacks in inclusion, it more than makes up for it in quality.
Containing a sturdy single action airbrush, a mighty compressor that contains an auto-shutoff function, and seven cleaning brushes, this kit is the perfect size for anyone just starting out.
The single action brush is easy to wield and perfect for simple projects and the compressor's auto-shutoff function prevents overheating perfectly.
The size of this setup is perfect for indoor use and is the perfect size for traveling projects.
While this kit may need to be upgraded to something a bit more complex in the future, you couldn't ask for a better starter.
Customer Reviews
Quality investment in good materials and airbrush components
For the price, won't find a much better all-inclusive kit
Wonderful quality, performs well and easy to use
Perfect for anything you need to airbrush
Compressor is small, quiet and easy to move around if needed
---
Master Airbrush Multi-Purpose Gravity Feed Dual-Action Airbrush Kit
If you're looking for a heavy-duty airbrush with a seriously advanced compressor to match, the Master Airbrush Multi-Purpose Gravity Feed Dual-Action Airbrush Kit is the perfect kit for you.
The lightweight airbrush, fit with a 1/3 oz. gravity fluid cup, is one versatile device, perfectly capable of taking on any type of project you throw at it, that, along with the near-silent compressor make the process of airbrushing a breeze.
This kit does require a bit of upkeep and the purchase of a few accessories (like cleaning brushes and products), but the subtle sounds of the compressor and the sheer quality of the airbrush itself more than make up for it.
Customer Reviews
Great compressor and kit for such a low price
Performance quality is much higher than price suggests
Fantastic value, works well and consistently airbrushes smoothly
Ideal for starters looking to get more experience and better technique
---
What to Look for in Airbrush Kits for Beginners
Perfect sized needle and nozzle: While it may take a while to determine what exact size nozzle and needle combination is perfect for you, it is important to begin with a pair that is known to be a good fit for the types of projects you are working on. Longer nozzles are typically fantastic for narrower sprays while shorter ones are great for covering a wide range of space.
Action: Airbrushes typically come in two different action types (single action and dual action), these actions determine the airflow in and out of the airbrush, as well as how much paint is released. Dual action airbrushes require simple physical manipulations to control (pull back for paint and press down for air) while single action airbrushes only require one (press down for air). If you only need to spray the same amount of paint all of the time, single action may be best for you, but if you need the flexibility to adjust whenever you need to, dual action is the way to go.
Compressor: In order for airbrushes to function properly, they need a reliable air source, and while CO2 tanks and air propellant tanks are available options, choosing a kit that comes with a handy compressor is probably your best bet for long-term use. Choose a kit with a compressor that is easily portable as well as one that contains a regulator, which helps it regulate the airflow.
Feed type: The "feed type" determines how the paint is fed into the airbrush, the type of feed you need (gravity or siphon) depends, largely on the project you're working on as well as your preferences. Gravity feeds, for example, use lower amounts of air pressure and only has the ability to use a small amount of paint which makes them great for dealing with fine lines, on the other side of the spectrum, siphon feeds hold large amounts of paint at a time which allows you to spray a lot more paint at once.