Recently, I found that sharpening pencils time and time again was frustrating. Not only that, but the lead would always break and I never got the point that I wanted on a regular, traditional pencil.
Then I considered the fact that they make mechanical pencils – no sharpening necessary! Why didn't I think to use these before? They could give me the tip I wanted, without the trips to the trash after sharpening a thousand times.
I, of course, had to look up some of the best ones on the market, since I didn't want to skimp when it came to the drawing I was doing. That's how these things go: I find the best pyrography kit, for example, then choose the one that seems to fit best. I trust the "crowd" on some things, I guess. I wanted to make sure that I had the best, and the right ones for all of the drawings that I did.
So, I came up with this list of the five best mechanical pencils out there. You won't be disappointed, I wasn't. Who would have thought that these pencils were here the whole time, and I didn't think to use them.
What to Look for in Mechanical Pencils for Drawing
Comfort handle with grip: If you're like me, then you like to draw a lot, which means you need to be able to do so comfortably. You do not want to worry about blisters, or over use of your hand. This can be done with the right grip on the pencil that provides comfort.
Different width lead: The lead that you use inside the pencil should be different widths, for different sized lines that you can make on the paper. You want to ensure that you get the perfect picture, each and every time.
Durable construction: The pen should not easily crack or break down when you use it a lot. You want something that is made from a durable material, but is also a professional grade writing and drawing utensil that has not let professional artists down.
Refills easily available: Refills are essential when you draw a lot, and you're using a mechanical pencil. You want to make sure that these refills can easily be obtained, when you need them and that they're not too expensive, since this can add up with time.
Staedtler Mars Drafting Mechanical Pencils

Through the use of the Staedtler Mars Drafting Mechanical Pencils, I have found that they provide that nice, solid, sturdy grip that I was not able to get from many of the other pencils out there – even the traditional ones I was using!
They are color coded, depending on the width of lead you want to use for the drawings that you're working on, and you can ensure that they stand strong when you push down a bit on them making them ideal for all types of drawings.
The aluminum outer shell provides a durable layer when it comes to using the pencil a lot, and it will never let you down because it is prone to cracks. With a non-slip grip, you can also enjoy the ability to have a sweaty hand but not a ruined picture.
Customer Feedback
Made of extremely durable materials
Lead tank is generous, holds 3 tubes of lead
Great rod feature, easy to use
Lead feels great when used
Comfortable after many hours of drawing
Check Amazon Deals
---
Sakura 50201 6-Piece Pigma Manga Comic Pro Drawing Kit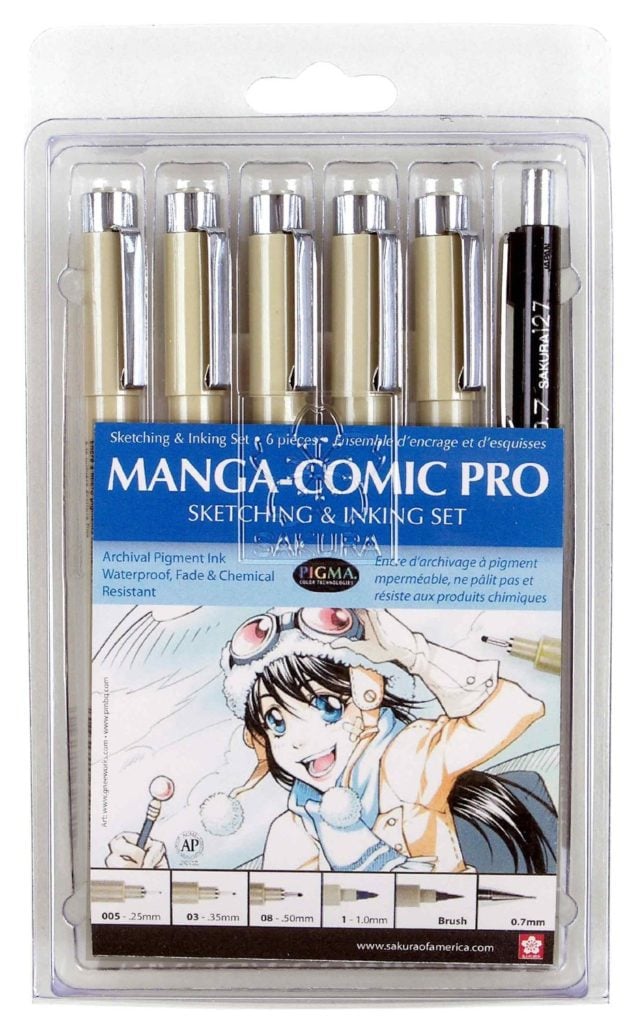 Who ever thought that finding the right drawing utensils was hard? With the use of the Sakura 50201 6-Piece Pigma Manga Comic Pro Drawing Kit, you're able to have just about anything that you need within these six pieces.
The set comes with the ink pens that are needed for completing your drawings, but also one of the most durable, high quality mechanical pencil on the market.
The fixed sleeve on the mechanical pencil provides additional comfort when it is needed, for long nights of drafting fun. Not to mention the easy to replace refills packs, and the ability to have a non-slip grip each and every time you go to draw.
Though the pens are disposable, the pencil provides you with a way to keep on drawing, even after the lead has gone and you need a refill. With such a high quality set, your drawing options are endless.
Customer Feedback
Ideal for drawing small, detailed lines
Quality of pens is above and beyond
Durable, sleek design and build
Hands-down my favorite artistic pen/pencil set
Often used in art/college classes
Check Amazon Deals
---
Barunson 2.0 mm Lead Holder Pen Mechanical Pencil
If you're looking to draft up some new drawings, then you do not want to be caught without the Barunson 2.0 mm Lead Holder Pen Mechanical Pencil. Not only does it provide comfort for long lasting drawing, but it is extremely durable.
The set comes with color coded leads and pens, so you can choose which width would work the best for the drawing that you're working on.
In addition, the set also comes with replaceable lead packages to choose from.
Enjoy all that comes from the ability to have the pens in the right area, while also ensuring that you're making the best marks with lead that is high quality and not going to smudge when you run your hand across the paper.
The sharpener in the top of the pencil ensures that you have the finest tips on the lead that you need when the time comes to sharpen them.
Customer Feedback
Great build and quality, very lightweight
Feels good in hand, doesn't feel too burdensome
Smooth functioning, no frills but no problems either
Lasts a long time, feels solid even after a lot of use
Check Amazon Deals
Pentel GraphGear 500 Automatic Drafting Pencil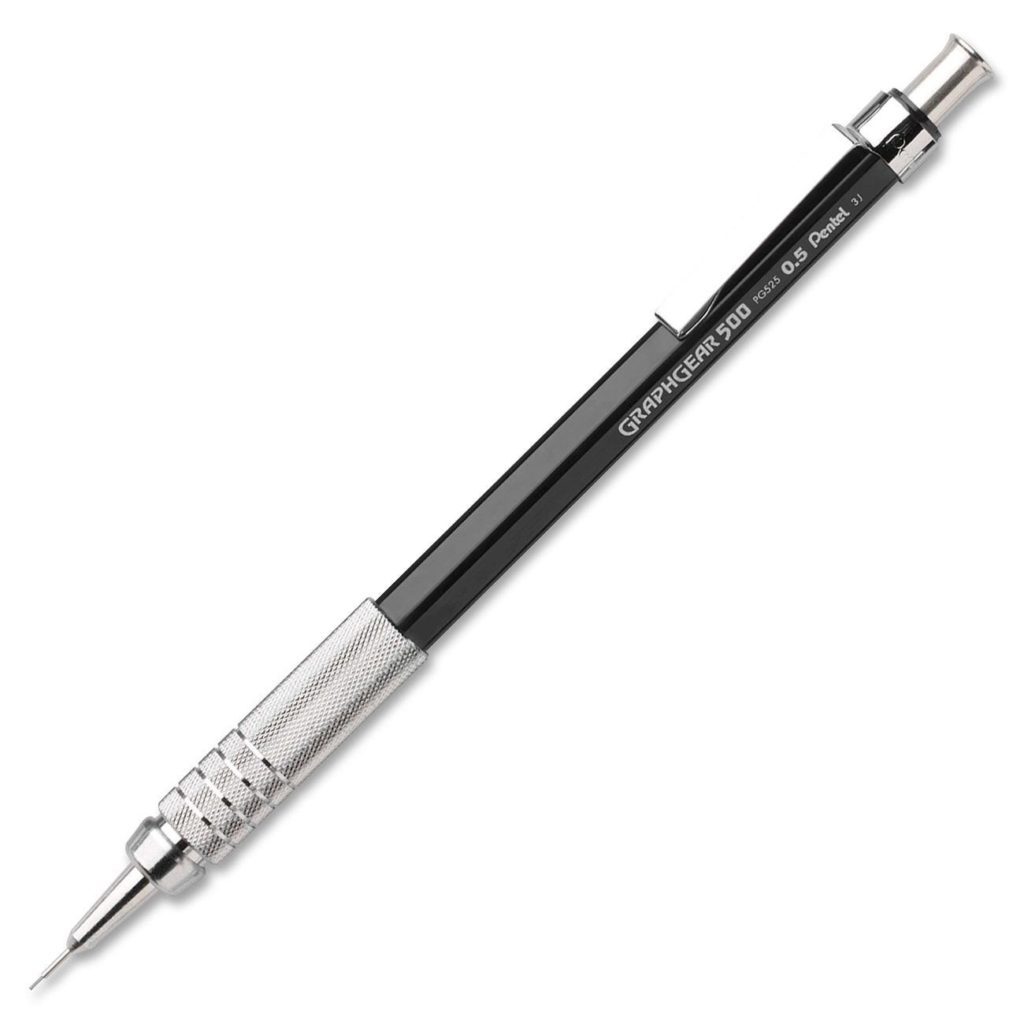 Many people have searched for the most ideal pencil, and the Pentel GraphGear 500 Automatic Drafting Pencil is where you're going to be able to find exactly what it is that you need, from a pencil that can do the work.
With different types of lead widths, you can choose which works the best for the pictures that you're drafting up, or go with a mix of many different ones so that you can get more depth into the drawings.
The slim barrel provides you with a sleek, smooth feeling while drawing that is comfortable and durable enough to hold up for any types of drawing.
Not only that, but the mesh sleeve fits nicely over the outside of the pencil.
This little gem is one that you do not want to miss out on because it provides the user with fine lines, comfort and the ability to draw high quality prints.
Customer Feedback
Extremely well-engineered crafting and design
Good weight balance, feels natural to use
Writes and draws very smoothly
Still looks and feels new after nearly a year of use
Feels solid in hand but not too heavy
Check Amazon Deals
---
Morning Glory Flat Lead 1.8 mm Holder Pen Mechanical Pencil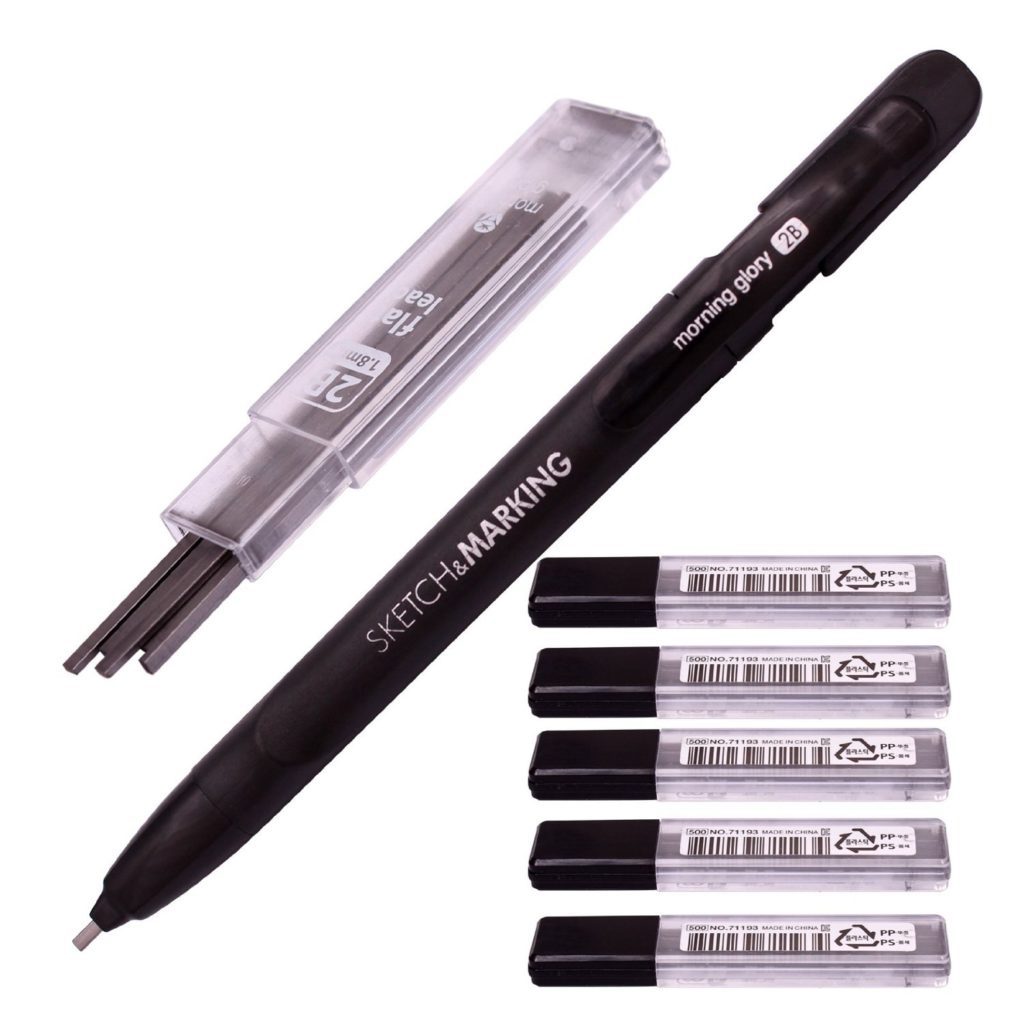 Make sure to enjoy the use of the Morning Glory Flat Lead 1.8 mm Holder Pen Mechanical Pencil when you find out just how smoothly it is able to glide over the paper, and provide the precise drawing lines that you want and need.
The lead comes in many different widths, so you're able to have a mixture that the one pencil case is able to hold when you switch the lead out for many other types of drawing or writing tasks that you have.
With a solid, sturdy construction and the ability to keep up with the demands that you have for drawing, it is an ideal way to go when putting together many of the pictures that you want to make and draft up.
One of the most professional grade pens and lead on the market, even if you're not a professional artist or other type of drawing professional.
Customer Feedback
Offers great flat surface for shading
Soft feel, writes very finely
Comfortable to use when doing detailed work
Check Amazon Deals
Do you recommend a mechanical drawing pencil that we missed?
Let us know! You can send us a message here, or check out some of our other recent arts and crafts reviews:
You can also check out this handy guide to mechanical pencils from Cult Pens.