Before stepping out into the great outdoors, a quality pair of hiking boots is critical. Low-quality boots will cause pain, lack of support, achy feet and can even make you a little wobbly due to the lack of stability.
The right pair of hiking boots not only keeps your feet comfortable but it provides the support you desperately need. As you walk over uneven and rough terrain, your feet absorb a significant amount of shock. This can cause swelling and pain in your legs over time.
And not only do your feet hurt, but other parts of your body such as your hips and knees can experience discomfort. Much of this pain can be prevented by finding proper hiking boots.
However, as you begin your hunt for the right hiking boot made in the USA, you need to narrow down your search. Hiking boots vary greatly and you need to know what you are looking for and need before you begin.
Quick Comparisons of the 5 Best Men's Hiking Boots
IMAGE
MODEL
FEATURES

Danner Mountain Light II GTX

100% Leather

Vibram Kletterlift sole

Shaft measures approximately 5.5" from arch

View Product

Shaft measures approximately 6" from arch

Removable and metatomical dual-density footbed

Integrated PU heel with full-length stability shank

View Product

Rubber sole

Wolverine Dura shocks vibram rubber lug outsole

Waterproof full-grain leather upper

View Product

Shaft measures approximately 4" from arch

Durable hiking boot featuring D-ring lacing and debossed logos on tongue and side

Removable polyurethane footbed

View Product

Shaft measures approximately 4.75" from arch

Platform measures approximately 0.75 inches

Tramline boot from Danner®.

View Product
Quick Comparisons of the 4 Best Women's Hiking Boots
IMAGE
MODEL
FEATURES

Shaft measures approximately 4.5" from arch

Heel measures approximately 1"

Platform measures approximately 0.5 inches

View Product

Shaft measures approximately 5" from arch

Heel measures approximately 1.5"

Platform measures approximately 0.75"

View Product

Heel measures approximately 1.25"

Synthetic sole

Lace entry

View Product

Shaft measures approximately 4.5" from arch

Rubber sole

100% Textile/Synthetic

View Product
First, consider what the main purpose of your hiking boots will be. Will you primarily wear these boots while outdoors or do you expect to wear them to work or for everyday wear? The best hiking boots are designed for specific purposes.
Boots with thicker outsoles and tighter, more narrow fits are designed for longer hikes and more strenuous terrain. While boots with plenty of wiggle room and thinner outsoles are ideal for more everyday wear, as well as shorter, less demanding hikes.
Additionally, you should consider if waterproof boots are a necessity. You never know what the weather will be and you may encounter rivers, streams, rainstorms, etc. Having a pair of waterproof boots may be a necessity and choosing boots with this feature is a must.
However, some leather hiking boots have no waterproof capabilities and can make a hiking trip miserable quickly. If you don't plan on going on rugged, long hikes, waterproof features may not be a priority. However, you may want to decide before investing too much in a pair of boots, only to find out at the wrong time.
Furthermore, how much money are you willing to spend on a pair of hiking boots? Quality hiking boots can cost up to $400 but you can also find boots for as little as $100.
Higher-quality boots will provide the durability, comfort, and support you need for your hikes, while the less expensive boots may provide a more basic feature set. Consider how much money you are willing to spend on a hiking boot to narrow down your search.
What to Look for in the Best USA Made Hiking Boots
Comfortable and supportive insoles: Insoles provide both comfort and support for your feet. There are many different types of insoles available on the market, however, finding the most beneficial insole for your feet's needs is a challenge. Comfort insoles, for example, are a popular choice for hikers. This type of insole is thicker than many other products, which provides you with the comfort you need for a longer period of time. Comfort insoles can be made from foam, gel or other materials and are made in a variety of lengths. Support insoles are another option worth considering, particularly if your feet need additional support as you hike. If you have pain and discomfort in your feet, arch or other parts of your body, such as your hips or knees, a support insole may provide some relief. However, be aware these insoles often provide little comfort, if comfort is a top priority.
Proper lining: Each company will line their hiking boots with different materials. These materials will affect the durability and the breathability of the shoe. You will find several hiking boots are lined with a Gore-TexÒ or Dri-Lex lining. This lining is not only waterproof but it is also breathable, so moisture from your foot can easily escape. This helps keep your feet dry, thwarts blisters and prevents your feet from overheating. Another popular option in hiking boots is a leather lining. This lining is comfortable and helps with the durability of the shoe. Additionally, the leather lining easily molds to your foot and makes breaking in the shoe a much easier and faster process. However, boots with this type of lining are often not waterproof.
Outsoles: Most hiking boots feature a rubber-compound outsole. This helps the boot absorb the shocks from hitting your foot on the ground and it increases the boot's durability. When looking at an outsole, you want to look at the lugs on the bottom of the outsole. The lugs provide the traction you need when walking, which is particularly important for the type of terrain you plan to explore. If you have thick lugs, you can climb the mountains more easily. Boots with lugs that are spaced out provide strong traction on uneven and wet surfaces, and lugs that are close together can handle small, loose gravel more easily.
High-quality upper: The upper is the top part of the shoe that holds everything in place. Each shoe will vary in the type of material the upper is made from. Many hiking boots are made from different types of leather or from synthetics and mesh. The type of material it is made from will determine how durable the shoe is and it will also contribute to the boot's ability to keep water out.
5 Best American Made Hiking Boots for Men
Hiking boots designed for men can differ a lot from how it's built to support a wider and larger foot size. For that reason, they tend to be built with different midsoles and heel support among others which often impacts the overall weight and comfort of the footwear.
Here are the best American hiking boots for men you should have!
1. Danner Mountain Light II GTX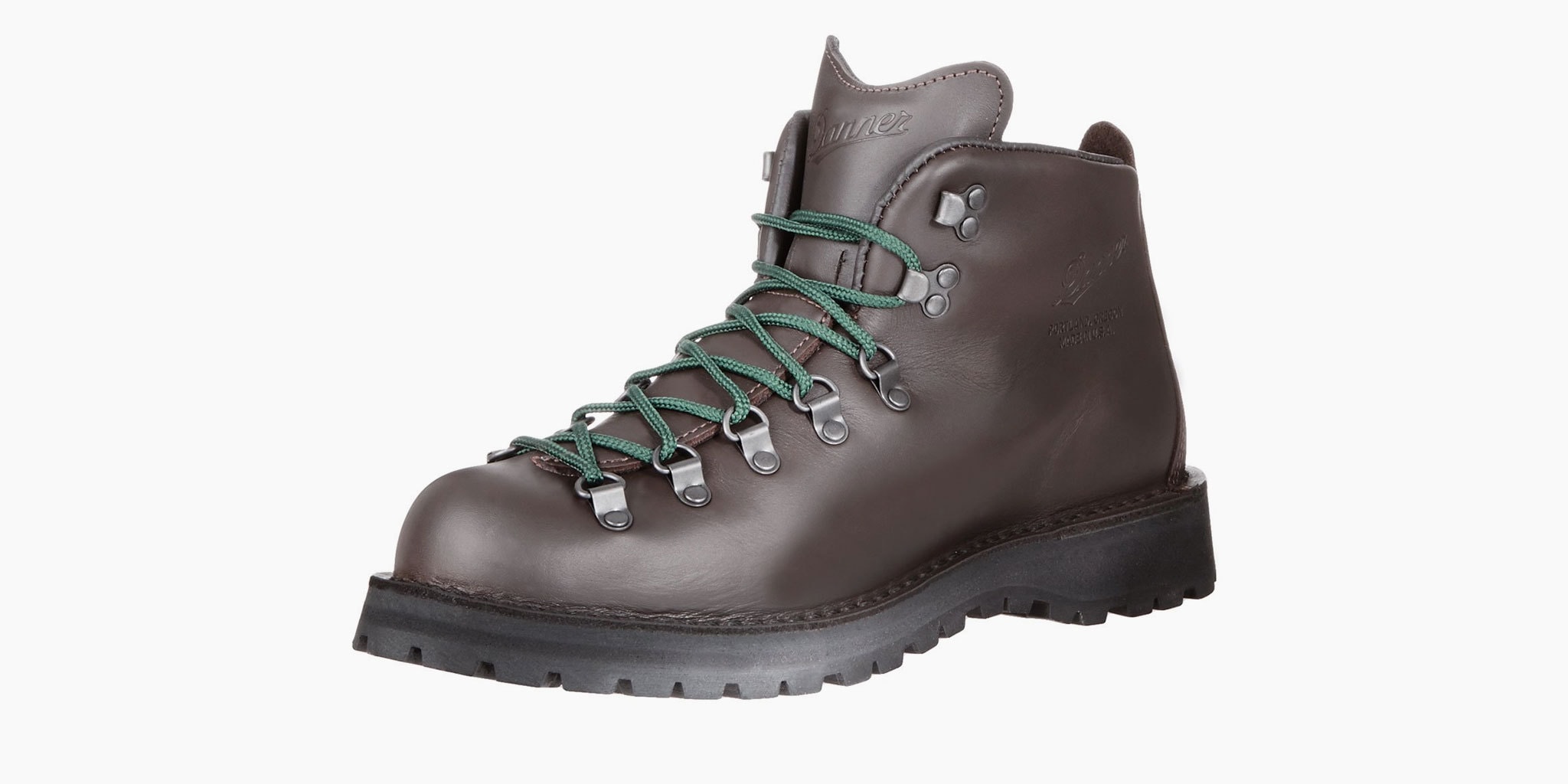 Danner has established a strong reputation for durable USA-made hiking boots since 1932 and the Mountain Light II for men are no exception. These boots are made with a one-piece leather design, which keeps water, dirt, and rocks out of the shoe.
Not only does this design increase these boot's durability, but it also ensures the boots stay comfortable, even during the most mountainous and rigorous climbs.
These Danner boots feature a Gore-TexÒ liner, which prevents water from entering the boot. The Gore-TexÒ liner is waterproof and breathable, meaning it blocks water from entering but also allows sweat and moisture to escape.
As you hike, your heel and the arch of your foot must be protected. A molded polyurethane insole not only supports your foot's arch but also supports your heel. Furthermore, as you step down on these boots, the Vibram Kletterlift outsole featured on this boot helps the heel absorb shock and provides a sturdy support base even though your terrain may be unsteady.
In addition, the outsole is made from a rubber compound that gives you the traction and strength you need in a high-quality boot.
The Danner Mountain Light II is designed for men with a more narrow foot. These boots feature a full lace-up design that makes the boot fit more tightly around your foot.
The tighter fit is ideal when hiking on more rocky and unsteady terrain. However, due to the snug fit, many customers suggest ordering up a size and heavily considering ordering a wider fit for more comfort.
Check The Price
2. Keen Liberty Ridge
These ankle-high hiking boots from Keen provide the ultimate protection and support for your feet. These boots were built in Portland Oregon, using materials from around the world. They are versatile, allowing you to use them on a variety of terrain from pavement to sand and rocky trails.
Regardless of the landscape, you hike, these Keen hiking boots provide plenty of comforts. They feature a dual-density footbed.  This insole is metatomical, which means it is anatomically designed to provide you with the ultimate support.
This Keen footbed is designed to place special emphasis on the big toe and is built around the overall shape of the foot.  Additionally, the footbed can be removed but this shoe is not compatible with aftermarket insoles or orthotics.
These Keen Liberty Ridge hiking boots feature a full-length boot shank. The boot shank is the supportive structure that is between the insole and the outsole of the shoe. The full-length shank provides stability during climbs and provides extra support for the arch of the foot.
These boots are waterproof, which keeps your feet dry and helps prevent blisters. They feature a breathable membrane, which blocks water from entering your boot and allows moisture to leave.
This Keen hiking boot features a rubber sole and is made from leather. These boots, along with many other waterproof leather boots, will require additional care to ensure they remain durable and have a long lifespan.
Keen recommends using a leather cleaner and conditioner regularly on these hiking boots. Furthermore, when finding the right sizing for these boots, Keen and many customers recommend purchasing half a size larger than usual as these boots tend to run much smaller than other products.
Check The Price
3. Wolverine Tacoma – Best Boots to Work In
Wolverine has produced American-made shoes for more than 130 years. The Wolverine Tacoma hiking boots for men provide many features to ensure your feet stay dry, comfortable and safe.
These hiking boots are made from a full-grain leather upper. This increases the durability and quality of these boots. Furthermore, they are waterproof, so even while hiking during torrential rainstorms, your feet will remain dry.
You will find a Dri-lex lining on these boots, which is designed to wick away moisture from your feet. This lining keeps your feet comfortable and prevents unwanted moisture from creating painful blisters. The Wolverine Tacoma boots are also insulated, which help keep your feet warm, even when hiking in much cooler climates.
One advantage of these Wolverine hiking boots is its durashock cushions. This durashock technology helps to absorb the shock that is created each time you step on the ground and keeps your feet comfortable as you walk, regardless of hiking long or short distances. In addition, there are compressions pads in the heel which helps ease the pain in your body from strenuous hikes and long walks.
The insoles on these hiking boots are made from a dual-density polymer and are designed to absorb four times the shock of rubber. The insoles are designed to provide the protection and comfort your feet desperately need, particularly on longer hikes. You can remove the insoles if needed.
To provide the ultimate protection for your feet, the Wolverine Tacoma hiking boots do feature a steel-toe design. This helps protect your toe from rocks, stumps and other objects you stumble upon while hiking.
However, some customers do report these boots being heavy and can become difficult to wear after extensive use. Although, if you wish to wear these boots to work in, they are made from special materials that protect against electrical currents. This is simply another feature that makes these hiking boots more versatile than similar products.
Check The Price
4. Danner Mountain Pass – Best for Shorter Hikes
The Danner Mountain Pass hiking boots for men are designed for smaller hikes and walking primarily on pavement. These boots feature a full-grain leather upper. The leather used on these hiking boots is extremely durable, which creates a long lifespan for the shoes.
Danner claims they place the leather through nine separate tests to ensure the leather is of the highest quality and can hold up, even after extensive use.
In addition to the leather design, these Danner boots feature Gore-TexÒ liners. These liners are waterproof and prevent moisture from entering into your boot. However, they are also breathable so any moisture or sweat created from your feet can escape, ensuring that your feet stay dry.
While these boots may not be designed for long, rigorous hikes, they still provide plenty of comforts. An ortholite insole is featured on these American-built hiking boots, which provides three layers of varying density.
These layers combine to create the comfort and support your feet desperately needs. This footbed is also created from an open-cell polyurethane, which allows for better air flow around your foot and keeps your foot much cooler.
Hot and sweaty feet can often be a problem with hiking boots and these polyurethane insoles prevent it. Furthermore, the collar on these hiking boots is lined with extra padding to provide more cushioning around your ankles.
These Danner Mountain Pass hiking boots are extremely lightweight. Each pair weighs approximately 46 ounces, resulting in less foot fatigue after long use. The Vibram Kletterlift thin outsole that is featured on these boots aids in the lightweight design.
The soles on these hiking boots are extremely thin when compared to similar hiking boots, particularly other Danner boots. Because of the thinner soles, they are much better equipped for lighter trails and smoother terrain than similar products.
The Danner Mountain Pass hiking boots are available in multiple colors and feature a lace-to-toe design. These shoes are designed to fit true to size.
Check The Price
5. Danner Tramline – Best Lower Profile Option
If you are looking for an American-built boot with a more traditional appearance, the Danner Tramline boots are worth your consideration. These Chukka-style boots are made from Horween leather, which is a unique leather that provides a different look for each hide. This means that each pair may have a slight difference in appearance.
The inside of these boots is lined with leather, which creates a mold for your feet and enhances its comfort and stability. Additionally, the collar in these Danner boots is lined with leather and feature extra padding, which provides additional comfort for your ankle. Unfortunately, these boots are not waterproof.
The sole on these boots are thinner than other hiking boots, however, it can still handle climbing and mountaineering over most terrains. The tread on the bottom of the boots is close enough that it won't pick up gravel and other small items on your hikes.
Luckily, due to the materials and construction of these boots, you can easily break them in. But, you still need to allow plenty of time for these boots to be broken in properly.
These boots weigh approximately 41 ounces per pair. When finding the right size, it is recommended you size down half a size. These hiking boots have a larger, more comfortable fit, however, the end near the toe is more narrow. Customers report that if you have wide feet you want to avoid sizing down due to the narrow toes.
Check The Price
4 Best American Made Hiking Boots for Women
Here are the best American hiking boots for women you should own!
1. Danner Mountain Pass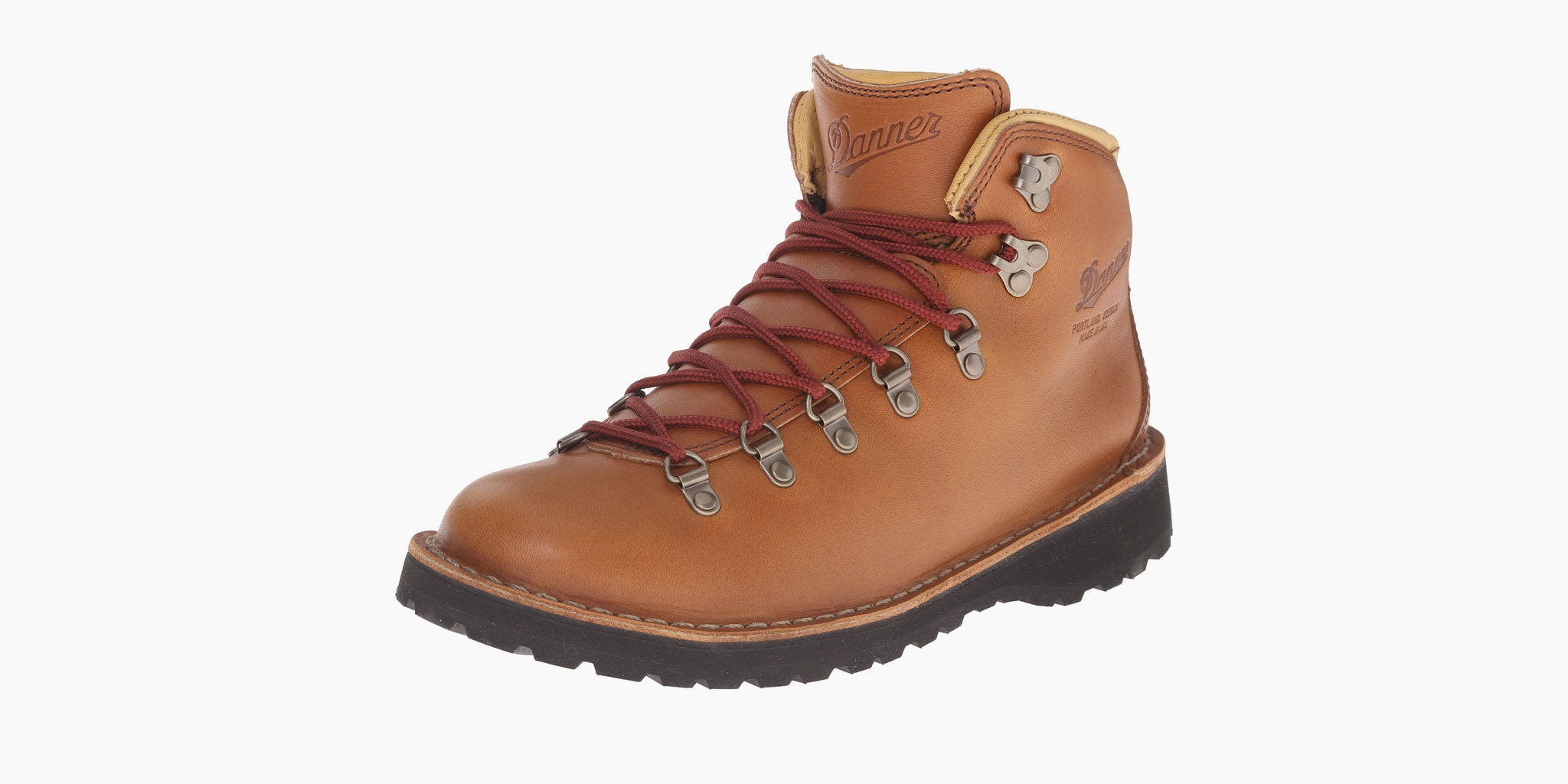 Just like the men's version of these American-built hiking boots, these shoes are designed for smaller hikes and less rigorous terrain. The Danner Mountain Pass hiking boots for women are made from Horween leather, which provides the ultimate durability and a long lifespan for the boots.
This type of leather is naturally treated but varies from hide to hide. This means that there may be some variation in leather between different pairs of boots.
Comfort is of the utmost concern with these Danner hiking boots. They weigh approximately 43 ounces per pair, making them light enough that even after long hikes, your feet will feel less tired and fatigued than if you were wearing another pair of hiking boots.
These boots feature an ortholite footbed, which provides comfort to your entire foot. It also helps with the arch of your foot and provides support for where you need it the most. This footbed is removable and is made from open-cell polyurethane. With this type of technology in your insole, you will enjoy better airflow and it prevents hot, moist air from being trapped around your feet.
Furthermore, for those times when your feet do become hot and sweaty, the Danner Mountain Pass boots for women feature a Dri-Lex liner. This liner is breathable, allowing moisture and sweat to leave your foot and preventing excess moisture from getting in. The Dri-Lex properties also prevent disgusting odors to emit from your shoe.
The thin outsole on these hiking boots contributes to its lightweight design. These hiking boots feature the Vibram Kletterlift thin outsole, which provides plenty of tread and support for your feet, but without the bulk, you will find from similar hiking boots.
In addition, the shank, midsole, and lasting board are one single piece in these hiking boots, which also helps reduce the weight and ensures you have the support you need when walking.
Check The Price
2. Keen Durand Mid WP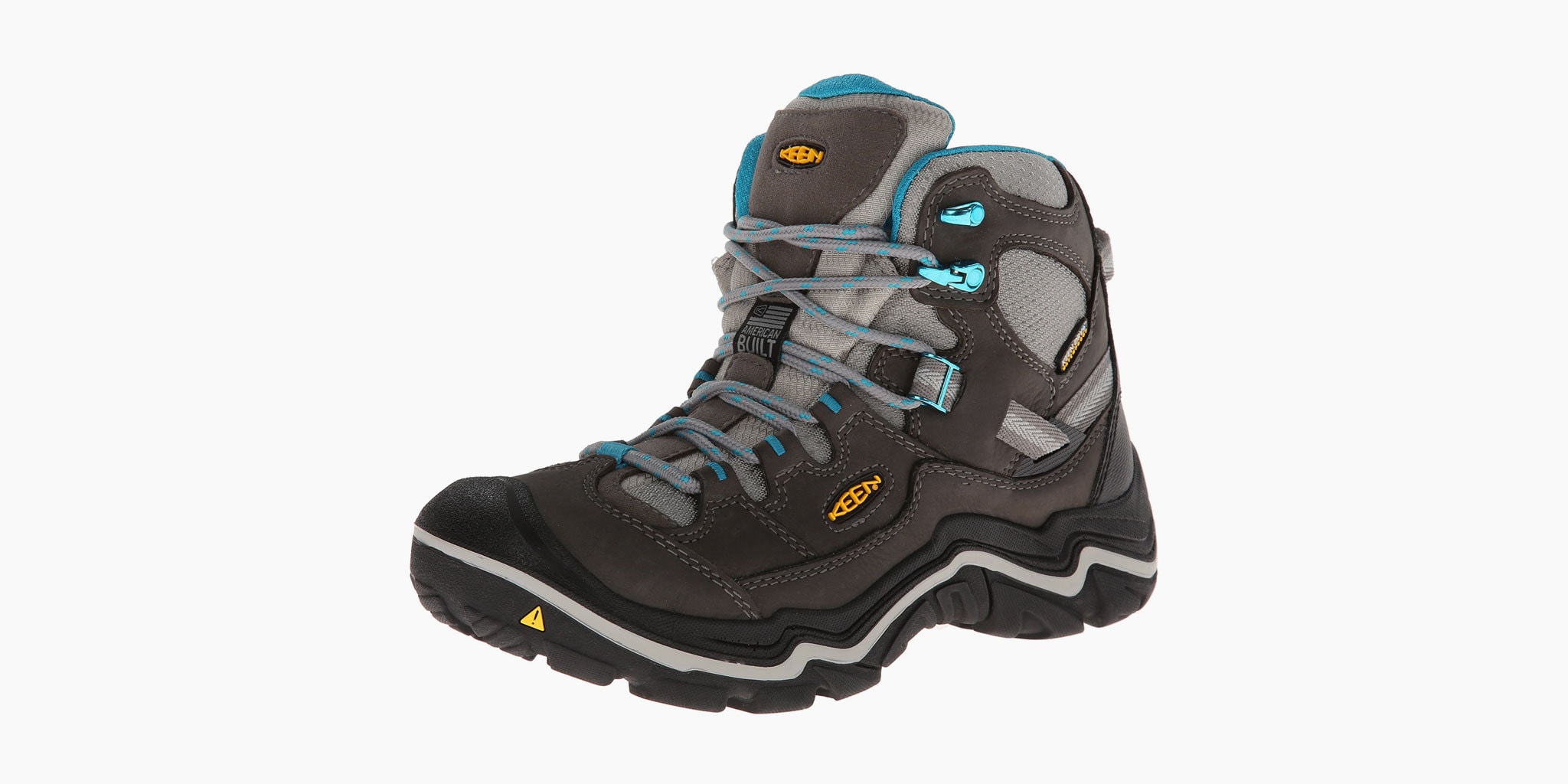 No matter what type of terrain you hope to explore, the Keen Durand Mid WP has the features and the durability to keep your feet dry, protected and supported. These boots feature a mid-rise design, protecting your entire foot and ankle.
The high design of these boots is ideal to ensure your ankle stays supported throughout your hikes. You can tighten these boots around the ankle and the extra padding not only provides comfort but stability and support in your walking as well.
These boots provide a comfortable hiking experience. The PU midsole absorbs shock and helps keep your feet supported. In addition, these boots feature a contoured heel lock, which keeps your heel in place as you walk and climb.
This standout feature provides the support and comforts your feet need while on extensive hikes and over extended periods of time. These Keen Durand Mid WP boots feature a waterproof membrane which keep your feet dry, even during the largest rainstorms. In addition, the waterproof membrane wicks away moisture and sweat from your feet.
To ensure your feet stay comfortable, the insoles in these hiking boots are built around the shape of your foot and place emphasis on your big toe. These insoles are available in many of Keen's hiking boots for both men and women and are a large benefit to purchasing these shoes.
Furthermore, over the toes, there is a protective toe cap. This feature helps keep your toes safe when banging them against rocks, stumps, and other objects on your path.
A dual-compound rubber outsole is featured on these Keen Durand Mid WP hiking boots. The rubber compound absorbs shock and the outsole is thick enough the boot will last for a long time. After extensive use with many hiking boots, the outsole can wear down quickly, leaving you with little support and comfort while you wear the shoes.
These hiking boots are reported by both Keen and customers to run small. To ensure a proper fitting of these shoes, it is recommended to purchase these hiking boots at least half a size larger than your usual shoe size.
Check The Price
3. Danner Tramline – Best Lower Profile Option
The Danner Tramline hiking boots for women are durable shoes that provide enough comfort for everyday wear. These chukka-style boots are made from Horween leather, the same type of construction found in many other hiking boots from this American company.
With this type of leather, you may see a slight amount of blooming on the shoe and the appearance in each hide varies, meaning there may be some difference in between each pair of boots.
The inside of these shoes is lined with leather, which helps it mold more easily to your foot. The collar on these hiking boots is also lined with leather and extra padding, which keeps the ankle stable and comfortable.
There is plenty of traction featured on these boots with the Vibram Cristy outsole. This outsole is made from a rubber compound, which creates more cushion as you step down on it. It also helps absorb some of the shocks to your feet and keeps your feet moving longer without feeling fatigued and restless.
While these hiking boots have many features to ensure a comfortable hike, they aren't designed for every terrain and hiking trip. These boots are not waterproof and do not feature any type of breathable membranes to help wick away moisture and keep your feet dry.
The Danner Tramline boots for women fit differently than many hiking boots. While many hiking boots, particularly those from Danner, are narrow and run small, these boots are designed with more wiggle room and offer a more comfortable fit.
Many customers reported returning these shoes and exchanging them for a smaller size. However, if you still want a shoe with plenty of durability, stability, and comfort, these Danner Tramline boots for women may meet your expectations.
Check The Price
4. Keen Logan Mid WP
While the price point on these Keen Logan Mid WP hiking boots is much lower than many similar USA-built hiking boots for women, the quality and features are exceptional. These ankle-high hiking boots are designed to conquer long, rigorous hiking trails.
These boots are not made from leather, so you don't need to worry about special leather protective care. Instead, they feature a synthetic and mesh upper. Additionally, they are waterproof and they keep your feet dry, no matter what elements you encounter while on your trek. They also feature a breathable membrane that keeps water, sweat and additional moisture out and your foot dry.
One standout feature of these hiking boots is its contoured heel lock. This feature helps keep your heel in place as your climb, providing a more stable hiking experience. There is also an integrated heel cushion, which provides additional padding in the heel area.
Furthermore, a removable metatomical footbed is included on these hiking boots. This type of footbed is unique to Keen hiking boots. It is built to provide special support for your foot's arch and places special emphasis on the big toe. However, even though this footbed is removable, be aware that these hiking boots are not compatible with orthotic insoles or aftermarket footbeds.
Another standout feature is the high-traction outsole. The outsole on this product is made from rubber but provides plenty of traction to hike up even the more difficult landscape. Additionally, if you need to clean these shoes after an adventurous trek, you simply use soap and water and clean with a brush or a cloth and let it air dry. These shoes provide minimal care and maintenance, which is excellent.
Check The Price
Tips to Properly Fit Your Hiking Boot
Hiking boots should be snug around your foot and ankle. However, there should still be some wiggle room. Boots that don't fit correctly cause discomfort and lack the support and stability you need while hiking — making it vital you find the right size.
Unfortunately, boots made from different companies, and even from varying materials, will fit differently. Here are a few tips to help you properly fit your hiking boots.
Research the company's sizing charts.
Companies will vary in how their shoes fit. Many companies sell tight and narrow hiking boots. While snug boots are ideal for long hikes, it can be difficult to find the right fit if you have wider feet. Many companies will provide sizing charts to help you more accurately pinpoint your size of shoe, particularly if your feet don't fit the normal mold.
Try on the boots at the end of the day.
After being on your feet all day, your feet swell and are much larger than in the morning. The evening is the best time to try on hiking boots or to measure your feet to ensure the right size if ordering online.
If trying on shoes in person, take your hiking socks.
If you have the luxury of trying on the boots before purchasing, take the socks you will wear when hiking. High-quality hiking socks are generally thicker than everyday socks and will affect the overall sizing of the boot.
Walk around the store and spend time in the boots before purchasing.
Before making any purchases, walk around the store wearing the hiking boots. Evaluate how they feel on your heel, ankle and arch. Also, determine if the boots are too heavy for your feet. Heavy boots impact your body's energy levels and can make you and your feet feel fatigued much faster.
Don't be afraid to buy two pairs.
If ordering online, don't be afraid to order two pairs of hiking boots in different sizes. By making an extra purchase, you can ensure you purchase the boot with the proper sizing for your feet. However, before buying two pairs, check the company's return policy to ensure you can return a pair for a full refund.
Research customer reviews.
Many online reviews will state how well the hiking boots fit the customer and whether they ran too small or were too large. By doing a simple search for keywords on review pages such as "fit, size, sizing," you can quickly find reviews that mention sizing. Remember, if most customers found the shoes run small, then you might as well. Use online feedback to make the right choice for your feet.
---
Sources and Further Reading