The MOLLE (Modular Lightweight Load-Carrying Equipment) system was created to withstand harsh, difficult conditions and rough terrains, making it suitable for less than that, and everything in between.
This system, pronounced just like the girl's name "Molly," began in 1997 and became widespread after the attacks of 9/11. It was crafted for easy organization and uses simple points of access for attaching pouches to your important gear.
This equipment is used primarily by military, along with fire and police departments, but that is far from all it can be useful for. People find these pouches useful for disaster preparation and camping, in addition to nursing, EMT needs, and military unit work.
MOLLE has been taken on by the government and used for military bags ever since it was invented, but you don't have to be a professional to use one of these pouches. Many people simply designate them as a first aid kit to keep in the trunk of their car.
Comparison Table
IMAGE
MODEL
FEATURES

Condor Rip-Away EMT Pouch

Multiple pockets and elastic loops for storage

Two Inch patch area across front of pouch

Double zipper closure

View Product

Reebow Tactical Molle Medical EMT Pouch

Pouch size is W6x8x2.5 inches

Strong webbing belt loop on rear

Includes 2 way zipper with silent cord pulls.

View Product

MOLLE Pouches – Compact Water-resistant Multi-purpose Tactical EDC

Water resistant

High- quality 600D Nylon

Small bag is with large capacity

View Product

IMPACK RT1520 Tactical Waist Belt Bag

MOLLE system attachment straps

2 more pockets in main compartment

1 Main Zippered Compartment

View Product

First Aid Kit with Splint & Israeli Bandage

Tough & durable nylon case

MOLLE and PALS compatible

Includes a roll up splint and an Israeli BandageDressing

View Product
Due to the fact that this was originally used in military, you'll commonly see items attached such as radio pouches, knife holders, and gun holsters. But there is no rule or limit to what you can use the webbing system for, and it's quite versatile.
Plenty of methods exist for attaching the items you need, from straps, to Velcro patches, to locking flips, and the webbing on the pouch. For a budget option, zip ties or bungee cording can be used. Keep in mind that this will be worn outside of the rest of your belongings, and that if it isn't secured well enough, it might make someone else's day when they find it.
These pouches are highly useful for medical professionals who need to frequently change which items they keep attached to the pouch's webbing. For the best results, it's recommended to keep items you need to access quickly and easily on the outside of the rest of your gear.
Keep in mind that you should only do this with objects that can stand to be knocked around, take a bit of rain and possibly dirt, and (depending on your situation) hold up well after brushing against rocks and trees. Fortunately, changing out items as needed is quick and easy.
The majority of MOLLE style gear comes with webbing on either side, including the belts and vests. The PALS system (Pouch Attachment Ladder System) offers various sections to attach your gear to, along the columns and rows of webbing. This fabric is most typically made from quality strength nylon, making it durable, waterproof, and lightweight.
These come in varieties of camouflage, sand brown, olive green, gray, or classic black. MOLLE belts come with padding, protecting the wearer from injury caused by heavy gear. The majority of connection points on the MOLLE system are clips or buckles, and the belts should remain cinched. The webbing of these products surrounds the belt's outer area and has been reinforced with strong, durable stitching in several places for peace of mind and quality assurance.
Some equipment parts will come with compression straps for cinching loads into tighter arrangements, since gear rolling loose leads to higher injury risks. MOLLE attachments and webbing are created to prevent the risk of losing gear and permit the attachment of even very heavy pouches.
The majority of gear is attachable to multiple points of connection, and MOLLE pouches can be secured with C clips to prevent unnecessary and inconvenient rocking. The standard stitching on these pouches is designed to handle supporting a weapon and offers a spot for securing your jacket.
What to Look for in a MOLLE Medical Pouch
Quick and easy detaching, yet secure: Your MOLLE pouch will most likely hold precious emergency items, so when you need to access your pouch's contents, the last thing you want is to be held up in the process. Find a product that allows you to remove the pouch easily when needed. In addition to this, you should make sure that your pouch stays in place the rest of the time, and is fit to withstand hectic conditions while remaining attached. This means it should handle being jostled, knocked around, and bumped frequently.
Accessible contents: There are times when you'll need to grab something from your pouch, but need to keep it secured either to your belt or your backpack. Try to find a product that will allow you to access its contents even while its secured. The ideal choice should unzip and fold out while staying firmly in place.
Multiple compartments inside: A quality MOLLE pouch will come with a few different sections for storing items of various size, including electronics, bandages, and more. Most of these products fold out into three parts for easier organization and storage, but you should make sure it has at least a couple of pockets inside with some elastic bands for securing extra objects. A Velcro patch on front for placing identification patches and name tape is a plus, as well.
Durable, waterproof material: In a medical emergency, you need to be able to rely on the items within your pouch being intact and ready to use. Your pouch must be able to withstand the elements and plenty of wear and tear. Opt for a product that is made from the highest quality materials, with zippers that are sturdy and durable.
---
Here are the best MOLLE medical pouches that offer value, performance, quality and easy organization for your treks and outings.
Condor Rip-Away EMT Pouch
Reebow Tactical Molle Medical EMT Pouch
MOLLE Pouches – Compact Water-resistant Multi-purpose Tactical EDC
IMPACK RT1520 Tactical Waist Belt Bag
First Aid Kit – Trauma Medical Kit – Includes Splint & Israeli Bandage
Condor Rip-Away EMT Pouch
Condor Outdoor started as a manufacturer of camping supplies and goods. When the company first began, it was focused on helping people experience and enjoy the wonders of nature. Their line of products then grew, and they started to move toward gear that is more function focused.
The Condor Rip-Away EMT Pouch has a tri-fold structure with elastic loops and multiple pockets intended for storage. The first fold out section of the pouch has elastic holders perfect for instruments, with a Velcro strap over the top intended to hold larger objects.
The pouch's second fold out section is like the first but comes with elastic suitable for bigger objects, like a foldable knife or ace bandage. In the third fold out section, you will find a compartment with zippers suitable for storing various medicines.
Fit a variety of medical supplies inside and they won't take up too much room in these compartments. Store everything you need and still have plenty of room for extra items. This can be used to organize your work tools, as a survival pack, or for first aid items.
The pouch's closure system has a double zipper and a pull tab that allows for temporary or quick closing. It comes with a 2-inch patch on the front for attaching labels, MOLLE webbing for extra attachments, a wide handle for quick removal or easy carrying, and a feature that allows you to tear it off if you need it within a split second.
Although this is designed to tear off easily, you can access what you need by unfolding without needing to detach it from your vest, pack, or belt.
Carrying this product on the outside of your belt or backpack works perfectly, and the easy removal it suitable even for inexperienced MOLLE users. There is no need to worry about the pouch coming detached as it holds firmly in place wherever you decide to put it.
Although the shoulder strap doesn't come with this product, there are two rings at the back for straps. This product is great as an additional storage unit for an emergency bag or first aid materials.
When it comes to the design of the pack itself, it's durable, heavy, and rugged, intended to stand up to the harsh elements. For those who recognize and appreciate quality craftsmanship, the design is impressive. The Condor Rip-Away EMT Pouch has top notch stitching with reinforcement in all the right places, and it's clear that plenty of thought went into crafting this product.
Check The Price
Reebow Tactical Molle Medical EMT Pouch
REEBOW is a brand committed to giving you only the best products for tactical purposes and military uses. This includes gear made from quality materials and products for technical, high-performance situations. Offering a wide variety of reasonably priced and stylish products, their brand is trusted for outdoor and army use.
The Reebow Tactical Molle Medical EMT Pouch is 6 inches wide, 8 inches high, and 2.5 inches deep. It's crafted from strong, water resistant material. The double stitching on the military grade pouch is sturdy and trustworthy, and you'll find it equipped with cord pulls and a 2-way zipping system.
You will find D rings for shoulder straps at the back, along with a strong belt loop, and elastic straps on the inside. The attachment straps on this product can be secured to your existing pack, vest, belt, or simply kept in your glove box as an emergency first aid pouch. Use it for flashlights or tools and rest assured that the snap fastener will not come undone until you need and want it to.
The MOLLE system is uniform, meaning that you can attach this to a vest or belt of a different brand without any problems. The zippers are flawless and the inside of the pouch comes with a pocket and straps.
Please keep in mind that this pouch is not designed to be an organizer, and doesn't come with pen holders or areas for smaller items. For this reason, it's recommended that you use zip bags for holding items like Band-Aids or prep pads.
This pack can be used to hold shelter items like stakes, cord, and a small tarp and is suitable to bring with you hiking or backpacking. The straps on this product are highly useful and its unique, bright red color helps with easy identification and visibility.
Check The Price
Best Multipurpose Option
MOLLE Pouches – Compact Water-resistant Multi-purpose Tactical EDC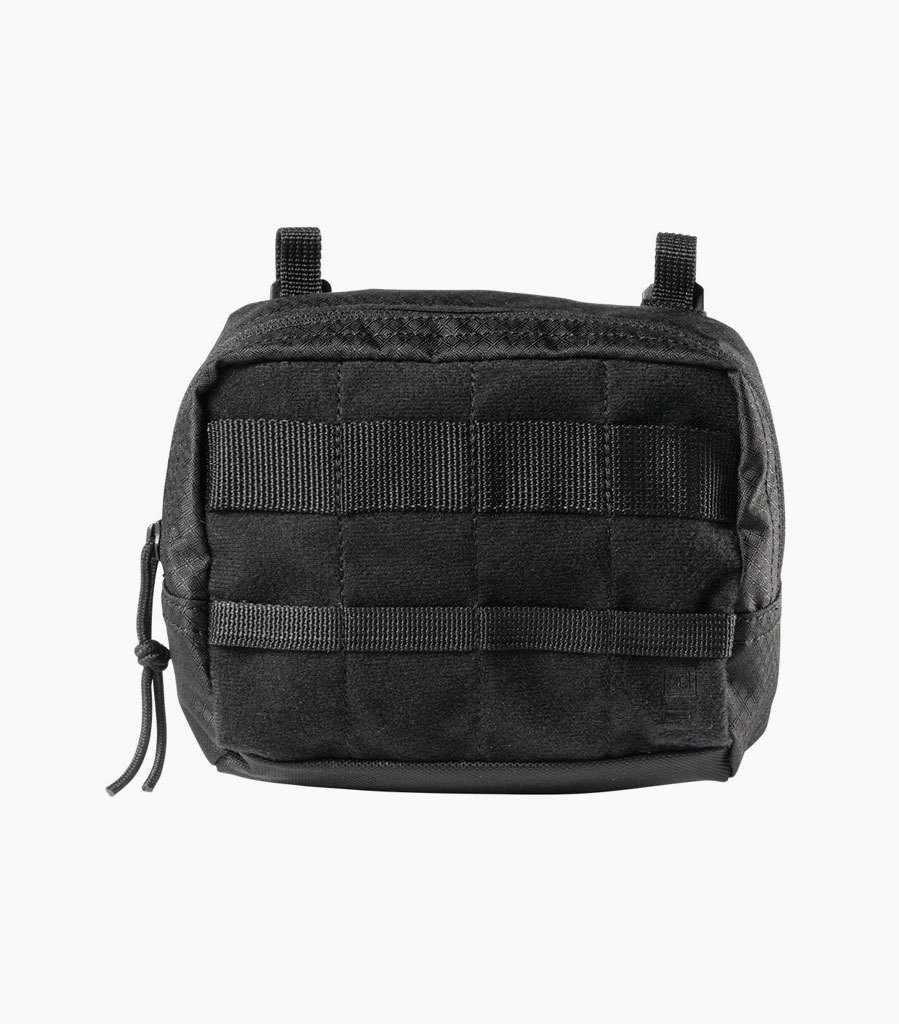 This pouch is lightweight, wear-resistant, made from high-quality nylon, and our choice for the best multipurpose option on the list. It's made of durable, rugged polyester which makes it strong and water proof, keeping your most valuable objects safe from damages and unforeseen elements. Whether you're dealing with humid weather conditions or a severe flood, this pouch will protect your supplies.
Choose between 3 different sizes and use it for everyday needs, as an emergency kit, or for your survival gear. This bag can comfortably and safely hold cameras, binoculars, and ammo, and can be attached to any compatible MOLLE gear you have for extra customization and storage space.
The webbed section at the rear panel comes with straps reinforced with metal snaps. The pockets inside offer you the sections you need for keeping your important items neat and organized, so you can find them when it matters most. This pouch is multi-purpose, with sections that allow for easy stowing and retrieval.
Fit your small tools, medical instruments, GPS, keychain, and phone inside and remove them quickly and easily as needed.
As is standard with MOLLE gear, the attachment points on this product have been reinforced for added strength and reliability. This product is wear-resistant, meaning that it won't fade or scrape easily.
All webbing and stitching is crafted from the most durable, quality nylon. The pack's large zipper will not break the way other products do when stuffed very full. Use the front Velcro to put patches or name tape, which will help your gear be easily identified during group travels.
This pouch can be worn on the outside of your gear for easy access, or used as an extra divider and organizer for the inside of your backpack. Instead of having countless smaller items floating around in your pack, use this thin but sturdy pouch to get your belongings in order. This product comes in a variety of designs and colors, including Jungle Camouflage, Desert Digital, Oliver Green, and classic black.
Check The Price
Best Waistband Option
IMPACK RT1520 Tactical Waist Belt Bag
This is the perfect pack for storing your smaller tools, medical instruments, digital gear, keychain, and even large smartphone while keeping it all easily accessible. For this reason, the IMPACK RT1520 is our pick for the best waistband option on the list.
The attachment straps that come with it make it suitable for a MOLLE backpack, MOLLE vest, or a tactical belt. You can adjust the width of the MOLLE system for use with belts of various widths.
The small option comes with a United States flag patch, the main compartment with a zipper and 2 additional pockets inside. It also comes with 2 pockets in the front, a loop compartment, and a hook. This product is 7.5 inches by 6.5 inches and is 2.5 inches in depth.
The large option also comes with the U.S. patch, along with an extra rescue patch, the main compartment with zipper, a front compartment with zipper, and 2 more pockets inside. At the front, there are 2 pockets, along with 2 pockets on the side. This option also comes with a hook and compartment with loops.
In addition, you will find a hidden strap that allows this pouch to be used as a fanny pack. The measurements of this product are 8 inches by 7 inches, and 3 inches deep.
Nurses who work in bustling, busy clinics will find this useful for storing all essentials, including a wallet and other personal effects. Store your charger, portable phone battery, and earphones inside along with your necessary work instruments and gear. This product is well-built, sturdy, and useful for a variety of situations.
Check The Price
Best Pre-Filled Pouch
First Aid Kit with Splint & Israeli Bandage
This product is a unique item on our list in that it comes with extra items. For this reason, it's our choice for the best pre-filled medical pouch on the market. The kit has the supplies you need to deal with simple bruises and scrapes, including plentiful gauze and scissors.
In addition, you will find a foam splint that rolls up for easy storage and can be used for fractures or broken bones, along with an Israeli bandage which can be used to reduce bleeding.
Everything you need will fit easily within this pouch with extra room for other items. The product comes with plenty of straps and pockets for storage and can be used for your bug out bag, boat, car, camping, or the medical profession. You will find plenty of space for storage without too much bulk, meaning that you can easily throw it into your travel bag or backpack without it taking up too much space.
Similar to products used by military members, this product is perfect for individual use, constructed to be tough and durable, and is easy to access. Although you hopefully won't need the splint and blood clotting material, it will set your mind at ease to know you're prepared for anything.
The measurements for this pouch are 9 inches by 6 inches, and 3 inches in depth. Although this product is more expensive than other items on the list, you will be getting what you pay for with the extras that come along with it. Keep in mind that this product is a bit heavier than others, but that it comes with a variety of quality first aid items. This is perfect for use as a glove box first aid kit.
Check The Price
Tips for Packing your MOLLE Backpack
Once you've decided to purchase a MOLLE pouch for better organization, it's time to start thinking about the state of your MOLLE backpack. Keep in mind that even if you don't have a MOLLE system backpack, your pouch can be stored in a regular bag, meaning that this information is still useful for you. Here are the steps for doing so:
Lay it all out: The first step in packing your MOLLE backpack is determining which items you need to bring along, and spreading them out on a table or floor. This gives you visual access to all of your items, helping you get perspective on how much you really own and making it easier to remember important items.
The weight of your bag: Next, you need to place all of your intended bag items into a bag or box and weigh them. It's a lot simpler to unload and load a bag or box than it is to do the same with a full backpack. Keep in mind that you shouldn't have a backpack that is heavier than a quarter of what you weigh, but that this might need to be adjusted according to your health, age, and physical condition. Whatever the case may be, the lighter your bag is, the more comfortable and less exhausting it's going to be for you.
Packing: Accessibility and correct distribution of weight are important for comfortably carrying your load. In order to properly distribute the weight of your bag, begin with packing its main compartment, putting lighter items down at the bottom. If you are carrying a standard style sleeping bag, this should be the first item you pack, in addition to your other light, nighttime items. Then you should pack items that are medium in weight, with the heaviest items going at the top of the backpack. As you pack your bag, try to fill in empty areas with compressible or small objects.You also need to think about how accessible your bag's items are. If your sunscreen is something you take out of your bag a few times each day, it needs to be near the top, or in a side pouch, for example. Your new MOLLE system pouch is perfect for these items. Next, you need to check your bag's weight once again and, if necessary, remove a few items to lighten the load. You can then secure extra items to your bag's exterior with MOLLE straps, including your compass, flashlight, portable water bottle, and more.
Wearing and adjusting the bag: Don't make the mistake of trying to get accustomed to carrying your full backpack when you're out using it for the first time. Instead, get used to the bag before you have to, wearing it at home and figuring out ahead of time what should be adjusted in the waist or shoulder straps. You can then move some items around or remove heavier objects for a smoother, better fit. As soon as you have reached a comfortable arrangement with your backpack, go outside and take some longer walks with it. Not only will this give you a chance to get some great exercise, but you'll be able to feel prepared for your upcoming journey.
Please note that a lot of people make a common mistake; filling their backpacks too full. It would be more convenient to bring every item that might be useful, but this is impractical, uncomfortable, and will only tire you out much faster. You need to consider only what is needed and leave the rest behind.
---
Sources & Further Reading
More Reviews