Whether you're an avid tournament tennis player or a casual player who sometimes stops by the neighborhood court, you know how important it is to have a functional tennis bag for carrying your tennis gear to and from the court.
Tennis equipment can be awkward, involving multiple racquets, balls, towels, shoes, water, snacks and an assortment of other hard to carry items. An investment in a quality tennis bag is an investment in your game and in yourself.
Here's a look at the best tennis bags for women and why each one might be right for your game.
NGIL Tennis Racquet Holder Backpack
Prince Club 6 Pack
HEAD Core 6R Combi Tennis Bag
All For Color Tennis Shoulder Bag
Ame & Lulu Cru Tennis Backpack – Best Upgrade Pick
While a regular gym bag may be fine for most sports equipment, tennis players require a bag designed specifically to comfortably hold a racquet. And most players prefer to bring one or two backup racquets. A great tennis bag will accommodate not only racquets but also tennis balls, extra clothes, water, and any other desired personal items.
If you enjoy tennis but find yourself unable to comfortably carry all of the equipment you'd like to, there are some excellent bags on the market that could make all the difference in your ability to bring the right gear to your matches. And the right gear can make all the difference in your gameplay.
Even if you've been getting along fine with a regular gym bag for your tennis gear, you'll be impressed with how comfortable to carry and easy to pack and unpack your equipment is when it's in the right bag.
Comparison Table
IMAGE
MODEL
FEATURES

NGIL Tennis Racquet Holder Backpack

Front zipper pocket

Racket compartment

Adjustable shoulder straps 10"

View Product

Two comparments to 6 racquets without covers

Front zippered pocket with internal storage for accessories

Grab handle at the top of the bag

View Product

HEAD Core 6R Combi Tennis Bag

2 compartments for up to 6 racquets

Material: Polyester

Adjustable shoulder straps

View Product

All For Color Tennis Shoulder Bag

13.5 " x 5.25 " x 17.5" inches

Material: Polyester

Pattern: Geometric

View Product

Ame and Lulu Women's Tennis Backpack

Holds two oversized racquets

Three interior pockets, two side slip & zip exterior pockets

Adjustable cinched closure

View Product
What to Look for in a Tennis Bag for Women
Size: The key to the perfect tennis bag is having a large enough bag to accommodate everything you want to bring with you for a day on the court. Something that can hold a minimum of three rackets, more if that's your preference, with room to spare for balls and personal items. But you still want your bag to be compact enough to carry around without awkwardness or injury.
Durability: Tennis bags get tossed around, laid on the ground, set out in the weather and other various forms of hard use. You need a bag that can stand up to all that without damage. If you're going to purchase a high-quality bag, you want it to last a long time.
Comfort: When you're carrying equipment to and from a day at the courts, you want a bag with a comfortable carry strap. And a style and size that fits comfortably against your body. You don't want to risk an injury before you even start playing because of an awkward or too heavy tennis bag.
Style: Every tennis player has their own personal style and you want to have a bag that reflects it. Finding the right size, strap, and color to suit your equipment needs, that also makes you feel good when you use it is important.
Versatility: A bag that can handle equipment for both a casual game and a full day at the courts is going to be the best tennis bag. No one wants to waste time moving equipment between multiple bags when they need more or less space for the equipment with them on any given day.
---
5 Best Women's Tennis Bags You Can Find In Amazon
1. NGIL Tennis Racquet Holder Backpack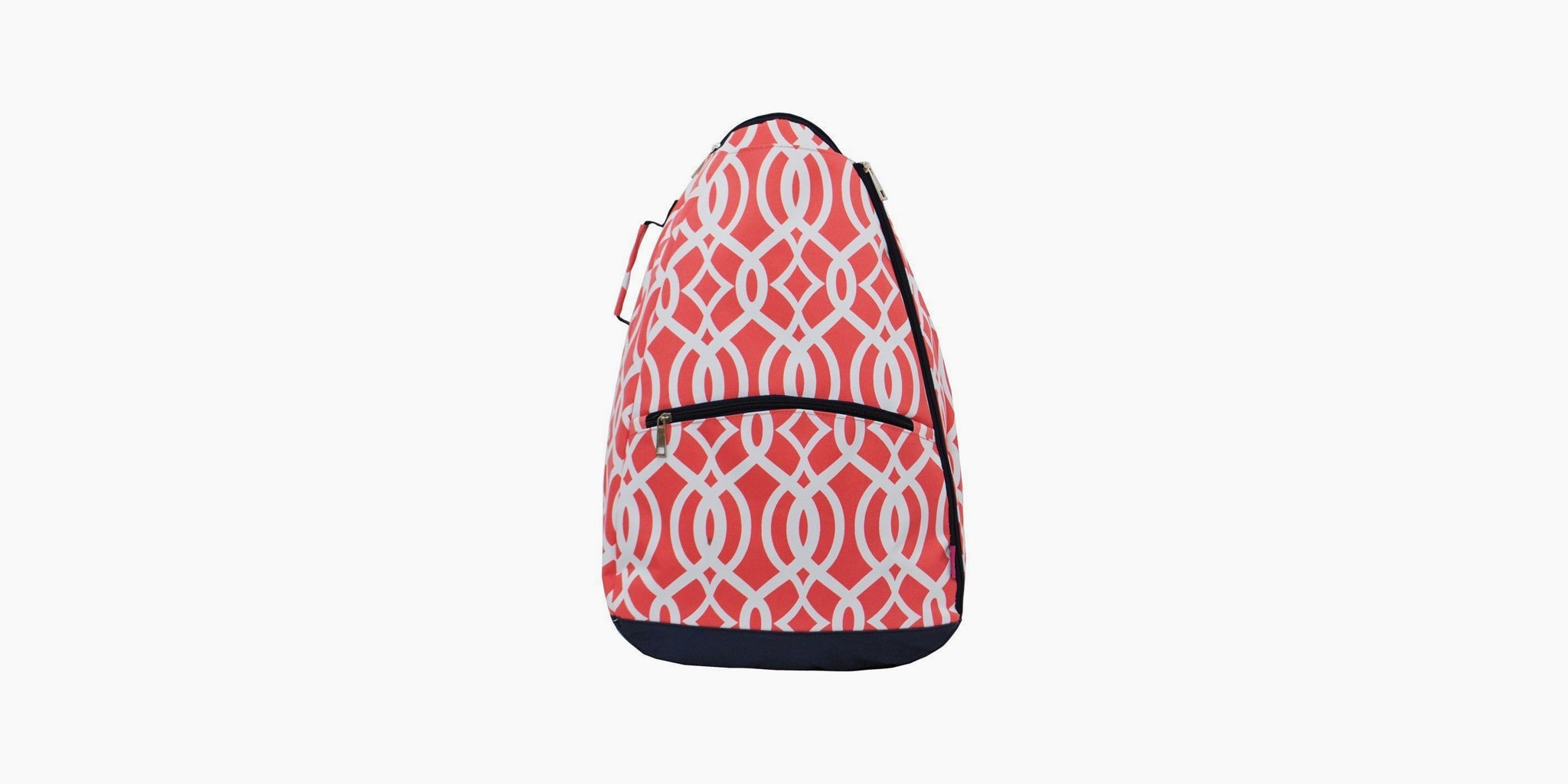 NGil bags are known for their high quality, distinctive prints, and style when it comes to purses, lunch bags, and even diaper bags. Happily for women tennis players, they've brought all that stylishness and functionality to their tennis racquet holder backpack.
The attractive, eye-catching print and compact size of this bag make it comfortable to carry anywhere. The adjustable shoulder straps allow for customization to every woman's frame for a comfortable carry. And the padding in the straps keeps them from digging in even when the bag is full. A backpack style tennis bag is often more comfortable to carry than a bulky, single-shoulder bag.
A separate racquet compartment inside the bag holds two rackets while still leaving room for shoes, balls, water and even extra clothes.
Users who love this bag appreciate the protected inside sleeve for their cell phone. Reviewers also noted that the bag was a great fit for a petite frame while still allowing plenty of room for their racquets and gear.
Because of the comfort and stylishness of the NGil Tennis Racquet Holder Backpack, we rate this tennis bag a top choice.
Check The Price
2. Prince Club 6 Pack
Prince has been creating top of the line tennis equipment since 1970. They are well known for their innovative racquets and high-quality tennis accessories and apparel.
The Prince Club 6 Pack tennis bag is a great option for players who prefer to bring a few backup racquets in addition to the usual assortment of tennis gear and accessories. Or casual players may be able to use this roomy bag as a shared family or practice team equipment bag.
Users rave about the bags ability to completely unzip for a full inside view without the need to dig around and search for things. The padded shoulder strap was also described as comfortable and adjustable to various frame sizes.
The roomy convenience and high-quality design of this bag make it a winning option for serious tennis players.
Check The Price
3. HEAD Core 6R Combi Tennis Bag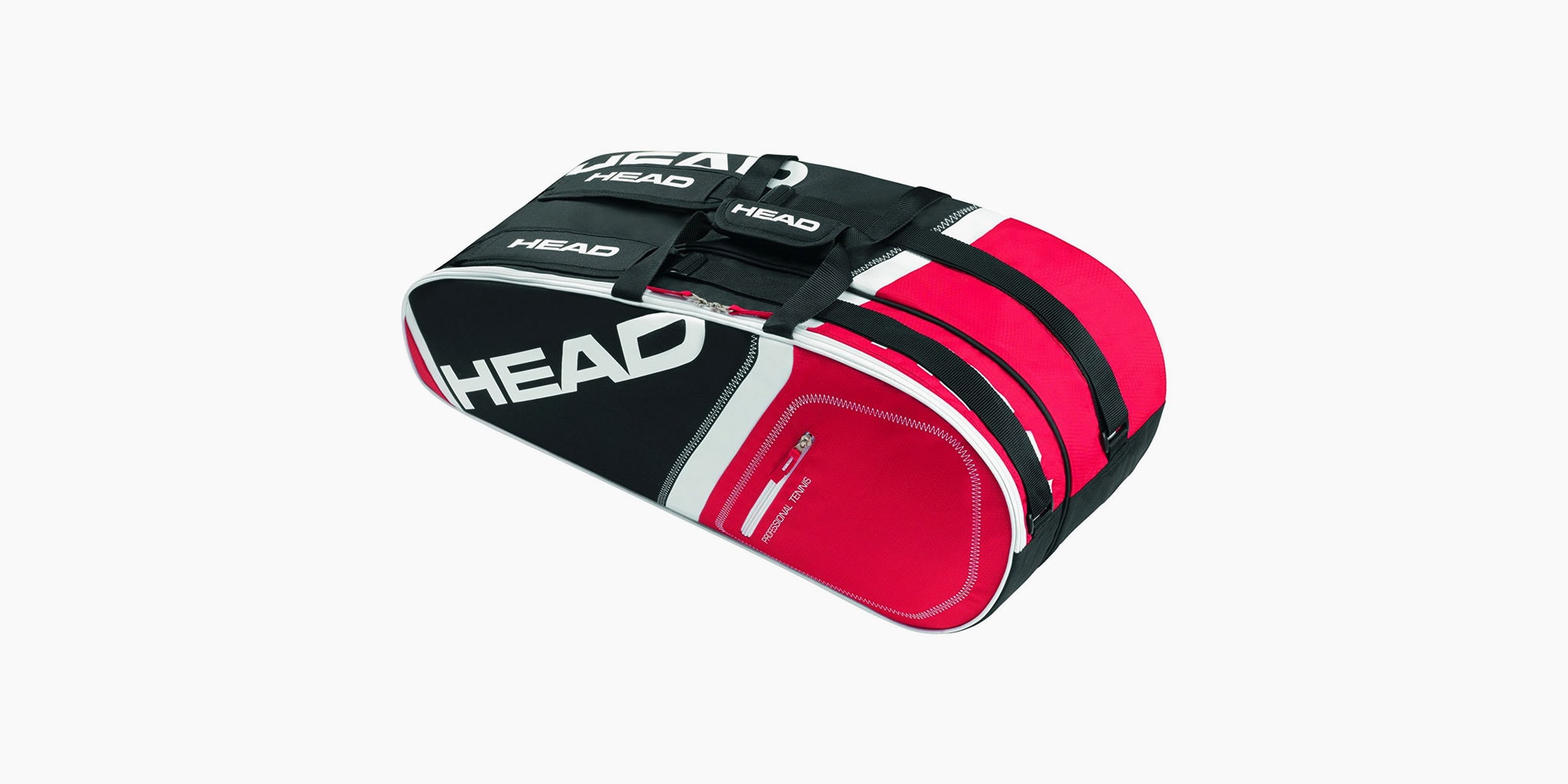 Head is considered by many tennis players to be among the top racquet manufacturer in the industry. Their tennis bags are equally respected. The Head Core 6R Combi Tennis Bag has space and features to make it the go-to bag for tournament level tennis players.
This tennis bag can hold up to six racquets in addition to other standard tennis gear. The fabric is durable and able to withstand hard use. This bag can be worn both over the shoulder and as a backpack, with separate, padded for comfort handles for each type of carrying.
Fans of this tennis bag praise its high-quality construction at an affordable price. Users also enjoy the sporty and stylish design.
This professional quality bag is the perfect tennis bag for women serious about their tennis game and tennis accessories.
Check The Price
4. All For Color Tennis Shoulder Bag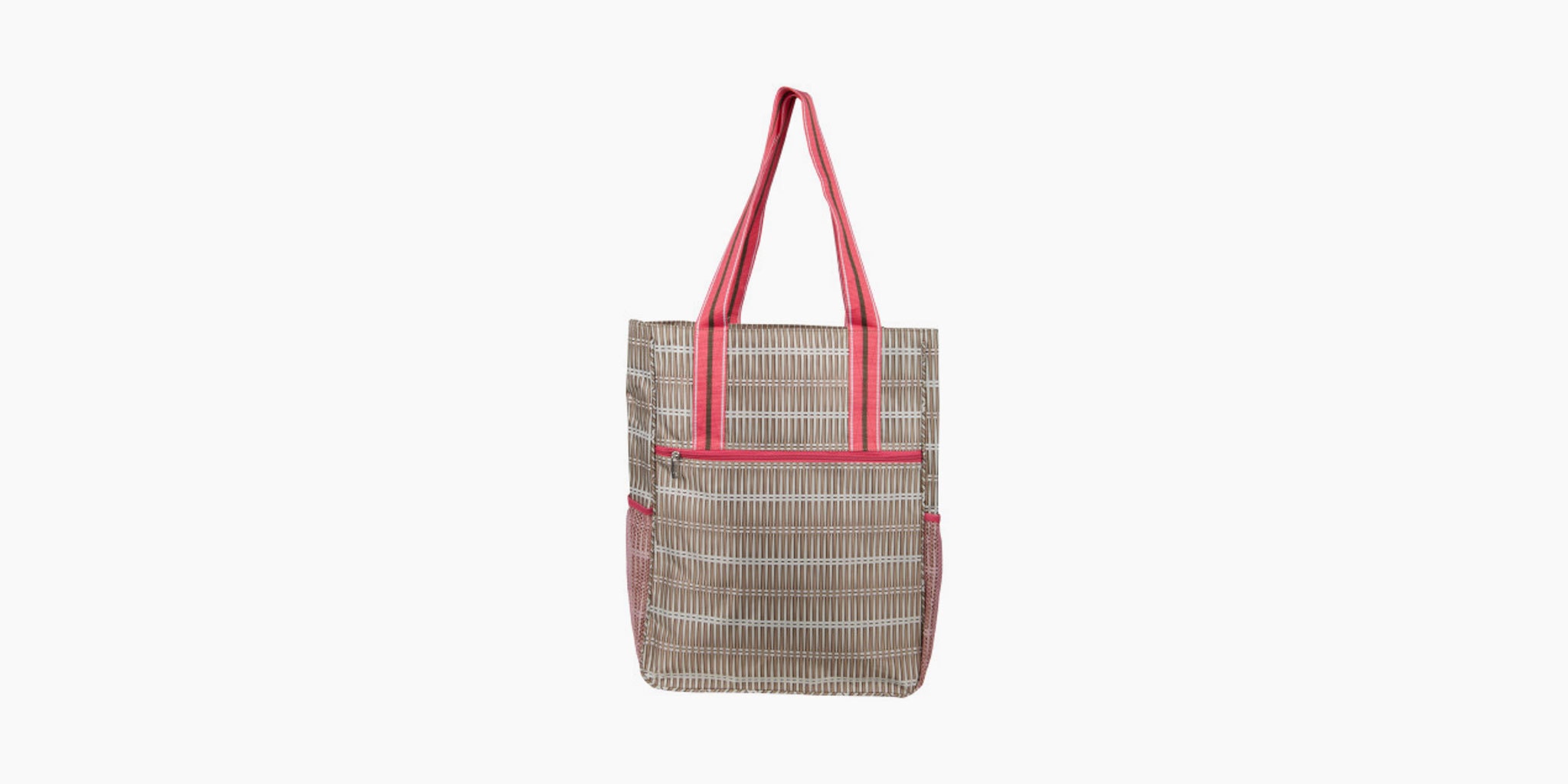 All For Color brand products cater to women desiring apparel and accessories that add color and fun to every aspect of their lives. Their brand products are designed to garner notice and their tennis shoulder bag is no exception.
Fashion forward women of tennis will love this fun and functional bag. It comes in a variety of bright colors sure to make your bag stand out from the crowd. This spacious bag has room for one or two racquets and everything else you need for a low key day at the tennis court.
Users of the All For Color Tennis Shoulder Bag praise its multiple compartments and roominess. And of course the bright and fun colors. Many fans of the bag also mention how lightweight it is, something you don't often hear about athletic equipment bags.
For players who want a functional bag that is also the most stylish bag on the courts, this is the one for you.
Check The Price
5. Ame and Lulu Women's Tennis Backpack – Best Upgrade Pick
The Ame and Lulu brand was founded in 2003 for the purpose of making stylish head coverings for female golfers. The founder, Amye Kurson, was an advertising executive who played golf and noticed a lack of cute head coverings available for female players. She decided to start designing her own. Over the years, she has expanded the business to include other golf items and eventually stylish gear for women tennis players as well.
Amye still personally designs the patterns for each Ame and Lulu item to maintain the brand's signature eye-catching style. Ame and Lulu is known for their bright colored prints and quality construction of feminine active products.
The Ame and Lulu Women's Tennis Backpack has room for two racquets as well as multiple interior and exterior pockets for holding other necessities and personal items. A cinch drawstring closure secures your items inside the bag and is able to be opened and closed quickly. The backpack style is comfortable for carrying all of your tennis gear to and from a match.
Users of this tennis backpack praise its roominess and the footed bottom which keeps the bag from resting directly on the dirty ground. Many bag owners also mentioned the numerous compliments they receive on this extremely stylish tennis bag.
Check The Price
Here's What to Pack in Your Tennis Bag
Whether you are a dedicated tennis tournament pro or an occasional weekend player, no athlete wants to show up for a game unprepared. One of the benefits of having a dedicated tennis bag is the ability to keep the essential equipment stocked at all times.
With the right gear in your bag, you'll never be left digging fruitlessly for equipment you forgot to pack. Keeping your tennis bag fully stocked with these must-have items will prevent you ever showing up for your match less than fully prepared. When it comes to success on the tennis court, preparation is key.
When it comes to packing your tennis bag, be sure to include these necessary items.
Two or more racquets are essential to include in your tennis bag. Without a backup racquet, breaking a string becomes a match ending calamity instead of a minor inconvenience.
Extra overgrips are an important item on every tennis players must-have list. You'll be glad to have spares when the grip on your racquet becomes worn down and difficult to hold during a game. Keep a good grip the entire match by bringing along several overgrip replacements.
A can of new tennis balls should always be included in your tennis gear bag. Even if you're playing in a tournament where the balls are provided, it's better to have them and not need them then end up without a ball to play.
A medical kit is another necessary item on your tennis bag pack list. Blisters, sprains, scrapes and other injuries can happen at any time during a sporting event. Come prepared to give yourself or your fellow players a little first aid with bandages, dry ice bags, and other first aid items. Minor injuries don't have to end the game when proper first aid is available.
An extra shirt and socks can be a real lifesaver when you're playing hard and sweaty clothing starts to stick to your skin. Wet, sweaty clothes can contribute to heat stroke and feel uncomfortable. You may even want a couple of extras sets in case you need something to change into after the game. Soaking wet socks don't protect your feet as well as when they are dry. Having an extra dry pair in your bag can spare you painful blisters and injuries.
Keep a couple of towels in your tennis bag to dry off sweat and wipe off sunscreen from your hands so they don't affect your grip during a match.
Sunscreen is an absolute necessity both before and during a tennis game to avoid both short and long term sun damage.
Sunglasses and a hat are also useful sun protection when glare is in danger of seriously affecting your game.
Water and a snack will help keep you properly nourished and hydrated during your tennis match and should always be on hand in your tennis bag.
---
Sources & Further Reading