Flat feet or fallen arches can present a challenge for those who like to hike. Just wearing regular shoes, let alone hiking boots can be uncomfortable for people with flat feet, and feet fatigue can be a real problem that can turn any outdoors person into someone who dreads physical activity.
Normally, most adults will notice a curve in the arch of their foot. Flat feet occur when the tendons that connect your heel and foot bones don't pull together in the proper amount. Flat feet can occur for many reasons but the most common besides genetics are damage to the tendons in the arch, obesity, and aging.
Quick Look of Our Top 10 Hiking Boots for Flat Fleet
Salomon Men's Quest 4D 2 GTX Hiking Boots
Merrell Men's Moab Mid Gore-Tex Hiking Boots
Hi-Tec Men's Logan WP Hiking Boots
Danner Men's Mountain 600 4.5″ Hiking Boots
Vasque Men's Inhaler II Gore-Tex Hiking Boots
Timberland Women's White Ledge Hiking Boots
Merrell Women's Moab Ventilator Mid Hiking Boots
Nevados Women's Klondike WP Hiking Boots
New Balance Women's WW1400V1 Walking Trail Boots
New Balance Women's WW769V1 Walking Shoes
While flat feet may not cause any problems for some people, others may experience pain when walking long distances as well as swelling and inflammation that can even spread to the ankle. Others may experience pain in the hips and back.  It can lead to conditions such as plantar fasciitis and make hiking quite impossible.
Fortunately, good footwear brands keep in mind people with feet problems and there are certain brands of hiking boots that cater to the flat-footed more than others. It's important to do your research and find a quality hiking shoe that is backed up by plenty of great reviews.
COMPARISON TABLE
IMAGE
MODEL
FEATURES

Salomon Men's Quest 4D 2 GTX Hiking Boot

100% Textile/Nubuck Leather

High hiker featuring rugged lacing hardware and protective rubber toe cap

Updated salomon contagrip outsole

View Product

Merrell Men's Moab Mid Gore-Tex Hiking Boot

100% Leather and Mesh

Waterproof and breathable Gore-Tex Performance Comfort lining

Air cushion heel absorbs shock and adds stability

View Product

Hi-Tec Men's Logan WP Hiking Boot

100% Leather and Fabric

Ghillie-style lacing with rustproof hardware

Imported and with rubber sole

View Product

Danner Men's Mountain 600 4.5" Hiking Boot

Performance hiking boot featuring durable waterproof-suede upper with D-ring lacing

Shaft measures approximately 5.25" from arch

Cushioning open-cell polyurethane Orthoclase footbed and Nylon shank

View Product

Vasque Men's Inhaler II Gore-Tex Hiking Boot

Hiking boot featuring breathable 3D mesh panels and low-friction lacing

Imported and with rubber sole

GORE-TEX with extended comfort technology

View Product

Timberland Women's White Ledge Hiking Boot

Synonymous with quality workmanship

Timberland isn't just for high-quality mens, womens, and kids boots

Imported and with rubber sole

View Product

Merrell Women's Moab Ventilator Mid Hiking Boot

100% Leather and Fabric

Mid-high hiking boot featuring breathable-mesh upper with reinforced toe cap and leather overlays

Imported and with Synthetic sole

View Product

Nevados Women's Klondike WP Hiking Boots

100% Leather-and-fabric

Suede leather and nylon mesh upper featuring a waterproof bootie construction

Imported and with rubber sole

View Product

New Balance Women's WW1400V1 Walking Trail Boot

100% Synthetic

Imported and with rubber sole

High trail boot in waterproof leather featuring bright color pop collar and visible heel cushion

View Product

New Balance Women's WW769V1 Walking Shoe

100% Leather and Textile

Imported and with rubber sole

Light weight cushioned midsole

View Product
What to Look for in Hiking Boots for Flat Feet
Arch support: Hiking boots with arch support are important for people with flat feet. Boots that don't have a structured arch will lead to foot fatigue and pain if you already experience problems from fallen arches. A hiking boot with a well-supported arch will support the tendons and ligaments between the heel and the front of the foot, allowing you to hike longer, without any problems.
Structure and support in the ankle: Flat feet can cause over-pronation of the foot, meaning your foot may roll inwards too much. When hiking over uneven surfaces, this can be dangerous and can lead to injury so it's very important to wear a structured hiking boot that is fitted securely around the ankle. Twists and sprains can be avoided by choosing
Comfortable footbed: A comfortable sole is key when dealing with fallen arches. Because your feet are more prone to foot fatigue, it's important to find a hiking boot with a footbed that has plenty of padding, while not sacrificing structure and support.
Quality materials: It's a good idea to invest in a pair of hiking boots made with durable, quality materials as these are the boots that will hold their structure and offer the best support. Sure, you might be happy with a cheap pair of boots in the short term, but if you are an avid hiker, you're going to want to buy hiking boots made of leather or high-quality synthetics that will work with your foot problem, rather than make it worse.
10 Best Hiking Boots and Shoes for Flat Feet
Wearing the right footwear is a given when you go on hiking or trekking through challenging terrains. What's missing now is knowing whether or not your shoes or boots can support your feet- much more if you're flat-footed. In this list, we gathered the best of the best in terms of how well these footwears can support and ensure comfort on your hike.
Here are the best hiking boots and shoes for flat feet that you should try!
1. Salomon Men's Quest 4D 2 GTX Hiking Boots – Overall Best Men's Hiking Boots for Flat Feet
You can't really get much better than Salomon technology when it comes to arch support. The Salomon Men's Quest 4D 2 GTX Hiking Boot comes with Salomon's 4D Chassis technology which is specially designed for foot control and stability.
Coupled with this, is their molded EVA shaped footbed and midsole which is designed to be lightweight but still offers a lot of structure. As a high cut boot, the Salomon Quest is 6.75 inches from arch to top which offers more ankle support than some of the other hiking boots out there and with nubuck leather and Gore-Tex construction and a reinforced rubber toe, these boots stand up to many, many miles of hiking, in any weather.
Many customers rave about how comfortable these boots are straight out of the box with few reports of blisters in the breaking in process. In fact, a few customers report these are the most comfortable footwear they've ever owned, hiking boot or otherwise.
Great for those with flat feet, they come highly recommended for those with any foot issue. Waterproof with durable lacing, they come in a wide range of understated colors to suit most people. Because of their superior construction in the arch and ankle, long life span and rave reviews, these boots are our top choice for flat feet.
2. Merrell Men's Moab Mid Gore-Tex Hiking Boots
A popular name in hiking gear, the Merrell Moab Mid Gore-Tex Hiking Boots are a solid choice. According to the Merrell website, these boots are built with a molded nylon arch shank, which gives flexibility in the arch while still being supportive and structured.
With a Vibram sole, these boots have superior grip and the sole is thick with extra structure throughout the inner arch area providing stability and preventing twisted ankles.
Customers report that these boots are great for those with flat feet and fit comfortably without causing pain. The mid-height comes up over the ankle providing extra assurance that you won't have any accidents.
Reviews suggest that many customers stick with these boots, replacing them pair after pair after simply wearing them out. They can take a beating and have a Gore-Tex waterproof liner, making them truly perfect for hiking in all-terrain.
Fairly lightweight, they are great for people who experience foot fatigue or have any foot issues.
3. Hi-Tec Men's Logan WP Hiking Boots
A basic design that does the trick, the Hi-Tec Men's Logan WP Hiking Boots come in at the lower end of the price scale in our list of picks. Hi-Tec Sports has been making shoes and boots since 1978 and the experience shows in this pair of lightweight, but heavy-duty boots.
Started by a Dutch man named Frank Van Wezel, Hi-Tec's great reputation stems from his worldwide travels and his long history in the sports shoe industry. As an active sportsman, Van Wezel is passionate about "soccer, tennis, squash, skiing, and golf" and his enthusiasm comes through in the quality of Hi-Tec products which are now sold all over the world.
These particular pair of boots feature waterproof suede and mesh fabric upper with a reinforced toe these are durable and meant for all weather. The rustproof hardware in the lacing is a nice touch and in terms of features for those with fallen arches, the boots come with Hi-Tec's Comfort Plus compression-resistant contoured sock liner and EVA midsoles.
Hi-Tec provides not only a one year manufacturer's warranty against defects, but a 60-day Comfort Guarantee so you can try them for a while and be sure you are going to get something you are happy with.
A great, affordable option, customers describe them as great everyday light boots for a good price.
4. Danner Men's Mountain 600 4.5″ Hiking Boots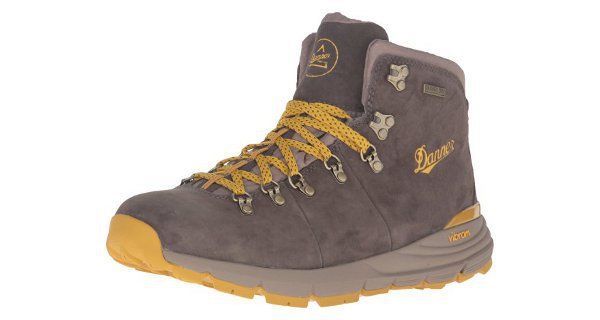 Slightly different in design, the Danner Men's Mountain 600 4.5" Hiking Boots are a nice choice for those tired of the same old mesh and leather design you see in almost every hiking boot. Sleek waterproof suede upper, these could easily pass in the office or on the trails.
The Danner company goes way back. All the way back to 1932 when Charles Danner opened Danner Shoe Mfg. Company in Chippewa Falls, Wisconsin with the idea to make work boots for loggers. In the beginning, they started with twelve workers and a pair of boots sold for less than four dollars.
The company survived the depression and WWII and when backpacking and hiking became popular in the 60s, Danner became the first domestic manufacturer of hiking boots. They eventually expanded into the successful company we see today.
Not only successful, but recognized as comfortable appropriate footwear for those with feet issues. In 1992 Danner was given the APMA seal of acceptance by the American Podiatric Medical Association. In 2010 they started providing protective footwear for Americans in active military action overseas, so they know what they are talking about.
This pair of boots comes with the Vibram SPE Midsole as well as the Vibram Fuga Outsole, so not only do they have superior traction but they are flexible in the arch while still providing cushioning and support.
Customers praise the flexibility in the ankle with these boots that provides protection from uneven terrain but aren't stiff like some other boots. They come in four colors and they have a great warranty. They even offer a "recrafting" service which makes your old boots look new again. You can't go wrong with that.
5. Vasque Men's Inhaler II Gore-Tex Hiking Boots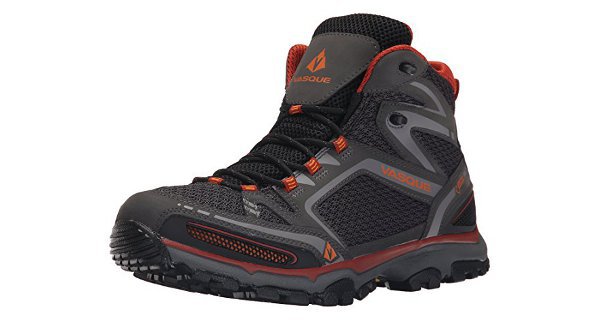 Another good option for boots with the Vibram Pneumatic rubber outsole is the Vasque Men's Inhaler II Gore-Tex Hiking Boot. These boots are particularly recommended for warmer climates as they are mostly mesh, with a breathable Gore-Tex waterproof liner and thin 1.6 mm leather upper.
The Vasque company has been around since the 60s and they have a long history of making boots for various terrain and conditions. The Inhaler is their lightest hiking boot to date and they almost have a running shoe look to them in their design, a refreshing change from the clunky, heavy boots some brands are coming out with.
If your flat feet feel best in a boot that has structure but isn't too heavy and if you prefer the flexibility of a mostly mesh boot instead of stiffer leather, this might be the boot for you. The higher ankle keeps everything in place while the TPU midfoot stabilizer provides cushioning and stability.
Customers with flat feet are recommending these boots for hiking while carrying weight with one customer averaging 20 miles per day with no blisters or problems. People with wide feet are mentioning the toe box might be a bit tight, so order a half size up.
6. Timberland Women's White Ledge Hiking Boots – Overall Best Women's Hiking Boots for Flat Feet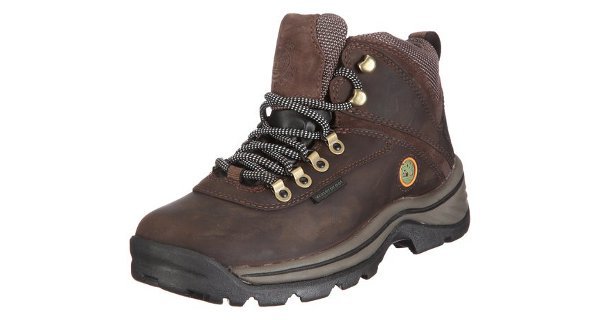 There is a reason why Timberland is such a huge name in boots for both men and women. They're comfortable and they look good. In fact, there was a huge trend there for a while where tan-colored Timberland boots were just a part of an everyday wardrobe for many people.
If you're looking for a hiking boot that isn't flashy with mesh and a lot of structure and lines, the Timberland White Ledge Hiking Boot is the way to go. Brown or Dark Brown. Those are the options. Smooth, clean leather finish that will only look better the more broken in they get. And most importantly, durable.
Heavy-duty lacing with D-ring and speed-hook metal means that you won't ever have a problem on the trail with breaking a lace. The tongue and collar around the 4.5-inch-high ankle have extra padding so chafing or blisters won't ever be an issue.
And of particular benefit to those with feet issues, Timberland boots come with their trademarked BSFP Motion Efficiency System. With this system, Timberland recognizes a curved center path of pressure on the foot when walking, and so they align lugs along this pressure path to help with traction and comfort.
Customers with flat feet are raving about these boots with one customer who normally wears orthotics not even needing them when they wear these, even after wearing them for six hours. Other reviews by customers with flat feet mention how supportive and cushioned the arch of the shoe is.
Another nice bonus with these boots is how your purchase contributes to Timberland's corporate responsibility commitments. Not only do 84 percent of their products contain at least some aspect of recycled materials, but they are well on the path to planting ten million trees by 2020.
Nearly 700 reviews at an average of 4.5 stars make these boots our top pick of women's hiking boots for flat feet. Read on for our other recommendations.
7. Merrell Women's Moab Ventilator Mid Hiking Boots
Half an inch taller in the ankle and a bit more visually interesting for some, the Merrell Women's Moab Ventilator Mid Hiking Boot is a breathable, mostly mesh option perfect for those hiking in warmer climates.
The Merrell company was born in 1981 when Randy Merrell left shoemaking school and started crafting handmade boots. While his first pair was a custom pair of cowboy boots, it didn't take long for him to get into the world of high-quality hiking boots.
A few years later, in 1983, they designed their first pair of women's hiking boots and specifically paid attention to the "unique profile, bone structure, and stride of female hikers." To this day they still make their Wilderness boot, one of the first Merrell styles of hiking boots the company made.
Breathable and lightweight with the standard Vibram sole, customer reviews show that these boots rarely need breaking in. Many customers say they have gone through all the brands before finding happiness in their first pair of Merrells.
One review that caught our eye was from a customer who claims these boots took her "totally flat feet" on a 9-mile moderate hike without any blisters or discomfort. Another customer with flat feet said these had no break-in period and they were supportive from day one. Great feedback from a pair of boots at such a reasonable price point, these are a great choice for people with or without feet issues.
8. Nevados Women's Klondike WP Hiking Boots
Admittedly, we had reservations about these boots as we weren't familiar with the brand name. After doing some digging and coming up with nothing in terms of a website for the company, we learned that Nevados is one of the brands currently owned by the Caleres company-a brand that holds a huge portfolio of widely recognized footwear brands such as Naturalizer and Dr. Scholl's to name a few.
The price was another red flag at first. How can something so affordable be durable and made with good materials? Our initial wariness dissipated after reading positive review after positive review by happy customers who swear by the brand and have been purchasing these boots time and time again.
The Nevados Women's Klondike WP Hiking Boots are just one of their top-rated products and they are indeed quality, with leather and fabric upper which includes the waterproof liner and a tough rubber sole. They come with the option of a few different color choices, including one pair with bright aqua detailing in case you are interested in something a bit more feminine looking. If not, there is a subtler brown and taupe option.
A comfortable padded tongue and ankle support come up at 5 inches from the arch and a handy heel tab makes it easy to pull the boots on.
One customer with flat feet and plantar fasciitis took these boots on a trip to Machu Pichu in the rainy season and was very pleased with their purchase, claiming not only are these boots durable and lasted throughout the trip and beyond, but they are indeed completely waterproof and a great bargain for the price.
If you need something reliable that won't break the bank, these boots are surely the best option.
9. New Balance Women's WW1400V1 Walking Trail Boots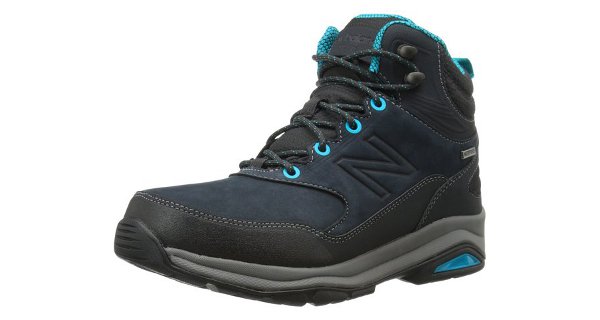 Perhaps the most attractive pair of boots in our list, the New Balance Women's WW1400V1 Walking Trail Boots offer a choice of two styles with a pop of color on the heel and internal mesh.
A juggernaut in the running shoe industry, New Balance may not be the first name you think of when it comes to hiking boots, but the quality and durability they are known for in their running shoes, carries over here with these boots.
A high 5-inch ankle shaft provides plenty of support and the compression EVA foam midsole means that customers with flat feet will be able to walk to miles in these without any problems.
A good option for colder climates, these boots also feature a Thinsulate lining and are waterproof inside and out. Customers claim these boots are "super-cushioned and have decent arch support" but they can also fit orthotics just fine as the insoles are removable.
Another customer who had multiple foot surgeries and wears orthotics mentions that these boots are great for those with feet problems as they keep your feet stable and support the ankle and yet are attractive enough to wear everywhere. And yet another review talks about how these are the best boots for their plantar fasciitis and ankle issues.
The other bonus with these boots is that there is a choice of a number of widths so if your feet run both flat and wide, consider measuring your width to get the correct fit for you.
Whatever your foot issue, the New Balance brand continues to live up to their name with these boots and the wide range of sizes and widths means there is something for everyone here.
10. New Balance Women's WW769V1 Walking Shoes
If the high ankle support isn't comfortable for you, or if you are walking on stable, even terrain for the most part, perhaps a durable walking shoe is more what you are looking for. The New Balance Women's WW769V1 Walking Shoe has all the benefits of a hiking shoe with the reinforced toe, the rubber sole, and the leather and mesh construction, without the bulkiness of a high padded tongue and ankle.
New Balance describes these shoes as "all-terrain" and a shoe that you can wear "long after your hike is complete." We like the versatility of a shoe like this that can go from the mountain to grocery shopping without looking out of place.
These shoes have taken customers all over Glacier National Park and Yellowstone, into Europe and Peru with rave reviews. The cushioning has one reviewer reporting that wearing these boots is "like walking on clouds" and others saying that it's like not wearing shoes at all.
Available in two color choices, buy a half size up so you can wear thicker socks if the weather is cool and pay attention to the many options in widths.
How to Deal with Flat Feet When Hiking
Whether your flat feet are genetic or have just happened over time, there are some stretches and exercises you can do before and after hiking to make sure you are giving your feet the best chance before you hit the trails.
While foot pain often makes people want to be more sedentary, this is likely the worst thing for the condition, especially if it is caused by excess weight. Instead, try these tried and true methods to exercise your feet and don't let flat feet hold you back.
Take some time before you go hiking to stretch your bare feet and toes by placing your feet on the ground and spreading your toes to wake up the muscles in the toes and arches. Warm up your ankles and calves as well by lifting your heels off the ground.
If budget allows, visit a podiatrist – especially if you have never gone before and see if you might benefit from custom orthotics. While some health practitioners don't believe that orthotics are the answer for flat feet, at the very least you can get a professional opinion.
Invest in proper footwear. This might seem like an obvious point, but cheap shoes with a thin sole and no support are going to cause feet problems. Take care of your feet and if you are a regular hiker, buy a pair of boots made for variable terrain. Buy a half size up so you can fit thicker socks. This will provide more padding and prevent blisters. Know the width of your foot and buy hiking boots that are the proper size for you.
Give yourself a healing foot massage after hiking with a natural oil or use a tennis or golf ball to massage the arch of your foot. Soaking your feet in warm water after a long walk or hike may also provide some relief.
---
Sources & Further Reading