Standing desks have been an office trend for several years now, and plenty of studies have been done to show the benefits – and drawbacks – to working at a standing desk.
Several studies have proven conclusively that it helps increase energy expenditure and calorie-burning, which is never a bad thing, and many other studies have shown that it has additional health benefits.
Sitting at your desk is not only less physically healthy, but it can also take a toll on your mental health as well.
"The implication is that the more time you spend in a chair the worse it is for your brain health, resulting in possible impairment in learning and memory," writes Dr. Richard A. Friedman for the New York Times.
COMPARISON TABLE
IMAGE
MODEL
FEATURES

Varier Move Tilting Saddle Stool

Designed by Per Die in 1985

3 pieces that are easily put together

Constructed to move with your body

View at AmazonView at WayFair

Balt Circulation Adjustable Height Stool

Foot rest is provided

Seat features a 16 degree slope

Black polypropylene seat and back

View Product

Herman Miller Classic Aeron Work Stool

12-year warranty

Breathable Pellicle suspension

Has a tilt mechanism

View Product

Learniture Adjustable-Height Active Learning Stool

12 5/8"-wide seat

Lightweight design

Easy-to-use pneumatic gas

View at Amazon View at WayFair

Boss Office Products B16245-BK Be Well Medical Spa Drafting Stool

Dual wheel casters

Adjustable back depth

Adjustable seat height

View Product

Safco Products 3442GR Metro Extended-Height Chair

Sturdy base

Adjustable height

Ergonomic, padded design

View Product

Office Star Deluxe Mesh Back Drafting Chair

Back Adjustment

Adjustable Footrest

Heavy Duty Nylon Base

View Product
With these benefits and more, professionals, students and people the world over are switching to non-traditional standing desks or desks that offer height-variability. There are companies – like Apple – that have even begun to implement standing desk policies and preferences in the workplace.
But even with a standing desk, there are still things you need to consider and mistakes to avoid in order to maximize the health benefits. For example, if you use a standing desk without also working on your posture, balance and core strength, you can develop leg pain and other ailments, though this depends on many factors.
Other studies have shown that while standing desks are popular, they're also sometimes just fashionable, so you need to create a work-routine and behavior system that allows you to make the most of your new desk.
One of the ways to help ensure a safe workstation is by pairing a standing desk with a drafting chair or stool that can also work for tall desks. This allows you to switch between standing and sitting throughout the day, which may be one of the best ways to stay active and physically engaged during the work day.
We've spent hours researching some of the best chairs for standing desks, and have summarized our findings below. We've taken into consideration a number of factors, as well as industry and user reviews and feedback.
As you search for your ideal chair, remember that you must above all else consider your physical, workplace and personal preferences before making a decision.
What to Look for in a Standing Desk Chair
Ergonomics: The aim of ergonomics is to increase productivity while minimizing injury. This doesn't only relate to your chair, as many factors are at play such as the desk itself, mats, foot rests, shoes, height and placement of the monitor, etc. The good news is that you can overcome many other ergonomic misses in your setup with the right chair. From good lumbar support to proper foot rest, the goal is to create a comfortable position for your body with the right angles, support, and height.
Adjustability: Your body's shape and size is unique to you, so you'll need a chair that can adjust to the contours and needs of your specific body. If you're not sure which chair to buy, a good rule of thumb is to buy the one with the most adjustment opportunities, allowing you to customize constantly until the fit is perfect for you. Some factors to consider are:

The maximum seat height should allow you to sit comfortably in an upright position at the height of the standing desk.
Adjustable arm rests are an option on many chairs. It's important the chair can be adjusted so your arms are parallel to the ground and rest comfortably and relaxed to prevent strain and injuries.
The angle of the backrest will help support your back, and any adjustment in headrests (if available) can help customize your daily needs.
Foot rings, if available, should be adjustable so your feet can remain flat while sitting to keep your blood circulation moving throughout the body.

Comfort: Ample cushioning will provide your muscles with the necessary relaxation to prevent aches and pains from extended periods of sitting down, especially in the low back and buttocks regions. A broad seat will be more comfortable, giving you plenty of room to move around. The thickness of the seat padding, its softness, and overall luxury should be things to consider, as well as headrest and armrest. Cushioning on the end of the seat should support the knees, and lumbar support should comfort the small of the back.
Durability: The life of the chair can have an impact on how much you're willing to spend on it. Consider the material used for the cover, with leather and mesh fabrics lasting longer than foams and fibers. Metal materials used for the joints and chassis will often last longer than plastic, which can wear down more quickly especially with frequent adjustments.
Budget: In general, most people don't regret spending more on comfort, but ultimately you must decide on a budget and choose the best chair considering all the above factors. If you're deciding between two chairs and the more durable one is a little bit more expensive, consider the cost over the life of the chair. The right chair also has the potential to increase your productivity and decrease back pain, so the earnings potential and medical savings may make it worth the extra money. Ultimately, it depends on how many hours a week you plan to sit on the chair. If you're not sitting in it for extended periods of time, you may not want to spend extra on padding and adjustment options.
---
Here are the best drafting chairs for standing desks that offer great comfort, value and the support needed to work for long hours.
Varier Move Tilting Saddle Stool
VARIDESK Adjustable Standing Desk Chair
Balt Circulation Adjustable Height Stool
Herman Miller Classic Aeron Work Stool
Learniture Adjustable-Height Active Learning Stool
Boss Office Products B16245-BK Be Well Medical Spa Drafting Stool
Safco Products 3442GR Metro Extended Height Chair
Office Star Deluxe Mesh Back Drafting Chair
Editor's Choice
Varier Move Tilting Saddle Stool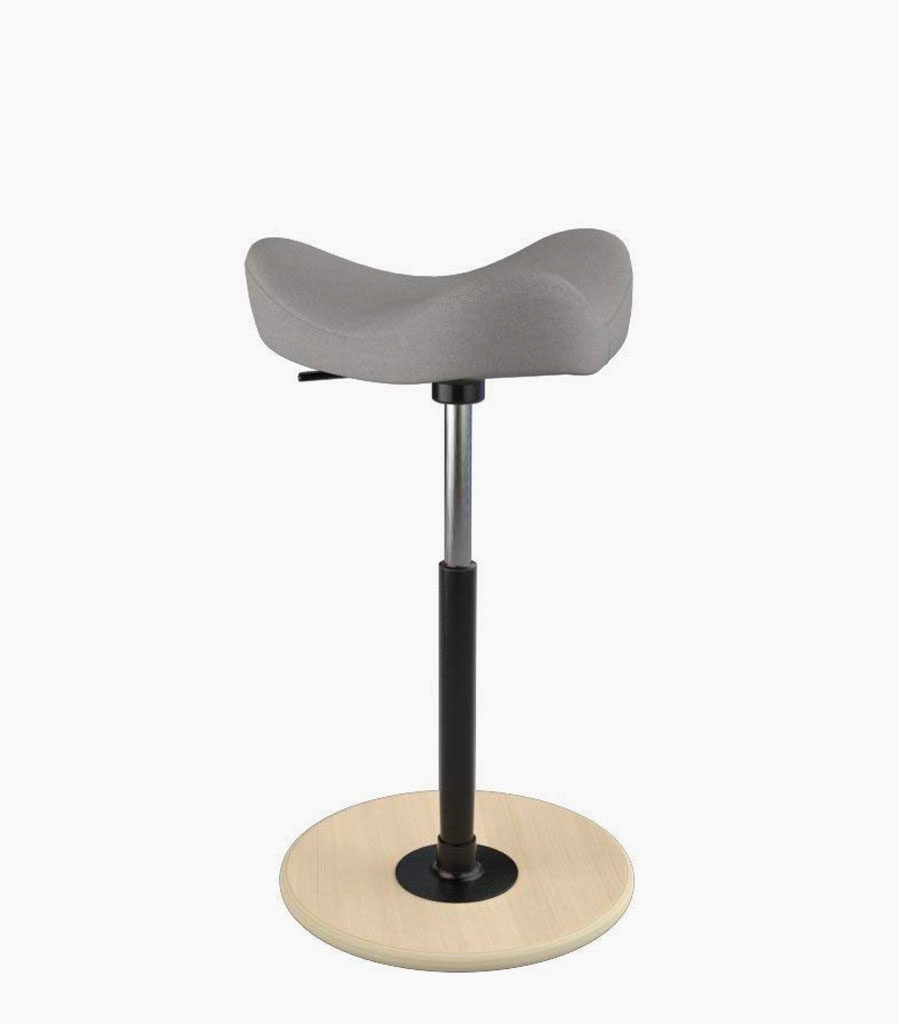 Move from Norwegian-based Varier is in a league all its own: where most standing desk chairs lack in one area – design, comfort, range of motion – Move covers it all, and then some. It's a comfortable, ergonomically-designed saddle stool that tilts and offers plenty of motion while still providing the perfect amount of stability.
This chair is NEAT-certified and was proven to burn calories in independent testing. So while standing offers a great physical benefit (compared to sitting at a desk all day), Move is a great option because it continues to help you burn calories even while sitting. Its height varies from 22" to 32.25" and works well for nearly every weight and height.
Move is also extremely lightweight, so it's great for open-area offices or rooms where you need to move around for meetings and discussions. It's more comfortable than nearly every standing desk chair we researched, and the soft, gentle lines make it contour to your body and posture. The form of Move helps accentuate the natural curves in your lower back, so even after a long day of work you'll feel rested. The chair forces your center of gravity from your back – where most chairs work – to your feet, which takes pressure off your back and allows you to work in a more naturally-include state.
It's consistently rated one of the most well-designed standing chairs on the market today, and because of Varier's commitment to quality, design and aesthetics, it truly offers everything all in one product.
Who it's best for: workers who want the convenience of standing but the comfort and ergonomics of a traditional office chair will love Move, as will those who value aesthetics and design in addition to function and practicality.
[customer rating="5.0″ reviews="" url="https://www.amazon.com/gp/product/B01FDIYG1C/ref=as_li_tl?ie=UTF8&tag=mcbestcomfortabledraftingchairsandstoolsforstandingdesks-20&camp=1789&creative=9325&linkCode=as2&creativeASIN=B01FDIYG1C&linkId=51a07c89be77cfc66f5e668732f16231″][/customer]
VARIDESK Adjustable Standing Desk Chair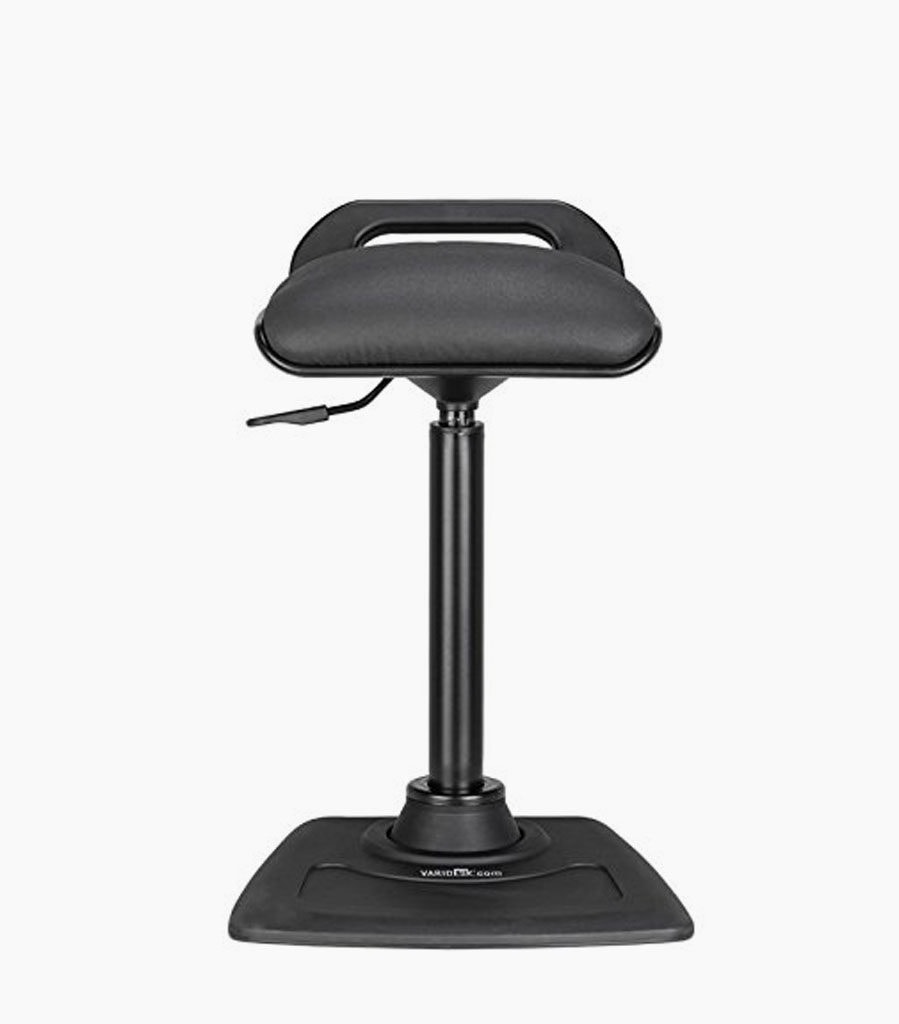 Varidesk is one of the industry's leaders in height-adjustable office products, and their Adjustable Standing Desk Chair is a welcome addition to the brand's growing line and reputation. The desk chair is a simple, low-profile standing chair that is purposely designed for movement – engaging your core, legs and back in the process.
Some users liken the chair to using a balance board – it keeps your core engaged while allowing you to rest when needed. The chair expands in height from 23" to 32.75", so it offers flexibility for most workers. The weighted base allows for freedom of movement and range of motion without feeling like you're off-balance.
The back of the chair offers a low-profile that naturally forces good posture, and the movement of the chair also delivers a physical requirement that helps you stay focused and physically aware while working.
The Varidesk chair comes pre-assembled and ready to go; users find that its most useful benefits are the wide range of motion it offers and its minimal space requirement, while the most common drawback of the chair is its firmness, which means you'll need to take breaks here and there to avoid having what one user calls "numb butt."
Overall, it's an excellent option for those with a standing desk and a relatively modest budget for their next chair.
Who it's best for: The Varidesk adjustable chair isn't for everyone, but it is ideal for those standing desk professionals who want something physically engaging when they do sit down. It's great for those who stand most of the day but still want 15 to 30 minute breaks of sitting at their desk. Finally, it's perfect for those who want the convenience and quality of a much more expensive standing chair, so we consider it an excellent value for what you get.
[customer rating="4.0″ reviews="" url="https://www.amazon.com/gp/product/B01EXPQEQG/ref=as_li_tl?ie=UTF8&tag=mcbestcomfortabledraftingchairsandstoolsforstandingdesks-20&camp=1789&creative=9325&linkCode=as2&creativeASIN=B01EXPQEQG&linkId=a993da434d1deb379798db66bb836c7d"][/customer]
Balt Circulation Adjustable Height Stool
Balt began manufacturing printer stands in 1985 with the goal to create high-quality, multi-functional stands. Through growth and acquisitions, they branched out and became a leader in office products as they continued to focus on value driven, ecologically preferred, and ergonomic products. They make a concerted effort to design and manufacture environmentally friendly, sustainable products.
With GREENGUARD certification, you can be sure that their products have met the world's most rigorous and comprehensive standard for the release of Volatile Organic Compounds (VOCs) into indoor air. Balt takes great pride to ensure that their products have low chemical emissions and meet this trusted standard for low-emitting products.
The Balt Circulation Adjustable Height Stool combines style and comfort. The perforated pattern on the seat and backrest is made from polypropylene, so it is not only built for durability but provides excellent ventilation as well.
Natural contours in the seat back support your lower back, and a 16-degree seat slope promotes good posture as it allows you to sit in a neutral position. The pneumatic adjustment permits a range in height from 24-inches to 31-inches high. The foot rest is fully adjustable and optional arms with flexible height are available.
Users describe this chair as "perfect" and as the most comfortable office chair they have ever had. The ease of adjustment is well appreciated amongst users. The durable plastic frame described as "quite sturdy," and users report this chair is easy to get in- and out of, even when the chair is at the maximum height.
Because of the comfort-focused design, durability, and high level of adjustment, the Balt Circulation Adjustable Height Stool gets our Editor's Choice.
[customer rating="4.0″ reviews="" url="https://www.amazon.com/gp/product/B008OTCCH8/ref=as_li_tl?ie=UTF8&tag=mcbestcomfortabledraftingchairsandstoolsforstandingdesks-20&camp=1789&creative=9325&linkCode=as2&creativeASIN=B008OTCCH8&linkId=19b07dec08ed85fe74f61b6cbedc5436″][/customer]
Best Upgrade Pick
Herman Miller Classic Aeron Work Stool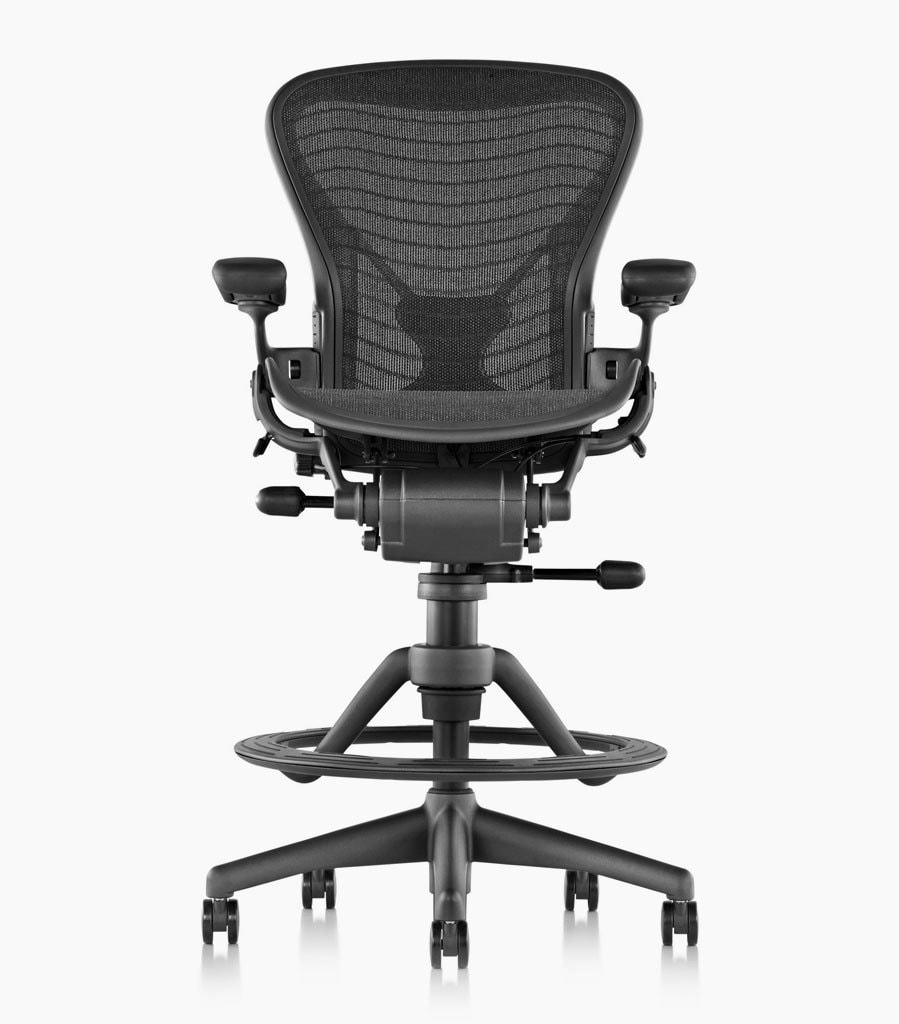 Herman Miller has spent the last 75 years dedicated to creating innovative products that solve problems via design. Herman Miller has been named Fortune's "Most Admired Companies," Fortune's "100 Best Companies to Work For," and Fast Company's "Most Innovative." They are dedicated to quality, research and testing, and pioneering products that work with purpose and integrity to create a better world around us.
Herman Miller's commitment to reduce environmental impact is not only evident in their environmentally friendly manufacturing facility in Michigan, but also in the design of each chair. Most products are made from 94 percent recyclable materials and can be completely disassembled so the plastic parts and ferrous metals (identified using a magnet) can be recycled.
The Aeron stool series features legendary design, coupling supportive comfort with innovative suspensions to inspire users to think "wow" when they sit down. Designed with PostureFit SL, the stool provides comfort with ergonomic support, moving the body into a position that mimics the spine while standing.
The design of the chair keeps the chest open, pelvis tilted slightly forward, and supports the lumbar. The front edge of the seat is designed to take pressure off of your thighs, keeping the blood circulating in the leg. Tilt allows the body to move in a natural way, shifting from forward to reclining positions intuitively. Keeping you in contact with the back of the chair helps you stay in full control of your movement through the entire range of recline.
The chair is available with additional adjustable lumbar support and has an option for fully adjustable arms. All adjustment controls are designed for ease-of-use, including a foot rest that can be adjusted from a seated position.
The unique Pellicle fabric is extremely durable as well as designed to maintain an even and comfortable temperature all day long, allowing body heat and air to pass through the seat and backrest. With Herman Miller's 12-year, 3-shift warranty on parts and labor (including all moving mechanisms), you can feel secure that this product is built for durability.
Users point out the stool's high configurability, allowing it to easily fit anyone's style of sitting. One user talks about the high price of the stool as being a good "investment." He explains the price is more tolerable than at first glance as he plans to have it for 10 years or more, it will cut down on fatigue and body ailments, and increase his productivity.
Many reviewers commented that they previously had back problems that this stool has since solved, allowing them to work continuously without having to get up and stretch, as well as saving them from chiropractic expense.
Because of the higher price and the exceptional design with comfort and ergonomics in mind, the Herman Miller Classic Aeron Work Stool receives our Editor's Best Upgrade Pick.
[customer rating="5.0″ reviews="" url="https://www.amazon.com/gp/product/B001G7H9P0/ref=as_li_tl?ie=UTF8&tag=mcbestcomfortabledraftingchairsandstoolsforstandingdesks-20&camp=1789&creative=9325&linkCode=as2&creativeASIN=B001G7H9P0&linkId=7b84da70f0e1dd3cc03c08a569697f01″][/customer]
Learniture Adjustable-Height Active Learning Stool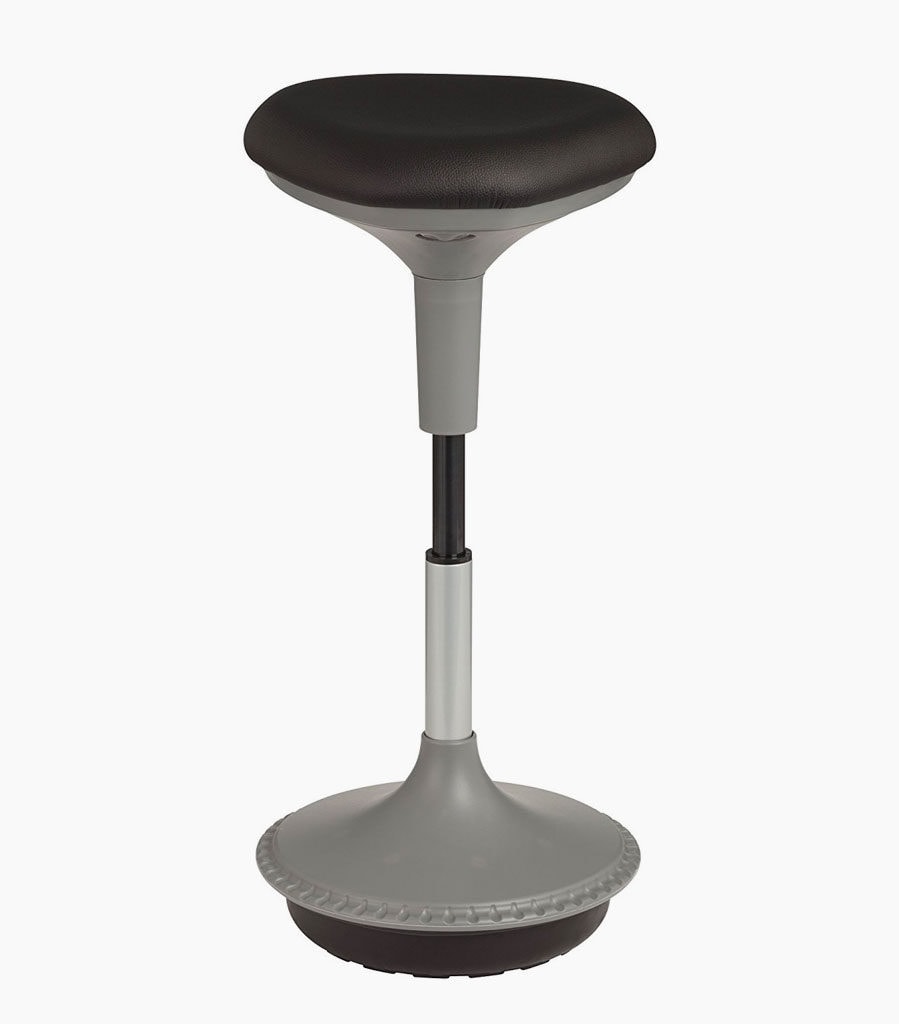 The Learniture Adjustable-Height Active Learning Stool is exactly what it says: a learning stool. It takes some time to get used to the movement of this standing desk stool, but once you do, you'll find it offers a comfortable "passive core" engagement that allows you to stay physically engaged while being able to get work done.
It's one of Amazon's Choice products, and its curved base and easy ergonomics makes it easy to maneuver and get right where you need it to be. The chair adjusts up to 28", so it's ideal for student desks or lower standing desks that don't require you to get up to 30" or higher.
Users recommend the chair for its quality and ability to offer just enough movement and range of motion without feeling too wobbly or off-putting. As mentioned, it's considered a learning stool, so there is an adjustment period if you're moving from a traditional office chair.
Who's it best for: those who are just getting started with a standing desk, or students who use them at school or home will love the flexibility and comfort of the Learniture chair. It's also considered a good value because of the quality and performance it offers at this price point.
[customer rating="4.3″ reviews="" url="https://www.amazon.com/gp/product/B01GVVQNL6/ref=as_li_tl?ie=UTF8&tag=mcbestcomfortabledraftingchairsandstoolsforstandingdesks-20&camp=1789&creative=9325&linkCode=as2&creativeASIN=B01GVVQNL6&linkId=81e9c6037fa9905a6dba07114f31e836″][/customer]
Best Budget Pick
Boss Office Products B16245-BK Be Well Medical Spa Drafting Stool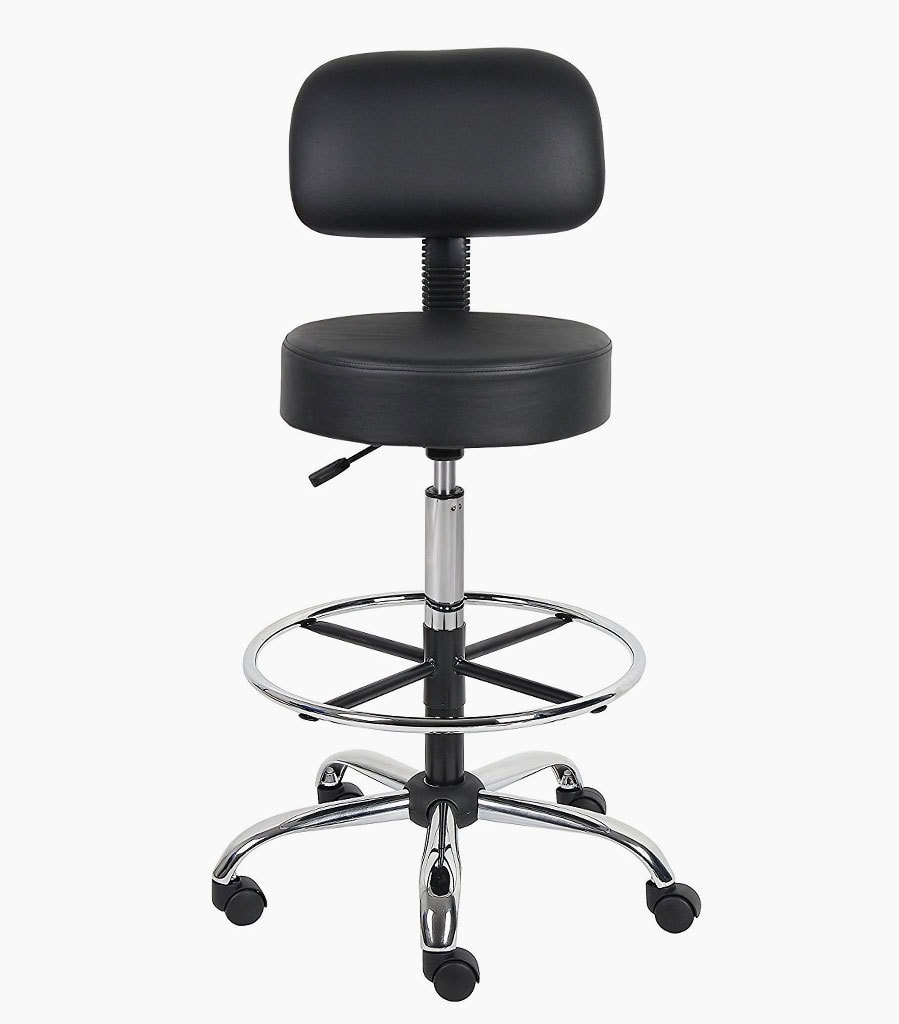 Boss Office Products was established in 1990 and became the first United States office chair distributor to set up its own manufacturing facilities in China. They were ranked in 2003 by Inc. Magazine as one of the 500 fastest growing private companies in America. They have passed the stringent tests required to become MAS Certified Green Company for low Volatile Organic Compound (VOC) emissions.
The B16245-BK model stool is a simplistic stool that has no arms. The design of the backrest emulates the natural shape of the spine to increase ergonomics and comfort. The stool features a footrest that is not adjustable, however the footrest is removable. The seat height is adjustable with a quiet pneumatic lift function that adjusts the seat height for a 6-inch vertical height range, allowing this stool to go from 28-inches to 34-inches high.
Durability was on the top of the list when this stool was designed. The Carressoft vinyl upholstery is constructed to be sturdy and easy to clean. The majority of the stool is made of attractive chrome metal instead of plastic, giving it a well-made base that will last for much longer than a plastic counterpart. The five-star base also features dual-caster wheels, allowing the chair to glide smoothly around your workspace.
Users with back pain report that this stool is not only stable and comfortable when sitting, but it is also easy to get in- and out of despite its tall height. Many reviewers report using this stool at standing desks, some sitting for the majority of the day and some only sitting when their legs get tired.
They find it to be a great fit at the standing desk, some commenting that the lack of arms allows it to slide nicely underneath the desk, taking up no space when they're not occupying it. A large number of users comment on the quality of the fabric holding up even after mild abuse and feeling "like-new" even after an extended period of use.
Because of the durability and overall comfort offered at a reasonable price, the Boss Office Products B16245-BK Stool gets our Editor's Budget Pick.
[customer rating="4.1″ reviews="" url="https://www.amazon.com/gp/product/B004I3ZRQM/ref=as_li_tl?ie=UTF8&tag=mcbestcomfortabledraftingchairsandstoolsforstandingdesks-20&camp=1789&creative=9325&linkCode=as2&creativeASIN=B004I3ZRQM&linkId=72f54812795c0f62c4cfcec9487337de"][/customer]
Safco Products 3442GR Metro Extended-Height Chair
Safeco Products has been a leading manufacturer of workplace products for nearly 50 years. They are committed to the highest level of satisfaction in their products, designing them to a standard of quality that exceeds their customer expectations of value.
Their commitment to the environment goes beyond their own standards, as they require their suppliers to commit to high environmental standards as well, creating a total supply chain initiative. Their products are GREENGUARD certified, and they are dedicated to furthering their environmentally conscious attempts towards obtaining a Leader in Energy & Environmental Design (LEED) certification.
The Metro Extended-Height Chair has an abundance of features that make this a great option for standing-height desks. The fabric upholstery is thickly cushioned in the seat and offers a contoured back for serious comfort.
Optional height-adjustable armrests are available for this model, and an adjustable foot rest means that your feet can be sitting flat at the exact level you need them to be. The pneumatic seat height adjustment controls the customizable 10-inch range in lift, allowing the seat to adjust from 39-inches to 49-inches. A 360-degree swivel seat and spring filled mechanism with 20-degree adjustable back tilt tension gives you the movement and support to keep working.
Users report that this stool meets their expectations of comfort, with firm cushions that have plenty of padding on the seat. In addition to comfort, reviewers like the adjustability of the chair, from the overall height adjustment to the optional arm rests, allowing them to completely customize their experience.
Many speak about the adjustable foot rest, allowing them to place their feet flat and keep the blood flowing through their legs. Users comment on the tilt adjustment that helps them to adjust the recline to exactly the right position for their individual preference.
[customer rating="4.1″ reviews="" url="https://www.amazon.com/gp/product/B001MS71AG/ref=as_li_tl?ie=UTF8&tag=mcbestcomfortabledraftingchairsandstoolsforstandingdesks-20&camp=1789&creative=9325&linkCode=as2&creativeASIN=B001MS71AG&linkId=d684e8321612278eca17967a3566593f"][/customer]
Office Star Deluxe Mesh Back Drafting Chair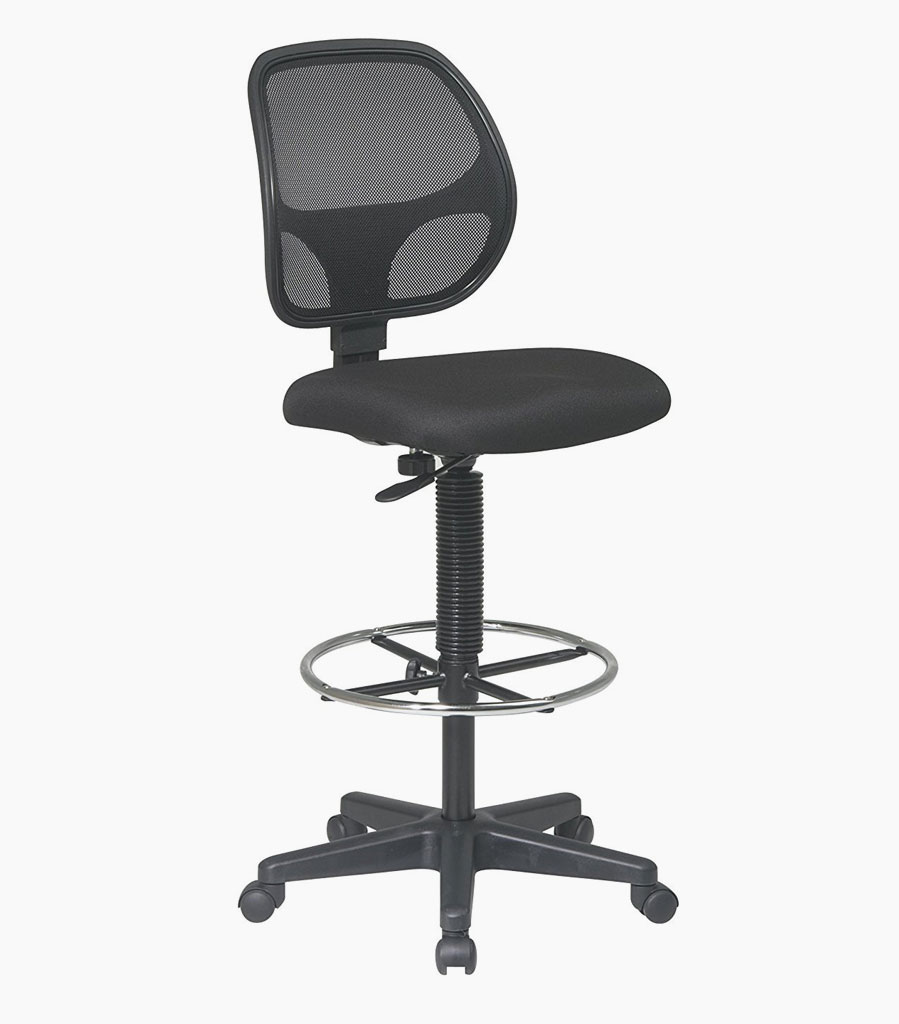 Office Star Products markets nine furniture collections and operates five warehouses within the United States and Canada. They build products for the home office as well as professional setting, and they currently offer the industry's widest selection of office furniture.
They believe in their local communities and strive to give back wherever possible, giving to organizations such as Mothers Against Drunk Driving (MADD), Special Olympics Southern California, Children's Wish Foundation International, and many others. Products are also GREENGUARD certified to ensure low chemical emissions and promote indoor air quality.
The Deluxe Mesh Back Drafting Chair is part of Office Star's Work Smart collection, a line created to combine sturdy frames with ergonomic design. They stand behind their durability with a Work Smart warranty that includes 15-years on all non-moving parts, as well as 5-years on component parts and 3-years on upholstery fabrics and foams.
The backrest is made from a breathable, durable mesh that allows body heat and air to move through the chair. Built-in lumbar support padding provides ergonomic support on the backrest, and the seat features a thick, padded fabric for ultimate comfort.
The seat height is adjustable for an 8.5-inch range through one-touch pneumatic adjustors, for a total height of 24-inches to almost 34-inches. In addition to an adjustable footrest, the seat depth is also adjustable allowing users to position the chair back according to their individual needs, reducing pressure on the buttocks and thighs. A full 360-degree swivel provides ease of motion.
Users that say they use this chair for standing desks enjoy the adjustable foot rest, which prevents their feet from dangling and cutting off the blood circulation. The padding on the seat is rated as comfortable, and many users enjoy the mesh back which keeps them cool in addition to being relaxed in the chair.
The lumbar support is well rated by users reporting back problems. Overall, users find this a springy and comfortable chair that is easy to adjust.
[customer rating="4.1″ reviews="" url="https://www.amazon.com/gp/product/B0039MIMRO/ref=as_li_tl?ie=UTF8&tag=mcbestcomfortabledraftingchairsandstoolsforstandingdesks-20&camp=1789&creative=9325&linkCode=as2&creativeASIN=B0039MIMRO&linkId=397d307ef694cc74f83e108cfb83ff18″][/customer]
Tips for Maximizing Ergonomics
Now that you've decided on the perfect drafting chair, here are a few things to keep in mind when it comes to ergonomics. By making small adjustments in chair, arm, and foot rest height, you can set yourself (and your spine) up for lasting success.
The goal is a to find a comfortable position for your body with the right angles, support, and height.
Sit back in your chair, adjusting the depth of the seat if necessary. Lower back and lumbar support are built into a great number of chairs, but you're not taking advantage of that support if you're sitting on the edge of the chair. Make an effort to sit with your buttocks pressed against the chair's back and spine flat. This will help you sit up straight and avoid slumping and slouching.
Position the chair correctly in relation to the desk. The chair should be high enough so your hands rest on the work surface with elbows at 90-degree angles, with your upper arms positioned parallel to the spine.
Adjust the height of your screen. Now that your chair is at the correct height, adjust the height of the screen so it is level with your gaze. Use a stack of books to raise the screen if need be. In addition to preventing neck strain, this will keep your back straight and prevent you from slouching as you sit.
Rest feet with legs bent at the knees in a 90-degree angle. If your feet are hanging or dangling, proper blood circulation is hampered, which can increase swollen feet or leg fatigue. Flat feet with knees bent at 90-degree angles will allow relaxation of the feet and legs, giving them a break after standing all day while promoting proper blood circulation.
Arms should be comfortable and relaxed at your sides. Adjust the arm rest as necessary so arms are slightly lifted at the shoulders to prevent neck strain and slouching postures. To prevent carpal tunnel-related abuse, arms should be positioned as parallel to the ground.
---
Sources & Further Reading