Do you want to put a letter, or any cool, fancy design on something? Me too. However, when I was searching for the right one, there were very discouraging options in my local stores and many ones that I tried out, failed and were so hard to use that I gave up.
Some of the machines came with other features, which was a nice addition but I am not sure if I would go with one of those since I love the products I currently have. I just wanted to find something that was easy to use, and didn't come with thousands of directions and pieces that I had to figure out how to put together.
All in all, I think I narrowed down a great list of the best monogram machines for beginner's. So if you're considering this for a project, then I highly recommend looking at which ones made the cut when it came to creating monograms.
What to Look for in the Best Monogram Machines for Beginners
Ease of use: The number one thing you want to make sure that the monogram machine is, is easy to use. You do not want to find yourself going through multiple steps just to do one little mark on a piece of fabric. Something easy will do the trick.
Built in stencils: These can be ideal when you do not want to connect to the Internet, download a bunch of things but just do something simple on the fabric. When the machine can have downloadable patterns, it is ideal but when you want simple ones then having stencils built in provides more ease of use.
Affordability: The price shouldn't be too high, since you're looking for something to quickly add the monogram on with. This should reflect that in the price that you pay.
Accessories: The set should come with some accessories, so you have everything you need to get the monogramming done, without having to purchase additional accessories is always a good idea to consider.
Multiple functions: Embroidery is also a great addition to have on the machine, and with the right functions, you can do multiple things with it, without having to have multiple machines for the projects you're trying to do.
After a lot of projects and tutorials, and embroidering everything from five-panel hats to the lining of waxed canvas backpacks, we've found some of the best machines on the market that are ideal for users at every skill level, from beginners to intermediate craftspeople.
---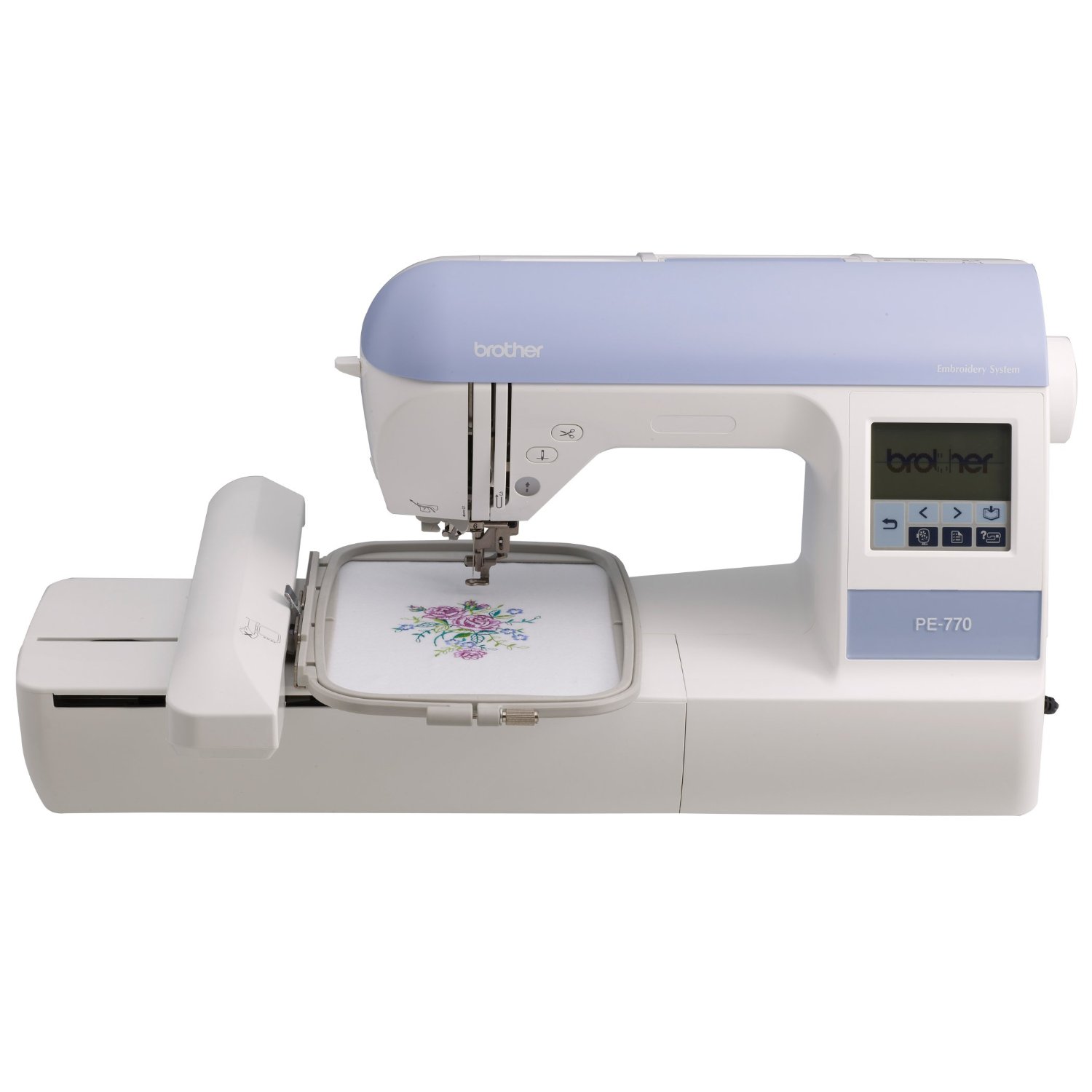 The Brother PE770 Embroidery Only Machine is one of the top rated machines on the market. Monogramming is done through an embroidery feature on the machine, and with the use of this product, you do not have to worry about purchasing additional items or machines to go with it.
The backlit display allows you to watch the machine do what you have it do, and the affordable price makes it well worth it. It comes with programmed pictures and letters, so you can use those without having to download anything, though it does have a USB port so you can use that to download new patterns.
The easy to use guide that comes with it explains everything you need to know, and how to do it. You can easily thread the needles, and ensure that you're all set to go. All of the accessories come with the machine, allowing you to have everything in one package that comes out ready to go.
Customer Reviews
"The set up is really easy and I immediately began stitching out some of the preloaded designs. The stitch quality is great. The preloaded designs are dominated by the "cutsie" stuff that isn't really my cup of tea."
"Actually, when my machine arrived I jumped right in and started using it with no problems! I had used my new embroidery machine for 6 days before I had taken that class and I had already done great on my own. I had already embroidered a dozen or more items. The Brother PE770 is easy and great."
"I am totally impressed by this Brother PE770. It produces excellent embroidery designs that look great! You do not need to have any embroidery software, although useful, it is not required. You can buy designs on Brother embroidery cards that insert into the machine or on CDs/Internet download and simply copy and paste onto a flash drive/thumb drive."
Check Latest Amazon Price
---
The Brother SE400 Computerized Sewing and Embroidery Machine provides the user with ease of use, and the ability to have one machine for all of the sewing and embroidering that they want to do. The machine has smooth features that makes both sewing and embroidering easy.
One of the biggest aspects of this machine are the pre-loaded stencils that come with it. There are 70 or so of them to choose from, and even letters for the monogramming you'd like to do.
It is easy to switch between sewing and embroidering on the machine, and comes with instructions to show you how too.
The automatic thread cutter makes everyone's lives easier when it comes to making projects happen. There are many other features, some of which you might not even know about, that come with this machine.
It is affordable, and provides you with clean, easy stitching for anything you want to sew or embroider.
Customer Reviews
"The SE-400 is compact enough, comes with a handle at the top, which makes it truly portable. Even though it is relatively lightweight (compared to my good 40-year old "all metal" Kenmore), the SE-400 feels sturdy while sewing and it is a very easy machine to operate. The manuals that came with the machine are very well written and the diagrams easy to follow. It took me only a few minutes to figure out how this machine operates. I love the self threading feature of the machine, as well as the built-in thread cutter, bobbin sensors, and drop in lower bobbin."
"I advise purchasing the se-400 even if you don't plan on using it w/ your computer currently as Brother will be offering system upgrades you will need usb port for."
"I did lots or research prior to ordering this machine being it was my first and not exactly cheap. I have been so pleased with it so far. The instructional CD is wonderful and you can also find lots of videos on YouTube to help get you started."
Check Latest Amazon Price
---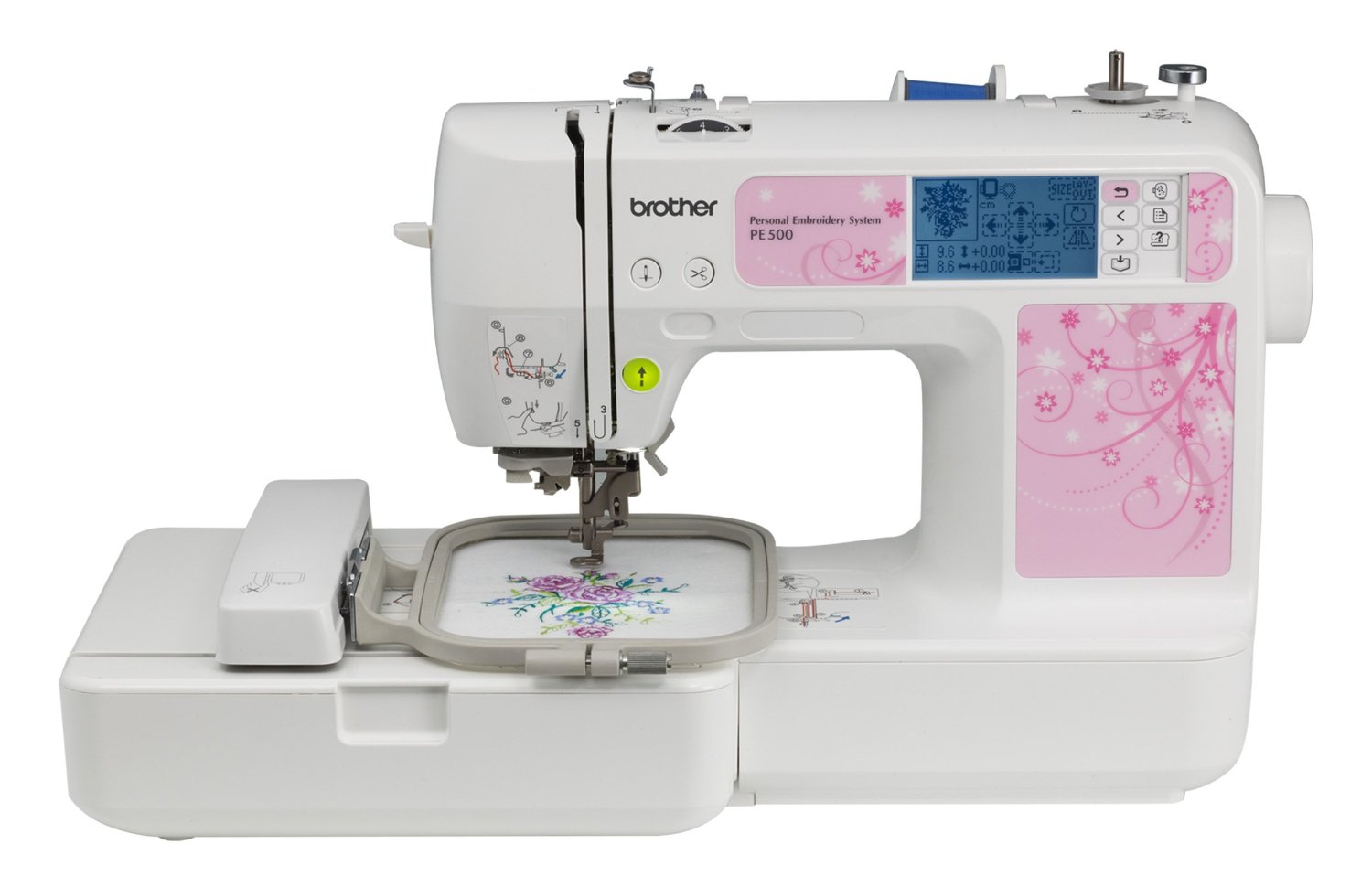 Through the use of the Brother PE500 4×4 Embroidery Machine, you can ensure that you have the right designs for the job since it comes with 70 preloaded designs that can provide the right picture or letters on the project you're working on.
Smaller and more compact than some of the other options, this machine packs power when you need it, but also can come with you when you have projects going on in other areas. Since it is just a monogram machine, you can monogram anything that you need too, without having to switch over the parts.
The easy to use, pre-lit back screen allows you to choose the stitching, pictures and other items that are needed. This is one of the easiest machines to use, most compact and even cute since it has a pink front plate on it that showcases flowers and other cute items.
Customer Reviews
"The embroidery quality of the machine is beautiful (on what I've done so far- which is just broadcloth). However, beware of the "4×4" embroidery area claim. It has the CAPABILITY to do 4×4 inch lettering, but you have to purchase additional software to get it to that size. The largest letter is will do is 2.54 inches."
"I have had this machine for about 3 months now and I actually like it better then my Brother PE770. I like my PE770 cause it can embroider up to 5×7″ designs. The Brother PE500 has a maximum embroidery size of 4×4″. I had it working within 5 minutes of taking it out of the box."
"I have had my machine for a couple of months now, and while I am not new to embroidery machines, this one is my third one, it is hands down my favorite. As many others have pointed out, it is very easy to use. It sews out nice and even though there is only a 4 inch hoop, you can combine various designs on the same article to give the look of a much bigger machine."
Check Latest Amazon Price
---
One of the best features of the Brother SE350 Computerized Embroidery and Sewing Machine is that it provides automatic cutting and threading of the thread being used in the machine. In addition to this, it is also easy to use for even the newest user.
Everything you need is included with the sewing machine, allowing you to sew and then embroider multiple projects when the time comes. There are 120-frame pattern combinations, 70 different monogram designs and five different fonts to choose from, depending on what it is that you're trying to monogram on.
The LCD touch screen makes choosing the best options easier, since it is lit up in the back. 15 different needle positions allow you to change the placement of the stitches for a more fancier appeal on the product. Easy enough for beginners but advanced enough to provide many different options for the user.
Customer Reviews
"I bought my Brother in April 2008 and have been sewing on it daily for at least 3 hours every day since then. I've never had ANY trouble with it. It's a MUST that you also buy the PED Basic to go with your machine so that you can download designs from the internet. I've downloaded over 8,000 free designs so far, and that's just a "drop in the bucket"."
"Well she has made 3 baby dresses so far( I think they call them pillow case dresses) and 3 pair of shoes to match. I asked her several times does she like the machine, and she simple says she loves it!!! It is not loud either."
"My decision to buy a Brother SE350 Computerized was the best decision I had ever made. I always had a Singer Sewing Machine and was hesitant buying a Brother SE350 Computerized machine. After seeing the positive reviews on Amazon I decided to try a Brother. What a beautiful machine and so easy to use. A friend bought a Brother SE350 after using mine. She could not believe the quality of this machine."
Check Latest Amazon Price
---
Do you recommend a beginner's embroidery machine that we didn't cover? Let us know!