Embroidery is a popular way to embellish your favorite clothing, hats, bags, luggage, and many other products made with fabrics. It is an ancient practice that is both practical and decorative and is a way to create personalization in a simple, yet affordable manner.
Embroidery, whether done by hand or machine, uses an embroidery floss of various weights to create colorful, textured patterns and designs. But what is embroidery floss, exactly, and what can you do with it other than embroidering? This article briefly explores this unique thread and the many options you have for DIY crafting with it.
What is Embroidery Floss?
Embroidery floss is a thread that is manufactured (and sometimes hand spun) specifically for embroidery, needlework, and other craft projects that require a thread. It is made from a 6 strand thread that is loosely twisted together. It is slightly glossy and can be made from a variety of materials, such as cotton, silk, linen, polyester, and rayon.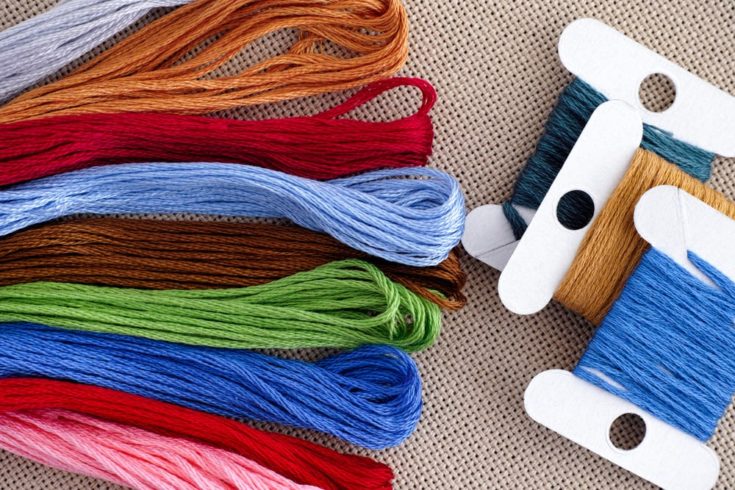 It comes in a wide variety of colors and textures as well in order to provide the quality you need to create whatever you have in mind. You also can separate the twisted threads to create a more delicate option to work with. To determine what might be best for your projects, be sure to consider all your options. Some may surprise you!
Types of Floss
Not only does embroidery floss come in a huge array of colors, various brands also are coded specifically for embroidery patterns. Be sure to always stick with the same brand through the entirety of a project to ensure consistency in thickness, texture, and color matching.
Cotton Floss
Cotton is the traditional material used in embroidery techniques. These are a widely available thread option and lend themselves well to a wide variety of crafts.
Pearl Cotton Floss
This unique thread is a 2-ply option and cannot be separated, but is sold in various weights for project use. It is a thread that has a high sheen and is slightly reflective, like the surface of a pearl.
Variegated Floss
Variegated floss is made using dye techniques that create variations in color hues. It can be made from any type of material and provides unique shading effects.
Light Effects Floss
Made from polyester, this thread is manufactured to include a wide array of specialized textured looks. They include precious metal, jewel, antiques, fluorescent, pearlescent, and even glow in the dark hues.
Metallic Floss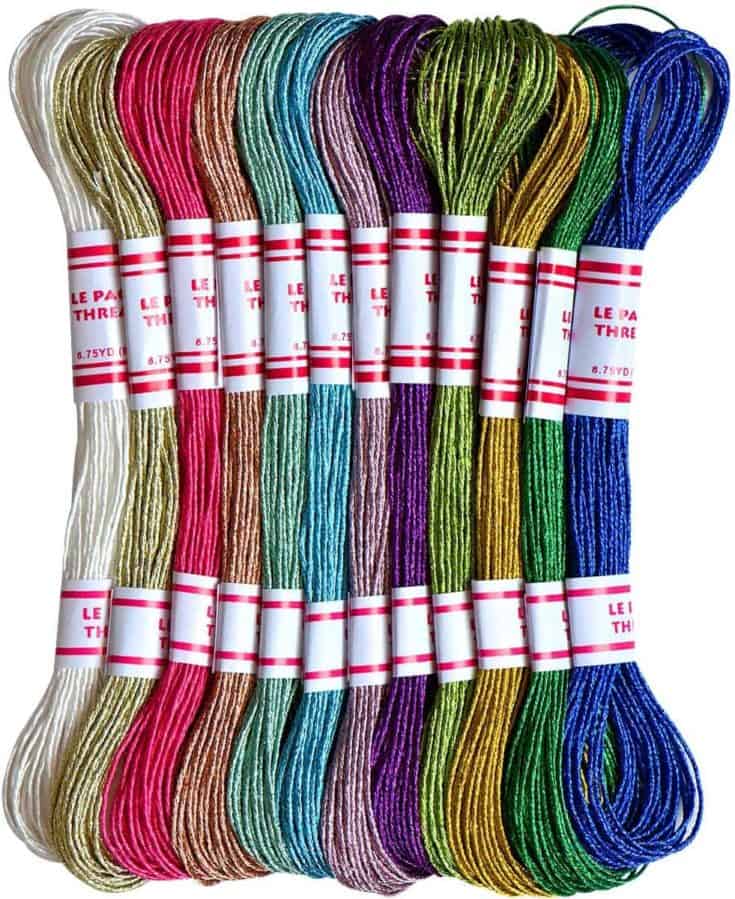 Usually made from polyester or a polyester blend, these threads are bright and shiny and a bit more sturdy than others.
Silk Floss
Silk is very durable and dyes in vibrant, bright hues. It is a delicate-looking thread that provides a high-quality look to your projects.
Satin/Rayon Floss
Soft and lustrous, rayon and satin flosses are often used to help highlight and bring depth to embroidery.
Other Options for Embroidery
Embroidery and other thread crafts can also take advantage of similar products to add texture and depth. This includes crewel yard, fine acrylic, and natural wool yarns; tapestry yarns, a soft, thick yarn; crochet threads, a thin, delicate thread; or even thin ribbons.
Embroidery Floss Sizes
When searching for the best floss for your needs, you may come across directions that indicate a certain floss size. You also will notice these numbers on the floss packaging, and it can be important to understand, especially if you are trying to match thread to an existing project.
Threads are sized on a scale of 100 to 12, with the higher number indicating a smaller thread overall. Most of the threads you are familiar with fall between 30 and 50, with 50 being a common size for garment stitching, and 40 a popular size for embroidery. 30 is often used for filling in areas of design.
What To Do With Embroidery Floss
Embroidery floss can be used in SO MANY WAYS! Obviously, it is designed for embroidery, cross-stitch, and other sewing projects, but there are many surprising ways you can integrate it into your DIY crafting ideas.
Here are just a few of many tips you may want to consider:
Earphone Detangler
Tightly wrap the length, or part of the length, of your earphone cords to help personalize them and keep them from tangling.
Friendship Bracelets
Popular with pre-teens everywhere, friendship bracelets are easy to weave and are a great way to personalize a gift.
Tassels
Colorful tassels can be used to decorate all sorts of products, including baskets, bags, and even jewelry.
Earring and Bracelet Bangles
Wrap earring and bracelet forms in colorful threads to make unique and decorative jewelry.
Hair Wraps
Tightly wrap thin strands of hair with embroidery threads in your favorite colors.
Napkin Rings
Personalized napkin rings for all your special occasions. All it takes is some inexpensive plastic napkin rings and a little bit of time to upgrade them.
Non-Slip Hangers
Add thread to the tops of hangers to make them a non-stick option for your wide-necked and delicate tops.
Decorative Vases
Wrap vases and mason jars in thread as a crafting project and personalized gifts.
Rope Necklaces
Unique and stylish rope necklaces take a little bit of practice to perfect, but result in a quality item that is beautiful for gift giving and wearing.
Side Comb Personalization
Personalize and bring color to your hairstyles when you wrap the ends of hair combs in colorful embroidery threads.
Conclusion
There you have it! If you have been wondering what exactly embroidery floss was and how it could be used, this article should have answered much of your curiosity. The 6 strands of loosely twisted threads can be used together or separated, and come in a wide array of colors and textures to make your projects exactly what you want.
We'd love to see what crafts and embroidery you have created, or what ideas you have in mind below. And, as always, please share!