Embroidery is one of the most popular hobbies amongst crafters. With a growing market for custom embroidery work, many artists are turning their crafting hobby into a small home business.
But how much is an embroidery machine and how much does embroidery cost? Whether you're looking to pick up a new hobby or want to start selling your work, it is important to understand all the costs associated with buying supplies, pricing your pieces, and purchasing custom embroidery services.
In this article, we'll go over all you need to know about embroidery costs to help you get started.
What is Embroidery?
If you are new to needlework crafts, then you may be wondering, what exactly is embroidery? Embroidery is a decorative craft that involves creating artistic designs on fabric using a needle and thread. Even if you've never heard of it, you've probably seen embroidery used to create logos on baseball caps or beautiful designs on clothing and canvas bags.
There are many different styles, techniques, and types of embroidery, but the three most common forms are crewelwork, cross-stitching, and freestyle.
Crewelwork
Crewelwork is a type of surface embroidery that involves decorating linen or twill fabrics using a special type of two-ply wool yarn known as crewel wool. This hand embroidery style has been around for thousands of years and was particularly popular in 17th and 18th century England.
Cross-stitch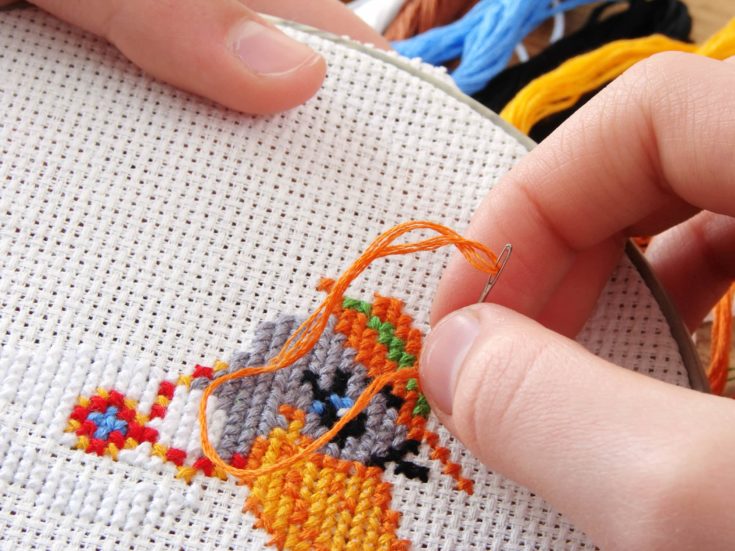 Cross-stitch is a decorative art form that uses even or open weave fabrics and a series of x-shaped stitches to create colorful images and designs. This particular technique is often performed by hand using a cross stitch chart that breaks down an image into a grid of colored squares, each of which contains a single x-shaped stitch.
Freestyle Embroidery
Free-style or surface embroidery is the most popular form. It is used to create the majority of custom work and can be applied to everything from t-shirts to home decor to accessories like ball caps and handbags.
This form of embroidery includes a wide range of stitching techniques and can be worked by hand or using a machine. For the remainder of the article, we will focus on the costs associated with free-style embroidery, but the cost of supplies is similar for both crewelwork and cross-stitching.
How Much Does it Cost to Start Embroidering?
Compared to other artistic hobbies, embroidery is a relatively inexpensive craft form that requires only a limited number of supplies to get started. If you're a beginner, it's easy to try embroidery without having to invest a lot of money on specialty tools or high-end materials. The basic supplies you will need are:
Fabric
You can embroider just about anything you have on hand, including fabric garments, canvas bags, baseball caps, and even tennis shoes. Embroidery is a great way to give old clothes a second life without having to spend a lot of money.
You can also buy sheets of cotton broadcloth for $10-$15 a yard. Light-colored woven fabrics like white cotton are a good option for crafters looking to practice different techniques for beginners who are just getting started.
Thread
The most common type of thread used in embroidery is cotton or polyester embroidery floss. This type of thread comes in a wide range of colors and finishes, including glossy and metallic options.
Floss is incredibly inexpensive and is sold in either skeins or spools. For hand embroidered work you can buy over a hundred skeins in different colors for roughly $15. Specialty threads made from premium materials like metals or silk will be more expensive.
Hoop
Hoops are used in hand embroidery to hold the fabric taut while you work and prevent the final design from accidentally becoming warped or stretched. There are many different types and sizes of hoops available, but plastic and wooden hoops are most common.
Larger hoops are more expensive but are better suited for full-sized projects like jackets and pillowcases. However, it is best to have a few different sizes of hoops so you can work on a range of materials.
Needle
Like hoops, it is a good idea to have a variety of needles in different sizes so you can work on a number of different projects and designs. More intricate designs will require a smaller needle whereas techniques like needle painting require wider needles with larger eyes.
However, any sharp needle will work and you can buy an entire set for very little money.
Scissors and Extras
Finally, you will need a sharp pair of scissors to cut the thread ends. Extra supplies like fabric pens and pencils, or accessories like beads and sequins, can simplify the stitching process and make your work stand out.Then you could also invest in some embroidery software. However, these extras are in no way necessary to get started embroidering.
How Much Does an Embroidery Machine Cost?
Hand embroidery is an extremely affordable and rewarding hobby that anyone can try. However, embroidering designs by hand can be incredibly time consuming and is better suited for artistic and creative work than for commercial purposes.
If you are serious about turning your embroidery hobby into a profitable business, then you should consider investing in an embroidery machine. Home embroidery machines come in a range of prices from around $500 to upwards of $5,000.
If you are only planning on embroidering small pieces and don't mind sticking to a handful of preset designs and patterns, then a less expensive machine will be able to accommodate your needs and speed up the stitching process.
However, if you want to be able to create your own designs, perform logo work, or accommodate a variety of different stitching types, then you should be prepared to spend anywhere from $1,000 to $5,000 on a high-end machine. These machines come with their own software and are better suited for the needs of a custom embroidery business.
How Does Embroidery Pricing Work?
There are a number of factors that affect the price of custom embroidery work.
Custom Designs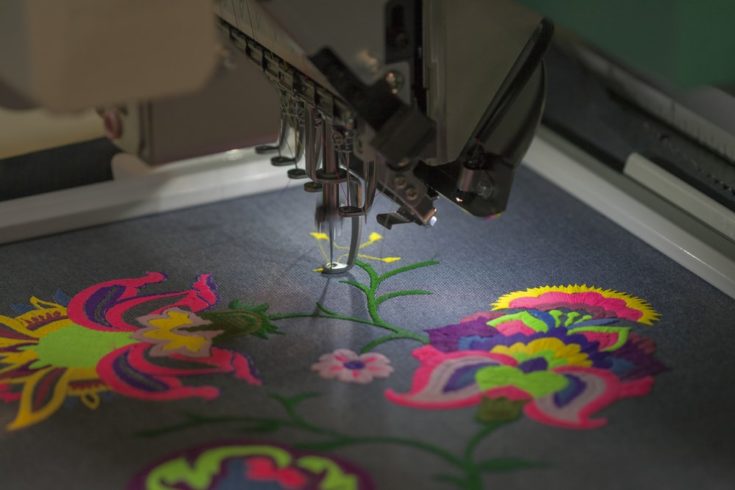 Custom designs are more expensive than pieces that only use machine presets or geometric shapes. Most embroidery shops will charge a set up fee to cover the cost of digitization, the process of converting your design into a series of stitches that a machine can interpret. Shops will charge a one time fee of anywhere from $45 to $65 to create this digital file.
Stitch Count
In general, the more detailed and colorful the design, the more expensive it will be. Many commercial businesses determine their pricing based on the number of stitches in any given design or logo. Shops may charge a flat fee for embroidery work under 10,000 stitches, with additional fees for every additional 1,000 stitches or thread color used.
The downside to this pricing method is that it is difficult to estimate the cost of an embroidery project in advance. Smaller designs may actually cost more if they are very intricate or require different types of stitches.
Text-only designs are typically the least expensive because they do not require detailing or high stitch counts. Many stores will set a flat rate cost per letter so customers don't have to go through the trouble of guessing how much a text-only design will cost.
Type of Item
Additionally, the type of item can affect the overall cost. A flat item like a shirt or bag will cost less than an item like a hat with lots of ridges and curves. The average cost to embroider a hat at lids is between $20-$40 with a $50 set up fee for custom designs.
Number of Items
Buying items in bulk can lower the cost per item significantly. Ordering a large number of items with the same design will reduce the relative cost of the set up fee and could lead to other pricing discounts associated with bulk orders.
How Much Should You Charge for Your Own Work?
If you are thinking of starting your own small business, then you are probably wondering how much to charge for your work. While commercial embroidery businesses and shops are able to set pricing based on stitch count, thread color changes, and digitization costs, these pricing models are not always feasible for home crafters.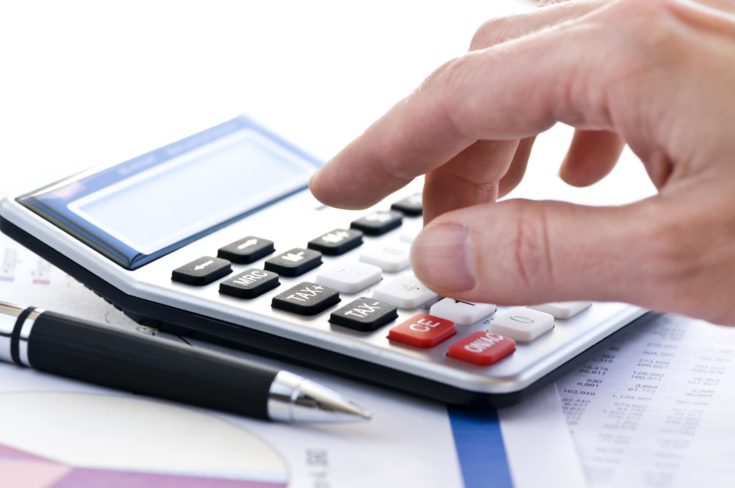 If you are embroidering on a machine, then you can use an embroidery pricing calculator to determine the price per 1,000 stitches that is profitable based on the specific costs associated with operating your home embroidering machine and purchasing supplies.
If you are embroidering by hand or creating your own artwork and designs, then you can set your prices based on the number of hours you spend on each piece. Just be sure to compare your own prices to similar handmade products and adjust your costs accordingly.
Conclusion
How much you spend on embroidery supplies and services or charge for your own custom work depends primarily on the materials used and the intricacy of the embroidery design. While hand embroidery is a relatively inexpensive hobby, the costs associated with purchasing custom work or setting up your own small business can add up quickly.
Be sure to consider all the associated costs before you get started and feel free to leave a comment if you have any questions.