A good liquid chalk marker set is hard to find, there are countless brands out there that boast about high quality but deliver products that simply don't match up.  From Runny product, to dull colors, to downright toxic ingredients. It's hard out there for an aspiring crafter, these days.
It may be true that liquid chalk markers are typically used in projects that are high on creativity and low on seriousness, but that doesn't make finding the perfect brand any less important. A silly as it sounds, there is a lot that goes into finding an awesome liquid chalk marker, and while they may be few and far between, they're definitely out there.
Whether you're creating a few awesome chalkboard centerpieces for an upcoming event or just looking to add a bit of wonder to your home, the liquid chalk markers on this list have your back.
What to Look for in Liquid Chalk Markers
Vibrant Colors: No one likes bland, dull colors. Especially not when it comes to markers. The more vibrant your liquid chalk markers, the better your project looks. It is important to choose a set of markers that contains a wide variety bright colors that show up well against a wide variety of different surfaces.
Versatility: If you choose a brand of liquid markers that can only be used on one type of surface, you're definitely limiting yourself when it comes to the amount and types of ways you can use them. Choose markers that can be used on glass doors, plastic products, metal, and any other non-porous surface, in addition to slate chalkboards.
Whether they're erasable: This one is pretty self explanatory, making sure that you select liquid chalk markers that erase relatively easily ensures that you can use your markers in tons of different ways while making sure your favorite surfaces (like sliding doors or chalkboard painted bedroom walls) are always safe from permanent damage. Of course, it is important to note that many liquid chalk markers require a little more force and product (like ammonia or glass cleaner) to completely clear away.
Reversible Tip: Reversible tips are an awesome feature to have in liquid chalk markers. While they typically only come in two forms (chisel and bullet), they allow you easily control how thin or bold the lines in your project are with a simple switch of a tip. Reversible tips are awesome for things like typography and intricate drawing projects.
Chalk Ink 6mm Chalk Markers
These simple liquid chalk markers may be sold individually, but they're definitely worth the splurge. The Chalk Ink 6mm Chalk Markers have a perfectly safe, nontoxic formula that ensures safety for both kids and adults.
With a range that covers over twenty different colors, from neon yellow to stark white, there's definitely no shortage of options when it comes to these liquid chalk markers.
Like most markers of the same type, these can only be used on non-porous surfaces like glass, metals, chalk labels, and whiteboards.
High quality and classic simplicity makes these Chalk Ink markers an awesome choice for any special project.
What Users Say
Impressed with how great the quality looks on chalkboard
Far easier to use than traditional chalk
Would purchased again in the future
Extremely easy to use and make look good
Best chalk marker used after trying many out
---
Uchida 480-4B Bistro Chalk Markers
Perfect for smaller projects that don't require a wide array of color options, these Uchida 480-4B Bistro Chalk Markers are an awesome choice.
With four colors available in a package (and others available in different sets), this brand may not be the best option for you if you're looking for a larger selection.  Of course, what Uchida lacks in options they make up in quality and consistency.
The colors may be few but they are amazingly vibrant and have tons of staying power. Unlike many other liquid chalk markers, these guys are awesome for writing on actual chalkboards as well as other surfaces. They also require only a damp cloth to erase and come off with surprising ease.
Uchida has definitely mastered the art of providing simple, quality products at an awesome price.
What Users Say
Write with a crisp quality that's hard to get otherwise
Easy to clean and update as needed
Works much better than most other brands used
Work consistently, liquid ink never stutters or gives out
---
CraftyCroc Liquid Chalk Markers
CraftyCroc Liquid Chalk Markers might as well be the Mercedes Benz of liquid chalk markers. With three different types of marker packs (each containing 10 markers) that range in color types all the way from "earth toned" to  "neon plus", this brand pretty much has it all.
These top-shelf markers have reversible chisel and bullet tips (along with 2 other free tips included with purchase) that make perfecting projects a breeze. The wide array of colors are deep, vibrant, and have tons of staying power, and CraftyCroc even offers customers a "better than money back" guarantee.
You'd be hard pressed to find anything negative about these markers. With the award-winning combination of quality products and a trustworthy company, CraftyCroc is always ahead of the game.
What Users Say
Extremely impressed with quality from markers
Have purchased more than one box at a time
Very easy to use and write naturally with
Great product and quality for price
Great find, haven't used any other brand afterward
---
SuperChalks Color Liquid Chalk Marker Pens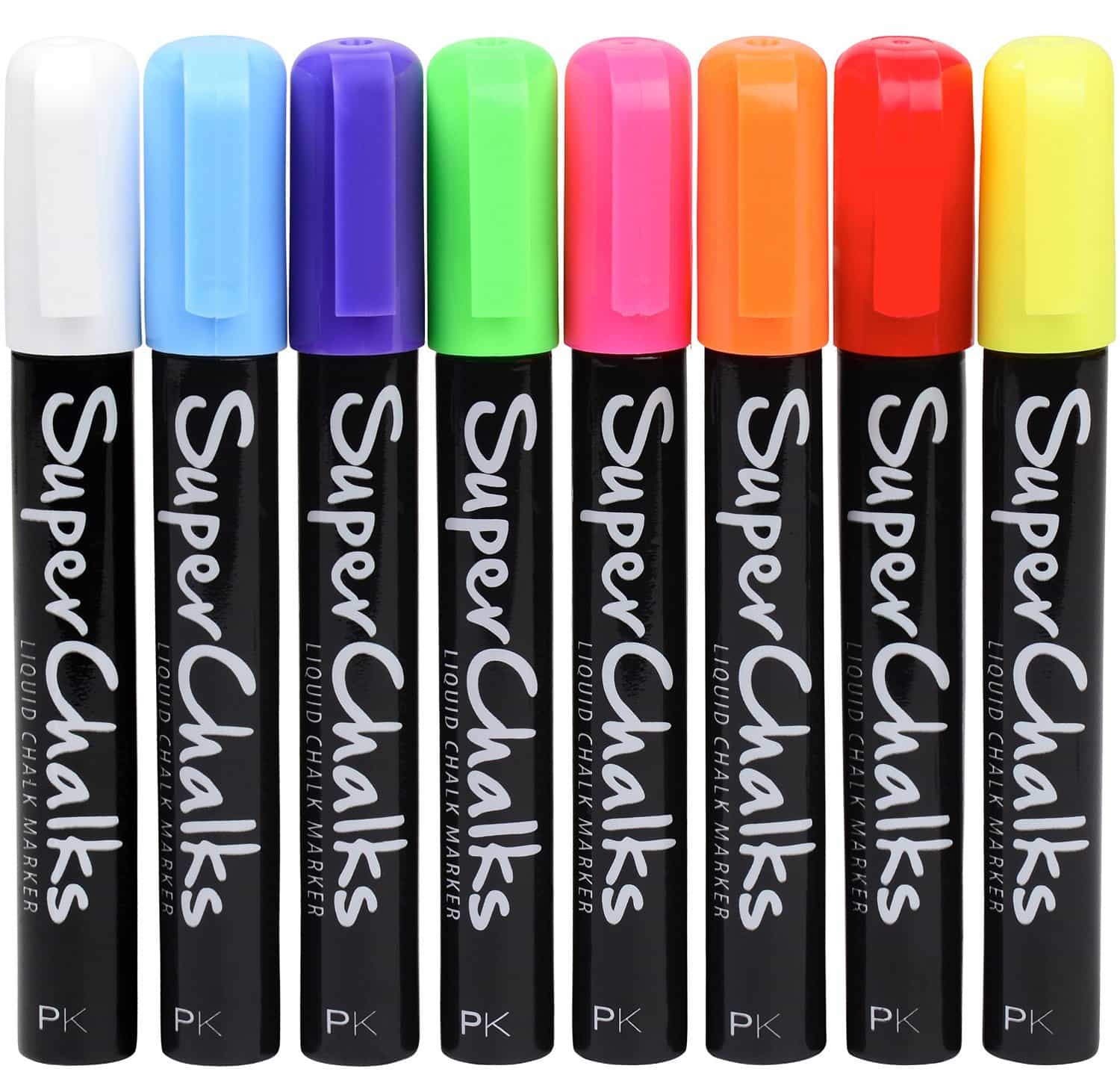 Awesome old school products with simple, high quality results would be the best way to describe these SuperChalks Color Liquid Chalk Marker Pens. From their simplistic, low-key packaging to their brightly colored product, these markers don't disappoint.
They have an amazing amount of versatility when it comes to compatible surfaces and they're extremely easy to erase, making it exceedingly simple to create as many new projects as you want.
These SuperChalk markers do take a bit more force to use, and they don't always write as smoothly as they could but the relative consistency and the awesome price value make them too good to pass up.
What Users Say
Great way to create fun, vibrant projects
Love the colors, they stay true even after a lot of use
Able to use these for many creative projects
---
VersaChalk Chalkboard Chalk Markers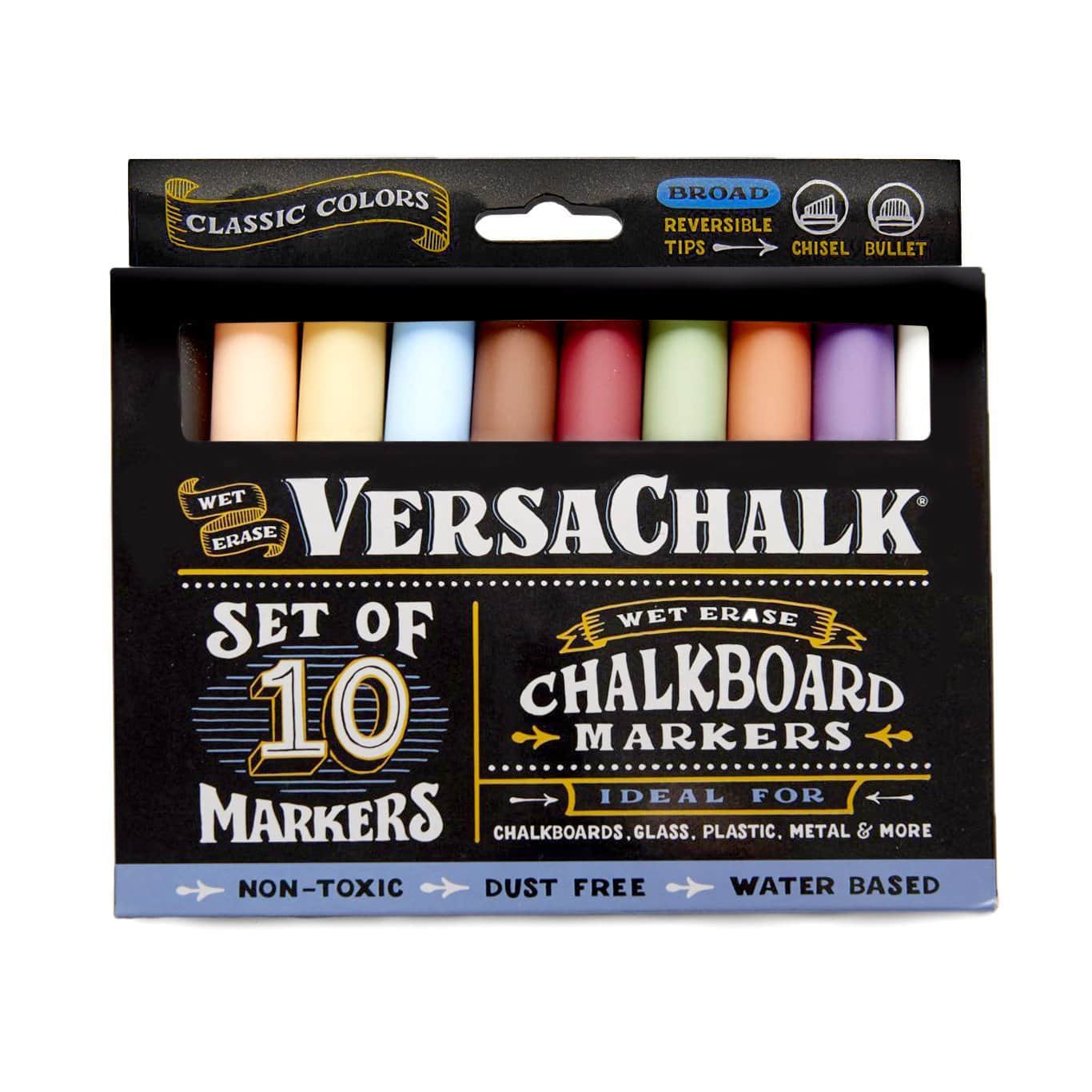 These VersaChalk Chalkboard Chalk Markers may be a little more on the expensive side but they're more than worth it. Available in two different color packs (classic and neon), these liquid chalk markers are some of the most vibrant on the market right now.
Completely nontoxic and totally dust-free, VersaChalk products are entirely odorless and are made using a simple water-based formula.
Along with their vibrancy and safe ingredients, these markers work awesomely on non-porous surfaces, which makes them great for enhancing items in the home as well as creating spectacular art projects.
Enjoy tons of mess-free projects with these high quality liquid chalk markers.
What Users Say
Colors look really bright against chalkboard background
Just the right size, fit and feel for what users needed
Would definitely purchase again after using
Had high expectations and markers lived up to those standards
---
Do you recommend a liquid chalk marker set that we didn't cover? Let us know!