It's important to choose the right type of paint pens when you're working on a creative project with a wooden surface. The wrong paint will smear or fade, while specifically designed markers will look great and last over time.
Have you ever wondered how cafes and restaurants make those crafty, cozy, DIY-style signs? Are you an artist looking for a new medium to work with? Then paint pens are your ticket to creating eye-catching designs for your upcoming party or project. Once you own a pack of these, the potential for creative project ideas is endless.
There are lots of reasons to need paint pens for wood, from personal to professional projects. Paint pens offer the vibrancy of markers with the opaque quality of paint and the benefit of easy control. The way they are designed makes it simple to add some color to your life, whether you wish to make a mural or create a sign. Let's look at some of the best pens on the market for drawing on wood.
Comparison Table
IMAGE
BRAND
FEATURES

Arteza Acrylic Markers - Set of 40

40 Dynamic Colors

AP Certified Non-Toxic

Replaceable Tips

Buy It Here

Elmer's Painters Opaque Paint Markers

Non-Toxic

Real Acryclic Paint

Works On Most Surfaces

Buy It Here

Sakura Pen-Touch Paint Marker

Acid Free

Medium Point

Ideal For Invitations And Cards

Buy It Here

MOLOTOW One4All Acrylic Paint Markers

Solvent Free

Acrylic Based Paint

Works On Most Surfaces

Buy It Here

uni-posca Paint Marker Pen

Non-Toxic

Water Based

Set Includes Variety Of Colors

Buy It Here

Sharpie 37371PP Oil-Based Paint Markers

Oil Based

Fine Point

Quick Drying

Buy It Here

Crayola Paint Brush Pens, 5 Count

Set includes 5 Paintbrush Pens

Washable Paints

Safe and Non Toxic

Buy It Here

Uni Posca PC-3M Fine Tip Paint Marker Set

Set of 15

The ink does not bleed

Water-based pigment ink, non-toxic and waterproof

Buy It Here
The Best Paint Pens for Wood
Every item on this list was specifically chosen for its affordability, quality, and overall value for the price. We will go into detail about each of them below.
Elmer's Painters Opaque Paint Markers
Sakura Pen-Touch Markers
Molotow Acrylic Paint Marker
Uni-posca Paint Markers
Sharpie Oil-Based Paint Markers
Arteza Acrylic Markers – Set of 40
1. Elmer's Painters Opaque Paint Markers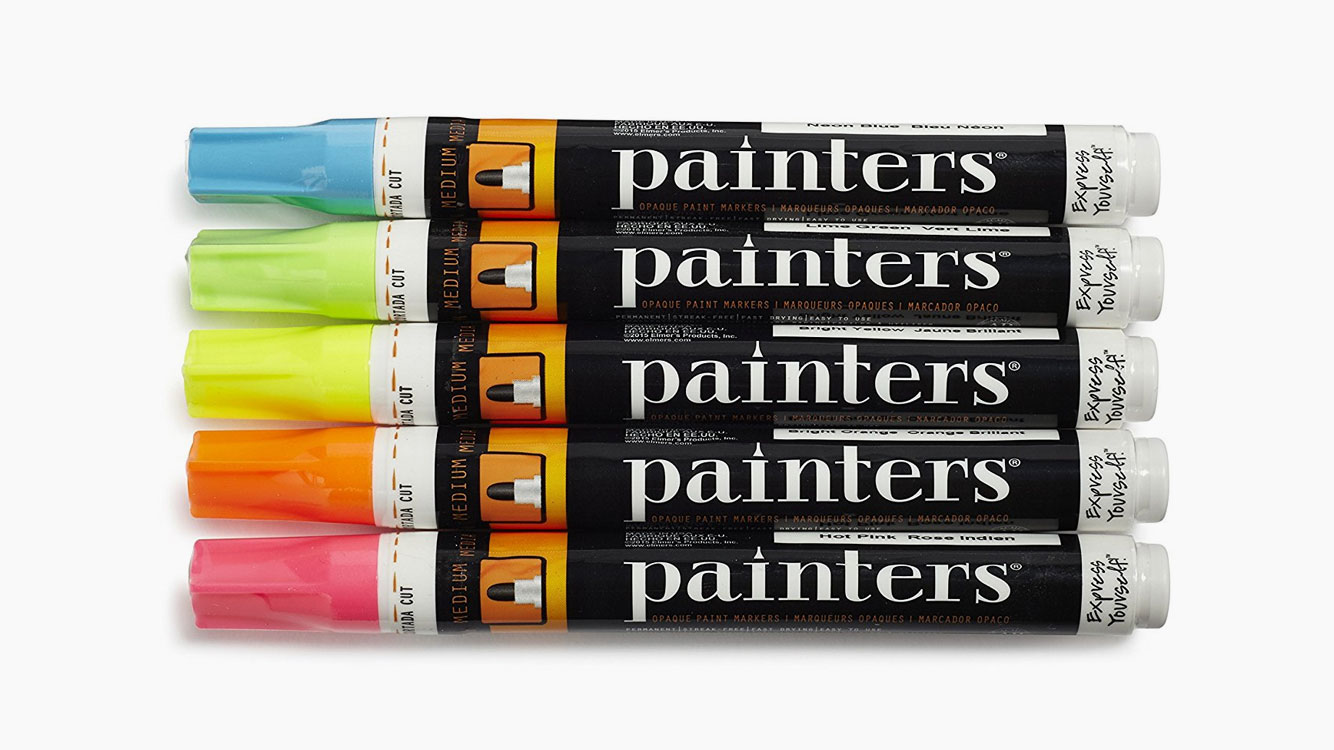 If you're looking to simplify your painting and crafting projects with a familiar brand, look no further. Elmer's Painters markers make your craft projects much easier, including painting on wood. Simply shake the pen and depress the marker tip until the liquid is flowing and you're ready to start your project.
"So, I really enjoyed the markers and feel like they'd be a great addition to your crafting tool box," said Jenny at Craft Test Dummies. "I played with the primary and neon colors, but I'd love to see how the Pearlescent and Metal Leafing colors perform!"
Use these to decorate any surface, from walls to wood, to cloth, plastic, and more. Any crafting task that requires acrylic paint works well with these markers. In addition, they're great for personalizing toys, shoes, or backpacks. They won't cause a mess when you mix them, are easy to apply, and don't require any containers or brushes.
These acrylic, opaque pens make decorating fun and quick. In addition to wood, fabric, and plastic, you can use them on terra cotta material, foam board, metal, glass, and even clay. Streak-free, permanent, acid-free, and non-toxic, these are safe to use and come in various point sizes for every task.
Keep in mind that although these will work on smooth surfaces, they may not stay put as well as they will on rougher or more porous materials. It will hold on nearly any material but may peel or crack on certain surfaces, so just think about what you want to use it on.
These are great for crafting beginners since they are more affordable and aren't such a huge commitment, price-wise. A great alternative to more expensive brands, Elmer's Painters pens are always reliable. The ink has great pigments, is thin but covers great, and always goes on smooth. Users will be pleased to find that the pigments in real life are true to the online photos.
Check The Price at BLICK
Check The Price at Amazon
2. Sakura Pen-Touch Markers
Are you writing on canvas or another pale surface? When you're working with light-colored surfaces, Sakura Pen-Touch Markers will offer you the best coverage. They go down bright and shiny and can write on metal, paper, plastic, porcelain, glass, and of course, wood.
"These markers are extremely versatile," said Claire at Illustoria. "They can draw on pretty much any surface (glass, wood, porcelain, plastic, paper and metal) and will dry instantly. But it's not regular ol' ink coming out of the tip— it's super rich, opaque paint!"
Ideal for custom stationery, cards, or homemade invitations, the ink in these pens flows right to the marker tip from the chamber. Just shake it up right before use and it will mix the pigments. The ink is archival quality, fade-resistant, waterproof, chemically stable, xylene-free, and low in odor.
Although you can use this on fabric, it's recommended that you don't use it on surfaces that you plan to wash in the future as the ink can fade. Each pen comes with a medium point tip for a shiny, bright metallic look on many materials. Not only can you use these on wood, but they are also suitable for writing on Christmas ornaments.
You will love the rich colors offered by Sakura. The flow is high-quality but you must make sure you press the tips against scrap paper every so often to keep it working well. Each marker comes with plenty of paint inside to be used for various projects.
The gold is very metallic and brilliant, holding well to many surfaces. It offers a great texture built to last. These aren't the cheapest paint pens available, but with how well they write and how long they last, it's worth the extra money.
Check The Price at BLICK
Check The Price at Amazon
3. Molotow Acrylic Paint Marker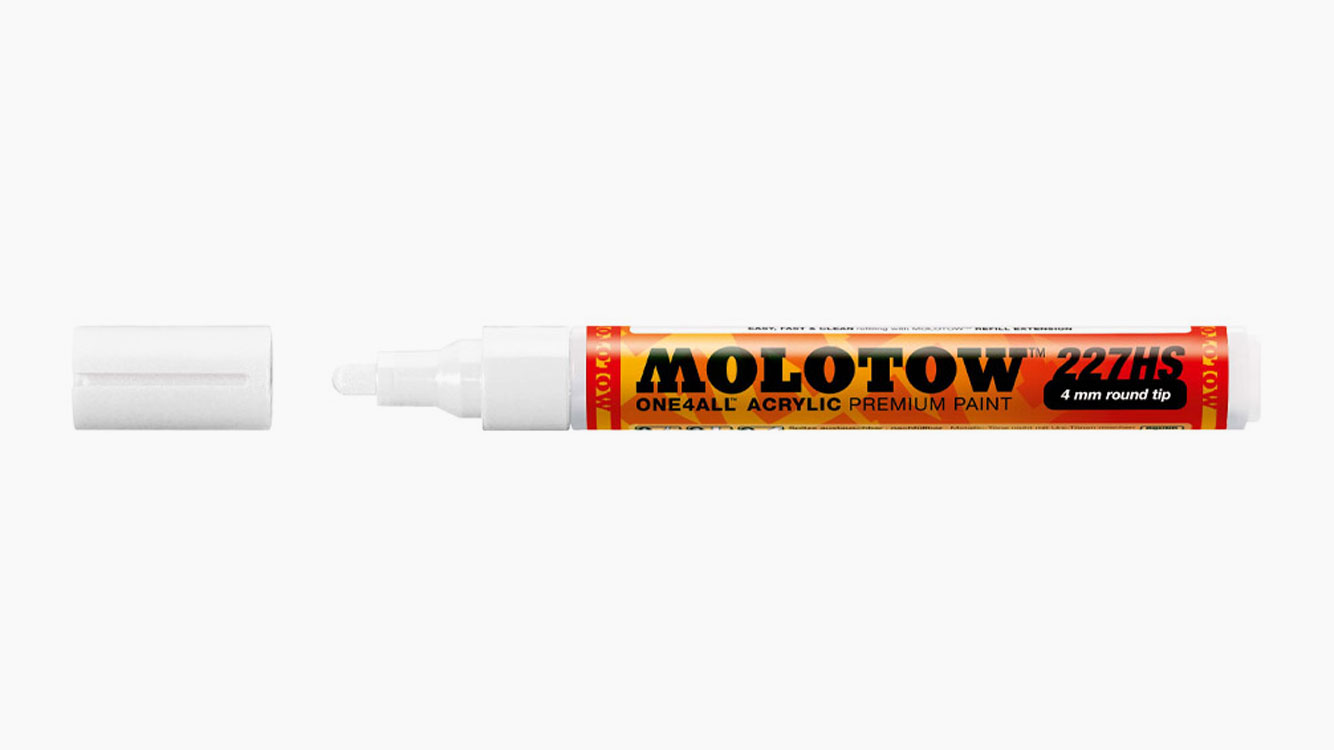 For a pen that is suitable for use both outdoors and indoors, users should consider the Molotow Acrylic Paint Marker. The pigment paint is acrylic-based, premium, and high-covering in a marker that is ergonomically designed and perfect for many different surfaces.
"This paint can cover pretty much any surface and it comes out very opaque and solid, unlike a lot of other markers," said Bombing Science. "Though not optimal, it's still relatively easy to fill in large areas even with a 2mm nib. It has a pretty solid UV resistance which means your colours will last longer and fade less over time."
These pens offer a "Flow master" system for easy writing, with high opacity, weather-resistance, and a non-fading look that will last for years. The ink will stand up to the elements, including harsh sunlight and stay looking fresh. The tips can be exchanged and each marker can be refilled.
Do you want to make your paint less opaque? Just dilute it with acetone or water and it will become more transparent and easier to spread. Use these on cement, stone, glass, ceramic, and even leather surfaces. Crafted in Germany, this brand offers endless project possibilities for street artists, writers, and artists.
With many, lesser-quality paint pens, vigorous pressing and shaking are necessary just to get the paint to flow well. This can be quite a deterring hassle for those who would otherwise enjoy crafting with paint markers. It just takes a single time pressing and shaking for you to use these pens consistently with a smooth, reliable flow of paint.
Even on surfaces that you wouldn't expect them to work on, like a filing cabinet, they go on beautifully and stay put.
Check The Price at BLICK
Check The Price at Amazon
4. Uni-posca Paint Marker Pen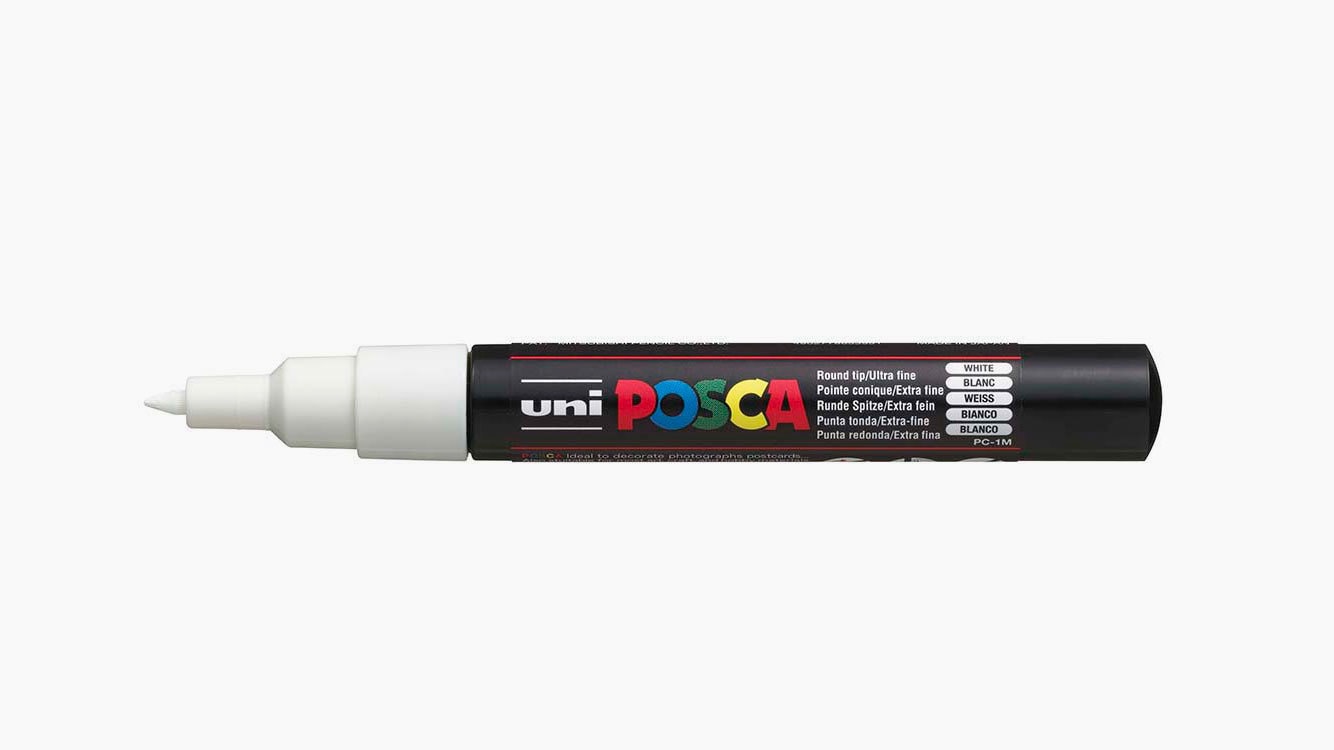 If you're searching for a waterproof, light-fast, non-toxic, water-based ink, this next choice is sure to satisfy your needs. The Uni-posca Paint Marker won't bleed and comes in black, red, pink, green, blue, purple, peach, and more.
"As far as colouring is concerned, these pens are great for giving vibrant, non-scratchy colour without shadowing or bleeding on double sided books, and give brilliant coverage due to their paint-like ink," said Claire from Colour with Claire. "They don't leave stroke marks like normal waterbased pens, and feel very quick to use as well."
These felt tip pens go on opaque and write well on surfaces like canvas, plaster, glass, wood, metal, plastic, and more. You can scrape the paint off of smooth surfaces such as glass, but it will stick permanently on wood, paper, or other porous materials.
Unlike markers that are alcohol-based, these won't bleed when used on paper and are great for simple craft projects or vibrant wooden signs for your business. These pens come with quality nibs, last for a long time, and won't ever run or leak. Whether you need paint for wooden blocks, gift box details, rocks, or small stretched canvases, these will work great.
Uni-posca Paint markers won't pool up like other markers, come in vibrant colors, dry fast, and go on very opaque. The hues are bright and vibrant, standing out on whatever surface they are applied to. Each color goes on even and flat, drying with a matte finish. Just wait a minute or two before painting over the first layer to create an even more opaque look.
The packaging is simple and compact. Each pen should be shaken up for about half a minute and comes with a white tip initially. This is normal. Just press the marker tip on some cardboard or scrap paper, then press the pen until the paint begins to flow.
If you're working on stylized illustration such as cartoons or pop art, these bright and colorful pens are your best bet. They do dry quickly so if you wish to blend any edges in your art make sure you're fast about it. Note that some users may find that the color selection is lacking compared to other paint markers on the market.
Check The Price at BLICK
Check The Price at Amazon
5. Sharpie Oil-Based Paint Markers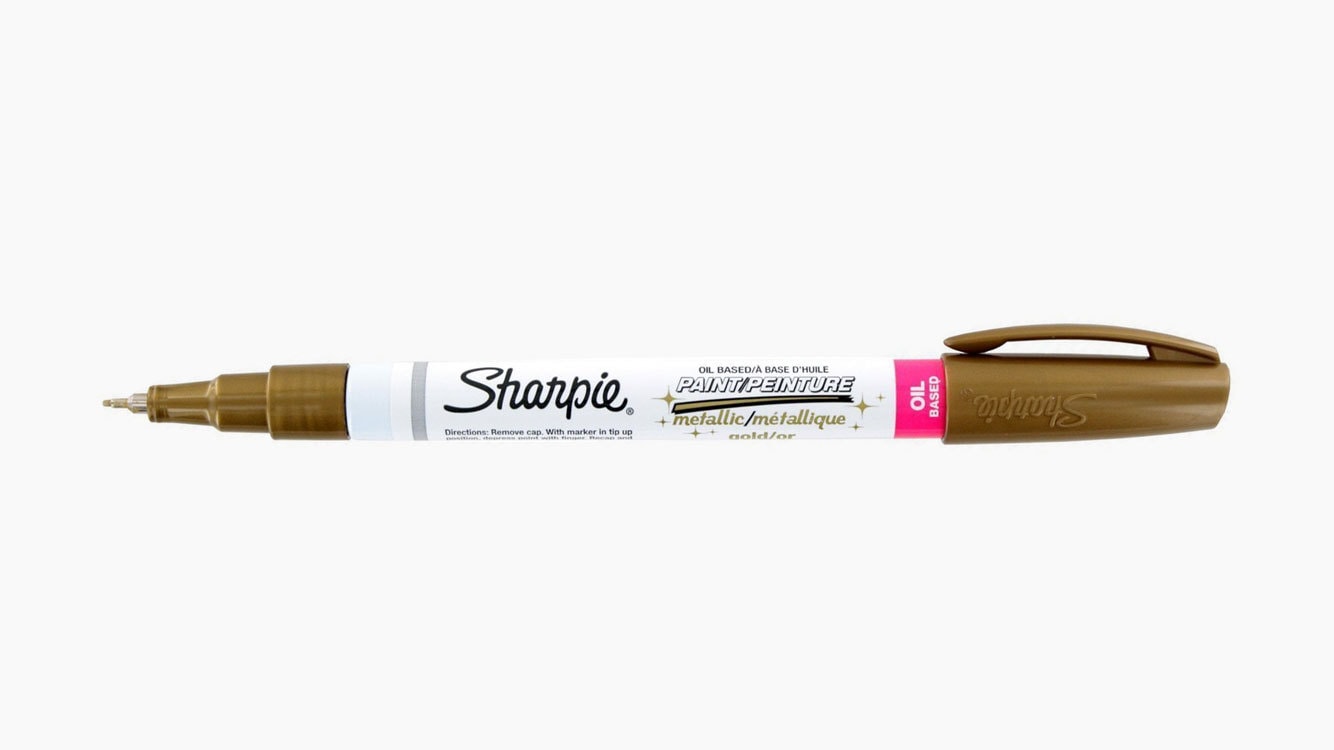 We've all heard of Sharpie and automatically think "permanent" when we hear the brand name. These Sharpie Oil-Based Paint Markers are no exception to that association. The opaque, long-lasting markers are specially crafted with quality valve action, drying in mere minutes to a smear and fade-resistant finish.
"Their water and fade resistance let you cherish memories forever," said Stacey at Jet Pens. "These pens require only a bit of prep—simply push the tip into the body, shake, and press the tip onto a surface until it saturates with ink."
These oil-based pens are xylene-free, non-toxic, and will resist abrasion, fading, and water damage. Use them to create opaque, glossy designs and texts that really pop on many surfaces. They are suitable for stone, plastic, glass, rubber, wood, pottery, and even metal.
The oil-based, permanent paint is valve-released, giving you complete fluid control. The formula is non-toxic and safe for kids so you can have family crafting days. Not only are the markers high-quality, but they're easy to use.
The colors won't mix and the ink dries fast, so keep that in mind. If the paint stops flowing, just pump the tip until it comes out again. If you cure this in the oven, with a ceramics craft project for instance, colors may change with the heat exposure. They will work on both painted and raw metal surfaces, even when there are oil and dirt present.
Use these for months and they will stay working great with a noticeable, bright color each time. The flow of ink is consistent, but make sure you keep the lids securely on between uses to preserve the quality of the markers.
Check The Price at BLICK
Check The Price at Amazon
How to Correctly Use Paint Markers
So you're ready to start your wooden painting project. It may sound simple at first glance, but if you want your project to turn out as beautiful as possible, you'll want to follow some key tips. Paint pens and markers were developed originally for uses in industrial settings.
However, DIY enthusiasts, crafters, and other artistic people have discovered that they are also a great tool for creative projects. Compared to traditional markers, these are a little more high-maintenance. Follow these tips to use them correctly:
Keep the Cap on: When you first use your new marker, you have to shake it for up to a minute to mix up the contents. When you do this, you'll hear the ball ratting inside like you would with a spray paint can. Keep the lid on as you shake the pen or you risk getting paint splatters all over your clothes or table. This is something you don't want to learn the hard way!
Priming the Pen Nip: As soon as you've shaken and mixed up the paint, it's time to prime the marker nib, or the tip that you use to apply the ink. To prime the marker tip, get a napkin and push down on it a few times. This is done to get the paint to flow into the tip. This should only be done after you've shaken the pen enough or the paint will become runny.
Writing Tips: As soon as you've primed the nib, it's time to draw or write with your new pen! Go easy on the pressure or you might send too much paint to the tip and cause a pool of paint on your surface. Just glide the pen tip easily across the wood (or other surface) until the paint runs out. When this happens, return to your napkin to prime the nib again.
Re-shaking the Marker: You will need to shake your pen again every so often once the pain begins to thin. Before you start shaking it, put the lid on again until it clicks.
Proper storage is extremely important with your paint markers. Just put the caps back on (you'll know they are secure once you hear the click), and put them away horizontally. When you use them again, you can wipe the tips with a bit of paint thinner if they seem dry. Following all of these proper use and care instructions will help you get the best results with your paint markers.