When you're making art, the quality of your supplies matters. Great markers will make the experience smoother for you and lead to a better finished product. Let us help you select the right markers for the task.
Adult coloring is an activity that has been around for some time but is now growing in popularity with the mainstream. It provides stress relief, entertainment, and is just plain fun. The act of coloring has a profound brain-quieting, calming impact on professionals who otherwise might have a hard time relaxing.
Can you remember the last instance where you were completely immersed in something other than work or your smart phone? Coloring can remind you of childhood, bringing out your imagination and reconnecting you with something purer. Mandalas are particularly calming designs due to their symmetry and beauty.
The ideal markers for coloring mandalas will be comfortable to hold for long periods of getting lost in your projects, will offer bleed-free, non-toxic ink, and will create lasting, vibrant color. You should also try to get pens that won't dry out, especially if you are going to be sharing them with your kids. Let's look at some of the best art tools for adult coloring.
Comparison Table
IMAGE
Brand
FEATURES

Faber-Castell Pitt 24 Pack

High light resistance

Odour-free

Water-resistant and acid free

Buy at AmazonBuy at BLICK

Staedtler Color 36-Pen Set

Ergonomic triangular shape for relaxed writing.

Can be left uncapped for days without drying up

Washes out of many textiles.

Buy at Amazon

Prismacolor Premier Double-Ended Markers

Dual-ended markers featuring both fine and chisel tips

Sharp lines

Richly saturated color and superior blendability

Buy at AmazonBuy at BLICK

Pentel Felt Tip 12-Piece Set

The original fiber-tipped marker pen.

Bright and intense water-based ink

Perfect for general writing, drawing, doodling etc.

Buy at Amazon

Paper Mate Flair Felt Tip Set

Add a blast of fun to all your writing with 12 bright colors

Produces bold, expressive lines

Smear and fade-resistant

Buy at Amazon

ZSCM 60 Colors Dual Brush Pens Art Markers Set

Flexible Double Tip Brush Pens

60 Gorgeous Colors, Durable and Long Lasting

Lifetime Warranty

Buy at Amazon

MISULOVE Metallic Marker Pens

Rich Radiant Metallic Colors

Medium Tip Metallic Markers

Premium Quality

Buy at Amazon

Pentel Color Pen, Set of 36

Vivid, water-based ink colors

Durable fiber tip produces fine lines

Snap-fit cap prevents tip from drying out

Buy at AmazonBuy at BLICK

EverBlend Art Markers - Set of 60

Highly Pigmented – 60 rich, alcohol-based art markers

Versatile Designs

With Portable Case

Buy at AmazonBuy at Arteza

Ohuhu Art Markers Dual Tips

Flexible Dual Tips

60 Gorgeous Colors with Labeled Color Code

Fast Drying

Buy at Amazon
What are Best Markers for Coloring Mandalas?
Each of the marker sets on this list was selected for its affordability, quality, and overall value for the price based on user reviews. Any of the following items would be a great purchase.
Faber-Castell Pitt 24 Pack
Staedtler Color 36-Pen Set
Prismacolor Premier Double-Ended Markers
Pentel Felt Tip Sign 12-set
Paper Mate Flair Felt Tip Set
Faber-Castell Pitt 24 Pack
Are you looking for pens that give you highly pigmented ink with reliable light and water resistance? The Faber-Castell Pitt pen set is pH neutral, acid-free, and odor-free while offering permanent color. They come in a studio box and offer 24 colors so you're never at a loss for the perfect hue.
"I highly recommend the Faber Castell Pitt Artists Pens series;" said Bettina at Stationery Review, "there really isn't anything on the market that is comparable considering how much these pens offer. The ink is of high quality, the nibs are sturdy and precise, the ink is waterproof and the variety of tips and colours cater for a range of tasks."
The brush tips of these pens are great for designing envelopes and cards and include colors such as Warm Grey, Raw Umber, Cobalt Green, Dark Indigo, Magenta, Light Flesh, Pale Geranium Lake, and Orange Glaze. The caps and shafts of these pens are crafted from polypropylene to prevent them from getting dried out quickly and the ink is built to last over the years.
Those who are concerned with staying environmentally aware will be happy to know that polypropylene is a non-harmful substance. If you're new to crafting, this is a great pack to start with and can be used on card stock, paper, and even wood. It's hard to find a more versatile marker than this.
Certain artists may wish to purchase additional singles to get more variation in specific colors, such as brown, but the variety overall is great. The fine tips allow you to create intricate details while the larger part gives you a broader stroke. The pens won't bleed and the ink flows effortlessly onto the page, looking vibrant and bright.
Note that these are better suited for thicker paper, but if you use them on thin paper you can place another page underneath to prevent bleeding.
Check The Price
Staedtler Color 36-Pen Set
Looking for even more than 24 options for coloring mandalas? Then this 36-piece Staedtler set is a great option. Although they are suitable for kids, they are also perfect for students, artists, and of course adult coloring books.
"For anyone who wants to add a splash of color to their notes," said Steven from StevenCombs.com, "I highly recommend these pens. The range of colors is the best of any set I have found and the exceptional case is simply an added bonus."
In this set, you will find six neon colors along with a wide variety of others and acid-free, bleed-proof ink. The pens won't dry out and can even be left without caps for days and stay working. For anyone with children who will be using these markers, this is a great feature.
Bring these to work to use for your mandalas on break or to edit important documents. The ink is versatile, high-quality, and will never fade, making these markers perfect for both creative and professional purposes.
The pens offer a triangular, ergonomic shape for easy and relaxed coloring, and come with a metal-clad tip. The super-fine pen nibs allow for intricate detail work. In this 36-set, you will find colors such as Neon Pink, Silver Grey, Red Lilac, Olive Green, Yellow Green, Tuscany Red, Aqua Blue, and much more.
Keep in mind that these aren't the best for coloring large areas of paper, but it can still be done. The colors are bold, bright, and are an amazing price for the time they will last you.
Check The Price
Prismacolor Premier Double-Ended Markers
Next, we have a set that offers even more than 36 different color options. This Prismacolor Premier set comes with 48 different markers to choose from. The double-ended design comes with a big chisel on one side with a smaller, fine tip on the other. This allows you to easily switch between coverage and precision and stay in your creative mode without interruption.
"Overall, these are really the 'premier' art markers," said Jenny at Craft Test Dummies. "They are not refillable, but you'd probably need to use them for hours daily to actually use them up."
The richly saturated ink is designed for a smooth flow and comes from a single source, offering consistency in color from both ends. The pigment is advanced, offers deep color saturation, and is based on alcohol, helping your mandala projects last and last.
You will never have trouble creating the line width you want with the two distinctly different nibs available to you. The pens are certified non-toxic and can be used for both artistic and technical purposes without problems. These pens are professional quality and therefore cost a bit more than some other options, but you get what you pay for!
The Prismacolor Premier set won't smear or bleed like other brands will and are best to use with thicker paper. You won't need to apply multiple layers to get rich, beautiful color and the pens work great with colorless blenders (not included). These pens are said to be of equal quality to the more expensive Copic markers but note that they cannot be refilled like Copics can.
Check The Price
Pentel Felt Tip 12-Piece Set
For those looking for a smaller set to color their mandalas with, the Pentel Felt Tip 12-set could be your best choice. These pens are vibrant and bright, laying down each color effortlessly.
"The Pentel Sign pen is more of a marker than a pen but I can see why it was so popular for signatures back in the day," said Pen Addict. "This pen is designed for big, loose, sweeping strokes, allowing the user to tear through hundreds of signatures with consistency and ease. The fiber tip pen leaves a bold line that is unmistakable."
If you are seeking markers that you can also use for modern calligraphy or hand lettering, these aren't suitable. They are, however, perfect for covering large areas in your adult coloring books or mandala art projects. Try to use them only on thicker paper or use a scrap page underneath for the best result and a bleed-free coloring experience.
Since they lay down so much ink, you must be careful to prevent bleeding at first. This is a trade-off that comes with choosing liquid ink pens with great color coverage. Once you get used to them, though, you'll find it easier to get the look you're going for and prevent bleeding through onto other pages.
The way you hold the pens impacts the line and you can get a varied, thin, or thick shape based on pressure. The smooth-flowing ink that comes out of these Pentel Felt Tip Sign pens is hard to beat and makes them among the best in all fiber tip pen options. Not only will you get vibrant colors and effortless ink flow, but the pens themselves are easy and comfortable to hold for hours.
Check The Price
Paper Mate Flair Felt Tip Set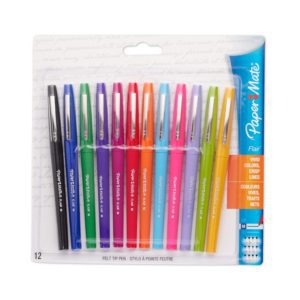 Looking for a product that offers flawless detail and precision? The Paper Mate Flair Felt Tip Set is perfect for those who need smooth, precise lines and also a product that can cover larger areas. These pens are suitable for long hours of both coloring and writing.
"These are very light weight pens and the caps post very firmly and easily when you are ready to write with them," said the Office Supply Geek. "The felt tips do a great job of keeping the writing experience smooth and free of any scratchy feelings. This is impressive considering how porous or rough a sheet of cloth or paper can be."
Each pen has a point guard included to prevent fraying at the tip, so neat lines are always possible, use after use. The water-based ink dries quickly and won't smear and the porous tips leave great, lasting impressions every time. The ink in each Paper Mate Flair pen was crafted specifically to prevent bleeding.
If you enjoy color coding, you couldn't make a better choice as this set offers vibrant, smooth, beautiful ink that lasts and lasts. Note that these do dry out more easily than some of the other items on our list, so make sure the caps are placed securely back on each time you finish using them.
They do write thicker than other options, so keep that in mind if you need pens that have finer tips for detailed work. These pens feel comfortable in your hand and offer a color selection that looks even better in real life than in the pictures.
Check The Price
Tips for Using Adult Coloring Pages
Ink drawings are nothing new and have a long-standing reputation in the world of art. This medium has always intrigued both graphic and more traditional artists. Ink lends durability and expression to projects and can be flawlessly combined with other artistic techniques like pencils or even charcoal.
If you just got into coloring mandalas and are looking for techniques to make the most of your new hobby, follow the tips below:
Test your Pens: Always test your gel pens or markers to see if they leave shadows or bleed through. Thicker pens have a tendency to bleed more easily than others. Testing is especially important for adult coloring books that have double-sided pages since you don't want to ruin the following page as you color.
Use Scrap Paper: Scrap paper is a must for artists with a heavy coloring hand. Any time you're using markers in a coloring book, slip a piece of scrap paper behind whatever page you're working on to prevent bleeding or denting issues. This can be ordinary printer paper or just extra sheets out of your notebook.
Take your Time: Coloring is supposed to be fun, something you do for relaxation and to give your mind a break. Don't forget to enjoy your coloring time and leave perfectionism at the door. This will help you feel more satisfied with the end result and the overall experience. In addition, try to only buy one adult coloring book at a time so you can focus more intently on each project instead of rushing through them to get to the next book.
Print out Free Coloring Pages: If you've already made it through your book, don't worry! When it runs out, you can print out free mandalas to color online. Just do a quick Google search and you will find plenty to choose from.
Draw your Own Designs: If you have gotten used to coloring and want to take your art projects to the next level, try drawing your own designs to color in using a fine tip black marker. This will give you a lot more creative freedom.
When you begin coloring mandalas or using adult coloring books in general, you'll soon learn that this is one of the best ways to calm your mind and relax in your free time. Use the tips above to make the experience as enjoyable and possible and don't forget to have fun!