Top Pick - AspireColor Sketch Alcohol Markers
This is our number one choice when it comes to alcohol based markers. They have higher ink volume and a specially designed cap to prevent markers from drying out. Twin tip markers, bonus fineliner pen, colorless blender and many more additional features that make this our top choice.
Check The Price Here
There are so many markers out there, that I find myself wondering which ones are great, and what is so great about them. This is because I love to color and draw, and without a high quality marker, I am left with a horrible looking end product.
While, this might not be the case for you, if it is, I went through and checked out some of the best alcohol-based markers on the market. I wanted something long lasting, beautiful and of course, fun to color with.
Markers that run, seep through the paper or get everywhere is something I was trying to stay away from though. I managed to find these five high quality sets of markers to go with, and I couldn't be happier with the outcome. With so many colors, and cases that come with them, I got everything I need and so much more.
This is why I invite you to check them out, as well. Your pictures will thank you.
Quick Comparisons of the 6 Best Alcohol-Based Markers
IMAGE
BRAND
FEATURES

Editors Choice

Editors Choice

AspireColor Sketch Markers with Alcohol Based Ink

Premium Ink

Versatile Dual-Tips

Includes a clear blender to combine colors and correct mistakes

View Product

Arteza Everblend Art Markers

The Ultimate Art Marker Set

Replaceable Dual-Tips

Includes a Clear Blender Marker

View Product

Artify Artist Alcohol Based Art Marker Set

Set of 40

Nice carrying case

Dual Tips

View Product

Spectrum Noir Alcohol Markers

Refillable markers

Replaceable nibs

Packaged in a clear plastic case

View Product

Copic Marker 12-Piece Set

Set of 24

Fast Drying Alcohol Marker

Each marker is double ended

View Product

Durable

Brush and chisel edged tip

Dual tipped

View Product
What to Look for in Alcohol-Based Markers
Color brightness: The brightness of the colors, believe it or not, makes a difference when it comes to putting them on paper and getting the job done. You have to make sure that the color pops out of the page, and if it doesn't, then the markers shouldn't even make the list.
High-end tips: Tips that can do fine points, but also turn to do thicker lines is essential. Depending on the coloring or pictures you're doing, you need to make sure you have the right lines for the job.
Fast drying: The markers should always be able to dry faster than some of the other options out there. You do not want smudges and smears across the paper, or your hand. Make sure to check out the drying times.
Many different colors in a set: Choosing a set that only has 6 to 8 different colors is not going to give you a variety to choose from. You need to go with colors that provide more than 12, so you have a wide selection and many options to choose from for all of the pictures you make or color.
The Best Alcohol-Based Markers
Here are the best alcohol-based markers, taking into consideration overall quality, user experience and customer feedback.
AspireColor Sketch Markers with Alcohol Based Ink
Artify Artist Alcohol Based Art Marker Set
Spectrum Noir Alcohol Markers
Copic Marker 12-Piece Set
Darice Studio 71
Arteza Everblend Art Markers
AspireColor 80 Color Dual Tip Sketch Markers with Bonus Fineliner Pen
With 80 different colors and tones, you can bring your art to life with this Aspire dual tip marker set. With the dual tip feature and blending ability of every color, the options before you are simply endless. Aspire is well-known for its quality of art supplies and this marker set is no exception.
A smart cap design prevents quick drying out and the easy grip shape makes it perfect for any sized hand. This set offers the ability to create strokes of various sizes from super fine to thick and brush textured, the sky's the limit on what you can do! And, as a bonus to sweeten the pot, for every purchase made Aspire donates a portion to schools and less fortunate communities.
What Users are Saying
The AspireColor 80 Color Dual Tip Sketch Marker set comes with everything you need, including a handy well-made carrying case which makes this set perfect for artists on the go.
Pros
 Smart caps
Ergonomic shape
Carrying case
Cons
Shape not great for small children to hold properly
Spectrum Noir Alcohol Markers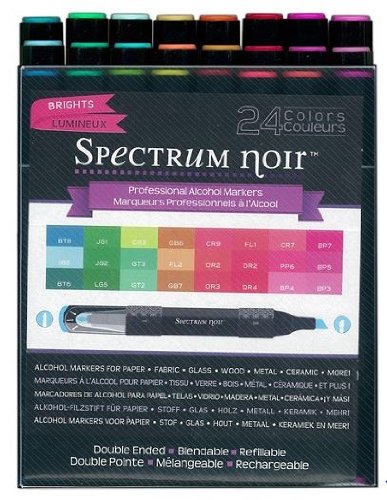 When considering whether or not Spectrum Noir Alcohol Markers are right for you, consider the fact that they come in a package of 24 brightly colored markers. Not only do they provide you with the right variety, but they pop off of the page that you're working on.
Additionally, these markers are awesome because they take seconds to dry when the ink hits the paper. You no longer have to fan out the paper to get certain sections to dry before you can keep going. No more ink wasted.
They write in fine and thicker lines, as well. You can have a versatile selection when it comes to doing many different coloring pages, or coming up with different drawings with the use of the markers that can provide the different lines needed for each one. Who would have thought these markers had it all and more?
What Users are Saying
Really wonderful colors, vibrant, dynamic contrasting inks
Work really well with watercolor paper
Being refillable is very convenient and affordable
On par with Copic brand markers
Many users have purchased multiple packages
Copic Marker 12-Piece Set
Copic Markers and alcohol-based markers are often synonymous – and there's a reason why. Artists the world over hold Copics in the highest regard because of the quality, performance and consistency the markers deliver time and again.
For many artists, the idea of using alcohol-based markers means high-quality inks and precision when it comes to craftsmanship, and the Copic marker set allows you to capture that essence in just the right ways.
Few art products receive higher overall reviews than Copic markers; in fact, more than 82 percent (at the time of this review) of all Amazon reviews give the Copic marker set 5-stars, and nearly 95 percent of all reviewers gave the set 4 stars or higher.
While there are other Copic market sets available, this one is excellent because of its size: it's ideal for those looking to just get started, but it's also a great way to supplement your existing marker set without breaking the bank. There's a 72-marker set available for those looking for a stronger arsenal as well.
In our own tests, we found that the Copic markers did an excellent job of displaying and presenting ink properly and consistently, but without staining or taking too long to dry on paper. We used it with high-quality paper designed specifically for such inks, and we were always impressed at how well the ink absorbed and took on the right shape and line texture.
For artists in need of quality, precision and consistency when it matters most, consider the Copic markers as your alcohol-based product of choice. Read here for recommended copic marker paper.
Yosoo Basic 24-color Set of Finecolour Sketch Marker
The Yosoo Basic 24-color Set of Finecolour Sketch Marker provides you not only with 24 different colored markers, but also a great carrying case for bringing them wherever you'd like to go. You can keep organized and keep them handy when the time comes to color and head out the door.
The ink dries quick and acid free, so it never leaves smudges or marks across the paper when you're using them. Another great thing to keep in mind is that these markers have two different nibs on them, allowing you to change up the thickness of the line that you want on the paper when drawing or coloring with them.
With a true color transfer, these can be a bright, beautiful way to make all of the pictures that you're coloring really stand out. Professional quality, and high grade with an affordable price.
What Users are Saying
Colors stay true and vibrant even after a lot of use
Great deal and quality for price you pay
Excellent ink performance and smoothness
Artify Artist Alcohol Based Art Marker Set
40 vibrant colors tucked into protective plastic carrying case defines the quality of these alcohol based markers. With a unique white pen, and a blendable use option, these markers are an excellent choice for a refined, professional look.
The dual sided design allows you to take advantage of both fine and chisel tips for any project you have in mind, plus the triangular shaped handle provides grip and control. The pen tops are color coded as well, making grabbing what you need a quick and easy.
The alcohol based ink allows for fluid, uninterrupted lines for smooth, continuous lines that do not smear or bleed when used on the correct type of paper. Use the white marker to create even more diverse hues and blend colors seamlessly. The specialized tips are durable, and do not branch or fray even after hours and hours of work.
What Users are Saying
High quality at an excellent price point
Blend effortlessly without any stoke lines
Unique grip provides precision and control
Very good starters set with great color choices
Nice dual tips that apply smoothly
Check The Price
Darice Studio 71- 48 Alcohol-Based Marker Set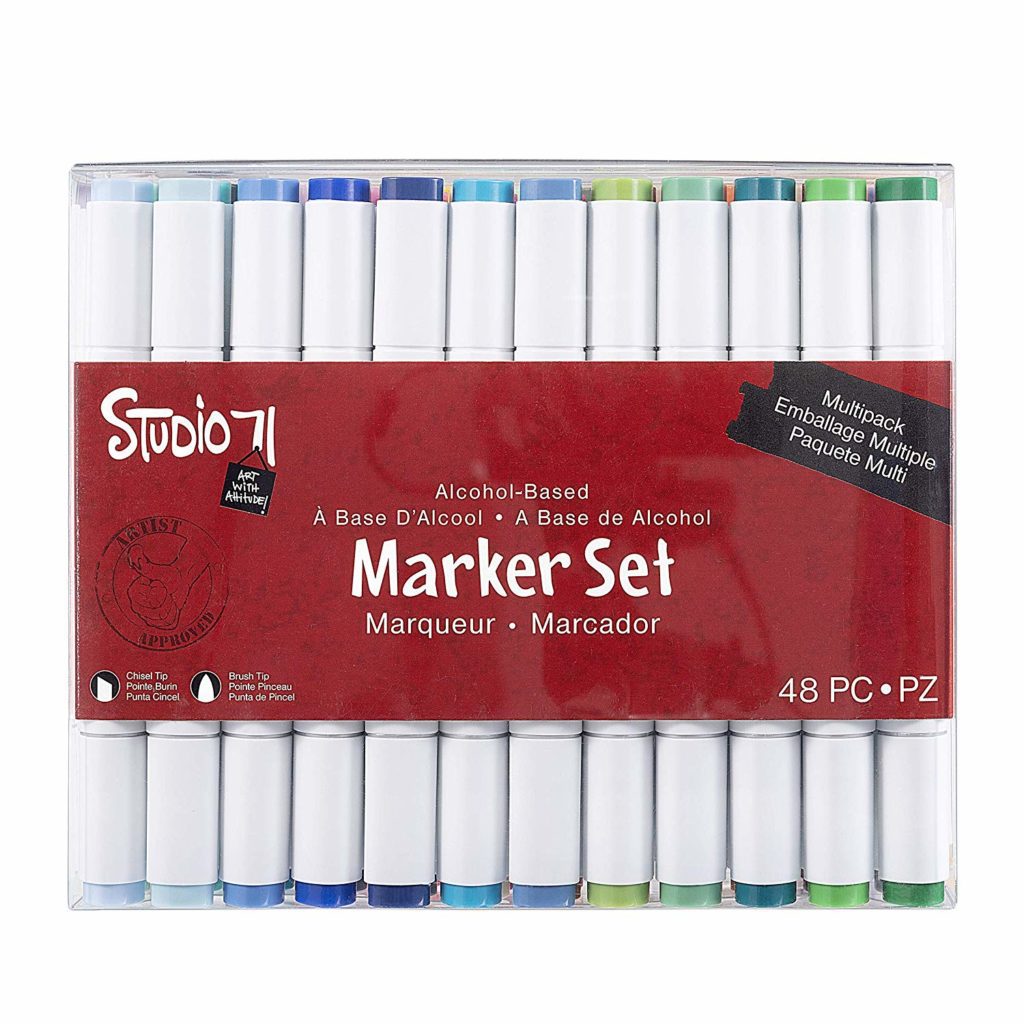 Darice Studio 71 Alcohol Based Markers come in various seize sets and boasts both a fine tip and chisel tip for any of your coloring needs. The tops are color coded for easy identification, and the no roll barrel also provides a easy, controlled grip.
The company has been around for over 60 years, making them a well-known, trusted brand for art supplies. These markers are no exception and are of top quality and for all your project needs. The durable tips are made not to fray, and provide a continuous, smooth line that dries fast.
Considered a great alternative to the higher end, more expensive brands these markers blend seamlessly as well and provide beautiful color choices. They also can be used alongside other marker brands as they match well in hue and tone.
What Users are Saying
Excellent alternative to more expensive brands
Blends beautifully and effortlessly
Great shape, easy to grip, and provides clean, smooth lines
Colors are crisp and vibrant
Should be used on good quality paper to avoid bleeding
Check The Price
Do you recommend a set of alcohol-based markers that we missed?
Let us know! Drop us a line, or check out some of our other recent arts and crafts reviews: