There are so many markers out there, that I find myself wondering which ones are great, and what is so great about them. This is because I love to color and draw, and without a high quality marker, I am left with a horrible looking end product.
While, this might not be the case for you, if it is, I went through and checked out some of the best alcohol-based markers on the market. I wanted something long lasting, beautiful and of course, fun to color with.
Markers that run, seep through the paper or get everywhere is something I was trying to stay away from though. I managed to find these five high quality sets of markers to go with, and I couldn't be happier with the outcome. With so many colors, and cases that come with them, I got everything I need and so much more.
This is why I invite you to check them out, as well. Your pictures will thank you.
What to Look for in Alcohol-Based Markers
Color brightness: The brightness of the colors, believe it or not, makes a difference when it comes to putting them on paper and getting the job done. You have to make sure that the color pops out of the page, and if it doesn't, then the markers shouldn't even make the list.
High-end tips: Tips that can do fine points, but also turn to do thicker lines is essential. Depending on the coloring or pictures you're doing, you need to make sure you have the right lines for the job.
Fast drying: The markers should always be able to dry faster than some of the other options out there. You do not want smudges and smears across the paper, or your hand. Make sure to check out the drying times.
Many different colors in a set: Choosing a set that only has 6 to 8 different colors is not going to give you a variety to choose from. You need to go with colors that provide more than 12, so you have a wide selection and many options to choose from for all of the pictures you make or color.
---
The Best Alcohol-Based Markers
Here are the best alcohol-based markers, taking into consideration overall quality, user experience and customer feedback.
Copic Marker 12-Piece Set
Spectrum Noir Alcohol Markers
Yosoo Basic 24-color Set of Finecolour Sketch Marker
Tombow Dual Brush Pen Art Markers
OLEEP 80 Color Touch Five Art Sketch Twin Marker Pens
Copic Marker 12-Piece Set
Copic Markers and alcohol-based markers are often synonymous – and there's a reason why. Artists the world over hold Copics in the highest regard because of the quality, performance and consistency the markers deliver time and again.
For many artists, the idea of using alcohol-based markers means high-quality inks and precision when it comes to craftsmanship, and the Copic marker set allows you to capture that essence in just the right ways.
Few art products receive higher overall reviews than Copic markers; in fact, more than 82 percent (at the time of this review) of all Amazon reviews give the Copic marker set 5-stars, and nearly 95 percent of all reviewers gave the set 4 stars or higher.
While there are other Copic market sets available, this one is excellent because of its size: it's ideal for those looking to just get started, but it's also a great way to supplement your existing marker set without breaking the bank. There's a 72-marker set available for those looking for a stronger arsenal as well.
In our own tests, we found that the Copic markers did an excellent job of displaying and presenting ink properly and consistently, but without staining or taking too long to dry on paper. We used it with high-quality paper designed specifically for such inks, and we were always impressed at how well the ink absorbed and took on the right shape and line texture.
For artists in need of quality, precision and consistency when it matters most, consider the Copic markers as your alcohol-based product of choice.
Check The Price
---
Spectrum Noir Alcohol Markers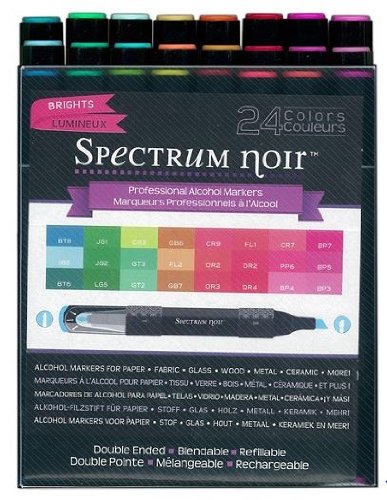 When considering whether or not Spectrum Noir Alcohol Markers are right for you, consider the fact that they come in a package of 24 brightly colored markers. Not only do they provide you with the right variety, but they pop off of the page that you're working on.
Additionally, these markers are awesome because they take seconds to dry when the ink hits the paper. You no longer have to fan out the paper to get certain sections to dry before you can keep going. No more ink wasted.
They write in fine and thicker lines, as well. You can have a versatile selection when it comes to doing many different coloring pages, or coming up with different drawings with the use of the markers that can provide the different lines needed for each one. Who would have thought these markers had it all and more?
What Users are Saying
Really wonderful colors, vibrant, dynamic contrasting inks
Work really well with watercolor paper
Being refillable is very convenient and affordable
On par with Copic brand markers
Many users have purchased multiple packages
Check The Price
Yosoo Basic 24-color Set of Finecolour Sketch Marker
The Yosoo Basic 24-color Set of Finecolour Sketch Marker provides you not only with 24 different colored markers, but also a great carrying case for bringing them wherever you'd like to go. You can keep organized and keep them handy when the time comes to color and head out the door.
The ink dries quick and acid free, so it never leaves smudges or marks across the paper when you're using them. Another great thing to keep in mind is that these markers have two different nibs on them, allowing you to change up the thickness of the line that you want on the paper when drawing or coloring with them.
With a true color transfer, these can be a bright, beautiful way to make all of the pictures that you're coloring really stand out. Professional quality, and high grade with an affordable price.
What Users are Saying
Colors stay true and vibrant even after a lot of use
Great deal and quality for price you pay
Excellent ink performance and smoothness
Check The Price
---
Best Water-based Alternative to Alcohol Markers
Tombow Dual Brush Pen Art Markers
The Tombow Dual Brush Pen Art Markers are one of the most used professional quality markers out there for all of the drawings and coloring pages you want to fill in. Though, this pack only comes with 10 different colored markers, they have multiple other sets with different colors, depending on what you want to fill in.
The acid-free, water-based markers provide a smooth, clean way to color in the pictures but without the smudges and smears since they also dry quickly. So although they are not alcohol-based, you can get similar coloring and vibrancy with these pens.
The fine tip on these provide a consistent line, but if you want thicker ones, you just rotate the nib while drawing or coloring and you can use it for thicker lines. The colors do not bleed, and the blending pen allows you to get the right colors for all of the pictures that you choose to color with them.
What Users are Saying
Great product for what they are
Nice brush tip, easy to maneuver
Can write or draw whatever you want with it
Very little ink bleeding, great with thick paper
Ideal for amateur or professional artists
Check The Price
---
OLEEP 80 Color Touch Five Art Sketch Twin Marker Pens
Use these OLEEP 80 Color Touch Five Art Sketch Twin Marker Pens for all of your drawing or coloring needs with such vibrant colors.
With 80 different colors to choose from in the pack, you're able to have a color for each and every picture that you come across.
Use either the broad or fine side to complete pictures that you're working on, depending on the line thickness that is needed, or blend with other colors to come up with some of the most unique shades for each picture.
Dried acid free, and quickly so that you do not have to worry about smudges or smearing your fine work once it is finished. High quality, and can be used for a variety of coloring, drawing or crafting purposes.
The set comes in a high quality carrying case, so you're able to bring them wherever you need to use them.
What Users are Saying
Extremely good price when compared to other alcohol-based markers
Good color selection, includes many gray shades
Colors blend very well together with no bleeding
Check The Price
Do you recommend a set of alcohol-based markers that we missed?
Let us know! Drop us a line here, or check out some of our other recent arts and crafts reviews: