When you're looking for craft paint, you won't have trouble finding options for what to decorate glass ornaments with. If you're new to painting ornaments, making a choice in a sea of options can be overwhelming. This simple guide will help you with that problem.
During the holiday season, handmade ornaments are great to collect, give, and make yourself. The craft itself gives you a great family activity to do around this time and creating something unique is always a joy. When you're done, you'll have something beautiful that will last years to show for all your effort.
Quick Look of Our Top 5 Picks of Paint for Glass Ornaments
Testors Promotional Enamel Paint Set – Our Top Pick
FolkArt Enamel Beginner Paint Set
Martha Stewart Crafts Gloss Glass Paint
Decoart 6 Piece Glass Paint Marker Set
Sharpie Oil-Based Paint Markers
When you're ready to start selecting paints, you have some considerations to make. You can use special markers, solvent-based paint, acrylic glass or acrylic enamel paints. Some of these will look opaque on glass while others appear transparent when applied. The type you choose will depend on what look you're going for and you may want to experiment with different styles before finding your favorite.
Comparison Table
IMAGE
MODEL
FEATURES

Testors Promotional Enamel Paint Set

Gloss Yellow or Red

Dark Blue or Green

9 bottles

View Product

FolkArt Enamel Beginner Set

The ultimate paint for glass and ceramics

Formulated for use on many surfaces including

Colors glide on smoothly

View Product

Martha Stewart Crafts Gloss

Permanent (bake or air-dry)

Can be used on a variety of nonporous surfaces

Top rack dishwasher safe

View Product

Decoart 6 Piece Glass Paint Marker Set

Decoart Glass Paint Marker Brights 1mm

They can also be used on porcelain and metal

Decoart Glass Paint Marker are designed for glass and glazed ceramics

View Product

Sharpie Oil-Based Paint Markers

Colorful ink is perfect for rock painting, creating scrapbooks, posters and window art

Quick-drying oil-based ink resists fading, smearing and water

High-contrast colors create opaque and glossy marks

View Product
The 5 Best Paints for Glass Ornaments You Should Have Right Now
Each of the glass paint options on this list has been chosen for affordability, quality, and long-lasting beauty according to reliable user reviews. Read on to find out which will best suit your needs for this holiday season.
Here are the best paints for glass ornaments you should try today!
1. Testors Promotional Enamel Paint Set
If you're looking for a paint set that comes with more than just paints, this first option is a good buy. The Testors Promotional Paint Set has not only paints included but also some paint thinner and a brush to use. This makes crafting a little less work for you since you won't have to shop separately for these items. The paints are thin enough to easily apply but thick enough to be workable on multiple surfaces, including glass.
"Because these paints are made for model cars," said Cyndy at The Creativity Exchange, "they are extremely durable and the finish is very opaque and stunning.  Their color selection is awesome and you can always mix colors too in a small disposable cup (like a Dixie Cup) if they do not have the color you're looking for."
The colors look just as you would wish for or expect them to and you will find it easy to fix mistakes with the supplied thinner. The great thing about thicker paints like these is that you can get away with just a single coat instead of waiting for each application to dry, which can be time-consuming. Testors enamel paint shines beautifully and is ideal for tiny, intricate details on your ornaments.
Although the set does come with a brush and bottle of thinner, as mentioned, you may want to buy a larger bottle of thinner along with some brush cleaner. Mistakes cannot be amended with just water and you will need a special brush cleaner to get the brushes looking spotless again.
Before you apply the paint to your glass ornament, make sure you wipe down the area using alcohol, otherwise, the enamel won't adhere firmly due to natural oils on the surface. Once you've done that, let the ornament dry before applying any paint. If you get the paint on your hands, you may need to use a bit of thinner to get it off.
Check The Price
2. FolkArt Enamel Beginner Paint Set
If you're looking for paint that can be used on ceramics and wood along with glass, the FolkArt Enamel Set will be what you want. You can also use it on tin, plaster, and even Styrofoam. The colors go on smoothly, look great, dry quickly, and won't fade with time.
"The paints can be used on any slick surface such as glass or metal as well as other surfaces like terra cotta and canvas," said your Decorative Painting Resource. "It's important to remember to first wash smooth surfaces like glass or metal with warm soapy water, rinse thoroughly, dry and then wipe them down with rubbing alcohol."
These paints are safe for the top shelf of the dishwasher, are priced reasonably, and can be easily cleaned up with water and soap. Please note that, unlike other craft paints, these may require more than one coat to get the look you're after. You should allow each coat to dry for at least an hour before applying the next.
The colors look great and you will come up with endless ideas once you start crafting with them. Use them on wine glasses or candle holders along with Christmas ornaments. For how affordable these paints are, you'd have a tough time finding better semi-transparent paint suitable for glass surfaces.
One of the nicest parts about this paint is that it comes off of glass easily if you need to fix something before it dries. This product mimics craft paint in terms of sheen and viscosity, but it can be cured and made partially scratch-resistant in the oven (depending on the surface you use, of course).
If you haven't cured the paint yet, you could likely scratch it off and re-do your design if needed. While some claim that cured glass is safe for the dishwasher, you may not want to risk it. Note that this set doesn't come in packaging, so if you want a carrying case, you'll have to use or purchase a separate one.
Check The Price
3. Martha Stewart Crafts Gloss Glass Paint
Next on our list, we have another opaque choice for glass ornament paint. The Martha Stewart Glass Paint set is made in America and can be used for outlining on glass, silk screening, and ordinary craft or painting projects.
"The reason to buy Martha Stewart Glass Paints is for the finishes," said Jenny at Craft Test Dummies. "You have to love the ability to make faux Blue-Bell-Jar crafts, the fun metallics, and the spunky glitter paints. If you keep some of the limitations of the paints in mind, I think you'll find it a fun tool in your craft box!"
The product will give you a glossy, transparent look on your ornament's surface and has a fine tip for easy, quick application. Use it on ceramic, mirrors, plastic, or any other nonporous surface. Allow it to air dry or bake depending on which surface you're using it with, and rest assured that it's safe for your dishwasher.
The paint is weather resistant, making it fit for outdoor use along with indoor use. It's also non-toxic and water-based, so it can be safely used with your children. Those who paint inside will be happy to know that this doesn't come with any noticeable fumes or scent and that it's forgiving when you make mistakes. If you need to wipe it off, it will come off easily when wet without leaving marks or stains.
The color is thick and very nice, staying the same even after curing. Although this paint is easy to use, like fabric or acrylic paint, some may find it a little too thick for small details. If you want to do intricate designs, get a stiff, tiny brush for that before applying. The paint is smooth and leaves a nice texture, even with just a thin application. Allow it to dry overnight before you touch it, just to be safe.
Check The Price
4. Decoart 6 Piece Glass Paint Marker Set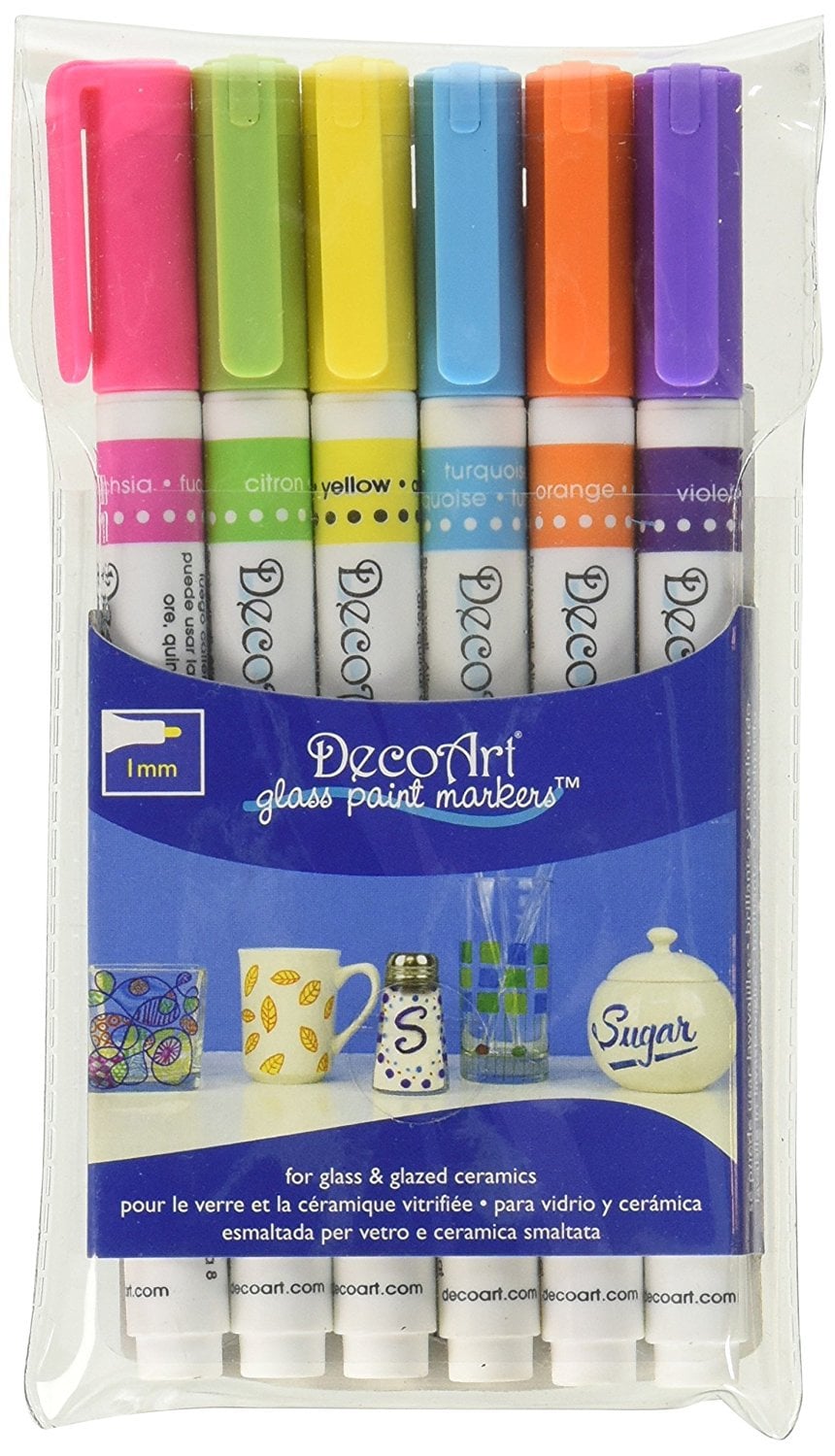 Do you want some paint that can be used for glass ornaments and also used to paint blank mugs to give as Christmas presents? Then the Decoart Glass Paint set is your best option. They can be used on metal and porcelain, but are also designed for glazed ceramics and glass.
"They are sold individually so you can pick and choose what colors you want," said Making it with Stephany. "They also have some metallic colors if you need some heavy metal. If you are a decent free-hand artist, these are pretty easy to use."
Even small kids won't have an issue using these once the markers are primed and they aren't very messy. Even so, you may want to protect your table with newspaper just to be safe. These colors look bright when applied and create clean, clear lines on many different surfaces.
If you use this paint and see some light spots, you can apply another coat after allowing the original coat to dry for a few hours. For baking mugs after using these nicely pigmented paint on them, just follow along with the instructions on the product. The color will come out the same hue and brightness, even after withstanding the heat. Users will find that these work as well as more expensive paint markers and are, in some cases, more vibrant.
Check The Price
5. Sharpie Oil-Based Paint Markers
Most people have heard of Sharpie and consider it a trustworthy brand. These Sharpie Oil-Based Paint Markers are a good example of this brand's well-known quality. They have valve action that's been specially formulated and offer an opaque paint that will last many Christmases to come. It dries in just minutes and is smear and fade-resistant.
"Their water and fade resistance let you cherish memories forever, said Stacey at Jet Pens. "These pens require only a bit of prep—simply push the tip into the body, shake, and press the tip onto a surface until it saturates with ink."
The paints are xylene-free, non-toxic, and will work on almost any surface you can think of, including stone, plastic, glass, rubber, wood, pottery, and metal. Not only are they fade and water-resistant, but they will stand up well to abrasion.
Make glossy designs and texts along with eye-catching opaque details with these oil-based markers. The product is released easily for fluid control and you will find four different tip sizes to mix up projects. Use this product with your children as it's safe and non-toxic. Note that the felt tips may require a few pumps before the paint will run, but that it won't leak like other pens and also flows freely once it's been primed.
The pen tips won't leak and all surfaces will hold the product well. If you are using these with a ceramic surface, you do need to bake it before you put it into the dishwasher. Make sure you don't apply it too thickly or it may rub off in the dishwasher, even after being treated with heat. Oil-based craft pens are perfect for projects that you plan to keep around for many years and won't fade with time.
Check The Price
How to Safely Store Your Handmade Christmas Ornaments
Decorating and creating handmade Christmas crafts are favorite activities for many people, but putting it all away afterward isn't always as fun. It can be a little sad to remove your sentimental ornaments and beautiful lights, hiding them for a whole year. In addition, it can be a hassle to get everything properly stored without making a mess or taking up too much room in your attic or garage.
Thankfully, there are some smart, crafty solutions to this issue that will make storing your decorations and ornaments much easier. These storage tips are specifically designed for ornaments but can also be applied to other small decorative items to keep them safe.
Special Containers: If you no longer have the packaging you bought your blank glass ornaments, or just want a solution for storage that will save you time and room, you'll be happy to find this option. Special ornament boxes can be used for storage to keep your memories safe and sound, and even come in a variety of materials.
Do it Yourself: For those who are on the craftier side and would rather make their own solution, a big storage bin, cardboard, plastic cups, and a glue gun are the only items you need. For this option, just glue your plastic cups onto cardboard slats (which can be easily stacked in the storage bin) and place the fragile ornaments inside. For extra fragile items, use bubble wrap or tissue paper for cushioning.
An Egg Carton: For tiny ornaments, save an egg carton and place your delicate items inside. You can also surround these with small bubble wrap or tissue to keep them safe from harm, then make sure to store them just as carefully.
Your ornaments are important to you, so taking some extra time to make sure they are properly stored will save you the time and hassle of having to create new ones next year.
Having trouble sorting out you paints, you might consider owning a palette.