When you have so many options out there for paint, it's difficult to know the medium that will be most suitable for canvas. Some figure this out by trial and error, but there's an easier way. In this article, we will go over which paint types are best for use on canvas.
Making art is not only fun but amazing for your brain. Best of all, when you're done, you have something amazing to hang on your wall. What should you use to create your next masterpiece?
First of all, acrylic paints are great for canvas. Brands can differ in terms of colors they offer and also the paint consistency, which can range from fluid to thick and buttery.
There are both student and professional grades of acrylic paint, with the student grade types having cheaper pigments and more filler, typically. Since acrylics mix well with water and can be used to create a watercolor style, they are favored by many artists. In addition, they dry quickly.
Second, we have oil paints, which are also great for use on canvas. Their viscous, thick consistency calls for a tough painting surface that the oil will not degrade. You may use a palette knife or brush to apply oil paint, which dries slowly and gives artists a lot of time to blend and work with the colors. Oil paint can easily be painted over once it has dried.
Comparison Table
IMAGE
MODEL
FEATURES

Thick, creamy with satin finish

Retains peaks and brush strokes

Includes 36 22-mL (0.75 oz.) tubes of acrylic paint

View Product

Winsor & Newton Acrylic set

High quality Acrylic which delivers professional results

Ideal for artists who want good quality color at an affordable price

These acrylics can be used on a variety of surfaces

View Product

Golden Open Slow-Drying set

Set of 8

Modern Theory Color Set

View Product

Resiss fading

The pigments are mixed with cold pressed and pure linseed oil.

The colors are all entirely or almost lightfast

View Product

Holbein Duo Aqua Water-Soluble Oils

Duo is compatible with traditional oil color and water based media.

Ideal for painters who are sensitive or allergic to toxic solvents.

Duo eliminates the necessity of harsh and toxic solvents

View Product
The 5 Best Paints to Use on Canvas
We will be covering a few acrylic paint types, then a couple of oil paint types. All of these were selected based on the dependability of the brands and reliable customer feedback. After this list, we will discuss each product in further detail to help inform your buying decision.
Liquitex BASICS
Winsor & Newton Acrylic set
Golden Open Acrylics
Old Holland Classic Oil
Holbein Duo Aqua Water-Soluble Oils
Any of the products listed above would be a great addition to your blank canvas, but different artists have different needs. Let's look at what each has to offer.
Liquitex BASICS
If you're new to art, or simply paint on a budget, this could be the medium you've been searching for. Liquitex BASICS Acrylic Paints are formulated for dependable performance and standards at a cost that is more affordable than competing brands. This product was developed for artists and students in need of quality at a great value.
"I love how well the Basics series layer and glaze," said Lisa Clough at Parka Blogs. "They adhere beautifully to the canvas even when thinned a bit with water for glazing. Some bargain brands don't do this even when not thinned."
Each of the colors offered in this set brings out the clarity and brilliance of the pigment used. The paint is considered heavy body, meaning it will retain brush strokes and peaks to give your art more texture. The colors contain permanent pigments and all dry with a satin-like finish. These paints are all mixable with other Liquitex brand mediums and colors.
Great for learning about color theory and how to mix colors, Liquitex acrylics are safe for use in education. You can apply these to surfaces other than canvas, as well, including cloth. Since this set is their "Basics," it comes with plenty of hues, making it ideal for beginner artists.
Remember that hues consist of multiple color pigments and are intended to mimic costlier, purer pigments. As a result, when you mix hues to create a color, it won't always end up how you expected.
Although this set is great for artists, of course, it's also helpful for people who have random side projects that may need some color, like touching up outdoor decorations.
Check The Price
Winsor & Newton Acrylic set
Every color in Winsor & Newton's Galeria paint set offers high-quality color brilliance, a large spectrum of choice in pigment characteristics, strong pigment levels, permanence and opacity, clean colors, and a satin finish. The paints will retain your brush strokes for textured work, adding to the depth of the piece.
"Galeria is an affordable or student-grade paint that has good strength of colours and works easily, although you'll have to add texture paste if you want thick paint as it's quite soft," said Painters Online. "And it doesn't put too huge a dent in your pocket."
This set is great for beginner artists due to its high quality. When you are first picking up an art form, working with excellent materials will help you with the learning curve. They clean up easily and quickly and come with an amazing variety of different colors. For the price range, you can expect a lot from this brand.
Some switch to acrylics from oils because they are more affordable, but that shouldn't mean having to sacrifice bright, deep colors that spread well. This paint will serve anyone who loves art but is also looking for value for their money. In this set, you will find Crimson, Cadmium Yellow, Winsor Blue, Yellow Ochre, and more. Ten paint choices should be all you need to create most colors.
This series is considered student grade but is also suited for intermediate or even advanced artists. For those wishing to enter paintings into a gallery, the artist grade variety may be more suitable. Otherwise, this paint set will work perfectly.
Check The Price
Golden Open Acrylics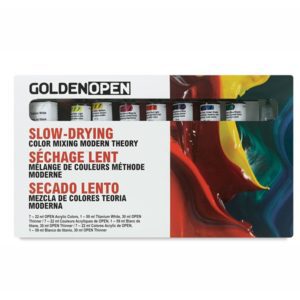 If you are looking for a clean, bright pallet for making a large variety of tints and shades, this paint set could be for you. Golden Open Acrylics come in 30 ML tubes of Anthraquinone Blue, Phthalo Green, Yansa Yellow, and more.  Their working property is very relaxed and facilitates glazing, softening, shading, blending, and detailed, close up work.
"If you've ever wished for an acrylic paint that dried slowly, more like oil paint, you now get it in the form of Open Acrylics from Golden," said Marion at Thought Co. "It looks and handles like normal acrylics, but makes blending colors something that can be done leisurely."
The eight paints in this set work precisely as they are advertised to work, staying wet long enough to work with and with saturated colors that lead to a vibrant finished piece each time. Although other acrylics dry almost too quickly, these have a slower drying time that allows you to spread and mix the paint after it's been applied.
Most artists will find these superior to craft mediums due to their stronger color, translucent quality, and the fact that they blend amazingly when applied simultaneously or layer by layer. When you order this set, you will get a pamphlet with an instructional color wheel portion.
Check The Price
Old Holland Classic Oil
This brand was started in 1664, making it the oldest manufacturer of artists' paint in the world and was used by Vermeer and Van Gogh, among other Dutch artists in Old Holland. Due to their long track record, most artists can trust them implicitly. A look at the colors in this Old Holland Classic Oil set will show you a quality pigment concentration, a lightfast medium, and products free from artificial driers or cheap fillers.
Lightfastness of a paint describes how well the color will keep and resist fading once it's exposed to sunlight. The colors are all entirely lightfast with the exception of Cremnitz White and Madder Lakes, both of which are almost lightfast. The pigments are mixed with cold pressed and pure linseed oil.
With both the opaque and transparent paints, Old Holland offers outstanding pigment. These are great for use with figure painting, landscapes, and even abstract pieces. At first, the paints may seem expensive, but the medium's tinting strength enables them to last a lot longer than competitor's products. The paint won't dry out as time goes on and the chrome used in the tubes is sturdier than that of other paint brands.
Considering how far the paint will stretch, the price makes them a great value. It's clear by the weight of each tube that they are each packed with a lot of pigment that leads to color-saturated art with incredibly rich hues. In addition, the brand offers a very wide selection of color choices.
Check The Price
Holbein Duo Aqua Water-Soluble Oils
For those seeking a more advanced brand of paints, the Holbein Duo oil color set is user-friendly and eliminates the need for toxic and harsh solvents in your art studio. It's compatible with water-based paints and traditional oils, making it ideal for teachers, students, and all artists who are allergic or sensitive to toxic chemicals. In addition, using paints like this will keep your pets safe.
"There is nothing entry level with this line of 'professional' oil paints by their rigorous quality standards with respects to the test and inspection of their pigment qualities," said Artisan HQ. "They meticulously test for thermo stability, physical stability, adhesion, light stability, color tone and even anti-bacterial stability."
Some people stay away from oils and stick with watercolors to avoid chemicals, but that hard choice is no longer necessary with brands like this. Although it's costlier, as most oils are, you will quickly see that it's worth the extra money.
The makeup of these paints is thick and creamy, easily smoothing over the canvas with a couple drops of mixing oil. Unlike some other oils, cleaning these up is hassle-free and may even clean up better than some watercolor brands. A few of Holbein's colors are more vivid and intense than colors offered by other brands, but this is a positive thing. Some see the need to wait for oils to dry as a downside for the medium, but this set comes with an included dryer to help your pieces dry more quickly.
Check The Price
Tips for Using Paint with Canvas
Canvas is a popular surface to paint on and is a heavy-duty fabric also used in marquees, backpacks, and even sail masts. In the world of art, canvas is most typically stretched over a frame. Some artists stretch their own, while others buy pre-stretched canvas. As mentioned, it's great for use with oil or acrylic paints, since it's affordable, lightweight, and sturdy enough to last over the years.
The following tips for using canvas for art will be great for beginners but also helpful for those more experienced with painting.
Get the Canvas ready: Use the canvas you bought or stretch your own. Take off and discard the plastic wrap if your purchased canvas came with it. If you use an easel, now would be the time to get the canvas set up on that.
Apply a Background Color to set the Tone: At this stage, you may set a tone for your painting by covering the canvas with a tonal hue. For example, a purely white background may not be convincing for a stormy landscape, but a light grayish-blue color can supply the mood you're looking for.
Get your Supplies ready: Now it's time to get out all the paints you'll be using. Depending on which type of painting you're making, you may not need to use every color and will do better selecting a few to have near you. How is the lighting in the room you're painting in? If possible, it might be nice to sit outside or near a window to get some natural light.
Selecting Brushes: Some brushes are more suitable for canvas than other brushes. For example, soft watercolor brushes won't hold up to the textured, sturdy surface of your canvas. They are much too delicate to assertively apply paint as needed. Usually, brushes made specifically for oil or acrylic are going to serve you better, as they have stiffer bristles for spreading thick paint.
Also keep in mind that when you're looking for a quicker drying painting experience, acrylics are better than oils.
If you are using these when you're used to oils, remember to refrain from loading your pallet up with too many colors, since they may dry before you get a chance to use them. Follow these simple guidelines and you will have a fantastic painting experience.