Usually we end up somewhere in the middle. And no matter which side of the fence your family's on when it comes to ornaments, you can use these simple DIY ideas to create your own Christmas ornaments.
Reindeer Thumbprint Ornaments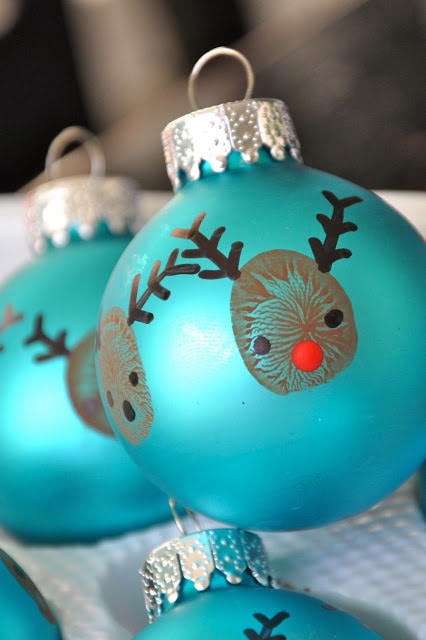 via little bit funky
These ornaments are great if you have children who want to get in on the DIY action. If you don't have children, you can try doing this with a dog or cat but it might not have the same effect. Ultimately the ball's in your court.
Kurt Adler Style Snowflake Ornaments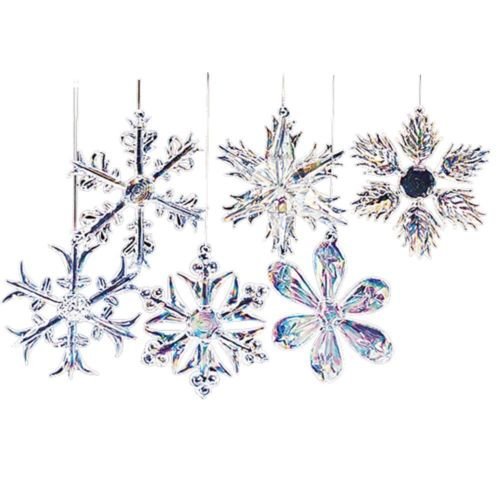 via kurt adler
Both those places have cheap, silver ornaments that seem a little flimsy. But you can spruce up each one and give it a shine by either spray painting it with a high gloss paint or sealant, or you can also glue or seal two together to make them more sturdy. Add some glitter glue and you can get an expensive glass ornament look for not very much at all.
Recycled T-shirt Ball Ornament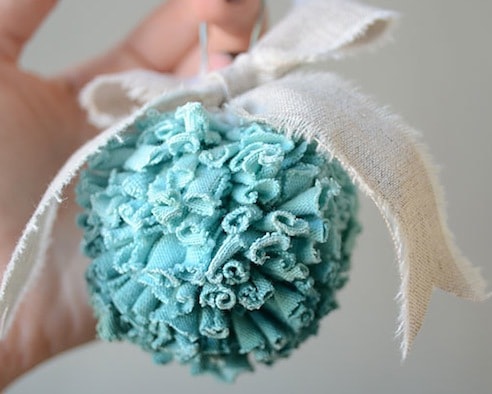 via skip to my lou
We all have old t-shirts that we don't wear anymore, but we also don't want other people to wear them, so instead of taking them to Goodwill or Savers, we hide them in the dark, hidden areas of our closets hoping one day they'll return, much like a cocooned caterpillar, with new life. Alas, this is never the case. So you might as well make a Christmas ornament out of them.
Frosted Pinecone Ornaments
If we aren't mistaken, Frozen is Disney's highest-grossing film to date. We haven't seen the movie and don't know if pinecones are involved, but these make of think of the movie so we're going to go with that. Check out how to make your own frosted pinecones with the link above.
Salt Dough Gift Tag Ornaments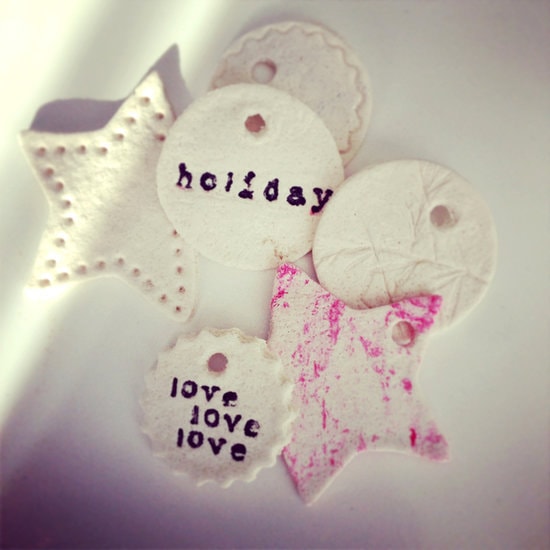 via savvy sugar
These salt dough tags are great for presents, but we think they also make good ornaments. Use something to print up different words like you see here, or just go old fashioned and use Christmas cookie cutters to make classic holiday shapes. You win either way.
Jute-wrapped Candy Cane Ornaments
Call us biased, but we really like these jute-covered candy cane ornaments that we made for our Christmas tree.
Kurt Adler Style Icicle Ornaments

via kurt adler
Okay okay, we get it, Kurt Adler rules the ornament world with an iron fist and pockets full of Christmas hams that have all been spoiled because they were leftover from the previous Christmas.
Again, if you want the expensive look of a Kurt Adler glass set, check out your local dollar store and find the icicles that look just like these. Now, spray some adhesive on and go to town with whatever you think will look great: sparkles, glitter, diamonds, whatever!
Twig Snowflake Ornaments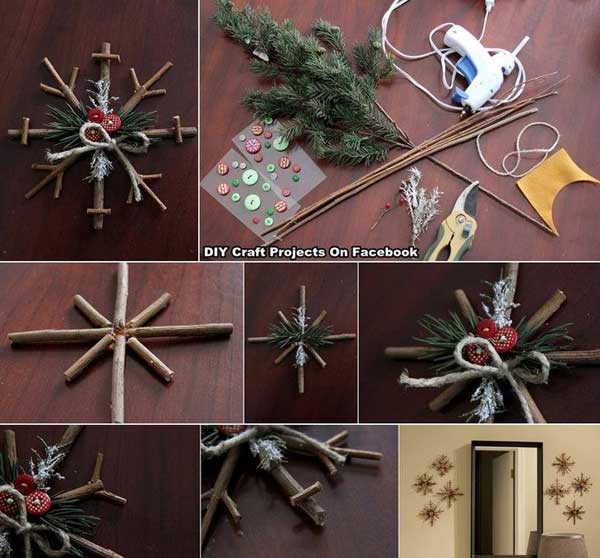 via little things bring smiles
There's something about twigs that just gets us all hot and bothered. Maybe because we love the woods, who knows. It could also be something deeper, some Freudian thing. We're not psychologists, but these snowflake ornaments seem to scream "so cute" to us.
Wooden Animal Ornaments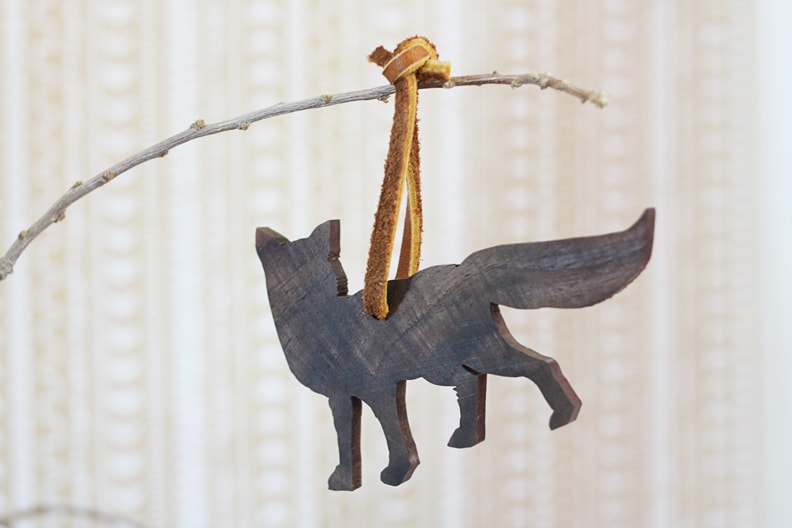 via hello lidy
Foxes have gotten a lot of press in the last few years, and every hipster you know has either a fox tattoo or a story behind the fox tattoo they were going to get (but didn't). These little animal cutouts can bring a wonderful sense of nature to your Christmas tree, and there's plenty you can change and update to match your own style.
Chalkboard Painted Ball Ornaments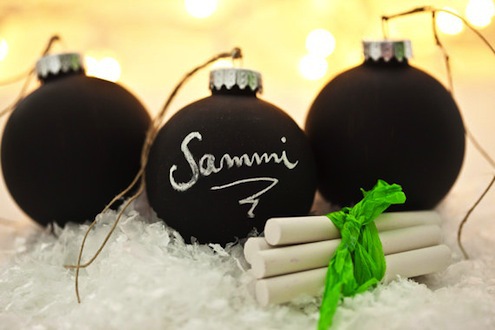 via etsy
We still remember when chalkboard paint first came out, people were always saying, "really? Chalkboard paint?" But now it's considered a staple of any DIY setup, so we had to include these ornaments simply because of the flexibility they provide. If you don't like the all-black look, you can paint the rest of the ornament to focus on the colors and outline the chalk text.
Tacks and Yarn Christmas Ornaments

via fellow fellow
Remember what we said about twigs and foxes? The same thing goes for anything shiny, which includes brass tacks. We love these ornaments from fellow fellow, and can't wait to put our own spin on the tacks and yarn combination. We recently covered our favorite yarn winders and yarn bowls, so this is right up our alley.
Frosted Glitter Ball Ornaments

via brittany estes
There's a philosophical question hitting the Internet that goes something like, which came first, glitter or Christmas?
We can't answer, but we do know that this DIY ornament would look great on any Christmas tree, even the 20-foot tall one your neighbors got just to show everyone else in the neighborhood that they have the tallest Christmas tree, which is also why they leave the blinds open all night.
Mason Jar Lid Christmas Ornaments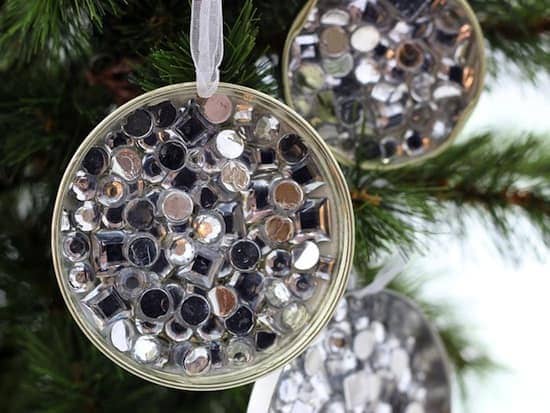 via mod podge rocks
Mason jars, like chalkboard paint, are like DIY gold. You can use them – and their lids – for just about any occasion, and we loved this idea of using the lids as decorated ornaments. Click the link above for more details.
Wire Star Ornaments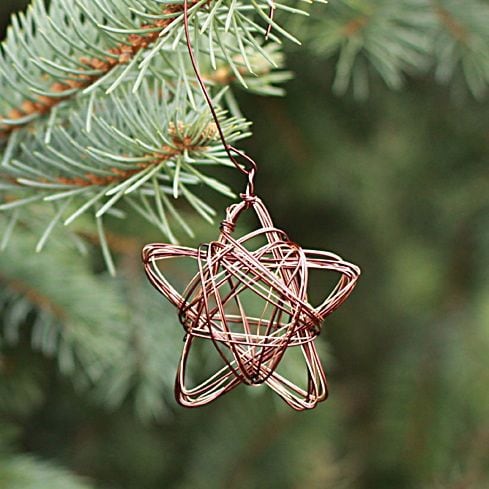 via alyssa and carla
Something tells us if these ornaments were sold in Pottery Barn, they'd be somewhere north of $30 each and people would still buy them. Kidding, Pottery Barn. Really though, these little ornaments are simple but look beautiful when they're hanging on the ol' tree.
Glitter Dipped Country Christmas Ornaments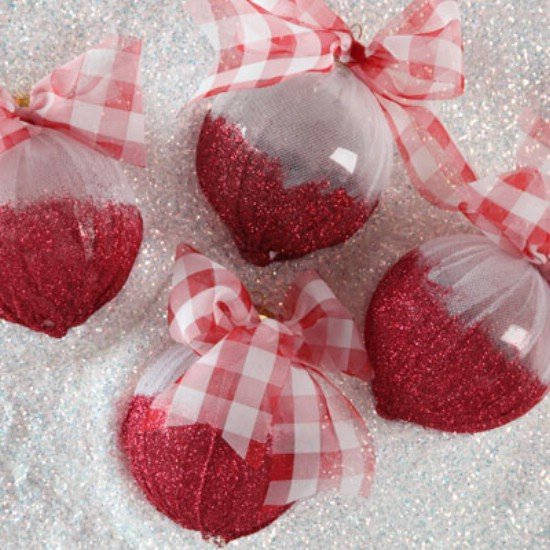 via I love to create
These reminded us a little of taking a picnic, bringing strawberries and dipping them in chocolate, then making a mess of ourselves as we try to feed each other the way they do in the movies. In any case, these ornaments would be great for the country or shabby chic Christmas lover in your life. Maybe that's you.
Bottle Cap Snowman & Snowwoman Ornaments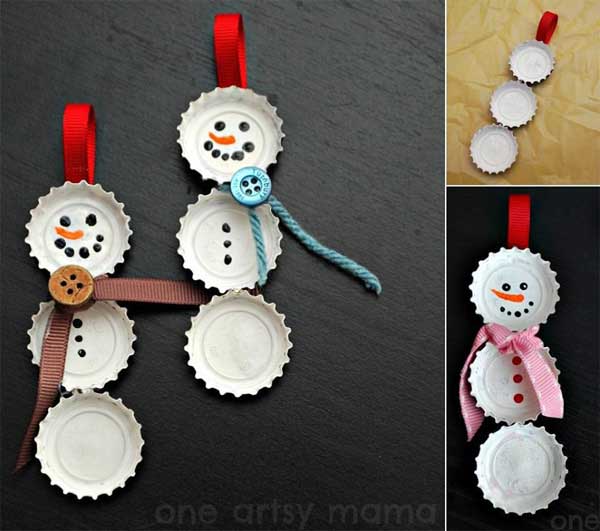 via one artsy mama
The best part about these ornaments is that at some point you have to drink enough of a beverage – beer, let's say – to have sufficient snowman parts. If you're making a family of three, that's 9 beers. That's a party.
Tiny Mittens Ornaments
At first we thought these were made for tiny lizard people, but it turns out they are supposed to be that small. Very cute, and reminds us of the times we spent back to the Midwest telling everyone, "no, these mittens won't get wet." And of course they got wet.
Burlap & Coffee Beans Clear Ornaments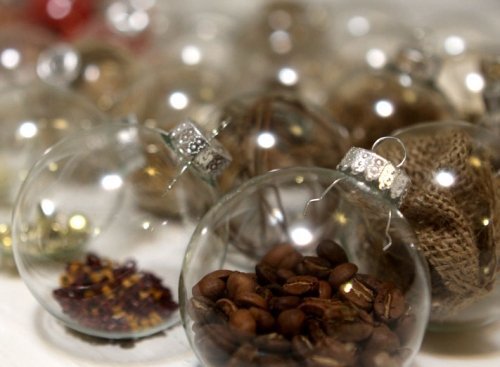 via pop sugar
Leave it to pop sugar to find this great ornament idea – you can also fill the clear ornaments with anything else brown. Your only limitation is your imagination.
Vintage Bell Jar Ornaments
If someone visited the site and said look, guys, you need to rank these according to how much you personally like each one, we'd probably say that this DIY ornament project is at or near the top. Just look at it. If you don't like this, there's a chance you don't like Christmas. And if that's the case, we respect your right to make that decision but my God do we dislike it.
Wood Slice Chalkboard Ornaments
Two of our favorite things – wood and chalkboard paint – combined into one wonderful Christmas ornament. You can use a stencil to write the letters out neat, or you can make like a rapper and freestyle. The best part is you can redo the text until your heart's content.
Glitter Light Bulb Ornaments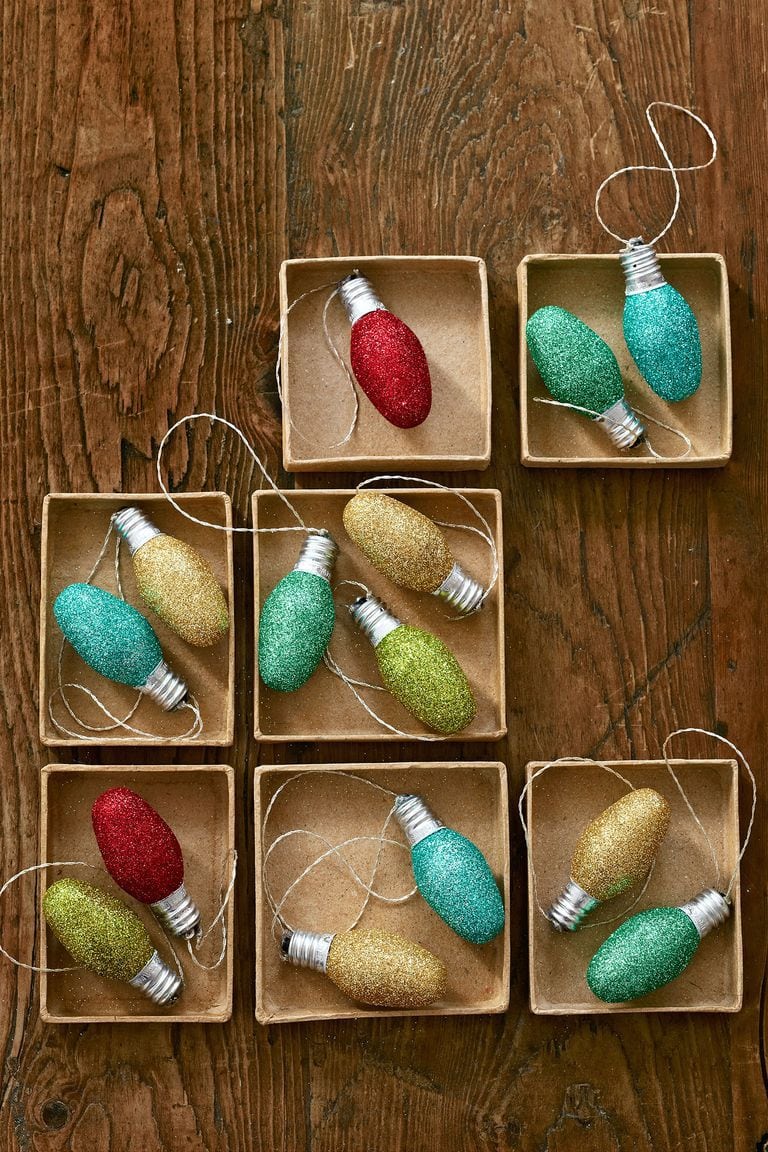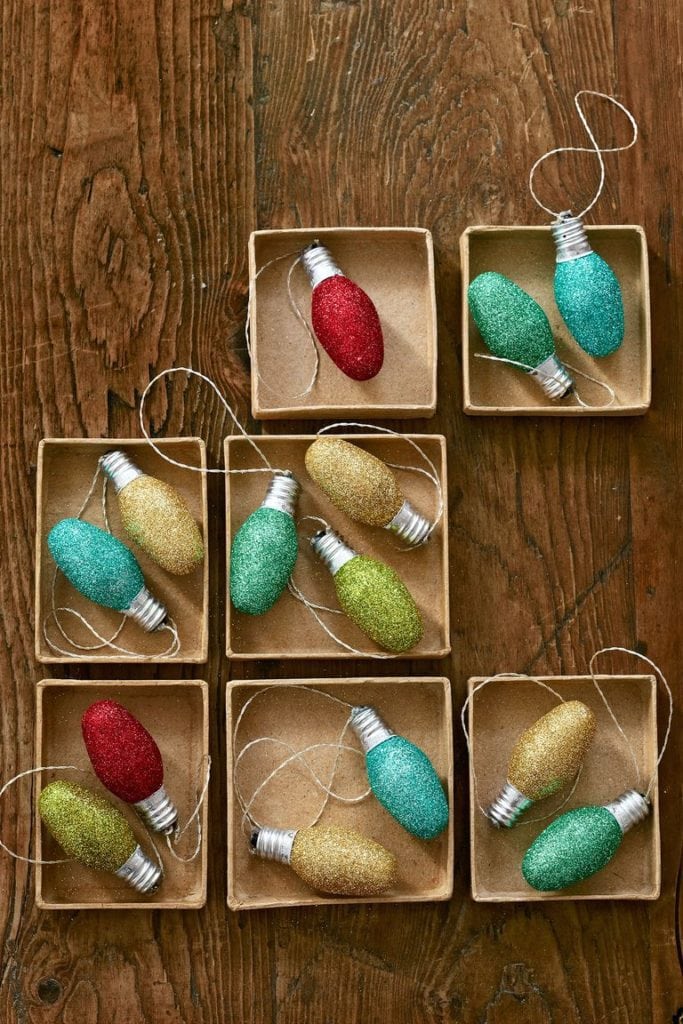 via country living
There's not a whole lot to say here other than you are getting the best of both worlds: light bulbs and glitter. These are great for vintage Christmas tree schemes.
Sequin Ball Ornaments
Sequin balls remind us of high school and that weekend we spent getting ready for the dance thinking it was going to be a good time but really it was just all in our heads and everything still looked nice but it just wasn't the same as the way we played it out in the film strips in our minds.
Crocheted Christmas Ornaments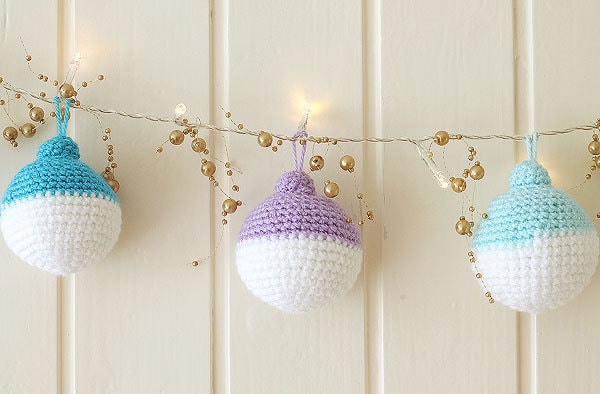 via tuts plus
If you were to look at these from a distance and sort of squint your eyes, they would look a lot like three albino baby faces – two boys on the sides, girl in the middle – and that's the way we keep looking at this picture when it comes up. If you want to do something different than the "squinted baby look," you can crochet more traditional Christmas colors like red, green and gold.
Yardstick and Scrabble Pieces Ornament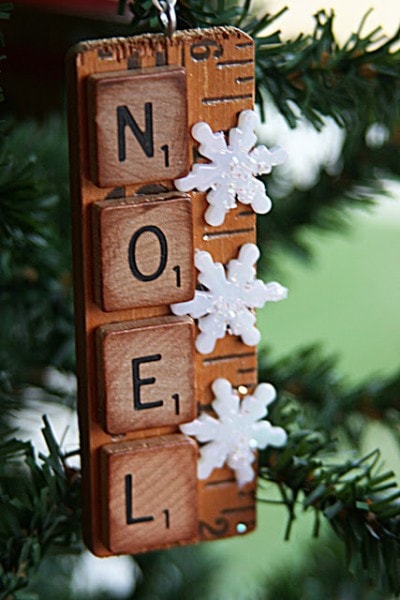 via mamie janes
When we were young we had a wooden NOEL sign that could be rearranged to spell LEON, and every Christmas when people came over they would wonder who Leon is, and if he was also coming to dinner, and should we wait for him or go ahead and eat because what the hell, it was getting late.
Woodsy Clear Ball Ornament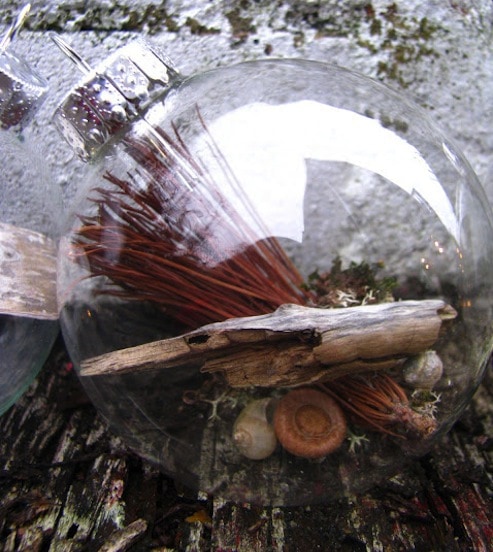 via this tinder
We'd like to think that if Paul Bunyan celebrated Christmas, he'd hang these throughout the forest and when it was time to take down all the Christmas decorations in the woods, he would break each ornament open and the pieces of nature would return to where they were and everyone was happy, the end.
Felt Pinecone Ornaments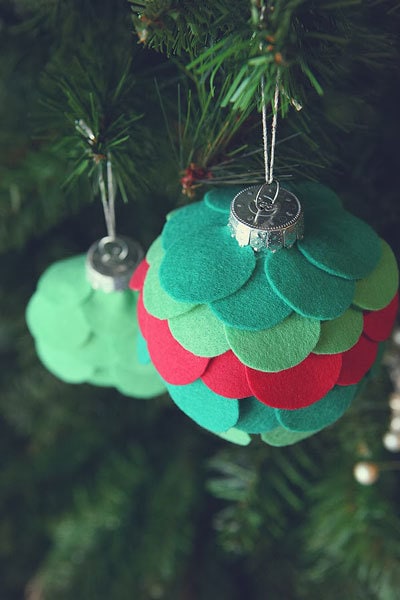 via eighteen 25
If you've ever "felt" that a real pinecone is just a little too sticky to deal with, these pinecone ornaments might be for you.
Painted & Filled Ball Ornaments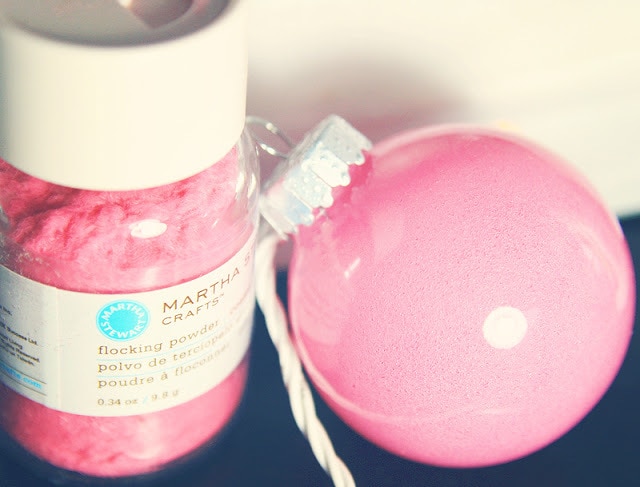 via little gray fox
Painted balls are a great way to give your Christmas tree some extra pizzazz when it matters most. And when does it matter most? Depends on when you start putting up Christmas decorations. For some people that's November first, and others wait until the day before Christmas Eve. We're all different!
Blue Frosted Pinecone Ornaments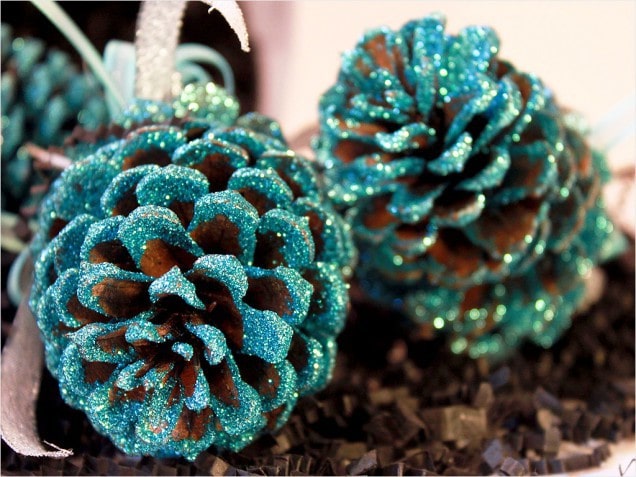 via ivillage
These frosted pinecones can bring even more glitter and glam, and you can mix and match colors to get the combination that suits your Christmas style.
Mosaic Christmas Ornaments
This is just pure clever. But make sure you cut up a CD that 1) belongs to you (not the library), and 2) that you don't plan on using anymore. If we followed both those steps, we'd have about $15 less in library fines right now. Which means we're not going to the library at all, even just to browse.
Twig Star Christmas Ornaments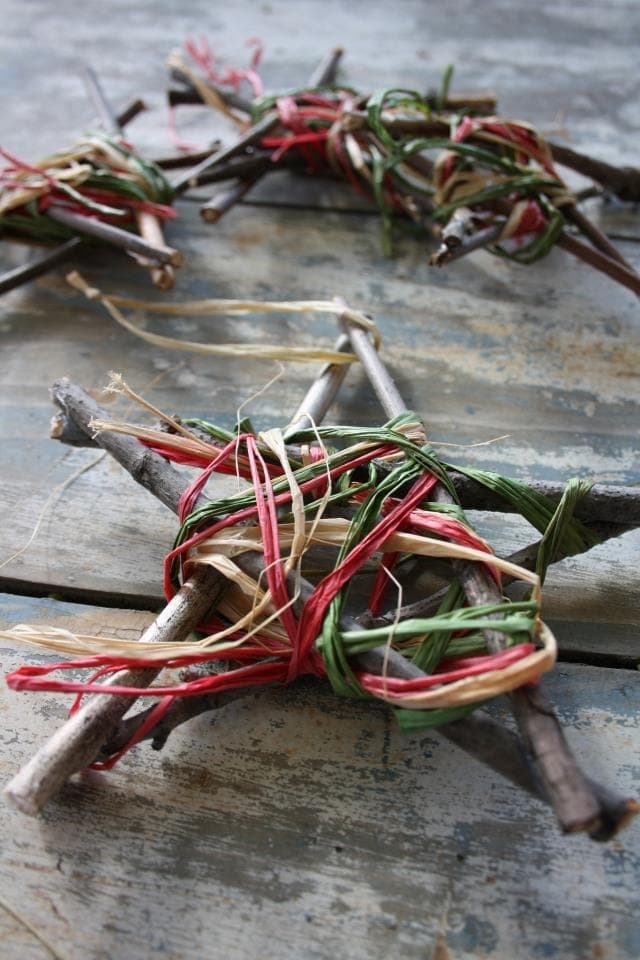 via la vida lucida
These are neat, and even though there's no instructions with this link, I think you go something like: take some twigs, hot glue or super glue them together, then wrap them around with some colored material and call it a day. Looks great.
Country Christmas Candy Canes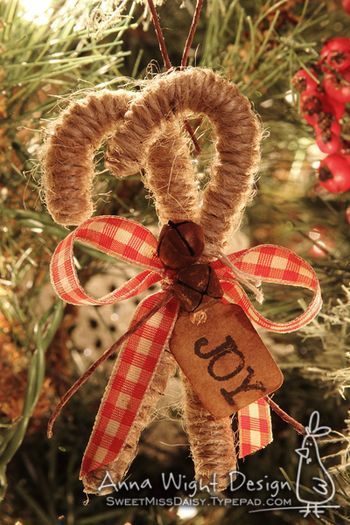 via sweet miss daisy
We featured these delightful candy canes in our DIY candy cane ornaments, but they were so nice we wanted to say more things about them. And that was what you just read.
Cinnamon Bundle Ornament
Something tells us you have to be a little cinnamon-crazy to go with this one, but that's cool. We're here to blog, not judge. We would've had to have gone to school for a lot longer if that was the case.
Painted & Filled Ornaments Part II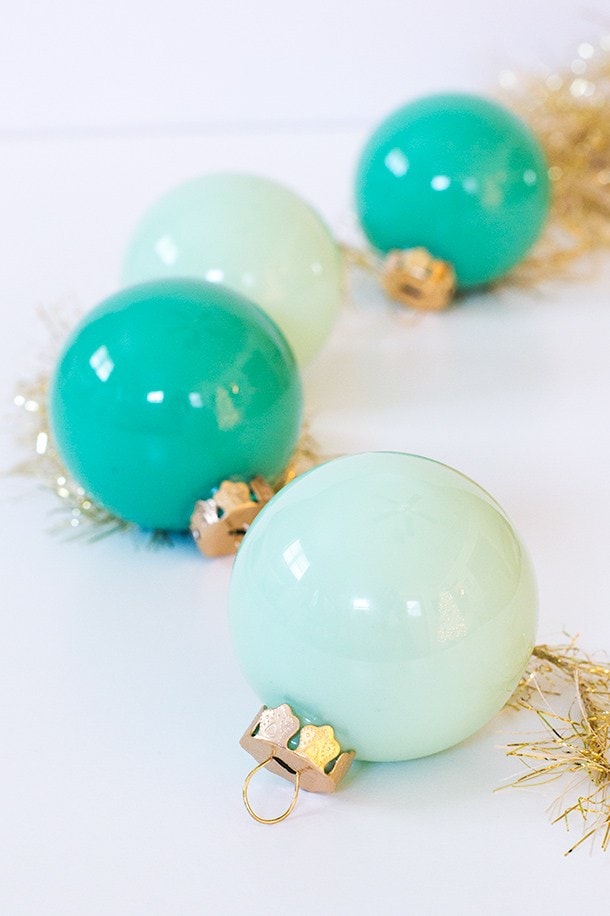 via sarah hearts
These painted ornaments from sarah hearts just goes to show that sometimes the best look is simple, clean colors. Neat.
LED Snowflake Ornaments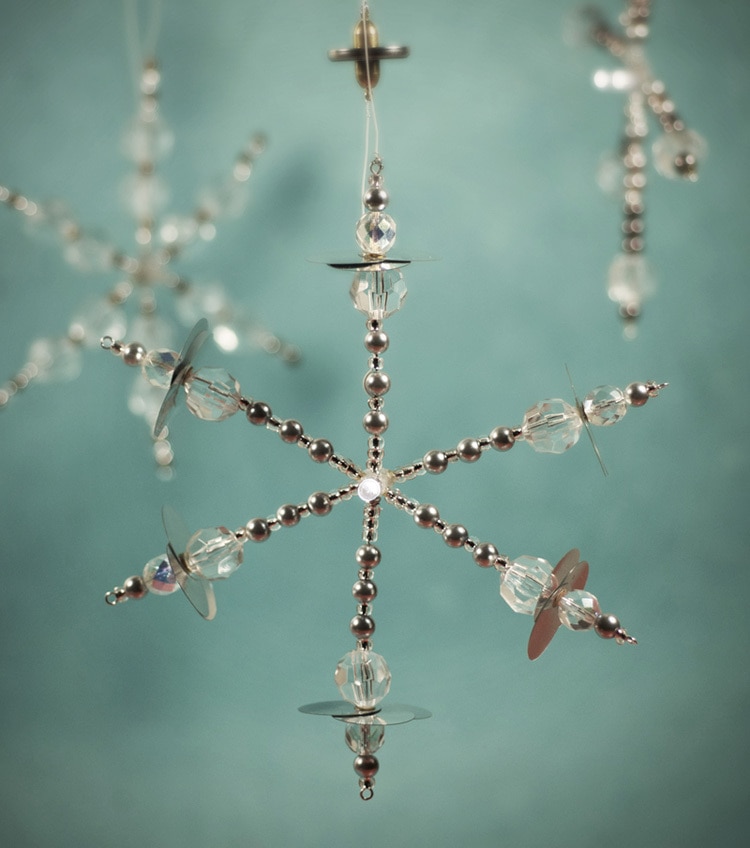 via fashioning tech
For those of you who like to be on the cutting edge of technology at the office water cooler, these LED snowflake ornaments are right up your alley! They're unique and can give you tree a cool lighting style that you won't see in Walmart.
Baby Handprint Ornament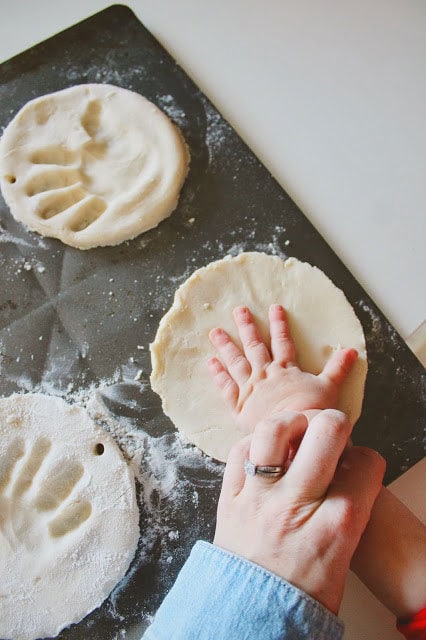 via everything emily
This ornament comes with the same caveat as the reindeer thumbprint one: if you don't have kids, you can try to work with an animal, but it could get messy.
Burlap Christmas Ornaments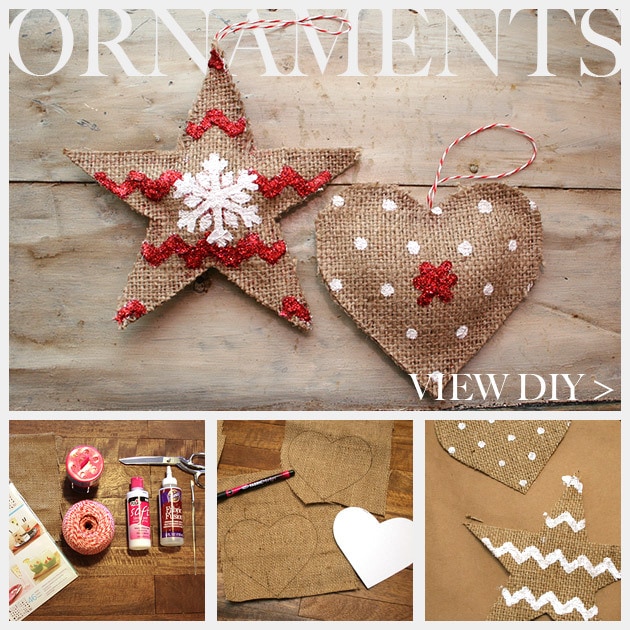 via trinkets in bloom
Lots going on here: just check out the link, get an idea of what you want to do and in the words of astronauts, GO FOR IT!
Twine Ball Christmas Ornament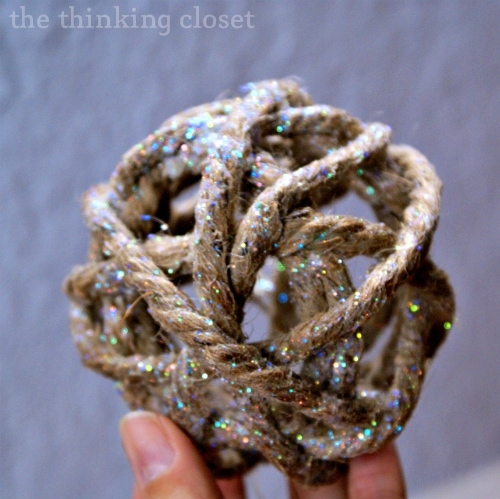 via thinking closet
Don't be fooled by the complex nature of this DIY ornament. It's easy to make, just follow the information by thinking closet in the link above.
Wood Clothespin Nativity Ornament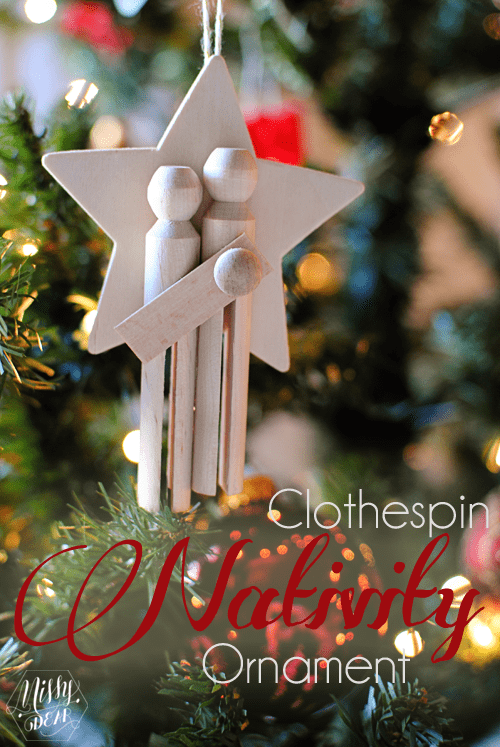 via missy-dear
Lest we not forget what Christmas is all about – here's a great faith-inspired ornament you can add to your tree. This one is plain, but you can also paint or stain the wood to make it look even more unique.
Salt Dough Ornaments Part II
These look like something you'd find in a cute shabby chic boutique in a town that wants to be known for cute shabby chic stores. We love it.
Scrabble "Let it Snow" Ornament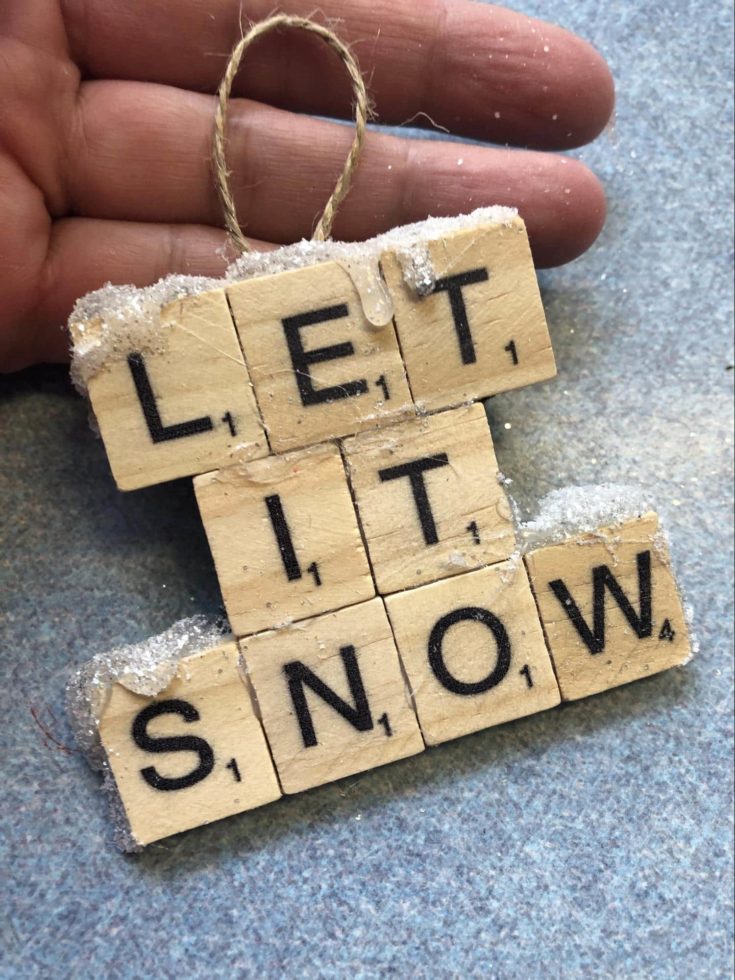 See the Scrabble Tile tutorial here
If this was an actual game of Scrabble, these would be fairly poor words to use. But in the context of Christmas ornaments and trees, your points will skyrocket with these cute projects.
Twine-Filled Clear Ornaments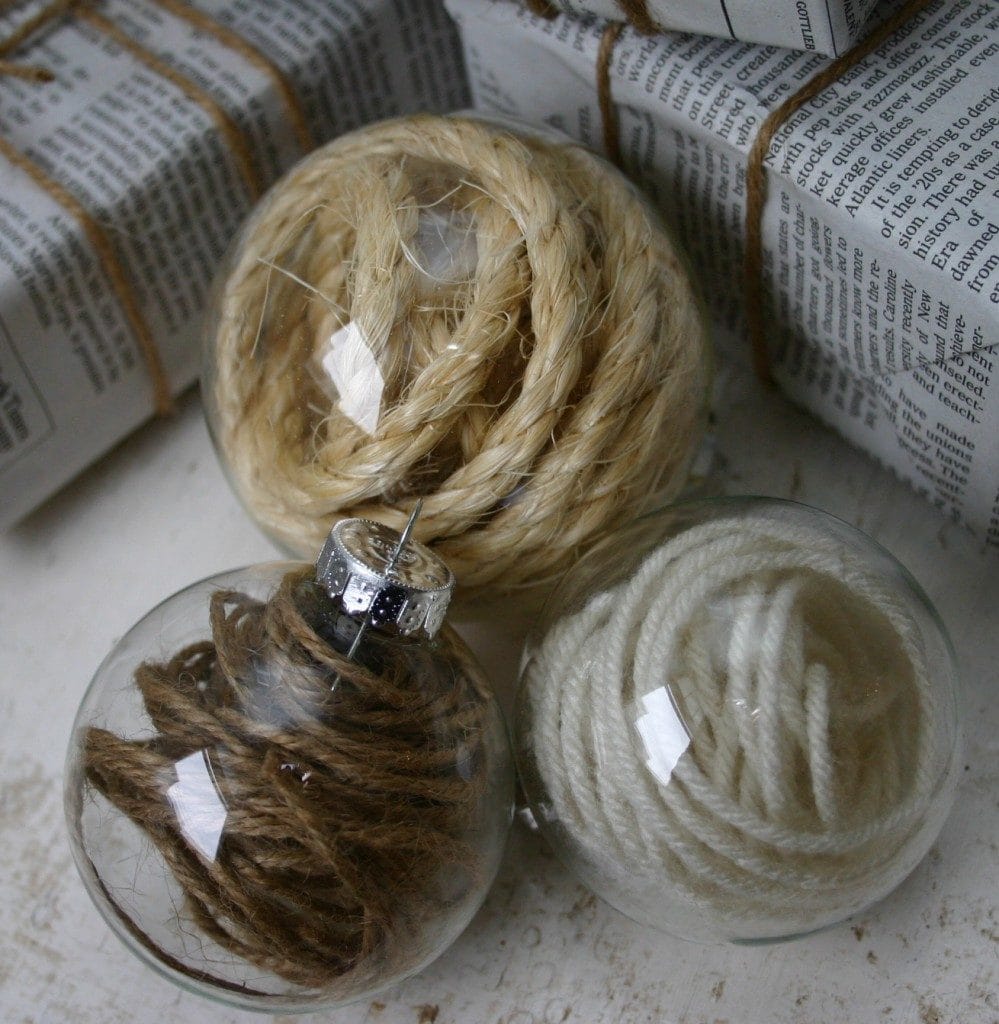 via cfabbridesigns
Sometimes you just have to stuff twine and other things in a clear ball. Sometimes it works, and sometimes it doesn't. In this case, it definitely works!
Classic Gingerbread Ornaments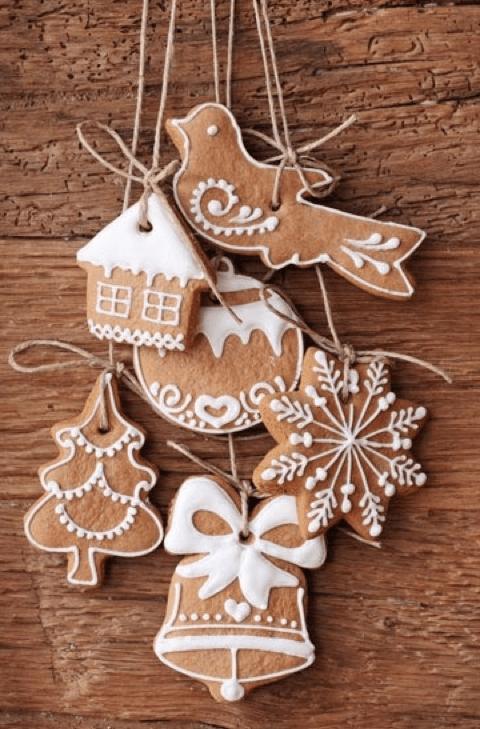 via pinterest
What would Christmas be without gingerbread cookie ornaments? These little cutie patooties can be made with cookie cutters and frosting. Bake, let harden, decorate and hang. The rest is up to Santa.
Reindeer Head Christmas Ornament
Because a real stag won't fit on your Christmas tree.
Show Us Your DIY Christmas Ornaments
What DIY ornaments are you putting up this year?
Tell us about your projects and we could feature them on updated articles!
Also read up on centerpiece ideas.