Playtime is a critical factor in your dog's growth and development. Your furry friend gets the necessary exercise, mental stimulation, and stress relief when it interacts with its favorite toy.
Now, you can get extra creative with a DIY doggy safe toy. Making homemade toys allows you to have fun with your dog and produce something that strengthens your bond. Below, we detail our favorite toy ideas and how to prepare each one. Put a unique spin on playtime and explore one of these innovative ideas!
1. PVC Pipe Dog Feeder Toy
The PVC pipe is a critical component for this fun DIY toy. It engages your furry friend while working hard for the treats inside. You will need to drill 5-10 coin-sized holes along the pipe. Then, you can secure the ends with caps. Ensure that you properly apply sandpaper to the rougher edges of the holes, which keeps it safe for your dog.  Another key benefit is that this DIY PVC pipe feeder toy is dishwasher safe.
2. Plastic Bottle Tug Play Toy
You can put your plastic bottles to good use with the plastic bottle tug toy. All you need is 1-2 yards of a colored bed sheet or shirt. Utilize scissors to snip four strips that are each 1-inch ride, which will serve as ties later. Next, you will take the leftover fabric and wrap it around the bottle, just like wrapping a sub sandwich.
You should use those four ties to secure the fabric to the bottle properly. To finish off the project, you can cut, braid, and hang the fabric for your furry friend.
3. PVC Pipe Dog Jump
PVC pipes can act as a quality dog feeder toy, but who knew they are also effective as a DIY dog jump? You can deliver more exercise for your dog with this easy agility jump, which can set up in your yard or living room.
You can use different PVC pipe colors to designate the side and ground bars. Make sure you know how to use a PVC pipe cutter safely in this process. You will use this tool to cut the ground bar at 47 inches in length.
4. Homemade Squeak Toy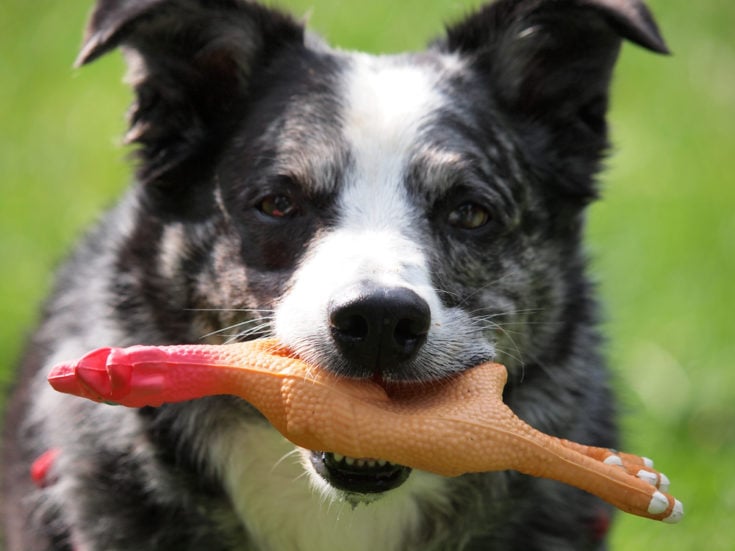 If you have a surviving squeaker from a past dog toy, it can easily integrate into this fun DIY squeak toy. We recommend not to use this toy for dogs that could eat the squeakers.
The process of making this toy is simple. You take two pieces of bone-shaped fabric and sew them together with a standard machine. It is essential to keep a small opening space to insert the squeaker and stuffing. Get creative with this DIY safe doggy toy so you can take beautiful photos later!
5. Rope and Ball Toy
If you are extra handy and efficient with plyers, you can attempt to create the rope and ball toy for your dog. You will need to gather a 0.75-inch-diameter rope, electrical tape, and a harder lacrosse ball. After you unwind the rope to 10-15 feet in length, you will perform the knot of your choice.
6. Frozen Sock Toy
This cool toy does not take much effort to prepare, but it can be a potential favorite for your furry friend. All you need to do is tie up a longer sock into a standard knot. Next, soak it in water and then throw it in the freezer for several hours. Your pup now has a chill, chewy toy, and you can customize it by using a funny sock!
7. Towel Tug Toys
Do you have too many towels in your household? You can now put any tattered towels to good use with this DIY tug toy. The process is simple and straightforward – you start with three towel strips, each at 12-inch length and 4-inch width. Next, you tie each of them off at a single end with one of the small strips. Lastly, you can braid and utilize a different strip to secure the end.
8. Non-Sew Denim Dog Toy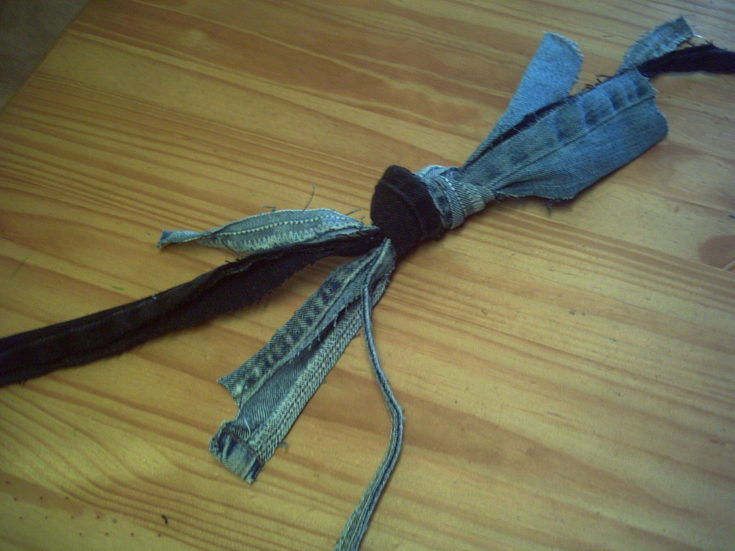 If you do not own a sewing machine, you can still create this engaging DIY dog toy. All you need is an older pair of jeans and some scissors. You first snip the pant legs into longer strips and then assemble them as a "cross" on the table. Next, you will create knots by flipping and folding the legs. The final product is a durable, functional toy that your dog can chew to keep occupied.
9. Rope T-Shirt Toy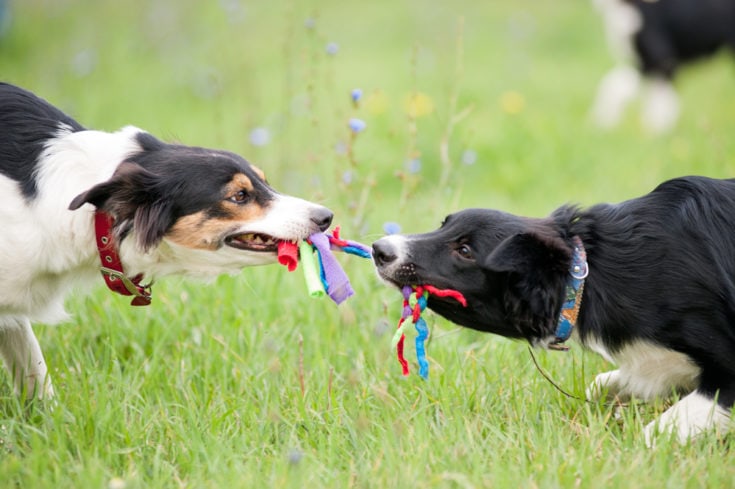 The T-shirt rope dog toy will make perfect use of your old stack in the closet. You can convert these aging shirts into a functional yard for your dog's new toy. This T-shirt yard consists of elongated, thinner strips of T-shirts. If you have multiple colors of shirts, you can braid them into a beautiful toy.
To execute this knot, it will require you to have 12 yarn strings or 2 yards of cloth. You can utilize the friendship bracelet braiding technique for an excellent result.
10. Apple "Pupsicles"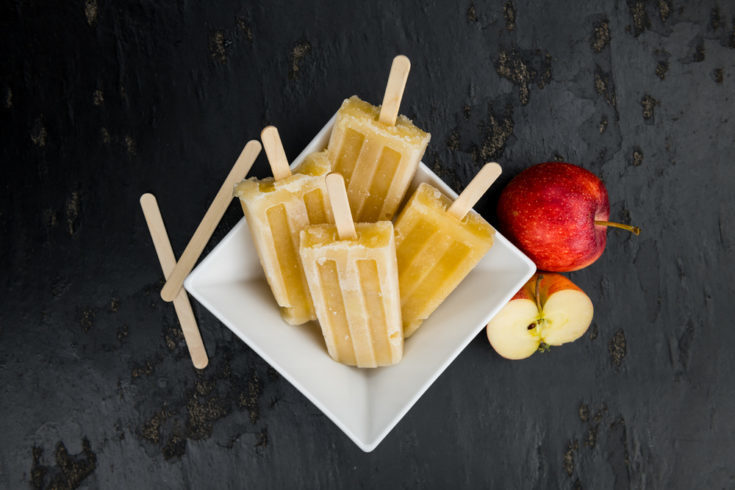 If you are looking to get creative and combine the toy and treat concept, this frozen yogurt treat for your dog is the perfect solution. It only requires three ingredients and is simple to make. You combine a half cup of applesauce (unsweetened) and yogurt, including a pureed apple. Mix these ingredients into a bowl and throw in a dash of cinnamon.
The final shape of the doggy treat is up to you. You can get creative with the bone or ball shapes, but your pup will be impressed regardless. Silicone mold will allow you to shape it to what you desire and then throw it into the freezer for the last step!
If you're interested in nutritious food for your dog, check out the options at Dog Food Heaven.
Final Wrap Up
As you can see, there are plenty of DIY doggy toy ideas for both beginner and expert artists. You can create chew toys, food dispensers, and even tasty treats for your dog. Regardless of which option you choose, your furry friend will appreciate playtime even more. By expanding your creativity and going with one of these options, you can redefine playtime.