Looking for ways to add a personalized touch to your favorite clothing, purses, luggage, and other fabric bound products? Both embroidery and cross-stitch allows you to create colorful designs and patterns to your materials, as well as make unique works of art for display.
This article explores the differences between two forms of thread art so you can better determine which practice is best for your needs. Read on to see how embroidery vs cross-stitch can help define your creation, and how to do so from the comfort of your own home.
Embroidery Vs. Cross Stitch Comparisons
Embroidery
​​​Cross Stitch

Great for textured, colorful designs.

Uses many different types of stitches to create depth.

Easy to learn and creates long-lasting results.

Great for simple, straighter lines and text.

Uses various x-shaped stitches.

Great for beginners, and creates unique results.
Embroidery
Pros
Many designs, colors, and textures can be used
Can use both a machine and do by hand
Durable, long-lasting stitches
Cons
Can take quite a bit of time by hand
Machine embroidery may be more simplified than handwork
May be limited in size
What is Embroidery?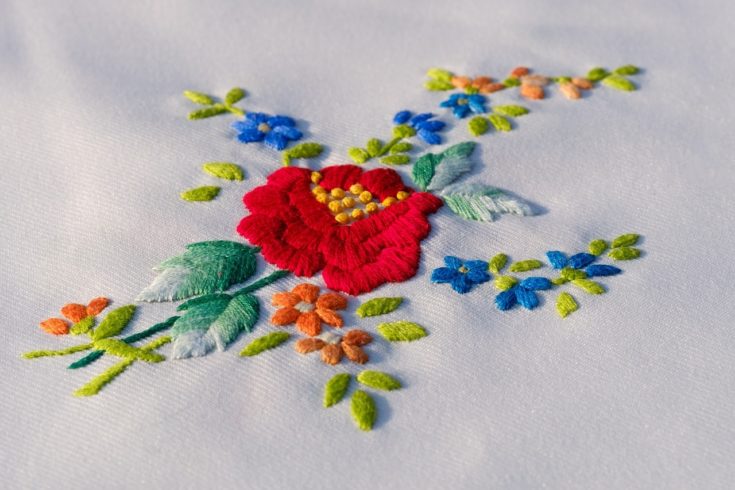 Embroidery adds colorful and textured designs and patterns to fabric, and can be used on everything from clothing, to hats, and even luggage. It is an old art form that is both practical and decorative and uses a wide variety of colorful threads and stitches to create unique, textured effects.
It can be done both by hand and machine and is a good way to transfer images to multiple surfaces quickly and efficiently when done with professional machinery. Many machines also exist for home use, and with digital technology, you can even create your own designs from scratch.
**Read up on embroidery vs screen printing.**
What is Embroidery Best For?
Because embroidery can transfer images easily and quickly, it is a popular way to place logos and commercialized images onto products for advertising and sale when done by machine. It is a great way to get detail onto the material in a budget-friendly manner. And it can even be used to showcase digitally designed art for a more personal touch.
You can also embroider by hand, which allows you to add a bit more personalization compared to when you use a machine. You have more control over the types of stitches you use and can provide added texture as you work. This practice typically isn't used to create multiples of the same image, and is used for highly personalized products, or even as a way to display the finished product.
How Can I Embroider At Home?
Although embroidery can be done in a professional capacity, it is easy to do at home both for home and business use. Embroidery threads and specialized hoops are needed whether you work by hand or machine. These help keep the materials you are working with night and taunt, and allow the patterns and designs to stand out.
There are many embroidery machines designed specifically for home use. Most come pre-loaded with various stitches, buttonholes, and a selection of designs. They also come with a USB port in order to upload new designs from various software, or even designs you have digitally produced yourself.
Hand embroidery is a slower task, but allows you to work on a larger scale when needed, includes a larger selection of stitch textures, and add your own personal touch. There are many kits that include everything you need to help you get started
Take a look at how you can hand embroider a variety of flowers in this video:
Cross Stitch
Pros
More uniform in nature, but consists of many designs, colors, and textures
Traditionally done by hand, but machine techniques exist
Long-lasting, unique results
Cons
Best for simple, more blocky images
Limited in the materials used
Not as textured as embroidery
What is Cross Stitch?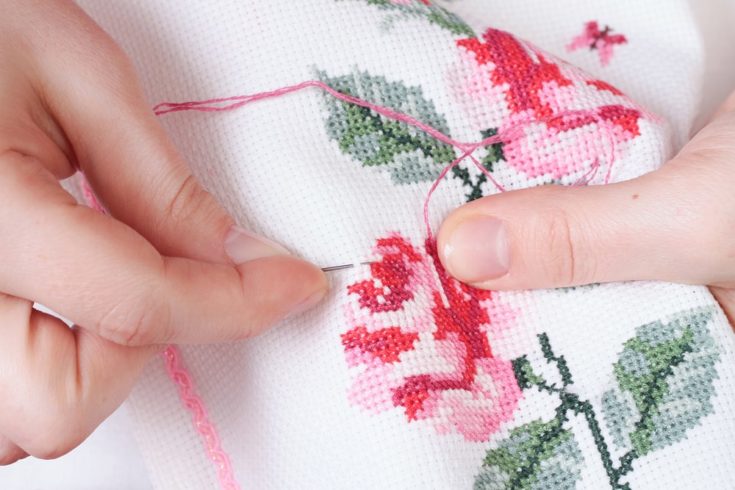 Cross-stitch is actually a form of embroidery that uses a counted stitch technique that utilizes various sizes of multiple x-shaped stitches to create patterns and designs. This is an easy to master embroidery option, and is often popular for beginners and children. The technique also uses an open or even weave material to help keep your stitches the same size.
This material is called aida, and is generally a cotton fabric made with woven blocks you can count for uniform cross sizes. As you become more comfortable and adapt to the following designs, or even making your own, you can expand to use other types of woven fabrics.
What is Cross-Stitch Best For?
Cross-stitch is best for designs that are more angular in shape, such as lettering and lines of text. More boxy shapes are also popular, but the smaller the cross-stitch, the more fluid a shape you can create.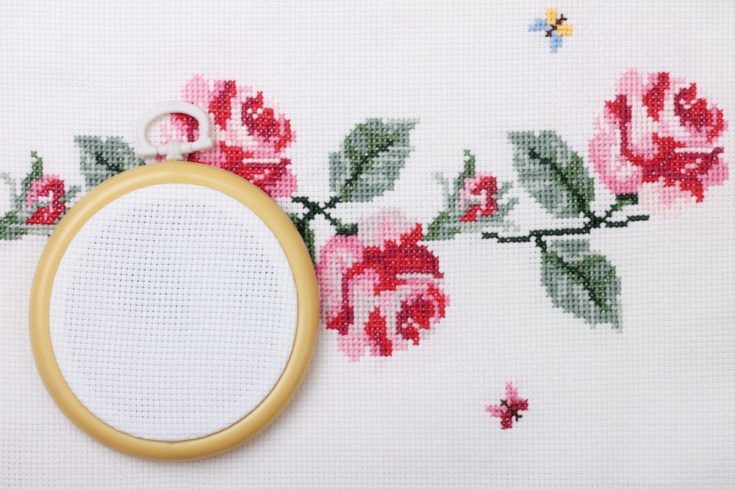 Cross-stitch is a very old art form and many patterns exist as displays passed down for generations amongst families. It still continues to be a way to add an old folk-art decor to your home, and create meaningful homemade gifts, but also is a fun way to add decoration to clothing, purses, and other products.
Plus, the simplicity of the technique is a great way to introduce needlework to younger children. The patterns are easy to follow and work on basic hand/eye coordination and counting.
How Can I Cross-Stitch At Home?
The best way to get started with cross-stitch if you have never done it before is to purchase a kit, but all you really need is a good embroidery hoop, embroidery thread, needles, a decent pattern, and good quality Aida cloth.
As you get more comfortable, you can look for finer woven fabrics to work with, as well as more complicated patterns with more variances in color. Many people like to create their own patterns as well on grid paper to help create a visual in advance of stitching.
To see cross-stitch being done, watch this video:
Conclusion
If you have been wondering what the difference between cross-stitch and embroidery is, hopefully, this article has put this question into perspective. Cross-stitch is a form of embroidery that sticks specifically to an x-shaped stitch that is used in various sizes to create unique designs and lettering.
Embroidery utilizes a variety of stitches to create depth and even more detail to your thread art for more complicated designs. Both are fun ways to add to your decor and place personalization on your products. Although cross-stitch uses woven fabrics, making it less often used in free-handed designs, with practice it also makes beautiful patterns on your favorite materials. Embroidery itself is a more popular choice for free handwork.
We'd love to see samples of your own work below! And, as always, please share!