Horseshoes have long been reused in artistic manners to showcase creative and artistic visions, and to upcycle a worn object into something that can be enjoyed by all that see it. These are fun, enjoyable, and very cool ideas that can be used for gifts and various decorations. Often these are easy to make, but if you have the skill of welding, or know somebody who does.
If you have ever wondered what things you can make out of horseshoes, this is the article for you. These horseshoe crafts ideas provide something for everyone, and offer an array of projects from which you can pick and choose depending on your crafting skill level.
The Lucky Horseshoe Explained
It is somewhat important to explain the craft of horseshoe art, and where it all began. The hanging of horseshoes in the home began in Ireland in the 10th Century when it is said Saint Dunstan taught the devil a lesson and made him promise to never enter a home where a horseshoe hung above the door.
Since then, it has been synonymous with keeping out evil, and holding in good luck (as long as it is hung properly). The use of used and new shoes are often seen in both traditional and rustic home crafts, and have also become very popular as a way to create useful art and home products with the use of a welder or glue designed to hold metal.
If you are wondering where you can get horseshoes for crafts, all you need to do is visit a local feed, farm and tractor, or pet supply store either in person or online. They are inexpensive and easy to use, plus they inspire a ton of gifting ideas!
1. Metal Art Animals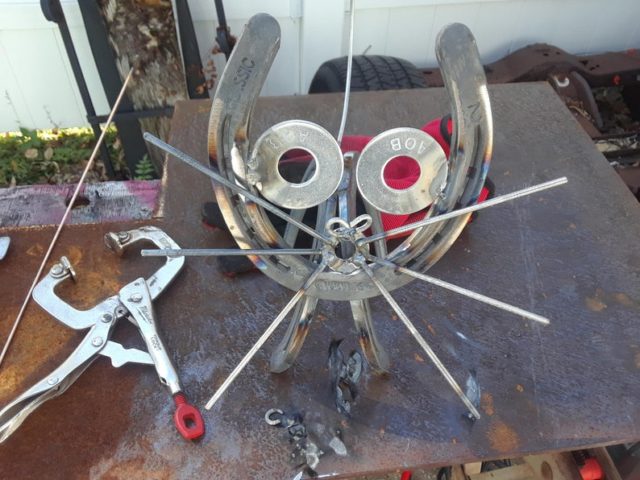 Get one here
Horseshoes are incredibly versatile and can be cut and welded into a variety of different shapes to create unique metal art. This adorable cat, for example, would look awesome sitting on a porch or deck, but don't limit yourself as many other animals are easy to shape up as well.
2. Colorful Horseshoes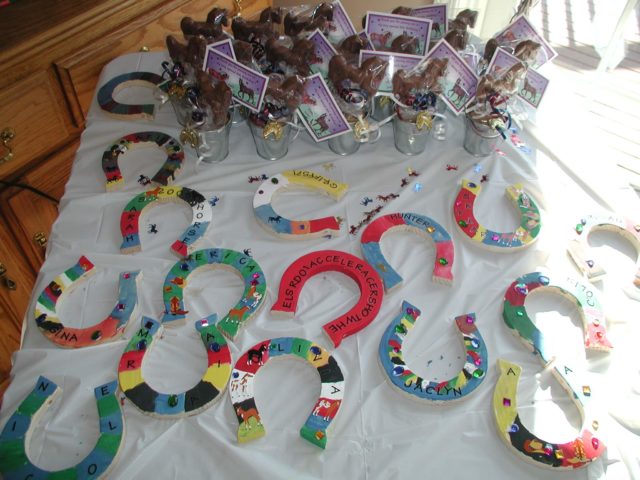 Get your children involved with this fun project and turn them loose with pots of paint to create colorful, decorated horseshoes you can hang for good luck. Perfect for gifting, this is an inexpensive craft that will provide a lifelong memory.
3. Horseshoe Dreamcatchers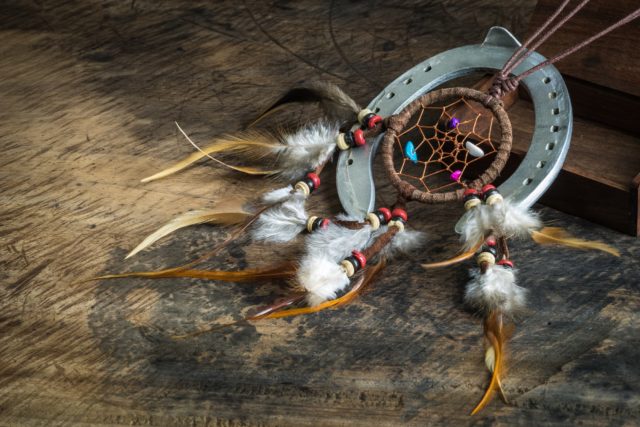 Dreamcatchers are said to catch the bad dreams and only allow the good to pass through to those who sleep under them. This unique take on a traditional native project is not only fun, but offers a huge array of stylistic options.
4. Horseshoe 'Crabs'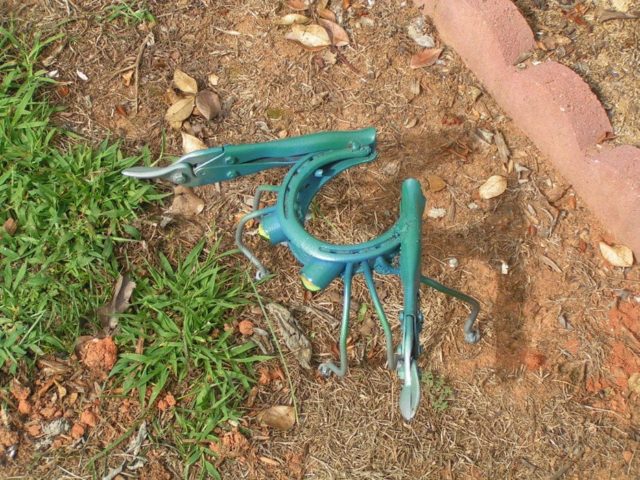 Bring you puns to literal life with this fun horseshoe crab project. Easy to piece together, they are a fun addition to any yard or garden- especially if you live close to the sea! Colorfully paint, or leave a natural metal color to age in the climate.
5. Hanging Racks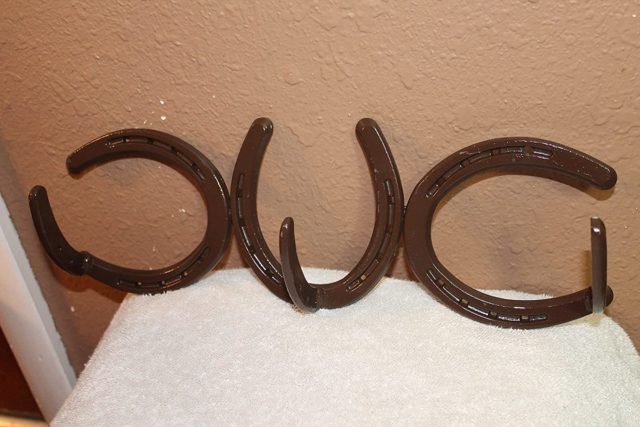 Available on Amazon
Hang your towels, clothing, coats, belts, or even horseback rigid tack from this simple design that provides sturdy hooks for all your belongings. This is a great way to provide storage in your tack room, or add a touch of rustic to your home.
6. Pumpkins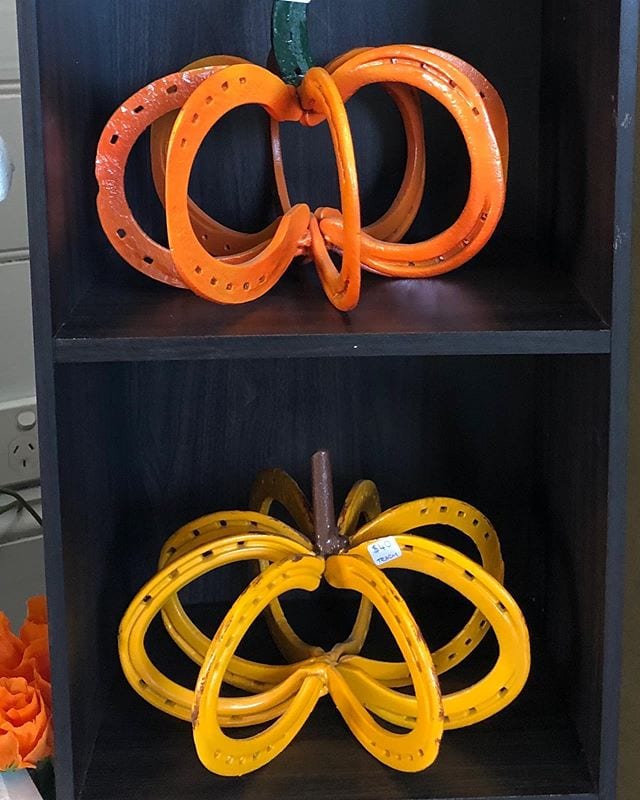 Celebrate the fall harvest with pumpkin displays that never spoil! Plus, they can be left out year round for a bit of fun. These pumpkins are incredibly easy to make and super fun to paint in order to add a personalized touch to your porch, deck, or walkway.
7. Puzzlers
Keep your kids and guests entertained with horseshoe puzzlers. This tutorial explains the 'trick' behind it all to provide a great outdoors game when entertaining. Watch your friends and family work to figure out how to solve this fun puzzle.
8. Fencing and Gate Ideas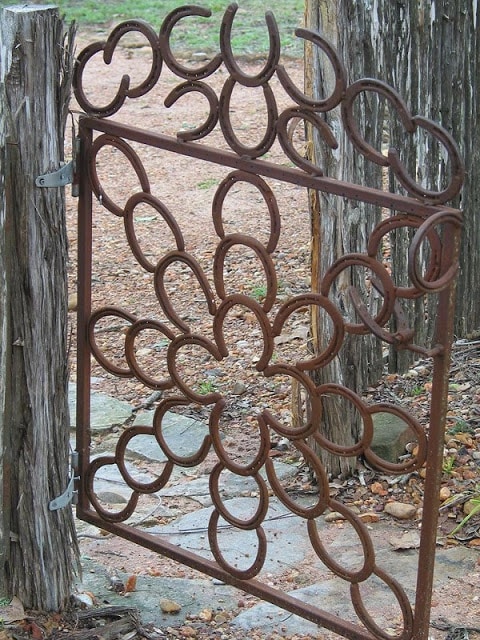 Taking the pieces of a horseshoe allows you to begin placing together some intricate patterns and styles of surfaces. Use this idea to create parts of a fence, gate, or even garden trellises for all your climbing flowers to grow upon.
9. Boot Storage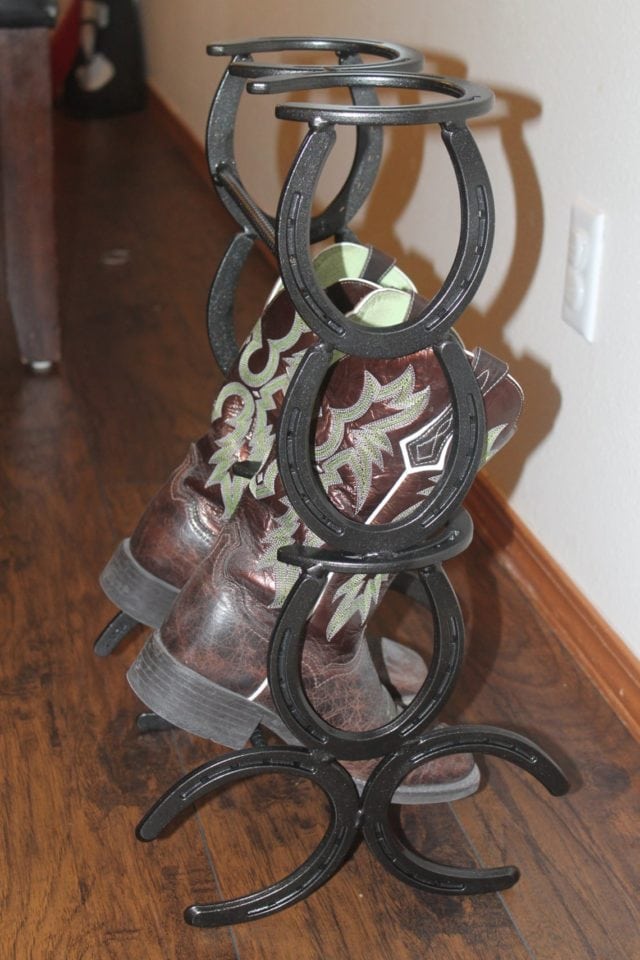 Get one here
Keep your dirty boots and shoes up out of the way, yet easy to grab, with this unique boot storage idea. Sturdy and solid, this option isn't going to tip over easily and is compact enough to be convenient.
10. Hanging Pictures
This step by step tutorial provides you all the information needed to create your very own hanging horseshoe picture frame. Whether you decide to use an old, worn, and rusted shoe that you can seal with an epoxy, or a new one, it is sure to be wholly unique.
11. Welcome Signs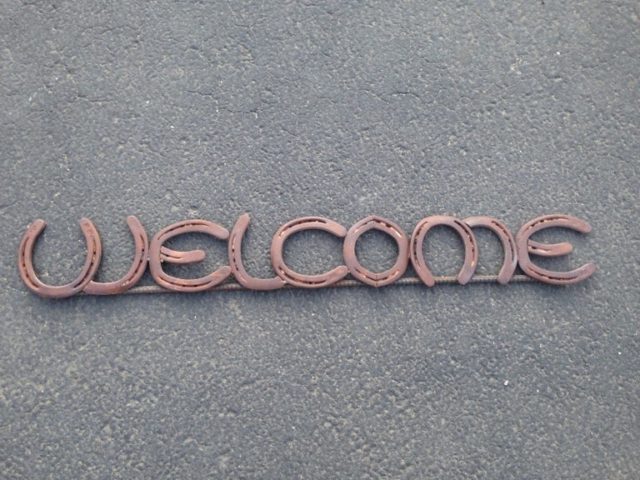 Welcome friends and family with this adorable handmade metal art sign made entirely from horseshoes. Heavy enough to place out propped up in a garden or yard, or hung on a wall, this is an awesome way to add to your rustic decor
12. Garden Flowers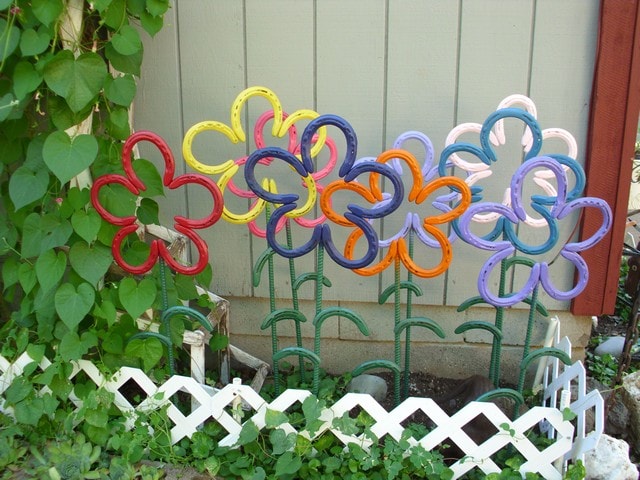 Brighten up your yard with your choice of color, or simply add interest to areas that are dry or difficult to care for with these adorable metal art flowers. These are incredibly easy to get creative with as well and can be made to various sizes with ease.
13. Lucky Clover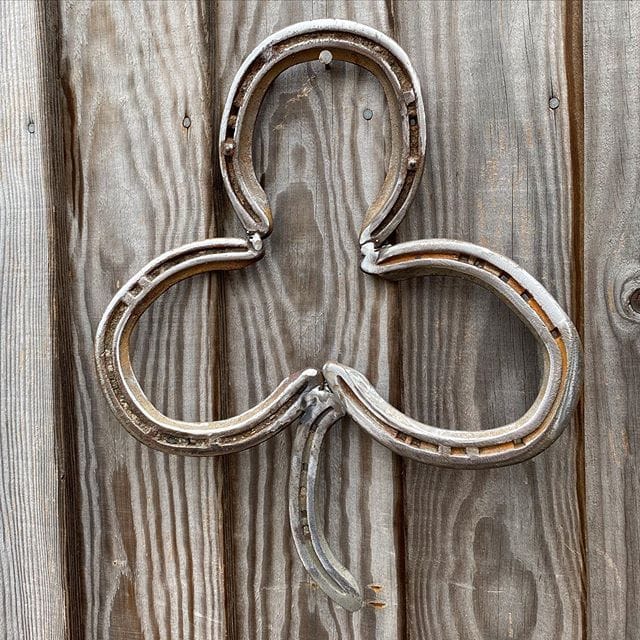 If a horseshoe placed upright wasn't enough luck, making them into a lucky clover is sure to keep the luck in place wherever you place it, 3 and 4-leaf designs are easy to create and provide a fun wall hanging for both in and out of the home.
14. Picture Frames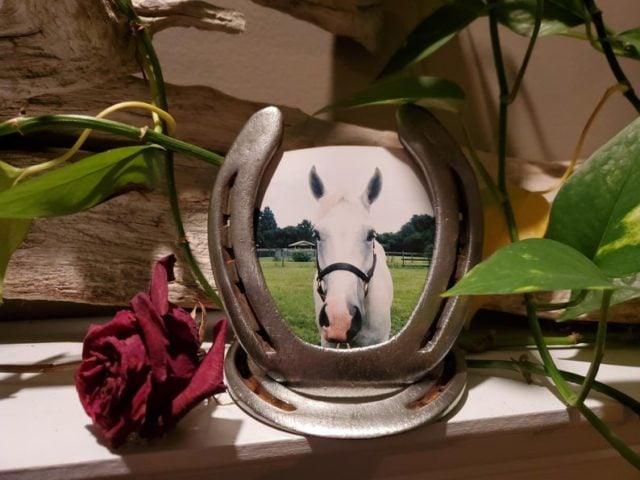 Get one here
Who wouldn't love the gift of a lucky horseshoe holding a picture of their favorite people? You can get quite creative with these frames and make them as single, or even multiple displays for hanging or even tabletop displays.
15. Good Luck Display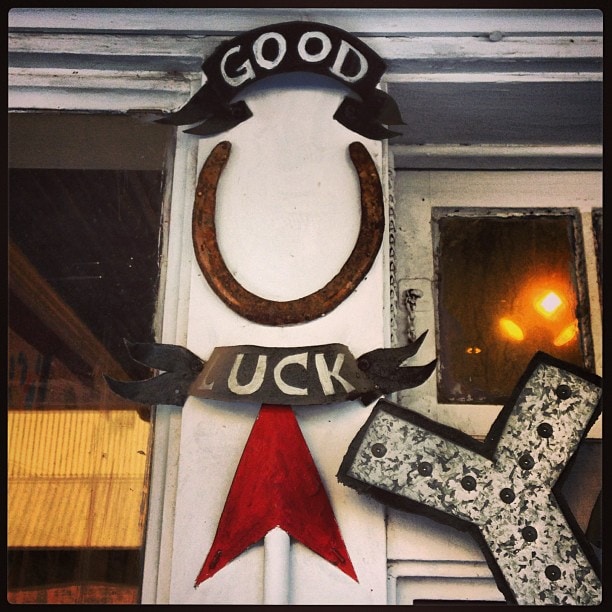 Looking for unique ways to display your good luck horseshoe? Be inspired with this idea and others that provide inspiration for additional details and fun sayings to create a great wall hanging.
16. Brighten Up a Yard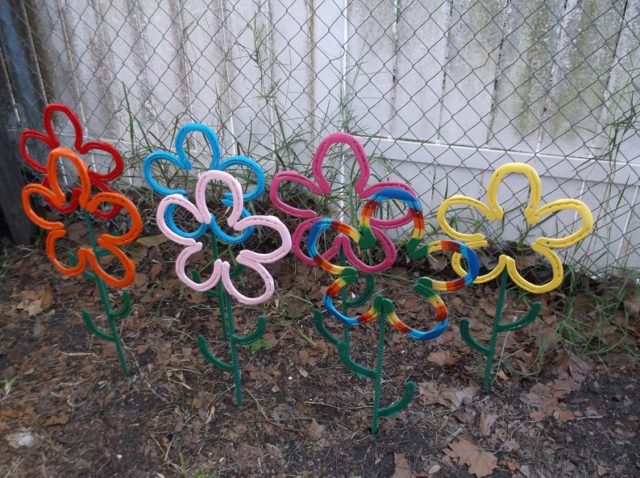 Check on Etsy
Do you have an area of your yard that simply refuses to grow? Tired of a dull and drab yard once the cold weather hits and all your plants go dormant? Why not add some fun metal features for year-round interest with these colorful horseshoe flowers.
17. Christmas Tree Display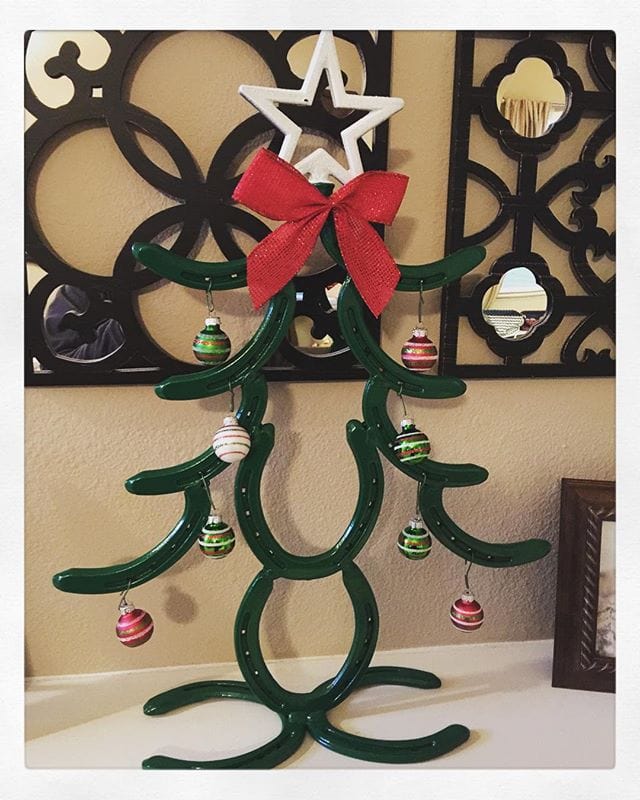 Make your own Chirtmas bulb display with a homemade tree that you can customize to your preferred size and height for display purposes. Add to a table centerpiece, brighten up a side table, or even make into a larger tree display!
18. Hooks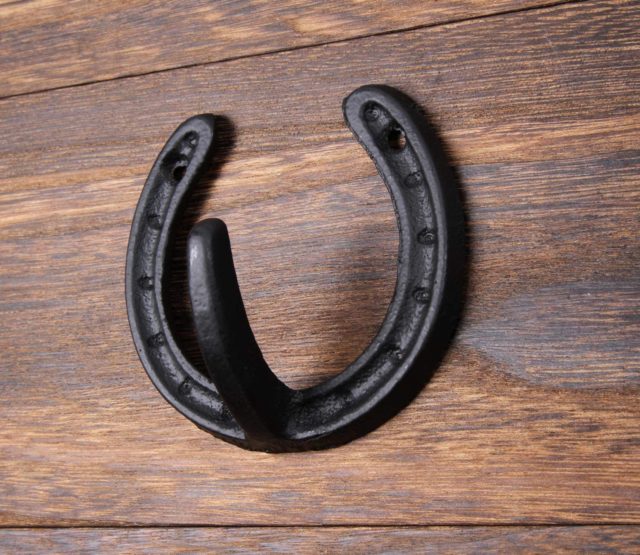 Available on Amazon
Make some simple hooks that you can place just about anywhere for anything with the pieces of a horseshoe. These are durable, long lasting, and absolutely can handle anything heavy, as long as the wall they are attached to can handle the weight!
19. Towel Holder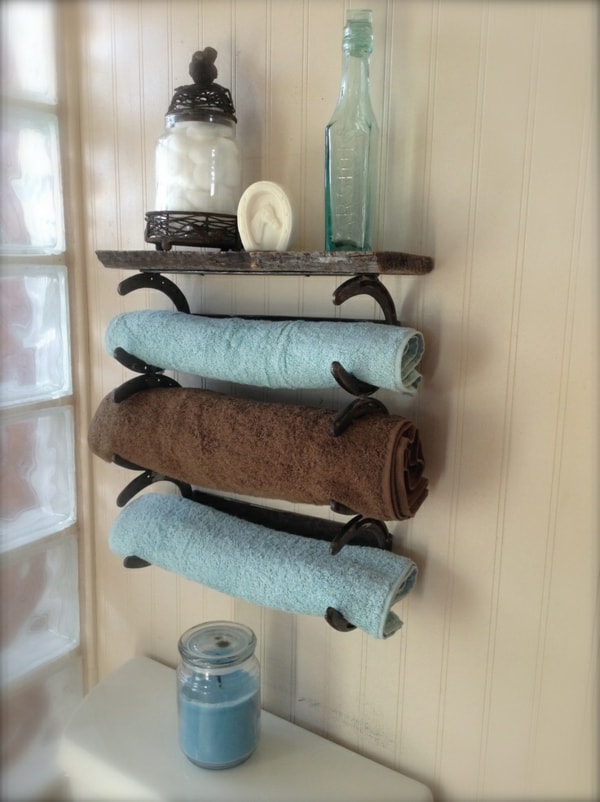 If you love to roll your towels, this is the perfect display for an easy to reach, decorative display in bathrooms, bathhouses, pool rooms, and when at the lake. Fun, durable, and a great addition to your decor, this is an excellent style to take advantage of.
20. Wired Horseshoe Display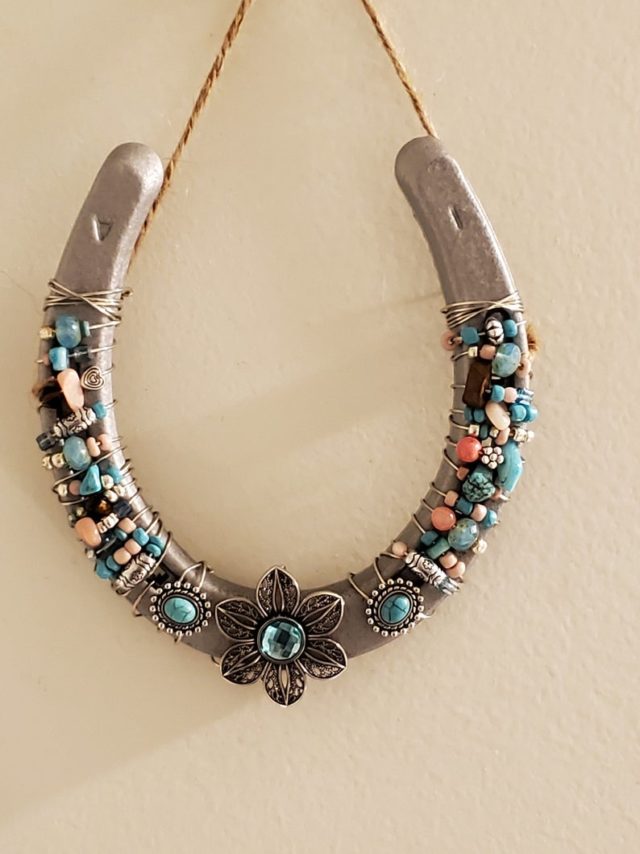 Available on Etsy
Take your lucky horseshoes to another level with fine wires, beads, and semi-precious stones. A simple, yet elegant project that takes very little effort to emulate, you can easily request or create the perfect design for you.
 21. Suncatchers
Brighten up a room, doorway, or even an outdoor area with a fun horseshoe suncatcher. This is such a simple craft that is great for any age and makes amazing gifts for family, teachers, and friends!
22. Wine Bottle Holder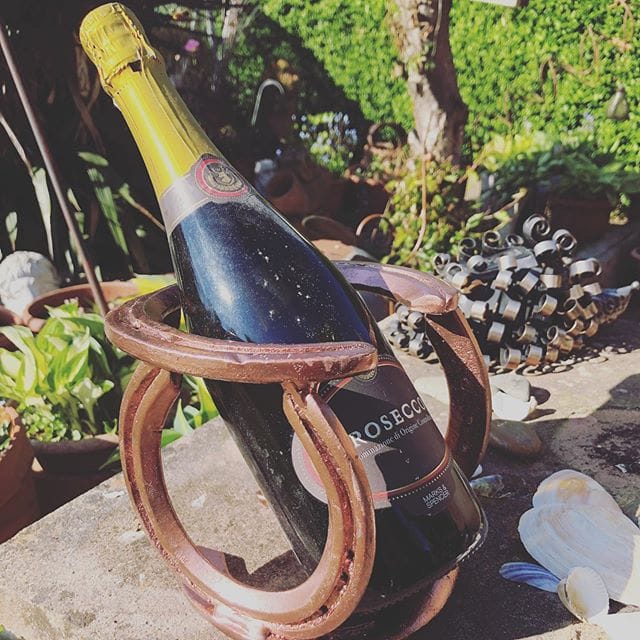 Need a place to let your favorite vintage hang out? Horseshoe wine bottle holders are varied in their design to provide you the perfect place to both store and showcase your selections. Whether you hold just one or a dozen is up to you!
23. Key Holder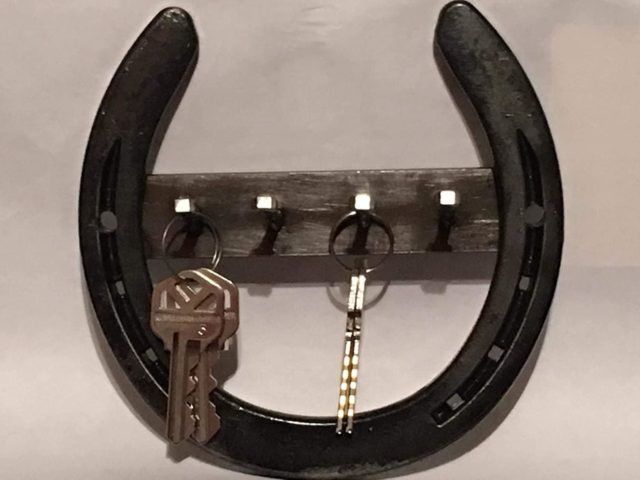 Available on Amazon
Ever struggle with trying to find your keys after setting them down? When you have a specific place to put them you won't ever have this problem again. Add to your decor with this useful project!
 24. Chandelier Designs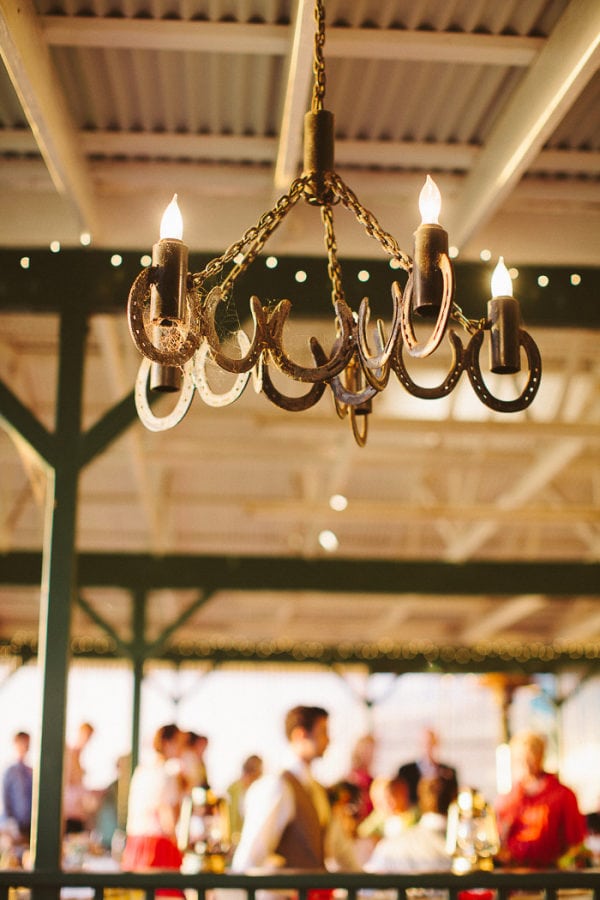 Pergolas, gazebos, covered porches, and lofting home ceilings will display your handmade horseshoe chandelier perfectly. This is an incredibly artistic understatement and requires some planning and time, but it is definitely worth it!
25. Garden Art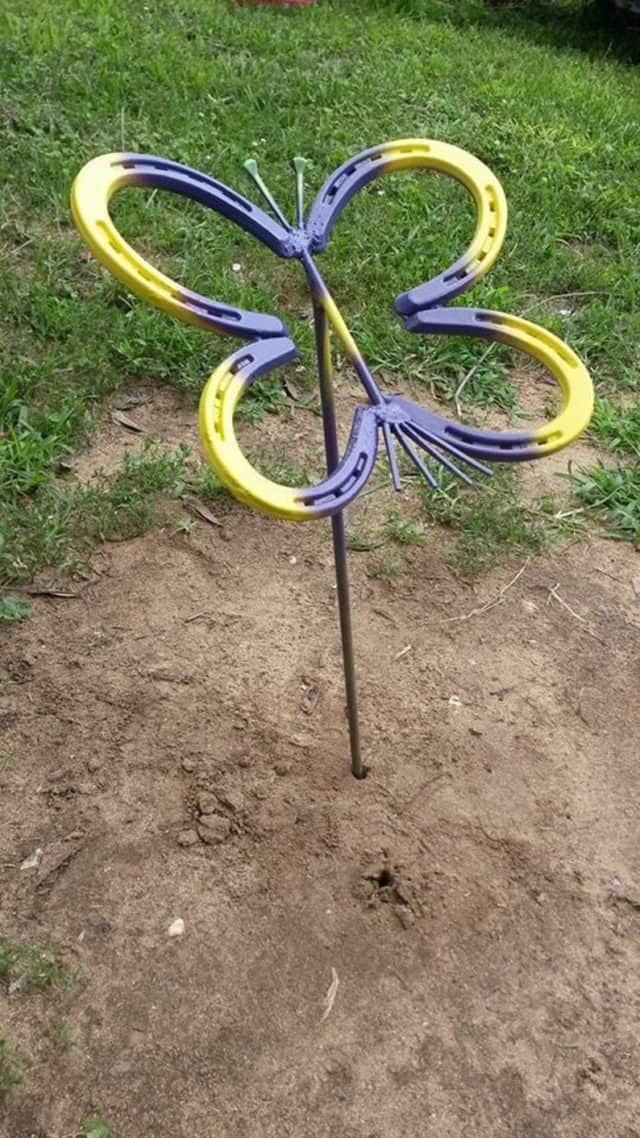 Find on Etsy
Add a long lasting butterfly to grace our yard and gardens with very little effort. This durable little guy may not be pollinating your  flowers, but will bring some brightness to your outdoor spaces and a year-round smile to your face.
26. Wall Decor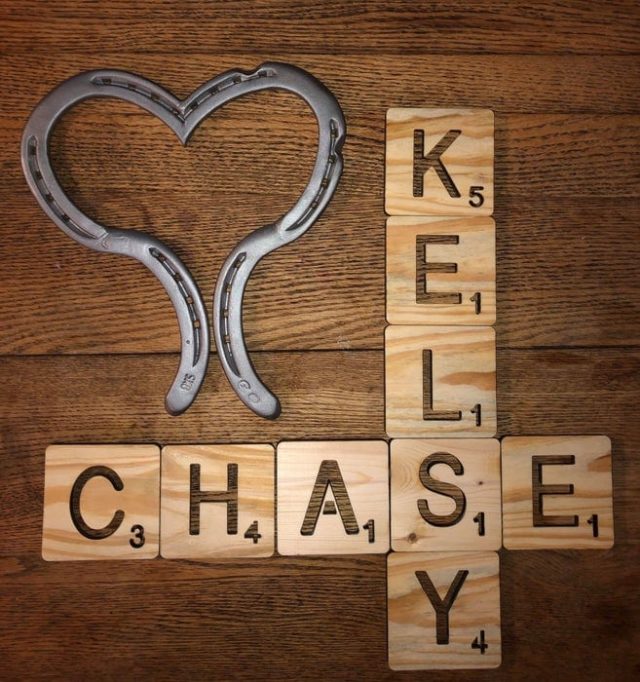 Learn how to make, step by step, a fun way to create some wall decor that you can add to your existing photo galleries, or other creative areas in the home. The durable material also makes it the perfect outdoor display as well!
27. Tabletop Photo Display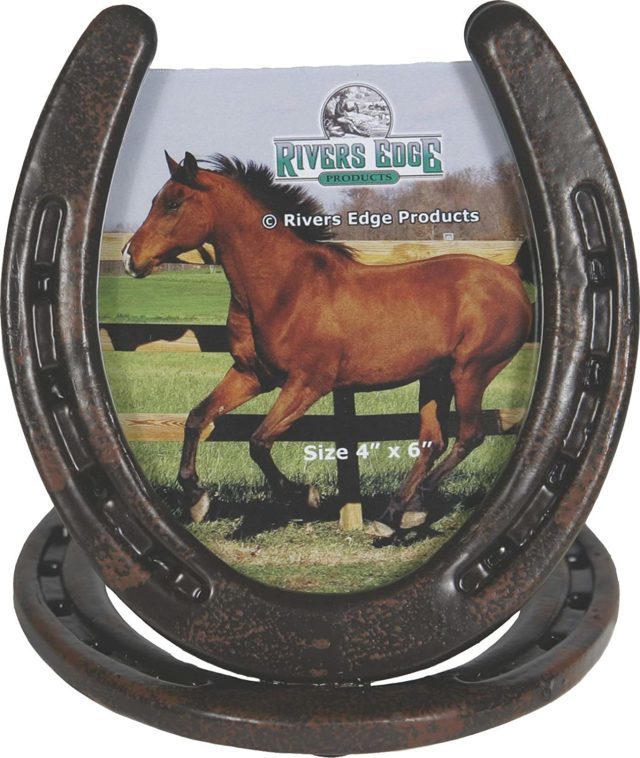 Check on Amazon
If you like to display photos on a table top as well as on a wall, this is the perfect photo frame for just that purpose. Awesome for more rustic or Western style decor, all you need is two horseshoes for a unique option.
28. Happy Snowman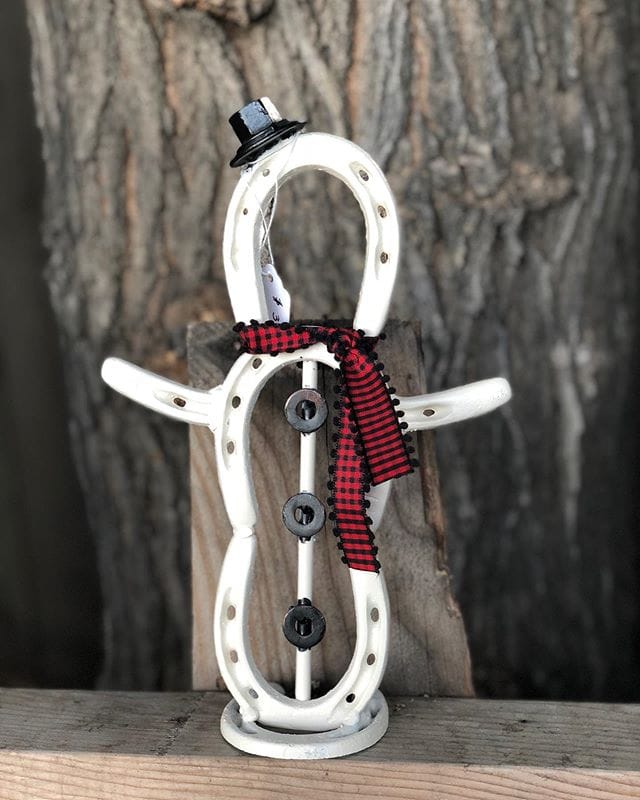 This adorable snowman will happily welcome all your visitors when you let him grace your home. The simple design brings a smile to anyone's face, and if you can't stand to put him away come spring, why not decorate him to match the seasons?
29. Easy Holders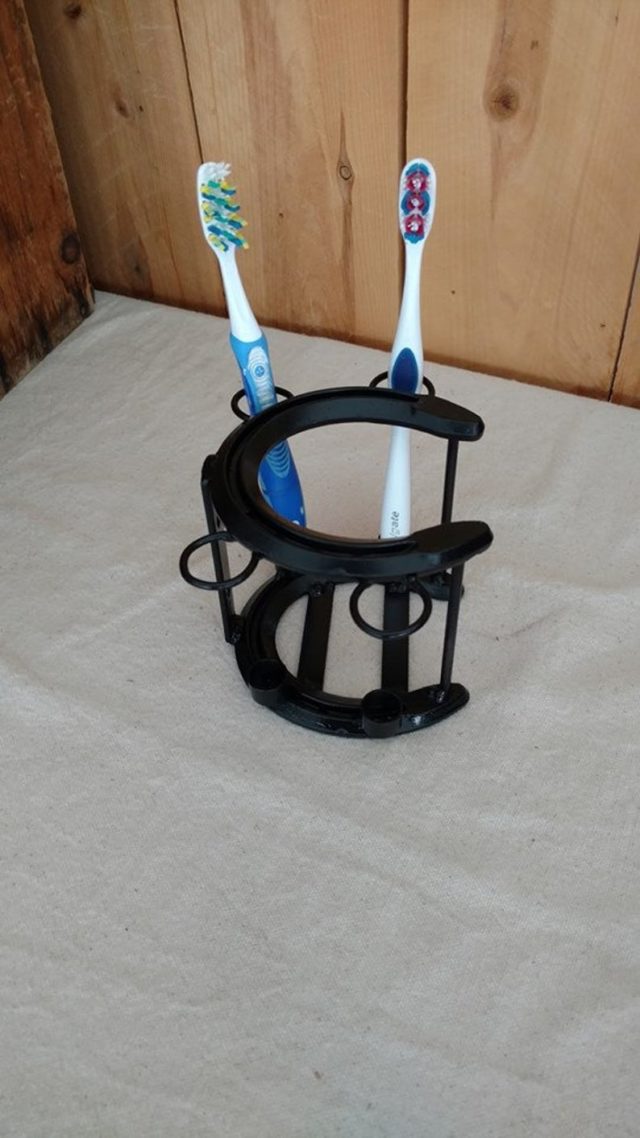 Find one here
Add a touch of country to your countertops when you use horseshoes as cup holders, toothbrush holders, or even a way to help organize makeup brushes or favorite lotions. Perfect for bathrooms and kitchen, they are a unique way to help keep everything tidy.
30. Rustic Gun Rack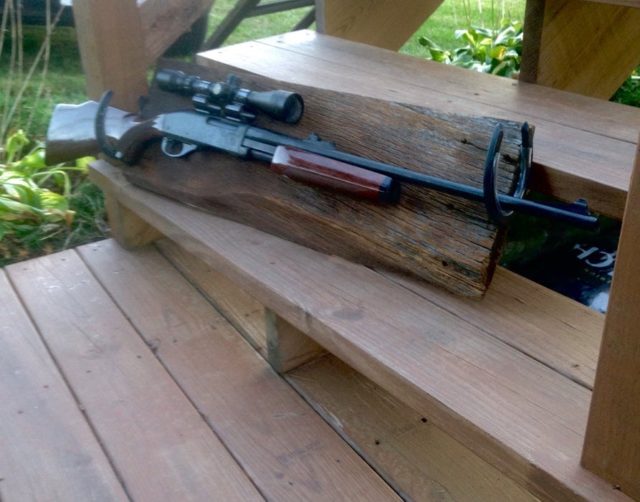 Keeping your  guns organized and within easy reach is part of responsible gun ownership. This gun rack is a great way to place your guns out of the way, and also display what you have- especially if anything is of vintage age or a collectors item.
31. Candle Holders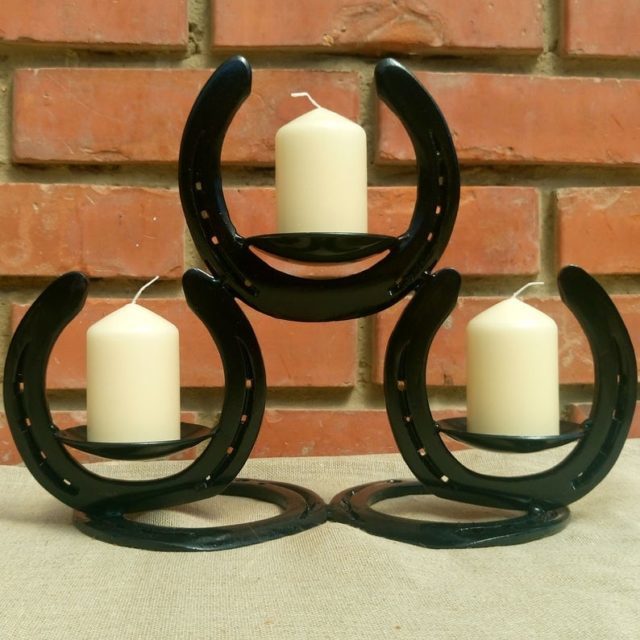 Available on Etsy
Design your very own decorative candle holders to add a rustic touch to your decor both indoors and out. This is a simple design that is perfect for table centerpieces and can be a great addition to holiday decor.
32. Cross Decor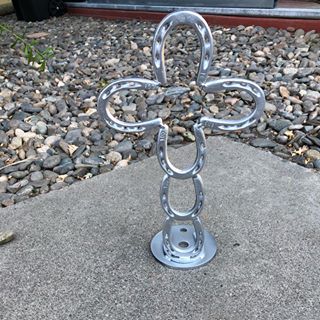 The stacking of horseshoes is a great way to create your very own cross that will look great anywhere you place it. use it as a garden feature, on a patio or deck, or even in the home. The heavy duty design won't easily tip over.
33. Cup Holders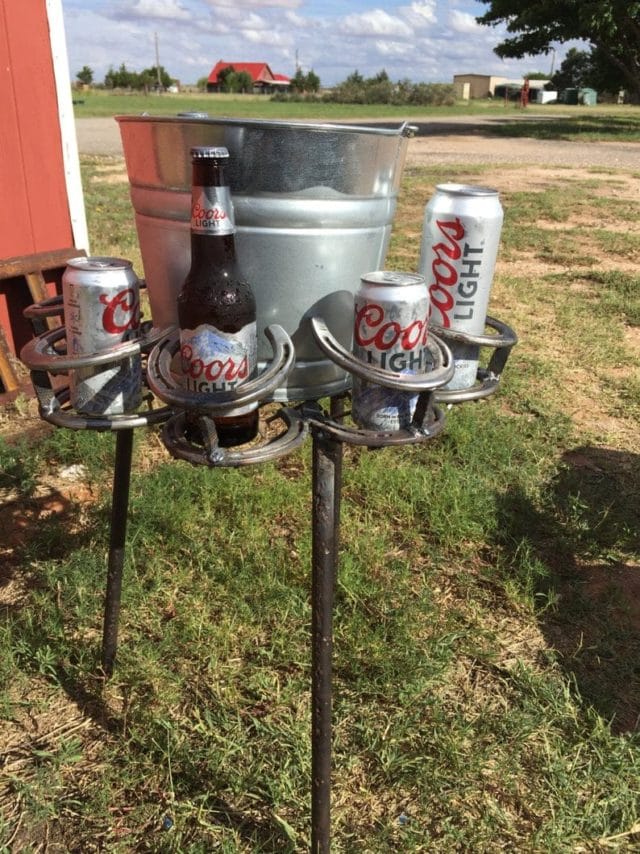 Check on Etsy
Some tie rod and horseshoes are all you need to create your own bottle and cup holders. Keep everything within reach when relaxing and entertaining in your own backyard. Sturdy and difficult to tip over, these are incredibly convenient.
34. Dutch Oven/Plant Holder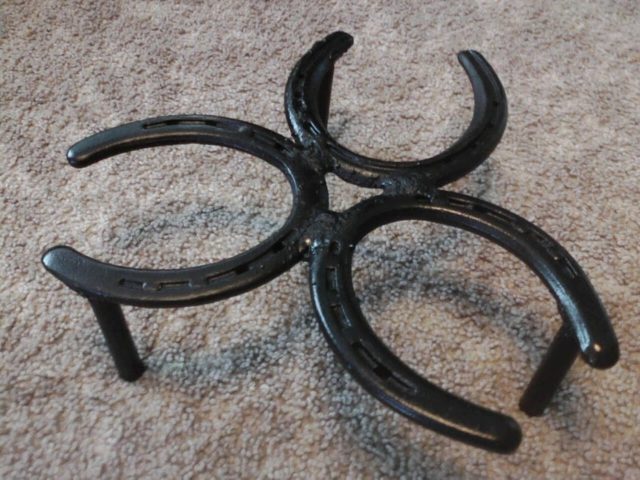 Originally designed to help keep a dutch oven above your campfire, this sturdy design can be used for so much more! Hold up flower pots or use as a stand for both indoor or outdoor decorations. The uses are incredibly varied!
35. Winter Reindeer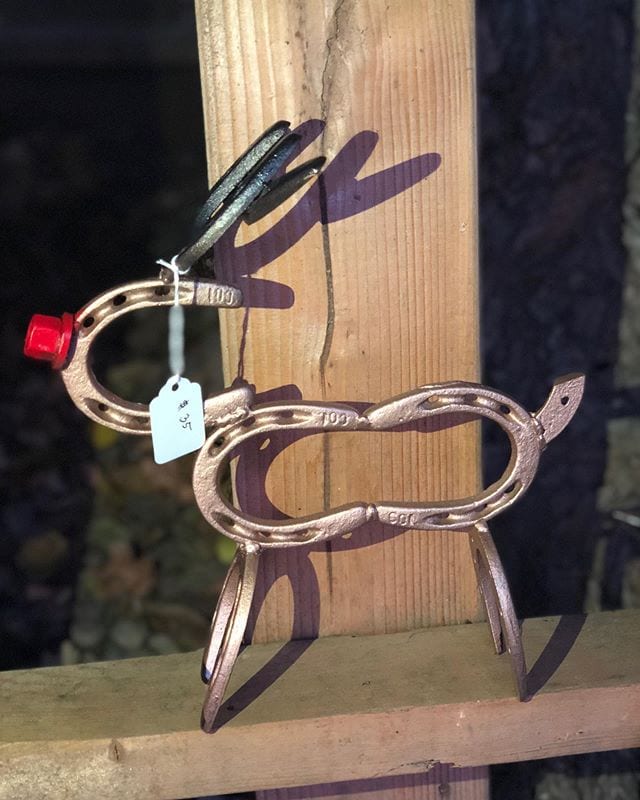 Could this reindeer BE any cuter? This idea is born of creative ways to add to holiday decor, and what is even better, you can most definitely repurpose the deer from season to season and let him hang out in your yard year-round!
Conclusion
From simple to more complicated ideas, these crafting ideas provide a wide array of tips and tricks to help inspire you to add to both your home decor, and gifting list. Budget friendly and easy to find, horseshoes come in a variety of sizes to provide you an excellent array of projects from which to choose.
We'd love to hear about the ideas that have you excited to get crafting! And please let us know if you have any questions below! As always, please share!