While giving gifts can be fun, it can also be a bit stressful if you have no idea what to get your intended recipient. Nowadays there's so many choices out there that choosing something can seem overwhelming. Fortunately, you can narrow your choices down to just wooden gifts to make your selection a bit easier.
Wooden gifts are some of the coolest types of gifts out there. They're organic, and they present you with plenty of gift ideas for various groups. Plus, wood helps curb carbon emissions and doesn't take as many resources to produce as some synthetic materials.
No matter whether you're looking low budget gift ideas for girlfriend, mom, dad or others, wood gifts are viable choices.
1. Personalized Photo Cube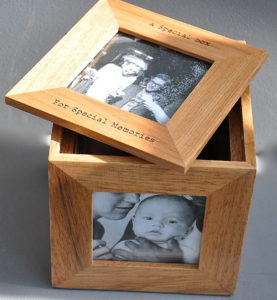 A personalized photo cube is a unique gift to present your significant other with. You can have both your names engraved on the cube, and then slide a couple of your favorite photos together into the provided photos slots to forever commemorate those special moments.
This keepsake is perfect for significant others to place in their bedrooms, living rooms, on office desks or anywhere else where they want to feature them. Wood is sturdy and made to last, so getting your significant other a wooden photo cube could also symbolize the strength of your love.
If you have a significant other and want to go outside the norm and get him or her something a bit different but still affordable, try a wooden photo cube.
2. Wooden Jewelry Box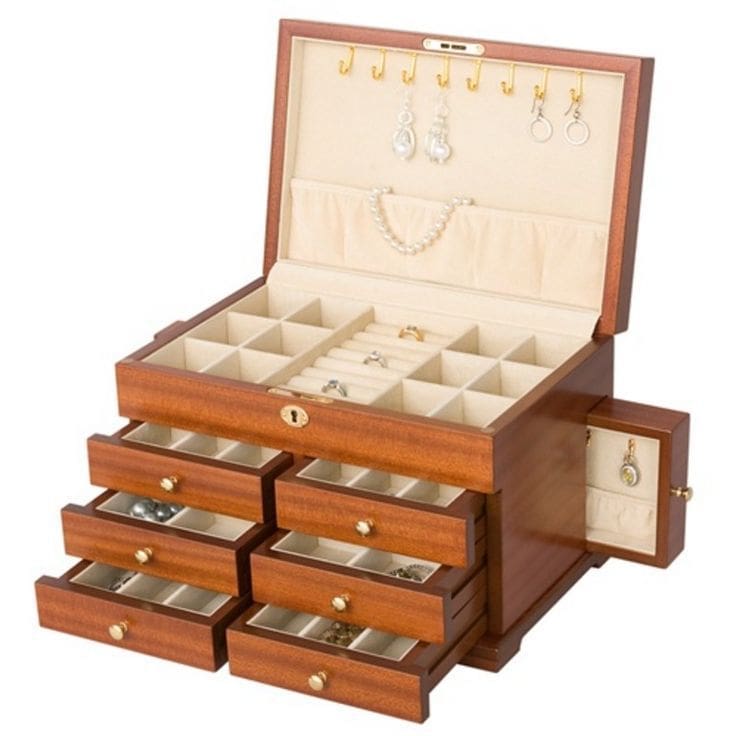 Everyone who has jewelry needs somewhere to put it, and what better place than a beautiful wooden jewelry box? Wooden jewelry boxes are sturdy and are the perfect way for people to de-clutter and organize their jewelry.
You can give a plain wooden jewelry box, one that has a decorative piece on it or even a personalized one that has the recipient's name carved into it. Additionally, you can select from ones that have trays or compartments made into them or ones that feature one open space. The possibilities are endless.
3. Wooden Peg Game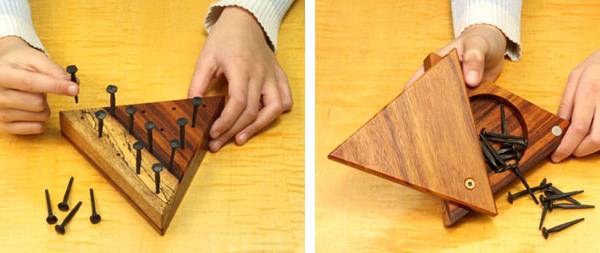 If your gift recipient likes a challenge, then a wooden peg game could keep him or her entertained for hours. Harder than it looks, the object of a peg game is to eliminate all the pegs by jumping one over the other until all that's left is one peg.
Well, that's the goal anyway. Eliminating all but one peg is pretty tricky. This type of game is perfect to play solo, and many people like to use them as decorate items by placing them on their coffee tables or end tables.
4. Wooden Coat Rack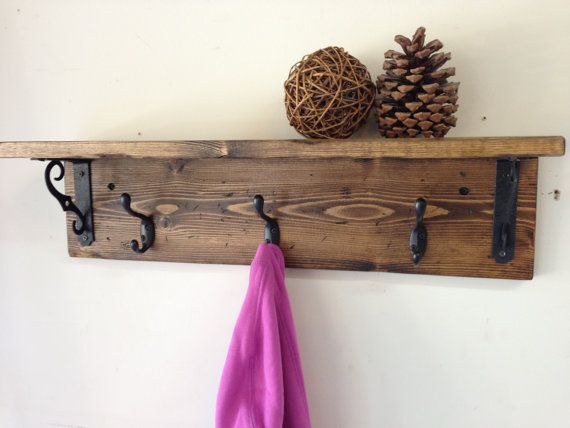 Many people want somewhere to hang their coats and jackets after coming in from a long day of work. Instead of having to mess with the hassle of placing a coat on a hanger and putting it in a closet all nice and neat, a coat rack allows them to quickly and easily get their coats up off the floor.
You don't necessary have to get a wooden coat rack with a deer antler head on it if you don't wish. You can select from plain ones or ones with other decorative items on them as well to fit your recipient's style.
5. Wooden Coasters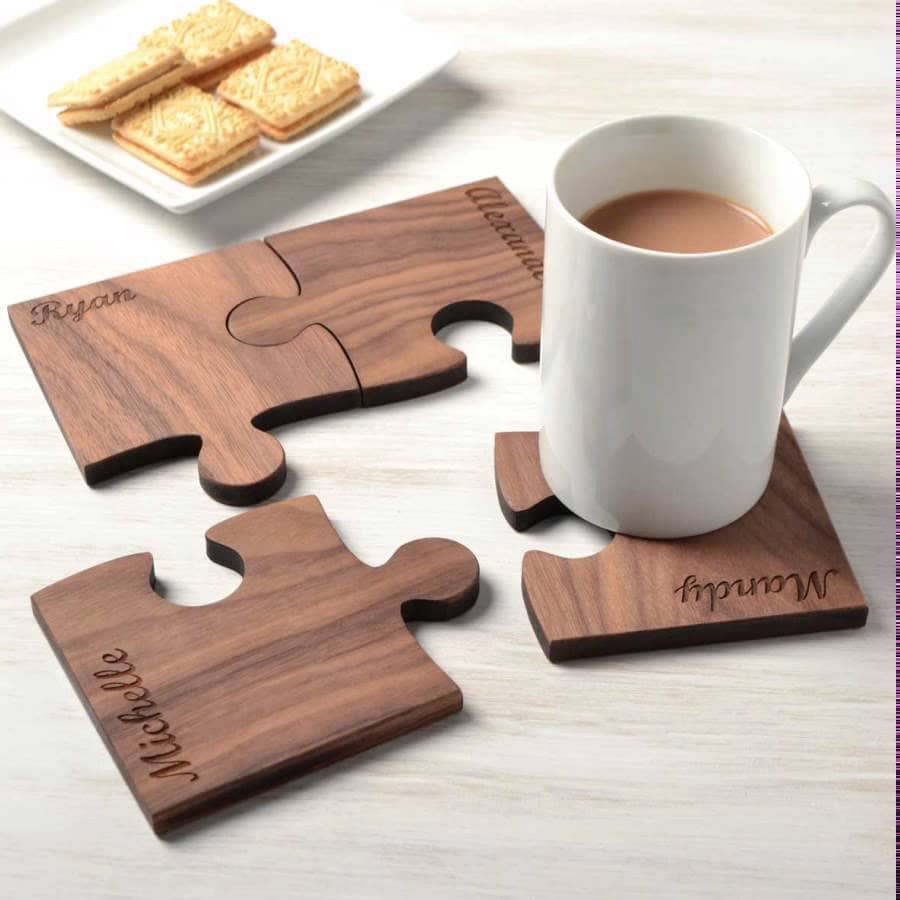 If your recipient is a neat freak, then he or she probably insists on having coasters placed strategically throughout his or her home in order to protect the furniture. While some coasters are flimsy and won't last long, wooden coasters that are pyrography engraved are durable and hardy enough to withstand the test of time, no matter how many times you drop them. Great for a wood burning gift idea.
Plus, they'll go with virtually any home decor theme, so they're a gift that'll complement the home and that the recipient can really use for years to come. Select from plain wooden coasters or ones featuring a monogram, pattern or other design.
6. Wooden Serving Tray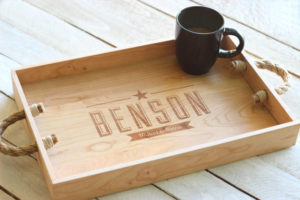 It can be time-consuming and frustrating for people to have to go back and forth to the kitchen and other areas of the home carrying individual items to where they need them. A wooden serving tray allows people to carry everything that they need all at once.
They can place a complete breakfast on a serving tray along with a book, glasses and other items for easy transport to where they or others wish to take their food.
7. Wooden Bath Caddy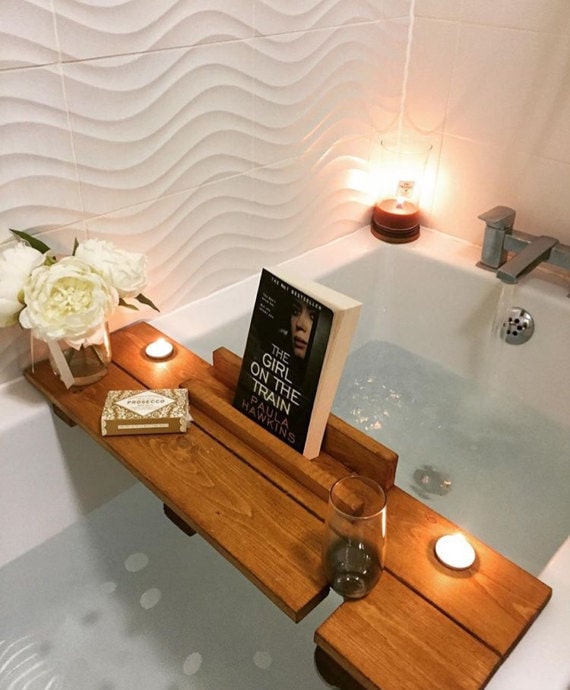 A wooden bath caddy is ideal for anyone. Almost everyone likes to have a nice, relaxing soak in a bathtub from time to time, but there's not always enough room on bathtubs to place all the items you need for your relaxation soak.
That's where bath caddies come in. These lay over your tub to hold the items that you want, such as a book, candles and decorative vase of flowers. You can even get one like the one pictured here that has a nifty little slot for a wine glass. This is a universal wooden gift that sure to please any recipient, no matter his or her age, occupation or gender.
Wood gifts are some of the coolest gifts available on the market. Plus, there's plenty of benefits to giving wood gifts over mass produced ones. In many cases, wood gifts are more personable than plastic or metal ones, and they're certainly more economically friendly since it doesn't cost near as much in resources to make wood gifts as it does other types of gifts.
To top it all off, wood is naturally beautiful and malleable. In the hands of a skilled craftsman, wood can be manipulated into a breathtakingly beautiful work of art. Plus, it's much more durable that many other types of materials, and it's easy to clean and maintain.
You won't have to worry about wood breaking on you, and you can easy bring it back to life when it begins looking a bit old by simply applying a bit of polish to it. Wooden gifts truly show the recipient that you care and put thought into your gift.