The best bodyboard for big guys is designed exclusively for big, tall, or heavy riders. If you're a big guy, you need a board this is wide and tall enough, while also being highly durable to achieve peak performance.
While bodyboards were once limited to average 42 inch long boards, today's boardboards range in size, shape, and overall appearance.
Size is one of the most important aspects of purchasing a bodyboard. When the board is held out in front of you, the bodyboard should reach from your knees to your chin.
Heavier riders require extra width for better buoyancy in the water. You'll also want to choose a board according to your abilities. If you're a new rider, get a beginner's board.
With the right bodyboard, even big guys can ride the waves like their smaller surfer counterparts. As bodyboards range in size, style, and price, we've made the decision-making process a little easier on you. Here's a look at some top-rated options for the best bodyboard for big guys.
Comparison Table
IMAGE
BRAND
FEATURES

Bo-Toys Body Board Lightweight with EPS Core

Durable construction

Comapct feeling and water resistant

Include Pro Quality leash with wristband to keep board nearby

View Product

Strong EPS Core

Engineered Contour Deck

Speed Slick Bottom Skin

View Product

Goplus Super Lightweight Bodyboard, 41"

Lightweight and Superior Buoyancy

Includes Leash with Wristband

Durable and Premium Materials

View Product

Strong EPS core

Engineered contour deck

Speed slick bottom skin

View Product
What To Look For In The Best Bodyboard for Big Guys:
Core Material: There are two main types of core material: dow polyethylene foam (PE) and polypropyle foam (PP). Dow is a great option as it offers excellent flex and all-around great performance.
Stringer: The stringer of a bodyboard is the composite material tube that runs down the center of the board. This "spine" adds strength to the core and increases projection.
Tail: There are four main types of tails, each based on the 'bat' and 'crescent' shape. As a general rule of thumb, the wider the tail the faster and more stable the bodyboard is.
Board Width: For bigger guys, you'll want to ensure that the width of your board is adequate for your body. The wider a board is, the greater buoyancy it has. However, wider boards are typically more difficult to turn than narrower boards.
The Best Bodyboards for Big And Heavy Guys
Bo-Toys Body Board Lightweight with EPS Core
Check The Price
This lightweight bodyboard gives the user the durability they're looking for with a rigid and maneuverability with 60/40 rails. At thirty-three inches, this board includes a Pro-Quality lease with an attached wristband. When using this board you will enjoy the compact feeling and water resistance. It comes in several colors to choose from red, blue, and pink.
Wavestorm 40″ Bodyboard
Check The Price
Wavestorm includes two boards in this set. Constructed from foam these wakeboards have a strong EPS core, engineered contour deck, a speed slick bottom skin, and a lease plug with a removable wristband that is already preinstalled. This product is perfect for families who are in need of more than one board.
Goplus Super Lightweight Bodyboard, 41″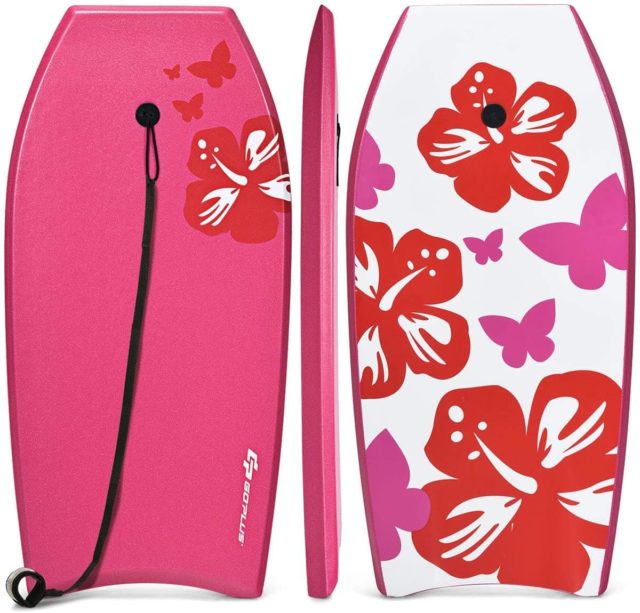 Check The Price
The stylish design on this board includes bright colors, which makes it easy to find in the water. It can be used in natural bodies of water as well as pools or water parks. It's a great addition to a professional collection or a first board for a beginner. It also includes a leash and wristband and has an HDPE slick bottom for added stiffness.
Bloo Tide 40″ Bodyboard
Check The Price
Here we have another set of two boards, both with a strong EPS core and made with fun bright colors. The deck of these boards is contoured and the bottom has a speed-slick skin for fun fast breaks through waves. This one also includes a leash and wristband. It's perfect for a couple or a family.