Watches aren't really necessary today when everyone seems to be carrying around a smartphone. That said, they're awesome fashion items that can really dress up a look, and now that they're less common they also attract more attention.
That's exactly why I wanted to pick out a watch that looked really expensive and high quality, but I didn't want to spend $7,000 for a Rolex that wouldn't serve much of a purpose other than showing off my fashion sense.
As a long-time watch owner looking to get back into wearing a daily product, I dug around on the Internet for a sexy watch that would make me look like an executive without draining my bank account.
The search was surprisingly more difficult than expected, and many cheap watches just look plain cheap.
After weeks of looking around, I tested out a few options that really caught my eye, and finally decided on a couple to add to my collection.
Below is a list of the options that I consider the best of what my search turned up, and you can be proud while wearing any of these sub $100 watch options.
Comparison Table
IMAGE
MODEL
FEATURES

Has luminous hands/markers

Water resistant to 200 m

Gold & Stainless steel

View Product

Timex Men's Expedition Classic Analog Watch

Classic Outdoor Design

Water resistant to 50 m

Water resistant to 50 m

View Product

Gold Plated Invicta Men's Pro Diver Chronograph

18k gold-plated stainless steel

Japanese quartz movement with analog display

Water resistant to 660 ft

View Product

Stuhrling Original Men's Specialty Grand Regatta Watch

Scratch resistant

Water resistant to 660 Feet

Stainless steel watch bracelet

View Product
What to Look for in Cheap Men's Watches
Material Quality: The material needs to look nice, but also be durable enough to stand up to day-to-day activities.
Cost: Watches go for big money if you aren't careful, so cost was a huge factor in the final purchase decision for me.
Appearance: Let's face it, watches are accessories these days, you don't need them to know the time. That's why appearance is everything, the best looking watches are the only ones I considered.
Function: Even though you probably could check the time by pulling out your smartphone, or asking a friend, you still want a watch that's going to keep time properly and that will help you track other things like the date as well. Each watch has to function properly as well.
Invicta Men's Pro Diver

The Invicta Men's Pro Diver watch bears a striking resemblance to the Rolex Submariner, without the monstrous price tag.
The watch is made from quality materials and feels good in the hand. It's a wind-up just like the old-school options, which means batteries will never be an issue, but you will have to remember to wind it daily.
This watch features a beautiful mineral dial window and it's good down to 660 ft, so you could take it scuba diving if you really wanted to. It's a classy piece that's worth a wear, especially if you like blue.
I definitely liked this one overall because of the design, colors and make up of the watch, but if you're looking for something even classier, then keep reading.
Customer Feedback
Very attractive timepiece
Striking design
Quality engineering
Exact copy of the Rolex Submariner series
Beautiful watch
Check The Price
Topwell Men's Round Quartz Wood Watch
The Topwell Men's Round Quartz Wood Watch is the only wooden item on this list. It's truly stunning to look at thanks to the attractive deep brown coloring and wood grain design.
Just like a top-end watch, this one stands out nicely and will attract attention to you everywhere you go. The only difference is, it's highly affordable as one of the cheapest items on the list.
Sure, it's not going to hold up to regular wear like a good stainless steel option, but it's a solid product that's fun to show off, and that's the mark of a really great accessory anyway.
Definitely loved the wood look and feel that it gave, but couldn't resist the ease of use and lightweight design that wouldn't hold me down all day.
Definitely worth the buy and it looks attractive, expensive and doesn't cost too much.
Customer Feedback
Great conversation starter
Many compliments on the watch
I love this watch
Can't beat the look for the price
Gorgeous watch
Perfect addition to any watch collection
Check The Price
Timex Men's Expedition Classic Analog Watch

The Timex Men's Expedition Classic Analog Watch has a nice simple look to it, but it appears to be of the highest quality. The dial is flawlessly clear, the band is smooth and buttery to the touch.
It's not showy, and won't draw too much attention, but it pairs nicely with most looks and will help you stay on top of the time and date.
It's stylish, comfortable and as the lowest priced product on this list it's a good everyday product to wear while working or for any other activity.
If you want something that is simple, yet classic then this would be the watch for you. You also do not have to worry about something happening to it, since it is not one of the flashier choices and it will not break the bank.
Great for a gift for the watch lover that you know.
Customer Feedback
Love the watch
Love the style and way it looks
The size is perfect
Handsome watch
Highly rely on this watch
Great looking watch for the price
Leather wristband is very comfortable
Check The Price
Gold Plated Invicta Men's Pro Diver Chronograph

The Invicta Rose Gold Pro Diver has all the markings of a truly high priced watch. On first glance you'd probably believe it to be well over $1,000, but it's surprisingly affordable for a Chronograph.
It comes in that stunning rosy tint, with a matching display that comes with a synthetic sapphire crystal dial. It does come with a date window, but it's subtle.
You'll get compliments galore while donning this beauty, and it doesn't matter if you're wearing a black suit, a pair of jeans or anything in between, it always looks in place and stunning.
I couldn't believe how great it looked when I threw it on and headed out for the night. With so many compliments, I definitely chose the right watch.
You can choose the right one, too.
Customer Feedback
One of the nicest watches from the diver series
Great watch
Big and flashy
Great weight to it
Light and shiny
Gorgeous watch
Not a small faced watch
Check The Price
Stuhrling Original Men's Specialty Grand Regatta Watch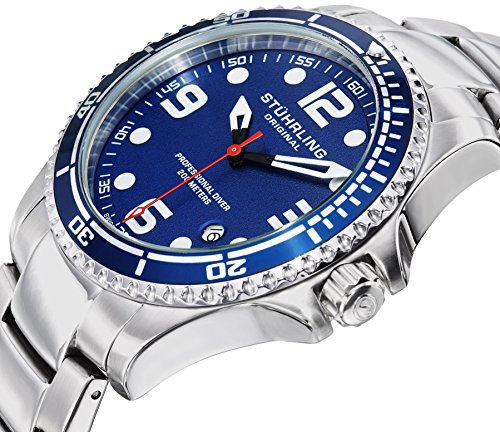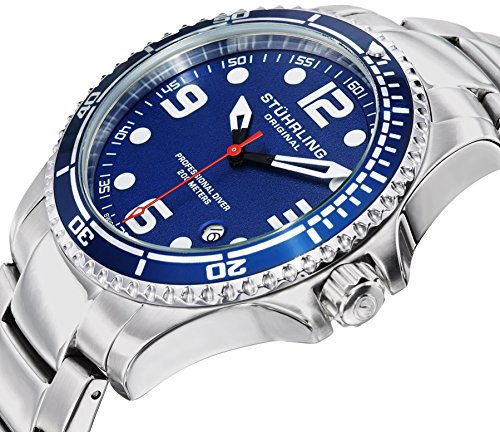 This brilliant blue Stuhrling Original Men's Speciality Grand Regatta Watch shines and shimmers in the light. It's a blend of vibrant color and gleaming silver, which go very nicely together.
For the price this guy is very well built. It has a handsome display, feels very nice in the hand and keeps time reliably. Not to mention that you can wear it down to 200 meters of water as long as you remember to screw down the crown before you take the plunge.
Yet another beautifully designed watch that will not weigh you down. It has the look and feel of royalty, without the high price tag that is usually attached to high end watches.
It is well worth the price, and provides you with a beautiful appeal that you wouldn't be able to get anywhere else.
Customer Feedback
Much more than expected
Solidly built
Nicely packaged
High quality
Affordable price
Stylish and beautiful watch
Nice, deep blue color
Pleasing to the eye
Check The Price