Copic markers are not the cheapest art product in the world, but you definitely get what you pay for. When I saw a friend of mine spending that much on a set of markers, I was in disbelief, until I tried them myself.
They are the only type of marker I've encountered that allows me to shade and blend colors. Usually, this only works with paint.
Copic markers are even better than paint, in a sense, because they are less messy and more portable. They can withstand extreme temperatures (which is great for frequent travelers). They are one of the best art supplies you can get.
If you're ready to make this kind of investment, there are some particular qualities you want to make sure you're getting in your set of markers.
What to Look For in a Copic Marker Set
Refillable: You want to make sure your marker set isn't done when the ink is done. Make sure you're getting refillable copic markers. Most of them are, so this shouldn't be an issue.
Replaceable Nibs: Those of us who are familiar with markers know that once the nib is done, you usually have to throw out the pen. That is not the case if you make sure you get replaceable ones.
Non-toxic Ink: There are plenty of people who purchase art supplies for their kids, which makes non-toxic ink very important. Even if you're purchasing these markers for yourself, it's better to be on the safe side.
---
Copic Marker 72-Piece Sketch Set A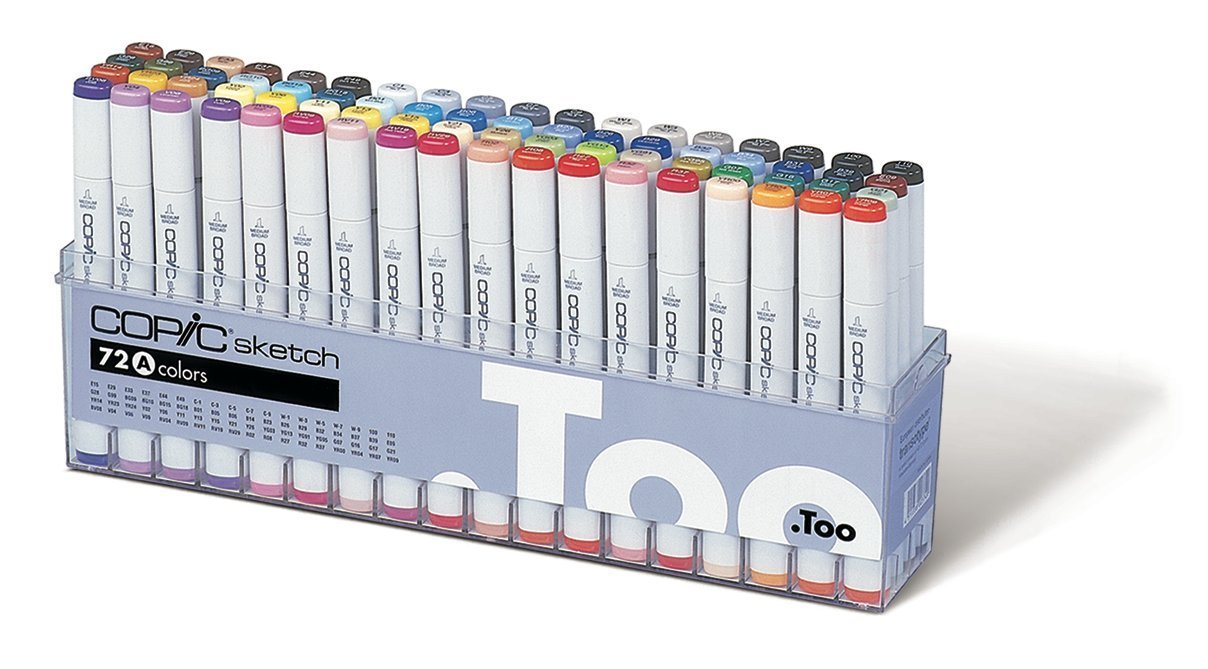 These markers have a bit of a learning curve for beginners, but once you get the hang of it, they're quite easy to use.
There are plenty of Youtube videos out there that can teach you how to use them. The Copic Marker 72-Piece Sketch Set A is one of the more beginner-friendly sets of Copic markers.
This set is a good set to start out with because they are smaller than other markers and good for making fine lines.
The ink is refillable, so the markers themselves are a one time investment that will last you for years. These are suitable for coloring everything, even model cars.
Customer Reviews
"Amazing markers, amazing colors, it is just simply amazing. Although i imagined them bigger, they were actually smaller than i expected. despite that minor inconvenience, this set is a wise investment for serious artists."
"Yes, they are expensive…but entirely worth every last cent, IMO. However, they ARE refillable."
---
Copic Markers 6-Piece Sketch Set, Skin Tones I
Every artist knows the challenge of making skin tones look realistic. The Copic Markers 6-Piece Sketch Set, Skin Tones I allow you to blend skin colors flawlessly, giving you life-like portraits.
This set can be used in combination with water colors or other paints, making your art more versatile. They come with brush tips so it's almost like you're painting when you use them.
The pens are easy to refill, meaning you only have to buy them once. This set is a good investment.
If you're taking a portrait drawing class, or simply enjoy drawing people for the fun of it, these are a must-have. These are the most realistic looking skin toned markers out there.
Customer Reviews
"These Copic markers are fantastic with the House Mouse rubber stamp series. I LOVE, LOVE, LOVE these markers and am so glad I purchased them."
"It's been a relief not having to "make" a color work as a skin tone for a piece & having that character end up looking like a Uumpa Lumpa. All realistic skin tone shades are included in the pack, from the palest to the darkest."
---
Copic Premium Artist Markers – 72 color Set A – Intermediate Level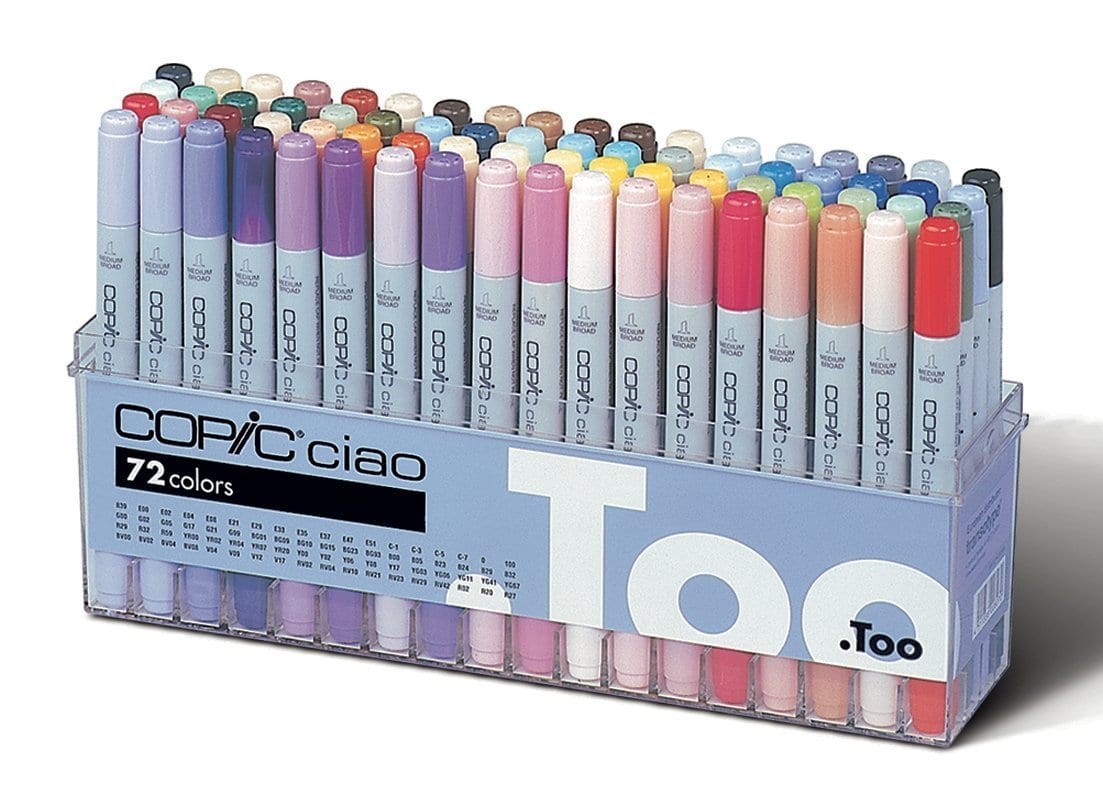 This particular set is meant for intermediate artists, and includes a wider variety of colors than earlier sets. The Copic Premium Artist Markers – 72 color Set A – Intermediate Level comes with refillable ink and replaceable nibs.
You may want to purchase special paper to avoid bleeding, but it's well worth it if you desire to take your art to the next level and improve your style.
The markers are double sided, as well as color coded. They are easy to blend and alcohol based, so they are not toxic and safe to use for children.
Use them on paper or various other surfaces. These are permanent, unlike other similar products.
Customer Reviews
"I just received my new set of copics!!! The shipping was fast and the item was way more then what I expected. After using prismacolors for years I am now a convert to Copics!!!! They blend so well and are so vivid!"
"The felt tips are great! They allow to blend really well. Just be warned they bleed on thin paper! So if using computer paper, be wary 🙂 also, colors dry differently, so do test strips. Regardless, I love these!"
---
Copic Markers 9-Piece Multiliner Inking Pen Set B-2, Black
If you're an artist who prefers to create colorless pieces, these are a good choice. If you've been using charcoal, it might be time to upgrade to these pens.
The markers in the Copic Markers 9-Piece Multiliner Inking Pen Set B-2 are waterproof, which is unique to markers or even paint. They do not smudge the way charcoal does.
The set comes with a variety of tip sizes, meaning that you can make lines as thick or as thin as you want without compromising the quality of your picture.
The lines turn out very smooth and crisp, which instantly upgrades the efficiency of your artwork.
These are suitable for first-time artists as well as the very advanced. Buy them for your kids or your artistic grandfather, and they will likely love them equally.
Customer Reviews
"Copic pens are very easy to control, as opposed to nib pens. The lines come out neat and crisp. The fine tip pens really are as fine as I'd hoped."

"All I can say is that any serious artist that inks works would be doing themselves a favor by purchasing these pens, or at least Copic inking pens."
---
Did we miss a copic marker set that you recommend?
Let us know in the comments below!