I'm no professional when it comes to cycling but I do cycle a lot and I love long-distance rides.  What I've noticed over the years is that not only do I get crazy callouses like some kind of weightlifter, but my hands sometimes go numb and tingly after cycling for a longer period of time.
I wasn't sure if the numbness was coming from the vibration of the road, the angle of my hands cutting off circulation, or always having my hands in one place, but it's not really a nice sensation. I decided to look into what causes this numbness and what I could do to prevent it.
According to some of the websites I checked out, a lot of hand numbness when cycling has to do with compression of one or several nerves that are in the wrist. This nerve gets compressed because of the pressure and weight that cycling puts on it.  Some numbness can in fact also be due to vibration in the handlebars.
And, depending on what type of cycling you do, you may not have suspension in your front forks and suspension is what absorbs a lot of shock from the road.  What all experts seem to agree on is that all of this can be alleviated with some decent padded cycling gloves.
So, I decided to do some research to find out what gloves are the best for cycling.  There are a wide variety of gloves out there, so I want to know what works best for all different types of cyclists, in various conditions. Most importantly, I want to know which gloves are known for their decent padding and preventing hand and finger numbness.
Comparison Table
IMAGE
BRAND
FEATURES

Supreme Bicycling Gloves For Cycling

Made special for a cycling team

The padding is neither thick or thin

Sizes SM, MED, LRG, and XL

Buy Product

Half-finger Cycling Gloves

Elastic and adjustable wristband/strap for comfort

Soft high-density foam padding

Polyester material, breathable and durable

Buy Product

A combination of the three functions of composite fabric cloth

The palm fabric is skip-proof and hard wearing

Ease your palm fatigue and reduce the probability of skipping in riding

Buy Product

Design with three-panel palm for a tailored fit

Comes with a clarino synthetic leather for enhanced durability

Optimized padding in the palm enhances comfort

Buy Product

Pearl Izumi Select Gloves

Durable and long lasting-stands up to many rides

Great triangular shaped cushion pad on palm

Breathable and comfortable in warmer months

Buy Product

Firelion Unisex Outdoor Gel Touch Screen Cycling Gloves

Durable with thick padding to protects from numbness and falls

Adjustable straps and absorbent microfiber

Can touch screen with fingers for convenient use of mobile devices

Buy Product

Vintage Style Cycling Gloves

Elastic wristband for comfort

Thin layer of polyester keeps the hand warm at cold

Full finger cycling gloves

Buy Product
What to Look for in Cycling Gloves for Numbness
Padding: This might seem obvious, but I want to find the best gloves with the best quality padding. The padding could be gel or fabric cushioning but it must stand up to vibration and heavy use. If there is more than one point of padding on the palm, even better.
Grip: The gloves should have a decent grip, especially if you are going to be using them for mountain biking. The material can be leather or synthetic, full finger or half but the grip has to be good. The grip should also be good in all weather conditions.
Quality: I don't mind spending more money on a decent pair of gloves if it means they are going to be of good quality and last a long time. I want to see a lot of reviews from people who have tried the gloves and can speak to their quality and level of craftsmanship. It helps if the gloves are made by a brand name I recognize and trust.
Comfort: The gloves have to be comfortable. If I am going to be wearing them for a long time, they have to be soft and breathable with a good level of stretch and I should basically not be aware that I am wearing them.  The stitching should be subtle and not rub and I should be able to access my brakes and shifter easily, without discomfort.
The 5 Best Cycling Gloves for Hand Numbness
1. Zooki Cycling Gloves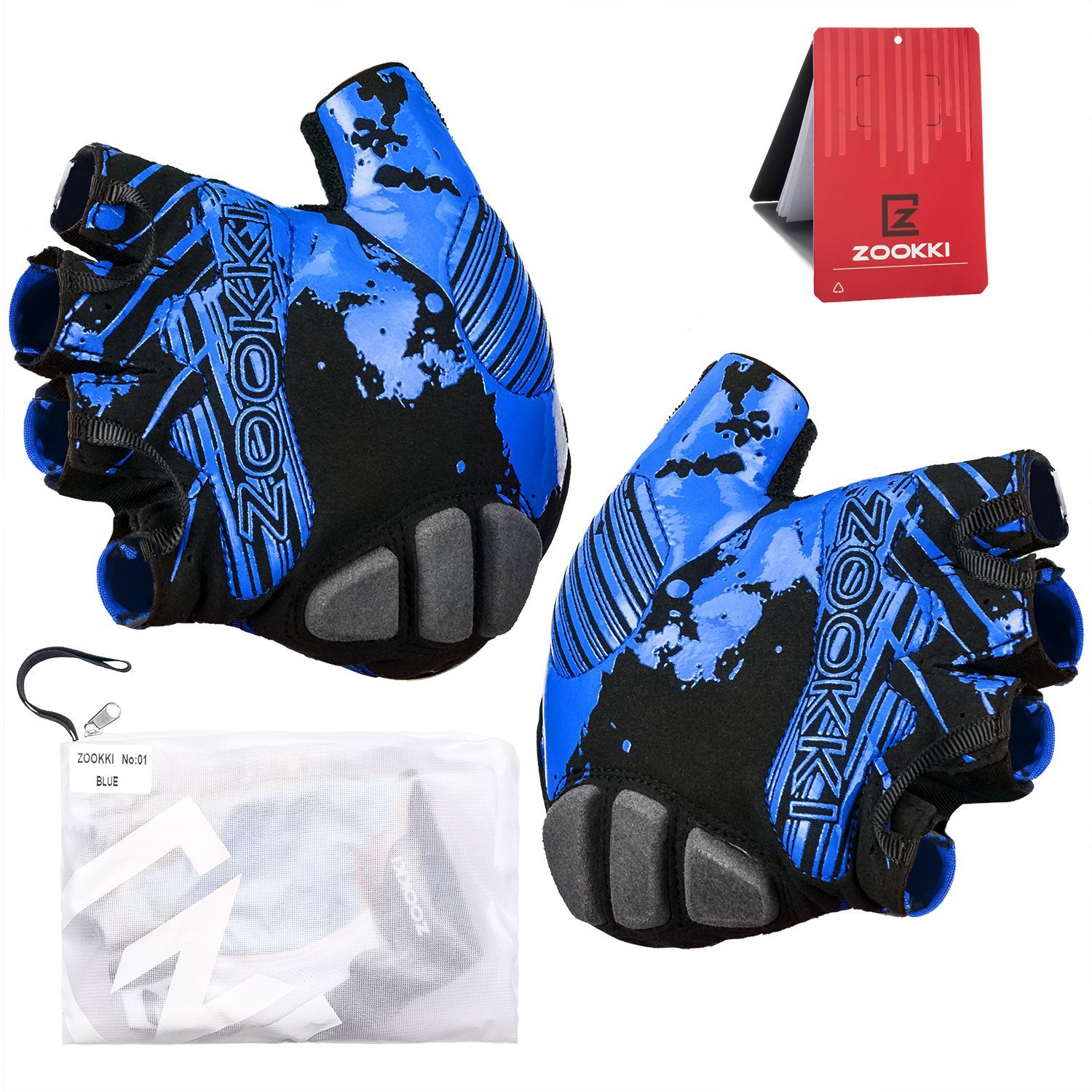 I love the Zooki Cycling Gloves because they come in different sizes so I can be guaranteed a good fit. They are made from Lycra and have a good level of stretch and flexibility and have heavy-duty padding on the side of the palm that absorbs shock and vibration.
They also have a silica gel pad in the palm so there is a double layer of protection that is sure to help combat my hand numbness.  I also like that they have a terry cloth thumb which, as bad as it sounds, is designed just for wiping sweat and noses.
They come in four bright and visible colors and even come in a full finger option. Not to mention, the price is great and the customer reviews show how popular these gloves are.
What makes these the Best Cycling Gloves for Numbness
Great sizing chart for a custom fit
Double layers of padding with both gel insert and external pad
Great dexterity: Lycra stretch and fingerless
Handy loops for pulling on and off
Excellent price point
Durable with quality stitching
Great grip
2. Giro Bravo Gloves
Giro is a brand name I recognize and trust and so I was instantly curious about the Giro Bravo Gloves.  These gloves feature a 4-way stretchy breathable mesh that is particularly good for sweaty hands.  They are made with AX Suede synthetic leather and have a handy pull tab on the inside of the wrist, making them easy to get on.
Great gel padding makes these comfortable and great for absorbing shock and vibration on those longer rides.  I also love that these gloves come in six different sizes-all the way up to 2X so they can fit a wide variety of hands, male and female.
They stand up well to washing and long periods of use and come at a way better price than similar gloves are selling for in bike shops.  The grip is great for shifting, even in wet weather and the stitching is subtle and flush on the inside where it counts so no uncomfortable rubbing.
Customer Feedback
Great price for the quality
Stretchy and breathable
Soft and squishy gel padding reduces vibration and fatigue
Variety of sizes
Bright colors which make for good visibility
Exposed fingers for tactility
3. Pearl Izumi Select Gloves
Pearl Izumi is another well recognized and reliable brand in the cycling world and the Pearl Izumi Select Gloves uphold the name well.  Durable, with quality manufacturing, they feature low profile stitching so they are extra comfortable without rubbing or chaffing.
They have a synthetic leather palm with gel-foam padding and the back of the hand is a stretchy polyamide, polyester, and spandex blend which lends itself to breathability and easy movement.  Similar to the other models I've recommended, they have a nice pull tab on the palm that helps to get them on.
These gloves come highly recommended by bigger people who might be putting a bit more weight on their handlebars and older people that ride long distances every day.  In both cases, they alleviate hand numbness and tingling while being durable enough to handle hundreds of miles of cycling.
They come in a wide range of colors and five sizes.  Although they are listed as a men's glove, the sizing chart will help everyone get a good fit, male or female. A solid choice from a solid brand.
Customer Feedback
Durable and long lasting-stands up to many rides
Breathable and comfortable in warmer months
Great triangular-shaped cushion pad on palm
Nice absorbing thumb fabric for sweat
Very effective in preventing numb hands
4. Firelion Unisex Outdoor Gel Touch Screen Cycling Gloves
Personally, I've always preferred a half finger style of cycling glove in the past, but with the cooler weather fast approaching, I'm also interested in having a full finger pair on hand.  They just seem to offer a lot more padding and protection, warmth in cooler weather, as well as a better grip.  Full gloves can also be handy for roadside maintenance as I seem to get hands full of grease even if I'm just pumping a tire up.
So, the Firelion Unisex Outdoor Gel Touch Screen Cycling Gloves are just what I'm looking for.
I don't cycle and text but there are times when I need to "pull over" and use my phone and this is one of the reasons these are the pair for me. They have touch screen capabilities in the fingertips so I don't have to mess around taking my gloves on and off, which will also be handy when it's cold.
They have gel padding across the palm pressure areas and the palm is made with durable synthetic leather. But they are still breathable since the back of the hand is a nice mesh. The palm side has a sweet Velcro enclosure and the palm-size has that handy pull tab feature.
The thumb is made from an absorbent but soft material that is great for wiping away sweat.  I also really like that these are machine washable.
Another thing that attracted me to these gloves is that the reviews mention that they are exactly the same as higher-end Specialized brand gloves, but at half the cost. Which means they are durable and high quality You really can't beat that!
They do mention that they run a little tight so be sure to check out the size chart and choose from one of the four available sizes. They come in black, red, or bright green.
Customer Feedback
Gloves run a bit small but break in nicely
Durable with thick padding which really protects against numbness and falls
Great for cold weather and mountain biking
Touch screen capable fingertips make texting a cinch
Lightweight and breathable, even in the summer
5. Hyke & Byke Hi-Vis Touchscreen Full Finger Gloves
Another great pair of full gloves that are also touch screen sensitive are these Hyke & Byke Hi-Vis Touchscreen Full Finger Gloves.  I love how sleek looking they are without a lot of bulk that some of the other cycling gloves have.  Yet they still have the high-density gel padding on the various pressure points on the palm, protecting the ulnar and median nerves.
Another thing that really grabbed me about these gloves is the 100% money-back guarantee. This way I know I can try out the gloves for a while at no risk and see if they really work.  But really, the reviews speak for themselves. These are a very popular, well-liked glove.
Tough synthetic leather on the palm with breathable polyester/spandex blend on the other side, these gloves also feature a thermal lining and what they call a "nose-loving terry thumb towel" which you gotta love for those cooler mornings when your nose is running like crazy.
The Hyke & Byke Hi-Vis Touchscreen Full Finger Gloves are just that, high visibility, and the bright yellow makes sure that your hand signals will be easily seen.  There is even some nice reflectivity to the back of the hand as well, so these are the gloves for you if you like riding at dusk or night.
The handy sizing chart means both men and women can wear these gloves and they come in four sizes.  Remember to measure around the circumference of your hand at the widest point to get the best fit.
Awesome durability and craftsmanship for the price. Throw 'em in a cold water wash and hang 'em to dry and these babies will last you years.
Customer Feedback
Fantastic fit, comfortable and break in nicely
Padding strategically placed-making for zero numbness
Highly visible with bright yellow fabric and reflective paint
Touchscreen fingertips are highly responsive and work great
Well made with quality stitching
Further Reading