After a hobby like wood carving progresses from an innocent time-pass to a passion, it's time to start considering more hard-line tools for bigger, better projects. Dremel tools are a great solution for beginners and professionals alike. They are multi-purpose, easy to maneuver, and great for small and larger projects. This is why, after assessing some tools, we have comprised this list of the best Dremels for wood carving, with a buying guide to help you understand precisely what to look for.
Quick Comparisons of the 5 Best Dremel Tools For Wood Carving
IMAGE
MODEL
FEATURES

Dremel 3000 Variable-Speed Rotary Tool Kit

Speed Range – 5000 to 32000 RPMs

Attachment Compatibility - All Dremel Accessories and EZ Twist attachments

Number of Speeds – 2 variable speed intermediates

View Product

Dremel 4000 Variable Speed Rotary Tool Kit

Speed Range – 5000 to 35000 RPMs

Attachment Compatibility – All Dremel Attachments

Number of Speeds – Speed Dial for Customized Speeds

View Product

Dremel Flex Shaft Rotary Tool Attachment

Speed Range – 23000 RPM

Attachment Compatibility – Attaches to a Corded Rotary Dremel Tool

Number of Speeds – Variable Speed Foot Pedal

View Product

Dremel 4300 5/40 High Performance Rotary Tool Kit with LED Lights

Speed Range – 5000 to 35000

Attachment Compatibility – Universal 3 jaw chuck works with all attachments

Number of Speeds – Variable Speed Dial

View Product

Dremel 8v Rotary Tool Kit

Speed Range – 5000 to 33000

Attachment Compatibility – Compatible with Threaded Attachments

Number of Speeds – Variable Speed Control based on the Accessory Used

View Product
A Closer Look at the Best Dremel Tool
There are a lot of options for tools even if you're looking within one brand: Dremel. They can help you in any situation, whether it be etching metal, grinding plastic, sharpening or polishing glass. But the focus here are Dremel models made specifically for the purpose of wood carvings. That is why, this buying guide focuses on those aspects you must consider getting the right Dremel for wood carvings.
What is a Dremel Used for in Wood Carving, and What Does a Dremel Do?
Dremel is a long-standing brand that is known for its meticulous rotary tools, used for metal, plastic, and woodwork. Dremel rotary tools can be used to carve, engrave, sand, and polish wood with many more uses for other materials!
To be exact, rotary tools are hand-held power tools that have a spinning motor tip. On this tip you can place different attachments to perform various jobs such as grinding, sanding, polishing, carving and more! Dremel products are favored by DIY and professional woodcarvers since they perform every job in one unit. From fine detailing to carving out general shapes, a rotary tool helps with precision and ingenuity.
Types of Best Suited Dremel Tools for Wood Carving
True, Dremel rotary tools are made for all sorts of materials, metal, plastic, and wood. This doesn't mean there aren't specific Dremel models that work better with wood than others. Dremel models 4000 4/34 as well as 3000 1/25 are great options for woodcarving.
They are compatible with various accessories that are used ideally for woodcarving. To clean, polish, sand, cut, etch, grind, and engrave; these models hold the best accessory customization as well as attachment variety. What you should be looking for in your Dremel, however, is electronic speed control. This will ensure that you don't accidentally have too much power. Monitored power control prevents you from damaging or chipping off too much wood. Wood carving is a timely process, so you may want something corded or a model with long battery life.
Benefits of Using Dremel in Wood Carving Projects
There are always benefits when you use advanced tools in your DIY woodcarving projects. Faster, better results; a more professional presentation, and more complete projects. Dremel brings forth its own benefits that you'll love and throws the competition out of the ballpark.
Designed for Tight Spaces
Sharp turns, nooks, and corners are commonly encountered when doing woodcarving. In these cases, it's better to have a smaller drill top and perhaps even a light. Dremel models come with numerous attachment variations and some even come with an attachable or built-in light! This will help you see what you're doing better when you're up against tight corners and crevices.
The 4300 4/50 comes with a pivot light accessory while the Dremel 8V cordless model has a built-in LED light on the nose cap so you'll always have a direct light source while you are working.
Powerful
All Dremel rotary tools, whether cordless or corded, come packed with a lot of power. The feature to look for is the voltage and amperage. Corded models range from 1.2 to 1.8 amps while the 8V cordless model we have shown operates at 10.8 Amps per hour. Corded models typically are all 120 volts, while as the name goes, the battery-powered model is an 8 volts battery.
Wide Range of Speed
Dremel tools have a wide speed range each, so you have greater control over them. From 5,000 up to 35,000 the range of speed is immense. With lighter projects, such as wood, you can lower the power to ensure you have greater control and precision.
Most Dremel models will also have speed control. This can come in the form of a speed dial or slide control. This allows for greater control over exactly how fast the motor runs. There are some options with designated speeds i.e., level 1, level 2. The best type of Dremel for sensitive projects such as woodcarving are those that have electronic speed control, as the 4000 4/34 does. This automatically regulates speed to the right amount depending on which accessory is in use.
Dremel Wood Carving Bits & Accessories
Carving and Engraving Bits
Dremel has a variety of carving and engraving heads that can be used on leather, metal, ceramic, glass, and of course, wood. There are a wide set of slim and thin heads that are made specifically for finer detailing and decoration. They have an accessory kit, the Dremel 689-01 Accessory Kit, which comes with 11 different pieces all for another more precise job.
High-Speed Cutters
You can get carving kits with high-speed tools. High-speed cutters are not for fine detailing, they are used to create slots, grooves, holes, and hollows in plastics, metals, and wood. It works over both flat and curved surfaces and creates flat bottom slots, grooves, flat-side cuts, and v-cuts when the tip is held at an angle. The shape of this carving head will take out more at once, digging deeper and making more profound holes.
Diamond Bits
The diamond bits are used when you are dealing with much finer dealing and more precious stones. These bits are covered with diamond particles and make a huge difference in your handiwork. Higher speeds with a diamond bit are best for harder woods to get finer, cleaner results in refined detailing.
Features
All different power carving tools like this come with their own set of features. This list is a composition of all the features you can encounter when going through Dremel's selection of rotary tools.
Convenience
The key to finding a product you love is to look for something that conveniences you. While a product may serve its purpose and serve it justly, if it doesn't make the job easier or even enjoyable for you, then it's not money well spent.
Convenience comes from the little things; how easy installation is, the additional helping features, the comfortable handle, whether or not it's portable. Dremel products provide all of these conveniences. Many newer and favored models come with an EZ Twist nose cap which makes it simpler to install accessories and attachments onto the rotary tool itself. Some models, as mentioned before come with lights to help you see harder spots in craftsmanship. There are also separate on/off and speed controls to make operation easier and orderly.
Finally, there is the Dremel 360-degree grip which allows you to hold your tool in any direction, from any side. The design is plenty more ergonomic and reduces the chances of you straining your arm or wrist.
Cooling System
A rotary machine has a motor in order to work, which means it can overheat. To prevent this for as long as possible, Dremel tools have a ventilation system. It allows air to flow through and cool down the interior of the machine. A bonus is that this cool-running ball bearing construction also allows for a quieter operation while the motor is on.
Dust Extraction Attachment
When grinding, sanding, or simply carving wood, there is going to be a lot of dust. Having an attachment to vacuum the dust while you are still working is a real convenient accessory. Fortunately, there are options available from Dremel for this exact purpose. You can attach these to your rotary tool and have them clean up the dust around your working space.
Not all tools will be compatible with a dust extractor, so it's better to find available extractors first and then research models that do work with this attachment. For many models, dust extraction isn't a priority, ventilation is. This is why if you wish to make it a priority, you'll have to branch out from the dust extractor itself.
Carry Case
In most cases, Dremel products come with their own containers for the tools, the accessories, and the attachments. This makes organization easier. Dremel does have a lot of accessories which can be easily lost if you don't have a proper place to keep them.
Whether sold separately or together, it's better to get a proper casing from Dremel for all of your independent pieces. this will keep everything in place and protected from dust or damaging for the next time you need to use your rotary tool.
Tool-Free / Quick Accessory Change
One great feature of many Dremel products is the easy accessory swap. This can be due to an EZ Twist nose cap many Dremel rotary tools have. This nose cap removes the need to bring out a wrench every time you need to change the accessory pieces. Quicker changes get the job done quicker and allows you to do more with one utensil.
Another feature exclusive to the 4300 model in our list is the 3-jaw chuck nose cap. This is a universal cap that can attach to all Dremel accessories and attachments as well as other brand accessories and attachments.
Cord Length
Most Dremel models will be corded since professionals will prefer a constant source of power to their rotary tool while working. This does limit how much you can move around; a solution is to make the cord longer. This will extend your reach and flexibility with the actual tool while you are working. It will also let you work further away from the power outlet, which is safer.
Control and Precision
Precision is enhanced with Dremel's large variety of attachments. These come in plenty of smaller, thin options that can help with your accuracy and detailing. With an inclusive light, you can see darker corners, crevices, and nooks easier to see exactly what you're doing.
Control is monitored with the variable speed controls. Either slide or dial, you can turn the speed up or down based on what you feel is right. What makes this better is electronic speed control. This monitors the speed on its own based on what attachment you are using. Fingertip control is another feature offered by Dremel on their flex shaft rotary tool attachment.
RPM
The definition of RPM is revolutions per minute. This measures how fast the motor is rotating. The faster the motor runs, the more energy is made, the greater the number of RPMs. The more RPMs there are, the stronger the rotary tool's head will spin.
When working with wood, you don't want the RPM to be too high. It's better to stick in between the 5,000 to 10,000 RPM mark to be more delicate with the wood.
Amps and Volts
Amps per hour refer to the amount of amperage a battery is capable of providing. When we say 1.8 amps per hour, it means that your rotary tool can provide 1.8 amps every hour. Since Dremel has mostly corded rotary tools, they will all be in between the 1 to 2 amps per hour mark. The cordless models will have a different amount of amperage. The 8V has 10.8 amps per hour.
Volt is the basic unitary measurement for electromotive force that allows for a current of amperage to go through any conductor whilst having the resistance of one ohm. For all of the listed corded Dremel rotary models, the voltage is 120.
Top 5 Dremel For Wood Carving Reviews
1. Dremel 3000 Variable-Speed Rotary Tool Kit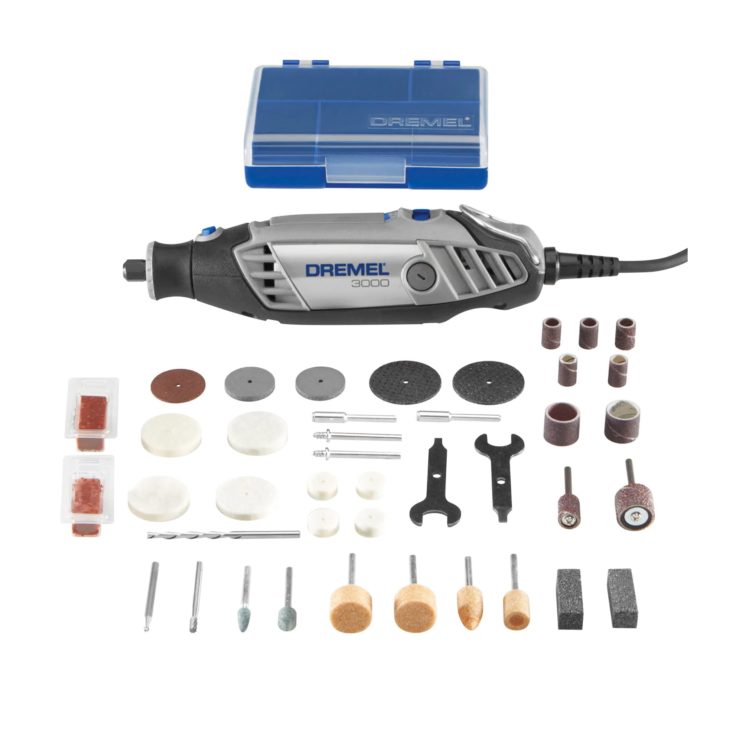 Speed Range – 5000 to 32000 RPMs
Attachment Compatibility - All Dremel Accessories and EZ Twist attachments
Number of Speeds – 2 variable speed intermediates
Check The Price
The Dremel 3000 is a fine option for a beginner in the more intensive woodcarving field. It has an ergonomic, sleek pencil-shaped design that makes it easier to handle when working over wood. It has an all-around comfortable grip so you can hold it however you please. To make things easier for you, the 3000 also has an EZ Twist, a feature exclusive to Dremel products. The EZ Twist removes the need to have a wrench nearby when you remove the heads/accessories from the body. This means it's an easy swap every time you start a new project. The symmetrical design of the 3000 includes fans and side vents to improve the airflow through the tool. This prevents overheating which permits work in longer shifts.
Not only is there 3000, but an accessory filled with 39 different accessories. All existing Dremel accessories can be used with this model, but only most attachments can be used, not all. The motor brushes are replaceable to prevent clogging and the cord is 6 feet long for more reach and flexibility.
The pricing is quite competitive and makes this appealing to both professionals and beginners in the woodcarving field. Seeing as it can be used on both metals and woods, the speed ranges from 5,000 RPMs to 32,000 RPMs. The tools and accessories both come with their own separate containers so you can keep your workspace clean and never lose any of your valuable pieces.
For this piece, there is a 2-year manufacturer warranty. This warranty will cover any defects in the manufacturing of the rotary tool, but it will not cover any attempts of repair done by the owner when and if any have been done to the Dremel 3000.
Pros
Plenty of accessories help make it versatile and easier to use
EZ Twist Nose Cap
Ergonomic design and comfortable grip
Cons
Cannot be used with every Dremel attachment
2. Dremel 4000 Variable Speed Rotary Tool Kit
Speed Range – 5000 to 35000 RPMs
Attachment Compatibility – All Dremel Attachments
Number of Speeds – Speed Dial for Customized Speeds
Check The Price
The Dremel 4000 is our overall best option for a number of reasons. It comes with four attachments and thirty-four different high-quality Dremel accessories all at your disposal. The motor can run from 5,000 RPMs to 35,000 RPMs, an immense range of power that can handle wood, plastic, metal, glass, and more! It has a 360-degree grip zone so any spot on the 4000 you hold is comfortable. It also comes with the same EZ Twist the 3000 has, for simple and speedy swaps from one accessory to another. A better step up from the 3000 is that it can be partnered with all currently available Dremel accessories and attachments.
The Dremel 4000 is corded for a constant power source with a cord that measures 6 feet, so you can maneuver easily. The accessories and tool itself come in plastic storage cases so you have a proper, organized space for all of your Dremel pieces. The speed of the drill is controlled by a dial, with the speed control and the on/off being separate parts of the tool-piece. The ventilation system keeps the motor from overheating while you are working, therefore giving you more time to work on projects and workmanship. This also keeps the volume down while the motor runs.
This model can perform all sorts of jobs from sanding and polishing to grinding, carving, and drilling. It comes with a two-year warranty that covers all defects on the behalf of the manufacturer's fault. Any attempt to repair the tool somewhere else or by yourself will counteract and leave the warranty invalid.
Pros
Can be used with all Dremel attachments
EZ Twist Nose Cap
Dial for Custom Speeds
Cons
 Issues with the power button wiring; a common complaint
3. Dremel Flex Shaft Rotary Tool Attachment
Speed Range – 23000 RPM
Attachment Compatibility – Attaches to a Corded Rotary Dremel Tool
Number of Speeds – Variable Speed Foot Pedal
Check The Price
The Dremel Flex Shaft is an attachment you can place on your rotary tool for greater precision in tighter, smaller projects. The shaft itself measures 36 inches and it is attached to corded rotary tools only. The cable has a flexible 5-inch bend radius for more agile movement. The quick connect helps you easily connect it to tools with little to no hassle. There is also an integrated shaft lock button to exchange accessories with ease. The Dremel Flex Shaft accepts 1/8-inch shank accessories only.
The Flex Shaft has a comfort grip handpiece that allows you to manipulate it with ease and not strain your hand in the process. It also has a comforting fingertip control for greater precision while you are working on fine detailing. The long shaft allows it to be used in harder to reach areas. The speed is controlled with a foot pedal to keep your hands free and concentrated on keeping the flex shaft on track. The Flex Shaft comes with an additional 8 feet of cording to extend its reach. There are 21 accessories with this Flex Shaft.
This model attachment is compatible with the following Dremel tool models; 4300, 4200 with adapter, 4000, 400, 3000, 300, 398, 395, 200, 285, 100, 275, 8220, 8200, and 800.
The warranty is solely for any defects there are with the product after you have purchased it. Once more, if you try to have it fixed by someone else or yourself, the warranty will no longer cover the damage.
Pros
 Lightweight, which makes it ideal for detailing and long shifts
Fingertip control for precise maneuvering
Cons
4. Dremel 4300 5/40 High Performance Rotary Tool Kit with LED Lights
Speed Range – 5000 to 35000
Attachment Compatibility – Universal 3 jaw chuck works with all attachments
Number of Speeds – Variable Speed Dial
Check The Price
Heavier duty projects call on for a sturdier, more prepared model Dremel rotary tool. The Dremel 4300 5/40 is just the tool for this kind of job. The slim, ergonomic stylization of the body is ideal for long hauling jobs and heavier work. The all-round soft grip makes it easier to hold this tool without tiring out easily. It has an all attachment compatibility, so anything goes when you want additional attachments on the 4300 5/40.
There are 5 attachments and 40 accessories with this model and a universal 3-jaw chuck that not only allows all Dremel accessories to install but other branded accessories as well. You can even attach a pivot light on as an accessory for when you need to get into tighter spaces and see in darker corners. The speed dial and on/off button are two separate parts so there is greater control over the tool while you are using it. In comparison, the 4300 has a stronger motor than previous models which helps it perform at a better peak than others. It can run from 5,000 RPMs to 35,000 RPMs with a controllable dial.
It has innovative airflow systems that help prevent it from overheating while in use. This unit also has a 72-inch cord to ensure you have as much reach as you need while you are working anywhere in your home or workshop. There are replaceable brushes for the motor in order to filter and keep it clean. One setback this model may have is that it's heavier than most other models which can sore down your hand after time.
Pros
Inclusive Pivot Light for tighter spaces
Comparatively more powerful motor than other Dremel products
Cons
 Pivot Light cannot be used with another accessory
Heavier than other models
5. Dremel 8v Rotary Tool Kit
Speed Range – 5000 to 33000
Attachment Compatibility – Compatible with Threaded Attachments
Number of Speeds – Variable Speed Control based on the Accessory Used
Check The Price
The last on our list is our one and only cordless model and the best for the money you might spend! This Dremel rotary tool uses a lithium-ion battery. Lithium-ion batteries hold 6 times more charge than ordinary batteries such as nickel-cadmium would, so you can expect some long hours of power from this tool. To charge it back to maximum power, you only need one hour on the charging stand and it's ready to go once more. This rotary tool is held between your thumb and forefinger, just as you would hold a pencil to get greater accuracy and finer details. Seeing as there is no cord in the way, you can take it anywhere you feel it's needed.
The tool itself has 15 assorted Dremel accessories and is only compatible with threaded attachments. The variable speeds are matched to the accessory that is currently being used with the tool body and can be manually manipulated as well with the power slide. It uses the EZ Twist feature for a quicker swap with accessories whenever needed. It also has a quick collet lock for snappier accessory changes. There is a built-in LED light inside of the nose cap for whenever you need to work in darker, tighter spaces. The RPM of this model is from 5,000 to 33,000.
Pros
Cordless design with lithium-ion battery
 LED light built into the nose cap
Cons
Complaints say lifespan is two years
Conclusion
All of the above given options are great investments for any passionate woodcarver, but the best so far is the Dremel 4000. This option is what will bring beginners and professionals into the same genre. There are endless accessories and attachments to use with this one, and with the wide range of speed, you can work from wood to metal to even glass! The second-best option would have to be the Dremel 4300, seeing as it also is compatible with all attachments and accessories, as well as others. Looking past the heavier weight, there is a lot of cording for plentiful movement around your workspace.
The Dremel 4000 is lightweight, powerful, and convenient. With a comfortable grip and greater control over performance, it's a worthy investment for any level woodcarver.