Wood carving is rapidly becoming an emerging and popular force in the art world with people of all ages picking up the craft while growing their skills. It puts a unique, personalized, and creative spin on traditional gift-giving and allows you to gift a person with something they, most likely, don't have when it comes to their current décor.
You can give gifts that feature wood carving done by yourself or if your skill level isn't to the point that you feel comfortable giving it away as gifts; there are numerous options and styles available through multiple online sources.
Keep reading to discover the top 11 personalized wooden gift ideas that are available for the perfect present for the person on your list! Weddings, birthdays, and Christmas just got a lot easier.
1. Metal and Wood Carved Turtle Wall Décor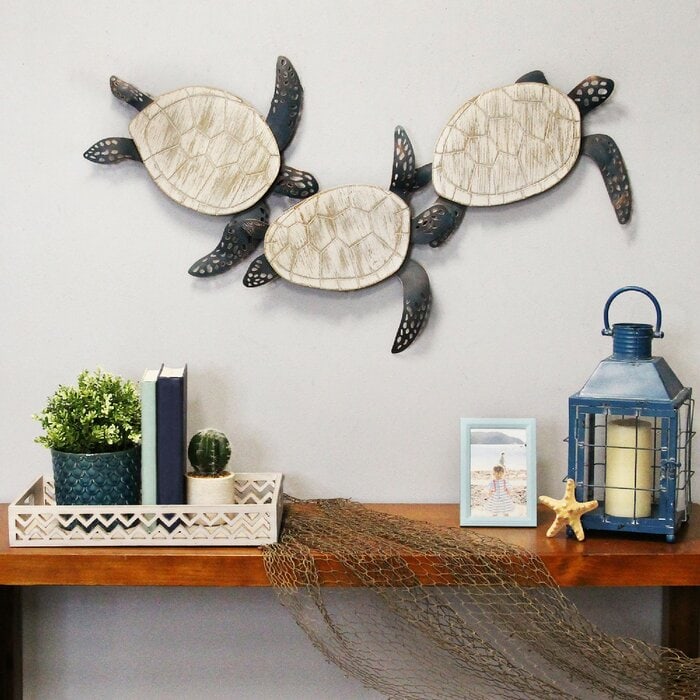 Available on Wayfair
Check out this metal and wood combo carved turtle decoration that features three turtles in tandem that once displayed, looks like they are making their way across your wall. With neutral coloring, this wall décor will match in with the current color scheme of any room within the residence and add a touch of whimsy to the walls.
2. Handmade Giraffe Eyeglass Holder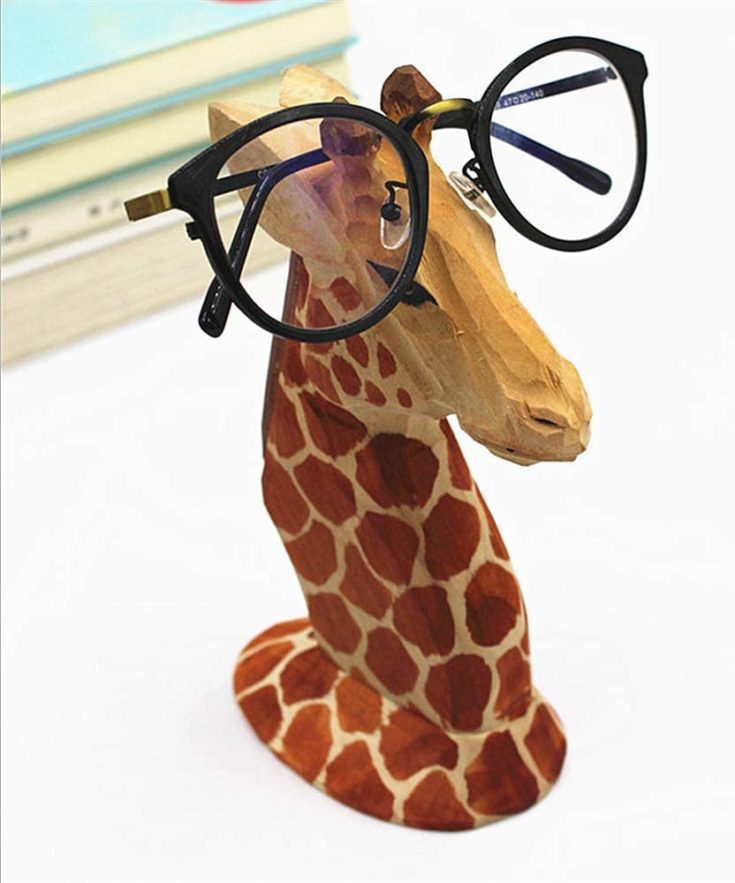 Check The Price
This completely handmade giraffe figurine has been carved from wood with skill. With its attention to fine detail and the lifelike strokes of the carving, the person receiving this gift will think they are placing their glasses on the head of a real giraffe. Personalize it by engraving their name into it!
3. Wood Carved Calligraphy Art Dip Pen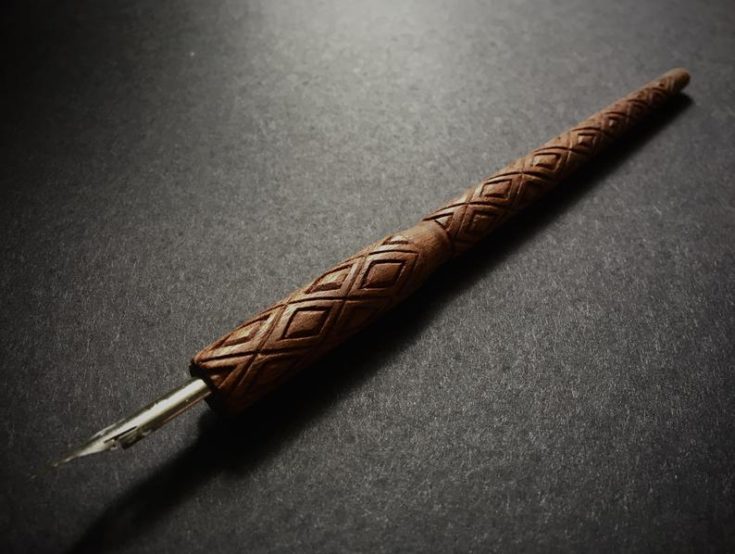 Available on Etsy
Calligraphy is an art form within itself and is practiced around the globe in various forms. The scrolling, looping handwriting is a joy to receive and even a bigger joy to watch in action. Combine your love of wooden carvings with the calligrapher's love of ink for a beautiful gift that can be used for years to come. This dip pen can be used with various types of ink meant for calligraphy and the carvings on the base of the pen provide the user with grips for stability and support during the delicate art of calligraphy writing. The inkwell can be changed if needed and will use most nibs of a fine point Zebra G calligraphy pen.
4. Three Piece Wood Carved Sculpture Set
Check Product
Then this three-piece wooden carved sculpture set should be on your short list for gift giving. With three circles of differing sizes and abstract patterns within the frame, this natural décor will suit any room of the home.
It also serves the dual purpose of a suncatcher, as the designs within the frame of the circle are hollow, allowing light to pour through and create breathtaking patterns on the walls that will move with the light.
5. Carved Wood Mortar and Pestle
Check The Price
Both eye-catching and practical, this fully functional carved wooden mortar and pestle set has carved ornamental designs that have been treated with a waterproof varnish for additional shine while bringing out the natural grains of the wood. This varnish treatment covering the entire mortar and pestle promotes longevity, making this the gift that will keep on giving in the kitchen.
6. Blessed Wood Carved Décor
View Product
With the word "blessed" carved in cursive writing for a touch for elegance, this wooden décor has a solid black background to allow the carved wood to truly pop for an eye-catching look. The natural colors and smaller size means this plaque can truly be hung anywhere in the home or if the person receiving it prefers – they can also attach a stand on the back to transform it into a stationary piece for their bedside table.
7. Hand Carved Pull-Up Toys
Get Yours Now
These hand-carved pull-up toys feature a classic Indian Chief, Mountain Climber, and Cowboy and the child simply has to pull the string to make them dance, change positions, and allow each figurine the chance to reach the top of the string. They are made exclusively in Germany and make the perfect small gift to accompany the big surprise. Caution is advised for children under three years of age due to the smaller parts involved in the construction.
8. Classic Wooden Music Box
Check The Price
This music box is not only handmade and carved with intricate detail, but it also features a beautiful inscription on the inside cover for a wife from their loving husband. To play the music, simply crank the handle on the side of the music box and let the notes take you back to the first moment you met the love of your life.
9. Personalized Wooden Carving of Your Favorite Photograph
Get Yours Now
The level of detail in these carvings are amazing, bringing a lifelike quality to the image. You are able to add inscriptions, sayings, or other words (up to 30 words on the front of the plaque and up to 120 words on the back). These carved wooden plaques are available in two different sizes so there is no chance of detail being lost due to a lack of room.
10. Personalized Name Tag Wooden Cutting Board
Check The Price
Offer a gift of a personalized cutting board that has been treated for longevity and is hand-carved with care to feature their name. Perfect for her or for men. This cutting board can be used for preparing meats, vegetables, and more or it can be used as a place to lay utensils during the grilling process.
11. Personalized Wood Grain Lake House Metal Sign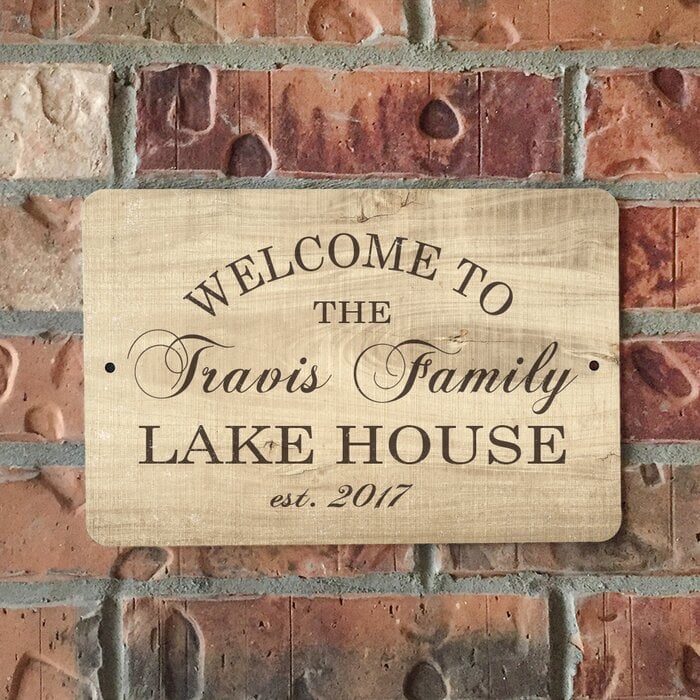 View Product
This plaque is a perfect gift when visiting the lake house of a friend or family member for the first time. It has a wood grain design that covers an aluminum backing which means it will not fade, split, swell, or warp in the hot sun over time. The glossy seal that covers the wood grain also offers another layer of protection and it has pre-drilled holes for an easy installation job.
Conclusion
Wood carving is a nontraditional spin on gifting artwork to those in your life and the type of gift that will make the receiver look on in awe that you picked something that means a lot to them. You are able to personalize your gift-giving selection with greater ease than picking something that has been mass-produced and available to anyone.
If you like this list of wood carving ideas or you have a wonderful design that is not included; please let us know in the comments! We want to hear from you and discover new wood carving gift ideas while sharing them with our community of emerging and experienced artists.
Please feel free to share this article to those on your friends list and also share with your family if you are wanting your own wood carving gift on the next special occasion! In the meantime, check out these wood craft gift ideas.