An avid fisherman knows that people aren't always going to believe his stories, and while it's probably a good thing that there was no recording device around when you described that 15' bass that ripped the pole right from your arms, there are moments that you probably want to relive.
That's exactly what an action camera like the GoPro is for. It's designed to capture those fast moments that you can't get with other tools. You can set the camera in place and watch your fishing escapades unfold just like the pros do. And it's not just live action – fisherman use GoPros for any activity where you need to film and use your hands such as fly tying and making lures.
After all, what better way is there to show off your fishing skill and to look back on old memories?
Unfortunately just getting the camera is not enough, unless you want to hold it all the time! You need some good mounts to lock it in place.
I've had my GoPro for over a year now, and below is a list of the mounts that I've come to love the most. You can never have too many mounts, and I find a use for each and every one of the items on this list. Which is why I'm able to capture such awesome videos.
While footage of that monster bass was conveniently lost (darn camera malfunctions!) I can look back on the time when my son pulled out his first trout, and fondly remember all those special memories fishing out on the boat.
Comparison Table
IMAGE
MODEL
FEATURES

GoPro Headstrap Mount and Quick Clip

Adjustable head strap

Compact, low-profile mounting

Hero6 black, Hero5 black, Hero5 compatibility

View Product

Yolotek Yo-Asv1 Aqua Stick

Power/charge your phone with USBx2

Two-sided phone holder

Made of aircraft grade aluminum

View Product

Glift Fishing Bow and Firearm GoPro Sportsman Mount

Mounts up to two cameras

Sturdy mount

Fits bow and fishing rod

View Product

Industrial-strength suction cup

Quick release

Broad range of motion and stability

View Product

Versatile camera-angle

Double handheld camera grip

Ideal for capturing hard-to-reach shots

View Product
What to Look for in a GoPro Fishing Mount
Durable: The mount should hold up to heavy use without snapping or breaking apart. After all, why would you buy something meant to hold up to these outdoor moments to just have it break within a month or so of having it?
Adjustable: To get the best fishing footage, the mount should be adjustable enough to allow you to aim your shots. You need to make sure it can swivel and go where you need it to go to capture all those unforgettable moments.
Secure: The mount needs to remain firmly in place during use, even under extreme circumstances. Check into what types of mounts are available to hold the camera while it is in use.
5 Best GoPro Accessories for Fishing
To get the most of your experience and get the perfect footage, you need something to help you achieve that, and that's where the GoPro accessories come in. These can pretty much give you the dynamic perspective missing on your shots.
Here are the best GoPro fishing mounts you should own!
1. Headstrap Mount Plus QuickClip by GoPro Official

When out fishing on the boat, one of the best views that you can get is from your head itself. That's why the GoPro Headstrap Mount makes sense. You'll be able to look back over what you saw while battling the fish and relieve that exciting moment.
The strap itself is very secure and offers a good reliable look out of your view. Not only that, but it is also extremely comfortable to wear for extended periods of time.
You can capture all the moments, and not have to just tell stories but show them off so you have some proof of what happened during your fishing trip.
Customer Feedback
Very comfortable strap
Barely notice you're wearing it
Great to use while hunting, or for any outdoor sport
Great results
Crystal clear quality
Durable
2. AquaStickPower Yo-Asv1 by Yolotek

For a nice hands-free recording experience. The Yolotek Yo-Asv1 Aqua Stick is a solid product. It connects right to the light port on any standard boat, giving you an extended camera that's sitting right up in the prime spot for recording all the action.
When you want footage of your line out in the water, of you pulling up the fish, or even just looking back on the waves that you broke over on a particularly gusty day, this mount works just fine.
It fits on a range of boat types and typically installs quite easily. You can watch all of the action unfold easily and effectively once you get this camera installed.
Customer Feedback
Sturdy stick
Provides the perfect angle
Perfect for mounting on back of any boat
Works great
Crystal clear quality
3. Fishing Rod Mount GoPro Sportsman by Glift

The Glift mount for GoPro is a powerful tool for the fisherman looking to capture special memories. It can be used to affix a camera to a boat downrigger, to attach it to a fishing pole itself or any other cylindrical object on the boat.
The recording possibilities are impressive, but I usually use it to affix the camera right to a railing on the boat for quality video capture each time I go out. It clamps firmly into place for smooth video footage.
Never worry about losing your camera in the water, or having to worry about the water getting into the device again with this awesome mount and clip. You're covered for all of your outdoor adventures that you can now document and share with everyone you know.
Customer Feedback
Fast shipping
Exactly as promised
Sturdy mount
Goes along well with other GoPro mounts
Holds the camera tightly in place
Modular to position in many ways
Durable and dependable
4. GoPro Suction Cup Mount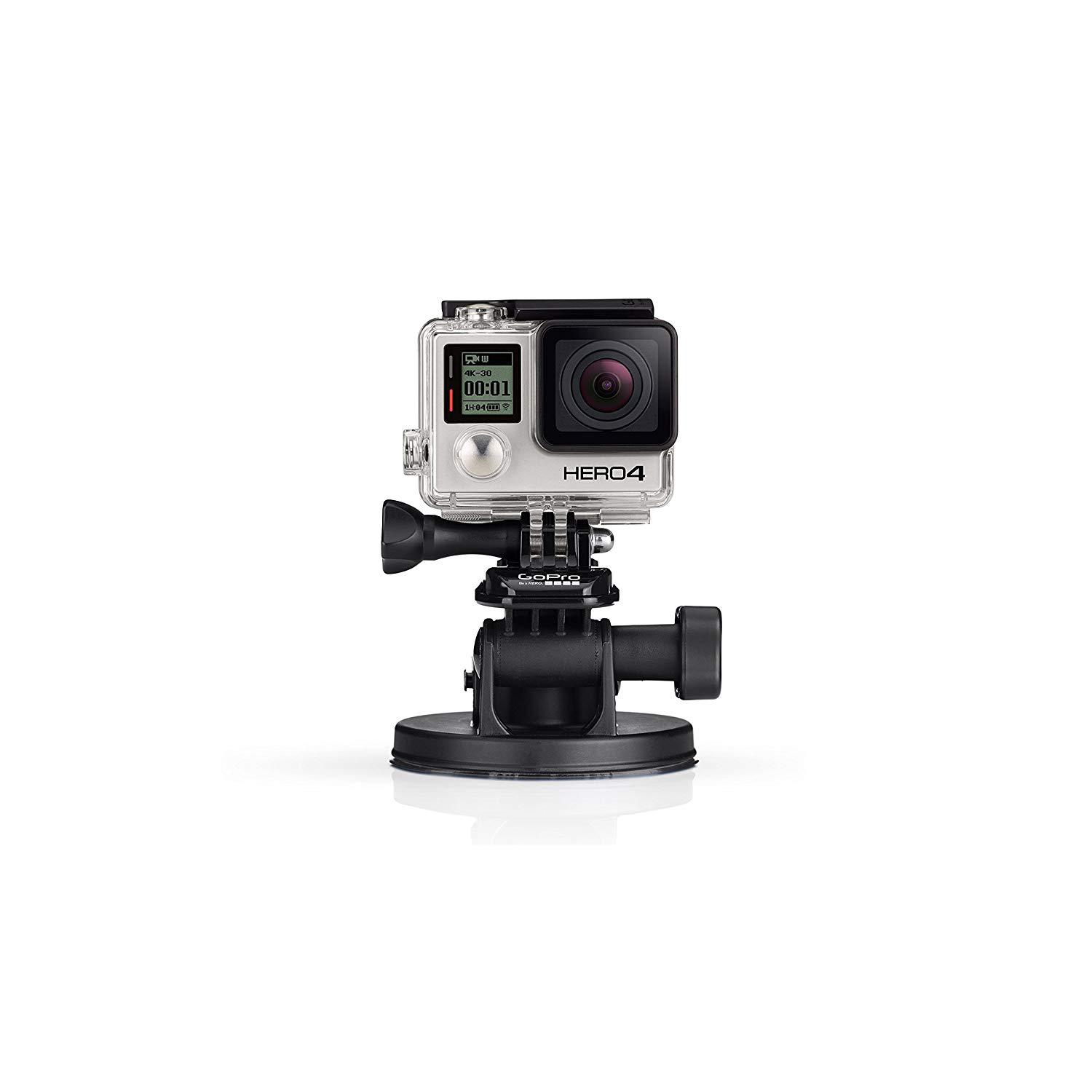 There's nothing better for mounting to the smooth surface of a speedboat or a kayak than the GoPro suction mount. I've used it on all my fishing boats, and even my ATV and truck to get good quality footage on the move.
You'll be sticking that camera all over the place, and creating beautiful memories of all your fishing trips with the mount. It's simple to use and really adheres well when the surface is smooth and clean.
Stick it on and you can be sure that nothing is left behind when it comes to the smooth pictures that you're going to get of your trip. Document it all.
Customer Feedback
Mounts well on any surface, even a vehicle
Great for in the snow, water or on dry land
Mount is durable and never moves
Works fantastic, even at high speeds
Captures everything
No worries, haven't lost it yet
5. GoPro Gooseneck – Flexible Camera Mount

The GoPro Gooseneck is a powerful little camera mount that allows you to position your GoPro behind you and elevated up above you. When used properly, you can catch a video of your casting, setting hooks and fighting monster fish.
It's simple to use and comparable to how you use your tripod. It offers a wide-angle view that is difficult to achieve with other mounts that are meant for use lower down.
Lock it into position on your boat, and give yourself just the view you've been looking for. It is definitely worth it to track all of the times that you have with ease, and without worrying about losing the camera in the water.
Customer Feedback
Works like a charm
Great for capturing underwater videos
Great views from every angle
Attaches easily to helmets or other surfaces
Lightweight
Durable and dependable