I was a little bit surprised to learn that what I've been calling "just a paper cutter" my whole life is actually called a guillotine paper cutter, lending a whole other, slightly nefarious and violent angle to the whole "I just want cut a bunch of paper!" plan.
But there you have it.  There are paper cutters out there so sharp and effective they are named after an archaic tool used to cut off people's heads.  I will never call it anything else because it sounds more bad a*@.
And honestly, who would have thought there was such variety in this industry? When I decided I needed to take my paper cutting to the next level, and scissors were no longer going to cut it (hah hah, I am so punny!) I started to shop around for the best guillotine cutter for my handmade bookmaking needs.
But there are so many! And that's why I decided to do the research for you and come up with my list of the Top 5 Guillotine Paper Cutters.  Read on, my friends!
Comparison Table
IMAGE
MODEL
FEATURES

Swingline Guillotine Paper Trimmer, ClassicCut Lite

Offers guillotine cutting

Feature 3

Cuts up to 10 sheets at once

View Product

Fiskars Recycled 12-Inch Bypass Trimmer

Great for heavy use

Cuts up to 10 sheets at once

Cuts 10 sheets of 20lb copy paper

View Product

Westcott TrimAir Titanium Wood Guillotine Paper Trimmer, 12"

12.25 L x 19.5 W x 4.5 H

Cuts 10 sheets of 20lb copy paper

Cuts 30 sheets of 20lb paper

View Product

Swingline Paper Trimmer, 18 Inch Guillotine Paper Cutter, 15 Sheet Capacity, ClassicCut Ingento

Non-slip rubber feet

Cuts 30 sheets of 20lb paper

Self-sharpening 18-inch steel blade

View Product

Tonic Studios 808 8-1/2-Inch Guillotine Paper Trimmer

Stainless steel blade

Self-sharpening 18-inch steel blade

Works well to trim photographs

View Product
What to Look for in Your Guillotine Paper Cutter
Sharpness: This might come off as fairly obvious, but what is most important to me, is that the cutter is sharp. I don't know how many times I've tried to use one of these things at my office and the dull blade just bends the paper or only cuts half way through. The worst is when it tears the paper and wrecks the whole stack. I want to make books, I want to make cards, I want to print my manifestos and zines!  If the blade is sharp enough, the paper shouldn't shift and move as it pushes the blade through the stack. And it should be able to cut at least 10 sheets.
Durability and Life: Another thing that is important to me is how durable the cutter is. I want a cutter with a bit of weight that isn't going to move around when I push down on the blade or lift up on one end. If it's wood, that's good and if it's plastic, it better not be cheap feeling. I also want a decent amount of life and use out of the blade without having to replace it. Because I have no idea how that works.
Ease of Use: You would think that all guillotine paper cutters have a graph template so that you can easily cut straight lines and measure out what you are cutting, but not so, dear reader! Many do not. And that is not okay.
Price: I don't want to spend a lot of money here. I'm looking for good value for the price and while I don't want a product too cheap that makes me think it's going to break in a week, I want to make a good investment on something that is going to last me years.
---
Swingline Guillotine Paper Trimmer, ClassicCut Lite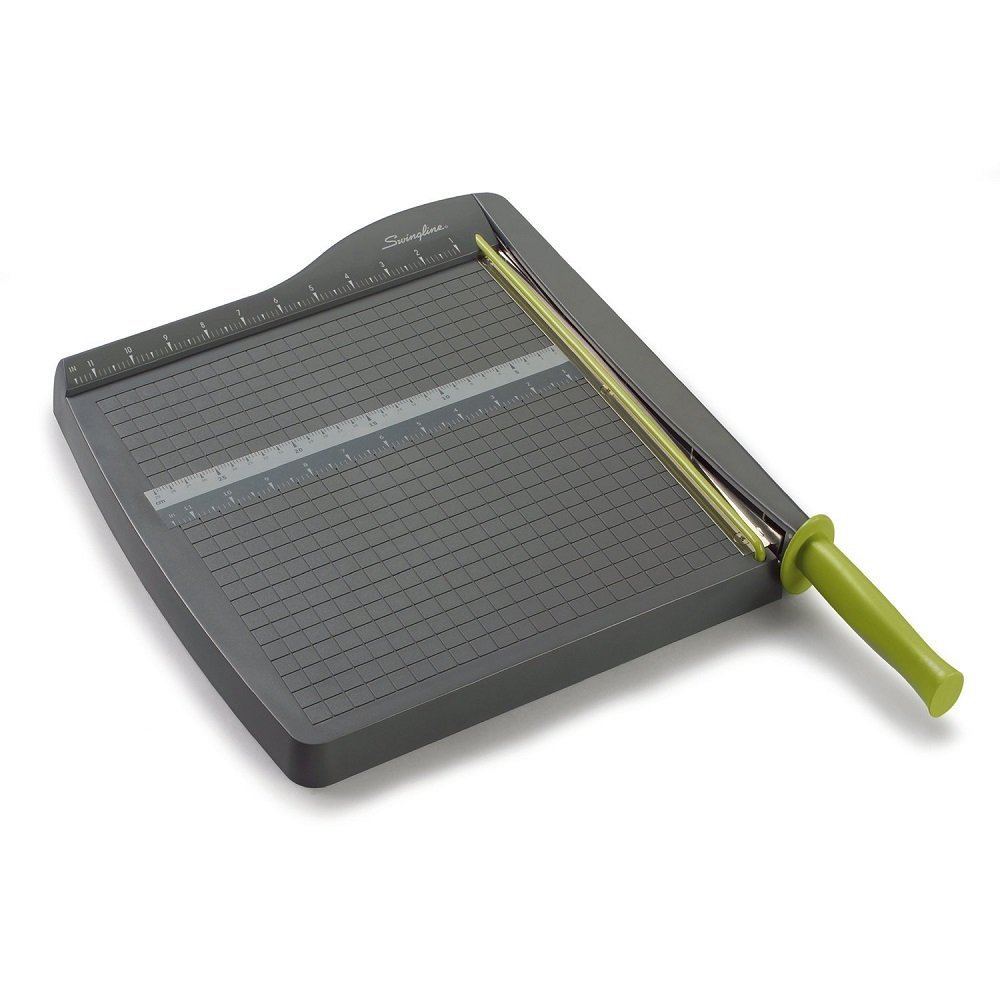 Don't let the plastic base of this guy throw you off, it is overwhelmingly everyone's first choice for guillotine paper cutter and there are plenty of reasons why.
The Swingline Guillotine Paper Trimmer, ClassicCut Lite plough through hundreds of sheets of cardstock without suffering a dull blade and despite its light weight, it stays in place when cutting.
The blade is very, very sharp so you'll need to take care but sharp is what you want if you are doing a large project like wedding invitations or scrapbooking.
It has a safety lock and protective guardrail just in case you have small hands around, but also is small enough for easy storage. This is the mid sized model out of the three different sizes Swingline makes and is a good size for the average every day job.
The ruler grid makes measuring and cutting in a straight line a breeze and you really cannot beat the price here for the amount of work it can do. It boasts a ten-sheet capacity but it can do more depending on the thickness of the paper. Exceeds all expectations.
Customer Reviews
Just about as good of a paper cutter as you can find
Classic, simple design makes it easy to cut a lot of paper – a lot of times
Lightweight, easy to maneuver and work with a smaller space
Cutter does not make paper move, which can happen with lower quality trimmers
Makes clean, precise cuts every time, no issues with performance
Well constructed, guides are easy to follow in order to cut right measurements
Blade is heavy, stays sharp and effective even after a lot of use
One of the best products for the money, in reviewer's opinion
Very efficient – saves hours when cutting a lot of things at once (coupons, cardstock, etc.)
Check The Price
---
Fiskars Recycled 12-Inch Bypass Trimmer
Recycled you say? You mean I can slice to my heart's content while making a sustainable and environmentally conscious decision? Why yes. Yes you can.  The Fiskars Recycled 12-Inch Bypass Trimmer is made from 100% recycled postconsumer resin, which is fabulous but honestly what really sold me on this one is that it has a self-sharpening blade.
That's right, you will NEVER need to replace the blade on this cutter, which means you are getting great value from a cutter that is already marked at a great price. It can handle about ten sheets at once of regular paper and slices through several sheets of cardstock with ease.
It also has the safety lock which makes for easy transport and this cutter also has a built in side handle.  It's light and easy to take from room to room, but due to its rubber feet and durability, it doesn't slip and move when cutting.
It also has the all important grid markings for measurement and a cutting length of 12" meaning it can handle a variety of sizes of paper.
Customer Reviews
Smooth cuts that don't vary from paper to paper
Works better than expected, performs well with many types of paper
Easy to store while not using, works great and doesn't take much room when being used
Great for classrooms or workplaces where you need to cut a lot of materials
Check The Price
---
Westcott TrimAir Titanium Wood Guillotine Paper Trimmer, 12″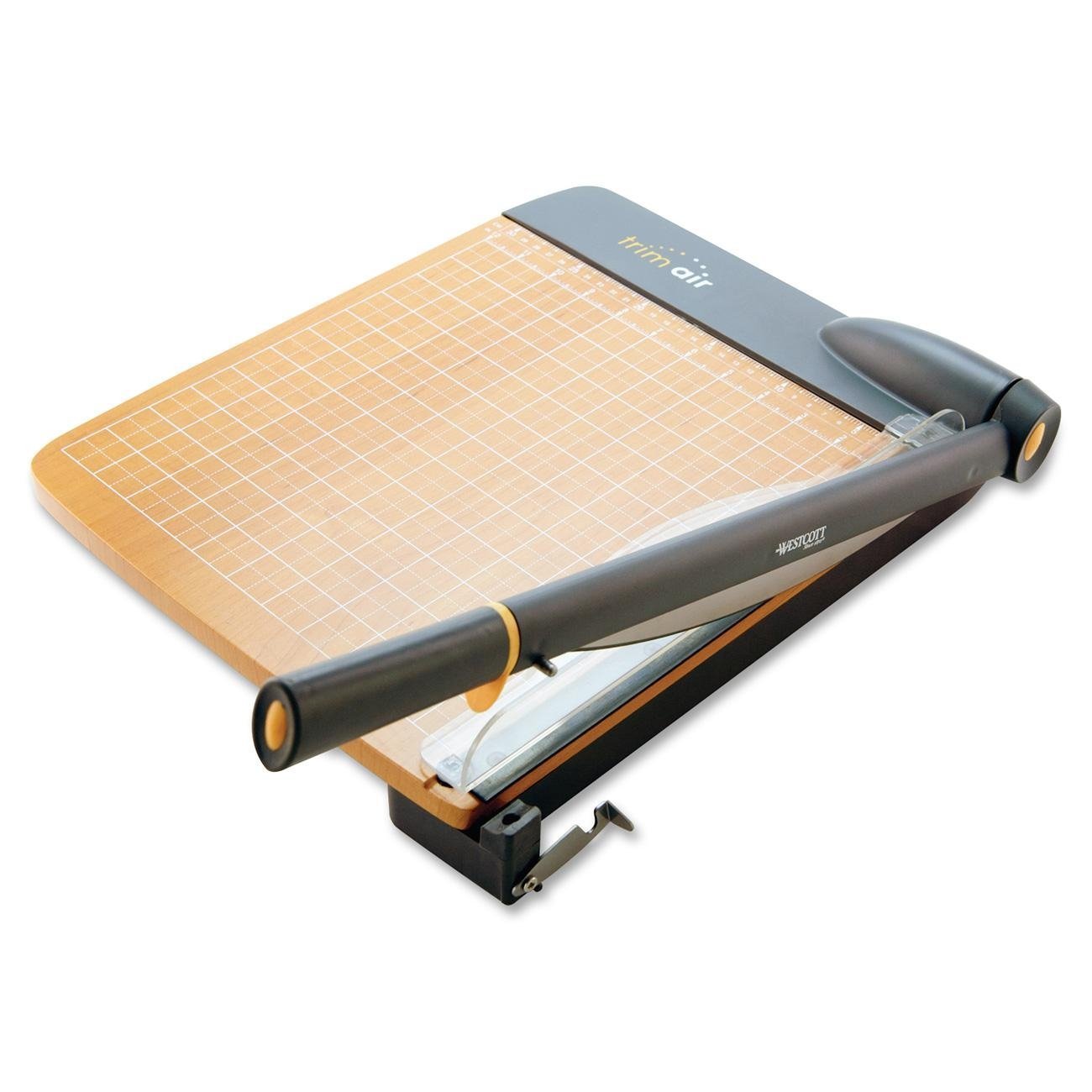 Moving towards something a little more heavy duty, the Westcott TrimAir Titanium Wood Guillotine Paper Trimmer will get you all excited to cut your coupons and photos and whatnot.
This dude is made of wood so you know he means serious business and because of this he comes in at over double the weight of the previous models at 7 pounds.  But no worries, because he is still compact and storable, at a convenient cutter length of 15 inches.
Made with titanium bonded blades, you should be able to get a lot of life out of this cutter, and it has a 30 sheet capacity depending on the weight of the paper, so it would be great for either office or home.
A plastic guard guides the paper and protects your fingers from accidents and a nice rubber grip handle making for clean, quick and easy cuts. Very easy to create smooth, straight lines in whatever you are cutting. A great choice from another great company!
Customer Reviews
Cuts are precise, easy to ensure accuracy
Use for labels, papers, cards and more – works great
For daily use, doesn't wear out or get rough cuts
Light, safe and easy to use – can't ask for more than that
Love the safety features that makes it hard to cut yourself
Check The Price
---
Swingline Paper Trimmer, 18 Inch Guillotine Paper Cutter, 15 Sheet Capacity, ClassicCut Ingento
Moving to a higher priced guillotine cutter from the previously mentioned Swingline company, I now present to you: The Cadillac of Guillotine Paper Cutters. Look at it.
You know you want it.
The Swingline ClassicCut Ingento is made with solid maple and beautiful in every way, you'll want to use this as a cheese board or to present all your fancy charcuterie when the guys are over. For reals.
All the bells and whistles of the previous models, including finger guard, alignment grid and latch hook; this may be the only paper cutter you will ever need.
Suitable for bigger projects with an 18 inch self-sharpening blade, this guillotine paper cutter is just under 8 pounds in weight, making it stable for whatever you are cutting, but can also do small, lightweight jobs like tissue paper. Super precise and worth the extra cost.
A feature which makes this a bit different than the other cutters is that the ruler is above the cutting surface, meaning that you can see the measurements clearly without covering them with the paper, which is kind of handy depending on your project. It also still has the grid, so you can also align your paper this way.
This model pretty much has everything you are going to need.  Reminiscent of school cutters you grew up in in terms of strength and durability, it does it all.
Customer Reviews
Extremely sturdy and well-designed guillotine cutter
More substantial than most cutters on the market
Heavy duty, cuts a lot at once and doesn't dull the blade
Sharp cuts even when cutting thicker stacks
Appears to be designed to work for years, not just in the short-term
Check The Price
---
Tonic Studios 808 8-1/2-Inch Guillotine Paper Trimmer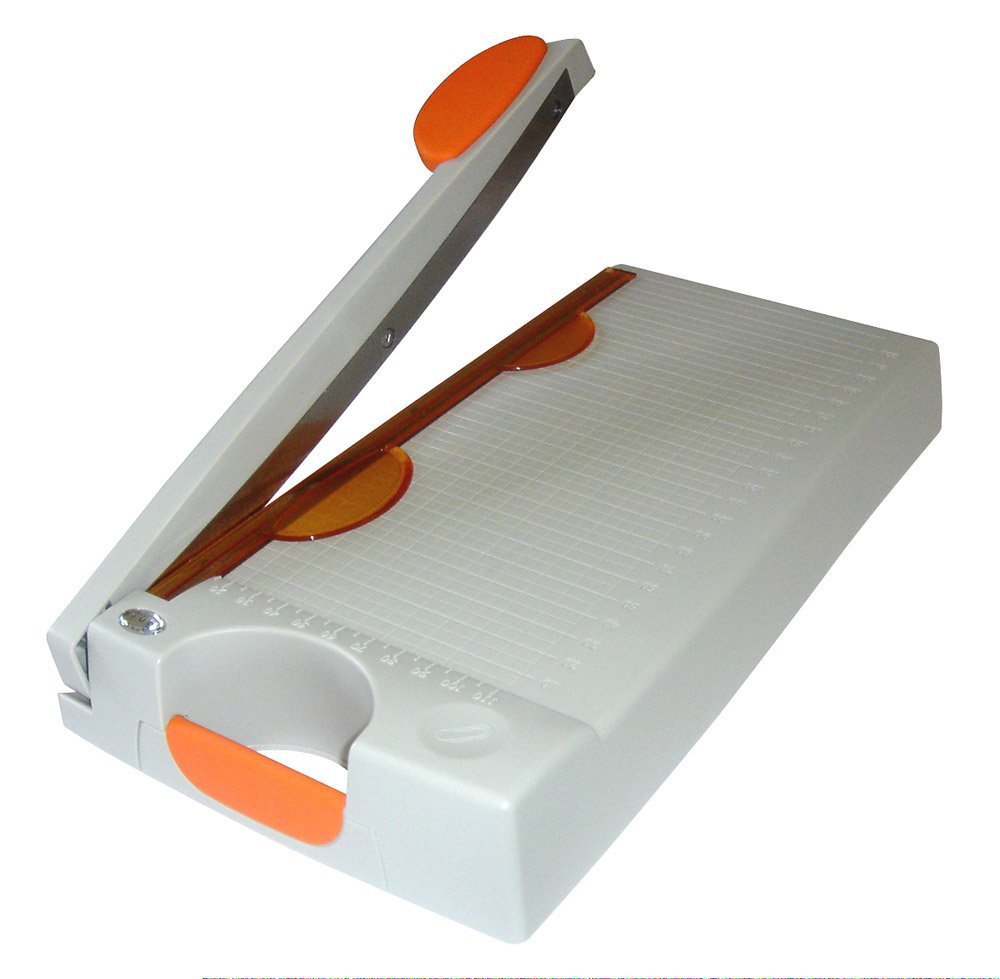 Moving towards the opposite end of the scale in terms of size and price point, I've decided to include something completely different but equally useful! Cheap and cheerful, the Tonic Studios 808 8-1/2-Inch Guillotine Paper Trimmer is great for small jobs like cutting photos and stores away easy.
But don't let the small size fool you.  Although the blade is only 8.5 inches, it's made with durable stainless steel and is still strong.  It can cut cardstock with ease and still has the handy grid like the big guys.
Only 1 pound with a carrying handle, you can throw this in a cupboard or drawer when you aren't using it or store it on your desk on it's side and it's not going to take up a pile of room.
Never making a ragged edge, it's sharp and easy to use. Great for photos, card making, and all other small home based crafts. Don't miss this one!
Customer Reviews
Excellent performance every time, no issues with bad cuts
Bought after a card-making class used it, no complaints
Ideal for cutting smaller sized papers and materials
Light, easy to transport to other settings if needed
Check The Price
---
Do you recommend a guillotine style paper trimmer that we didn't cover?
Let us know in the comments below!