Creating your own crafts and gifts are not just a great way to stay within a creative budget, but also allows you to display and give unique, personalized products. Many people avoid DIY suggestions because they feel it is much too difficult, or they are not very artistic. However, there are MANY ways to become a crafter, and decoupage is one of the simplest for all beginners of all ages to take advantage of.
If you are now wondering what decoupage is, you probably aren't alone. It may have a fancy name, but is an easy technique that allows you to transfer images to various mediums to create or add to existing products. Wondering how to decoupage? This article answers all your questions and provides a simple tutorial for you to see how it works.
What is Découpage?
Decoupage is the craft of affixing paper and paper-like products to another surface. This is a way to design and create permanent images using a special glue that allows your product to last. It is very popular to put pictures on wood or other sturdy surfaces, decorate frames, make unique jewelry and other household items more personalized, or even upcycle furniture.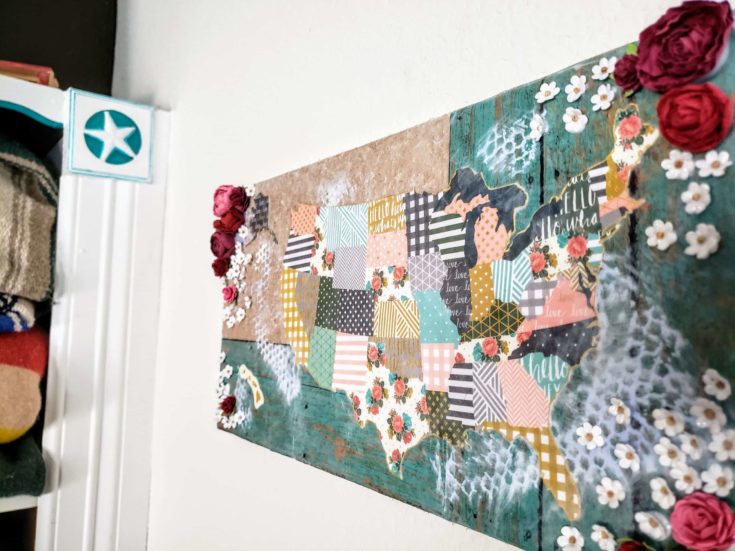 What Can You Decorate with Découpage?
You can decorate just about any surface with decoupage. Wood, plastic, metal, and glass are all popular options and include things like frames, canvas, old windows, wooden furniture, ceramic, old plates and bowls, lampshades, and vases. Honestly, the options are just about endless.
Do You Need a Special Paper for Découpage?
If you are wondering what the best paper for decoupage is, look no further. Just like there are many options to place your craft upon, you can use a wide array of paper-like products. Tissue paper, decorative napkins, magazine images, newspaper, and other thin papers are best for smaller surfaces as they absorb the glue and will shape to your surface without bubbles and wrinkles.
But if you are working with a relatively flat surface, you can take advantage of all sorts of images. Photographs, paper flowers, printer paper, cardstock, book paper, wallpaper, wrapping paper, etc are all great choices to consider and can help create layers and depth to your creation.
What is the Best Decoupage Medium?
Decoupage medium is different from other glues in that it acts as an all-in-one glue, sealer, and finisher. It does work best on porous surfaces, but can be used with metal and glass as well. You just need to make sure you prep your surface for good adhesion. It dries clear, can be layered, and once cured can even be sanded to create a shiny, smooth surface.
Even though a basic school glue can be used for this technique, there are specialized options now available to provide you the ease of use, and even different finishes to complete your desired look. There are even weatherproof options to help protect crafts that you may want to place outdoors! Mod Podge and DecoArt Decoupage are both popular options.
What Tools Do I Need for Decoupage?
To get started making these artworks, you'll want a few basic supplies. Depending on what you are working with and how you want to finish it off, you may need a few more optional choices. To create my tutorial I decided to make a basic picture layering both paper and paint stencil techniques to show how you can get different effects. If you want to practice this by creating a simple picture, follow these instructions. Otherwise, use the steps to design your own creations!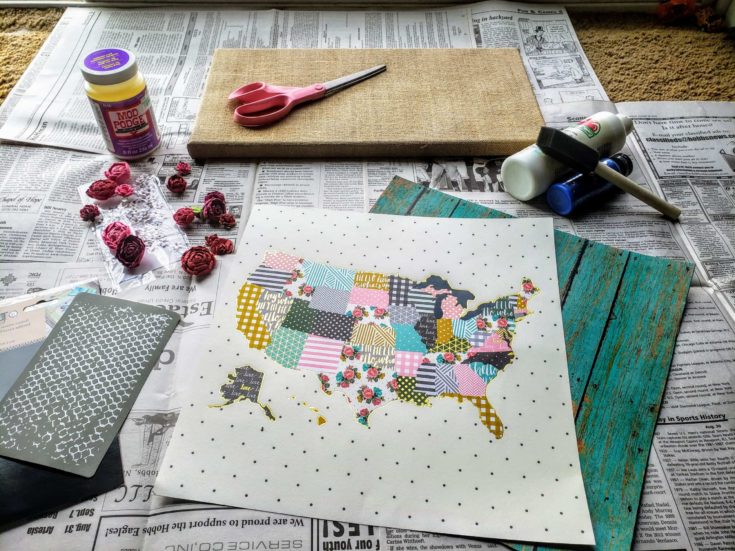 Paint Canvas
I used a burlap canvas because I liked the texture and color as a background for my vision. You can use any sort of canvas for this, or use another medium to place your images on. If you use a smooth surface, such as metal or glass, be sure to sand it gently to provide a good surface for the glue to stick to.
Scrapbook Paper
I love the many variations of scrapbook paper that are available. Everything from large images to small patterns and colorful variations exist that allows you to cut shapes out of use. It is a thicker option that won't shape as well over a curved surface however.
Mod Podge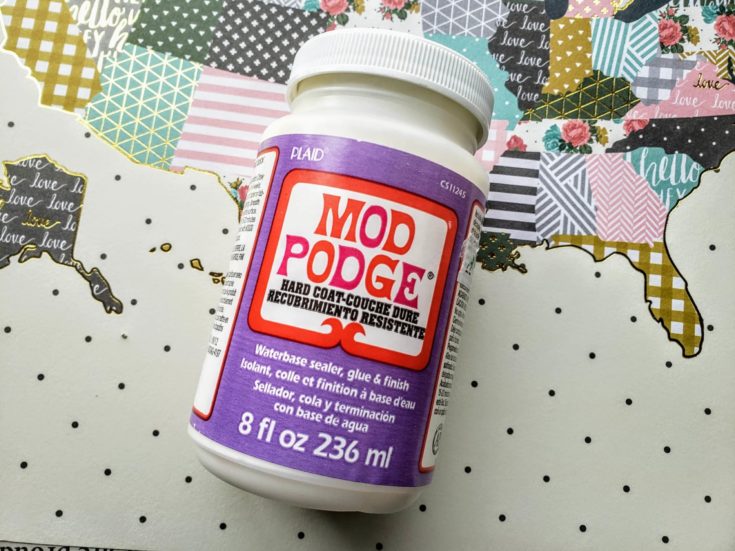 I'm a huge fan of Mod Podge because of how many options the company provides. Matte, gloss, hard, outdoor, and even sparkle are offered for your use! I chose the hard type because I was using a highly porous surface, and also wanted the option to sand and shine it to a high gloss.
Foam Brush
A foam brush, rather than a traditional paintbrush, is much easier to apply decoupage medium. It allows you to cover a larger area much more quickly, and also soaks up the glue to easier transfer.
Scissors
No matter what type of paper you are working with, you are going to want to make clean cuts.
Stencil/Paint
I decided to add some stenciling techniques for added interest.
Decorative Embellishments
I love my crafts to have a 3D effect, and when I saw packets of paper flowers in the craft store, I had to grab a few. They are easy to attach to your finished product using the decoupage glue as well.
Optional:
Fine Sandpaper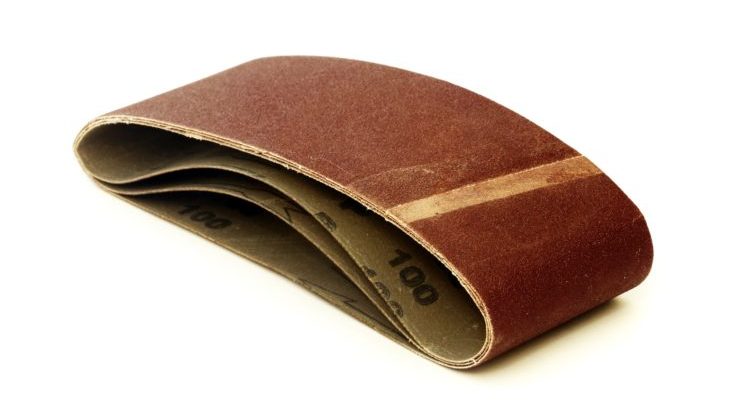 If you are working with a smooth surface, you will need sandpaper to score it. Also, once decoupage glue has hardened and cured, it can be wet sanded for a smooth, glossy finish. You can wet sand earlier, but I suggest waiting if you want the best results.
Framing Materials
If you choose to frame your picture, be sure to have the supplies on hand!
Paint Pens
Paint pens can be used to help define images or make your picture pop a bit more. It also can be layered under more glue if you want.
How To Decoupage
The following simple project highlights the use of decoupage glue and what types of things you can use the technique to create your own personalized crafts. I am still on the wire about whether to add a DIY frame to my creation, but while I wait for it to cure over the next few weeks I can definitely consider anything I want to add!
Step 1: Lay Out Your Design
Once you begin to consider what images you have, first lay them out in various ways before committing to the final idea. Once you begin to glue images down, you won't have a lot of 'wiggle' room to make corrections. And if you see a new idea or pattern, or decide one image would look better in another spot, you might not have enough time to fix it. This is especially true if you place Hawaii upside down (don't worry, I fixed it)!
Step 2: Paint the Back of Your Image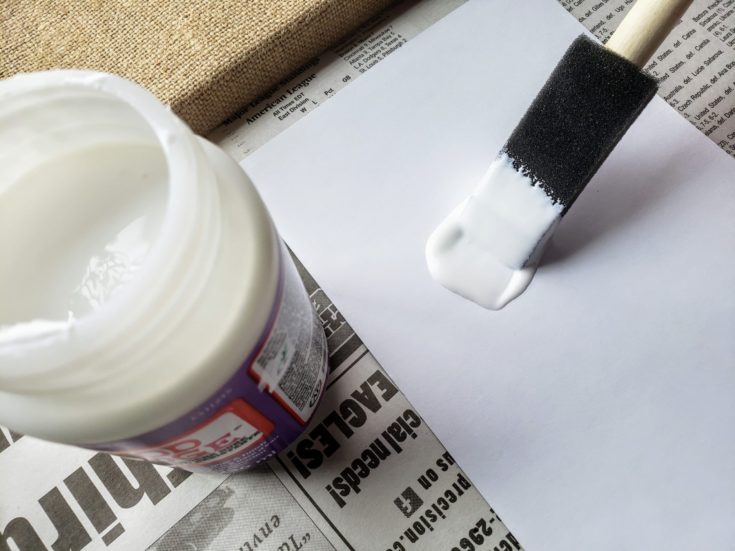 You can always 'paint' the surface you are placing your images down on as well, but I find that painting the back of your images is more effective. Painting the back of your paper ensures you get glue all the way to the edges of small areas and corners. This is especially true if you are using a very porous surface to help avoid bubbles getting under the paper as well.
Step 3: Place Image, and Paint Over It
Take care in how you place your paper and get it as close to perfect as possible. If you find that you need to move it, be sure to do so immediately, and take your time lifting it to avoid any tears. Once you paint your image it begins to soak in the glue and weakens its structure.
After you have it in place you need to begin painting glue over it. Don't put it on too thickly as layering is part of the process, but you should have a good layer over the entirety of the image.
Step 4: Continue to Layer Images
Although you can lay down images over each other when the glue is still tacky, you want to avoid trying to layer glue until it has a semi-dry surface – otherwise you might end up with bubbles. If you do see a bubble, take a needle and put a hole through it. Then smooth it out with your finger.
The glue will leave a white residue over the images that turns clear as it dries. You can even use the brush to create brush strokes if that is a look you might like.
Step 5: Layer Glue and Allow to Dry
Once all your images are in place, you will want to top the entire picture with 3 to 5 layers of glue, waiting approximately 20 minutes between each layer. Technically, you can wet sand each layer gently if you know it is dried, and if you want a smooth, high gloss finish.
Step 6: Add Embellishments
If you plan on adding any embellishments, such as paper flowers, beads, ribbon, lace, etc, do so after wet sanding the surface if you choose this technique. Otherwise, you can do it while the glue is still tacky. Use a generous dollop of the glue to stick your choices to the picture.
Step 7: Enjoy!
Once you finish and have allowed your creation to cure you can enjoy it! I'm still considering adding to my picture, but the decoupage is complete! I can't wait to complete another project where I plan on putting a map onto wood!
Sample Decoupage Projects to Try
Wondering how do you decoupage other, more challenging items? And can you decoupage on more challenging products? These ideas showcase artistic ways to use paper over a wide array of options. You can even add to existing paintings using this technique.
1. Decorative Lampshades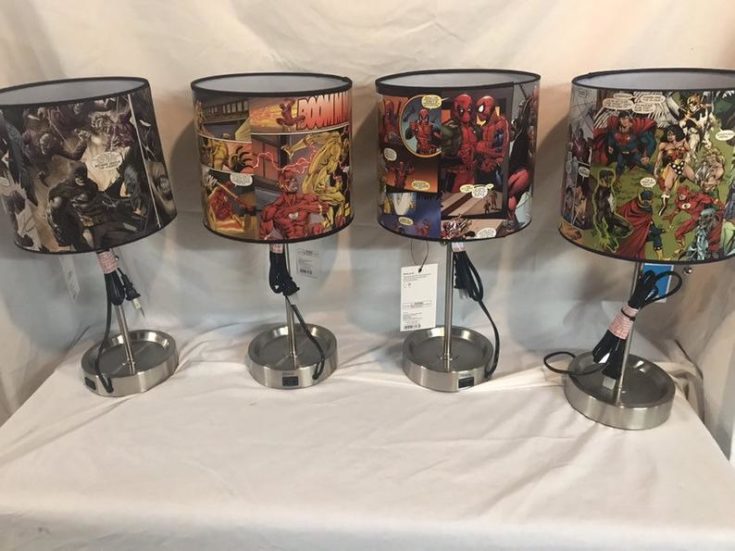 Personalize your nightstand and other surfaces throughout your home with decorative lampshades that you design to match your decor. Lampshades provide the perfect surface to decoupage, and illuminates your choices of images.
2. Flower Pots
Personalize your flower pots to match your flowers using this technique. You can even cut out the letters of the plants you plan on putting in each pot. This is a great way to label your herbs and small veggies as well!
3. Home Decor
Decoupage is a home decor solution that allows you to do a wide variety of DIY projects. Inexpensive serving trays, pallet wood, and other home products can be upgraded or even created when you use this artistic option.
4. High Fashion
Upgrade your existing clothing accessories with decoupage! Wedge shoes are a popular canvas to take advantage of. The surface is perfect for adding a decorative touch too, and if you use a hard or outdoor glue type it will last a long time.
5. Flower Vases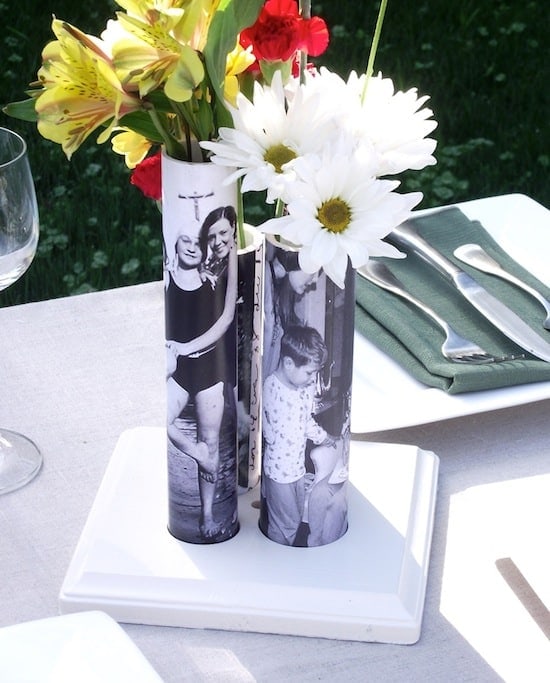 If you have a plethora of flower vases, turn them into something a bit more decorative. These make excellent gifts as well, and are a great way to upcycle a used product. They also are easily found in second-hand stores and make a fun option for children to craft with.
6. Antique Items
Find a great item at a flea market or antique show, but now that you have it home you don't know what to do with it? Owning it and making it something that matches your decor is a very real possibility when you permanently grow your own images to it.
7. Mailbox Art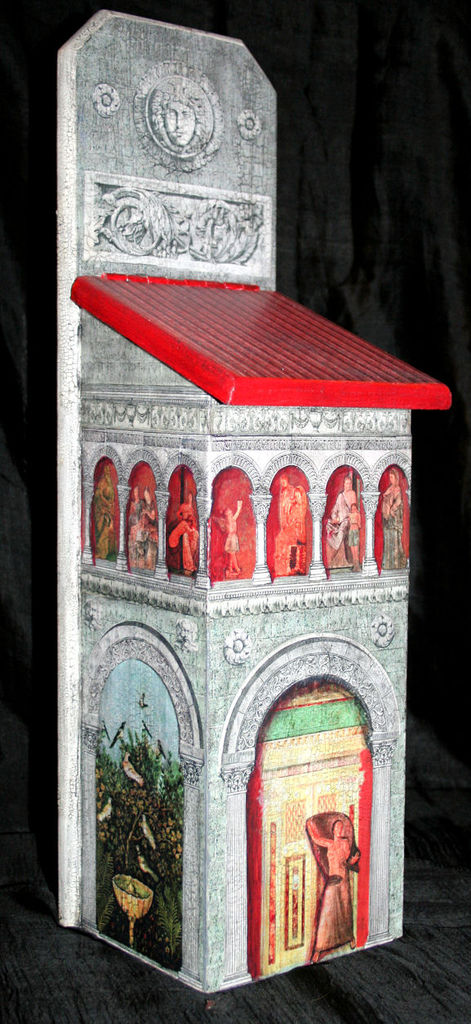 Have the best-looking mailbox in the neighborhood with some good outdoor glue. Or, upgrade used mailboxes into a backyard garden addition and your favorite images. Mailboxes are a great way to display silk flowers, paperback books, and other small home treasures as well.
8. Ornamental Pumpkins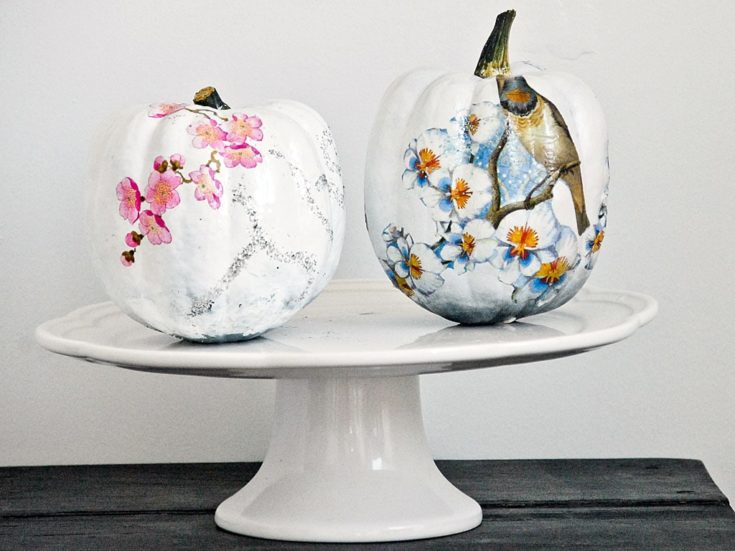 Decorate your home each autumn with a display of pumpkins you have personalized yourself to match your decor. Inexpensive pumpkin forms from various craft stores are often on sale as the seasons progress, allowing you to buy them up in bulk. Take your choice of various sizes to decorate as you will.
9. Nightlight Jars
This is a great way to add to your list of crafts you can do with kids. Jars are easy to decoupage with popular characters and favorite colors. Simply add some fairy lights or a battery-operated candle to the inside of the jar to light up the night.
10. Shelving Decor
Wondering how to decoupage wood? Upgrade your shelves by decorating their surfaces with book pages, nature cut-outs, and other decorative paper options. Florals, old newspaper clippings, and similar thematic choices are a great way to add to your shelving.
11. Decorative Dishes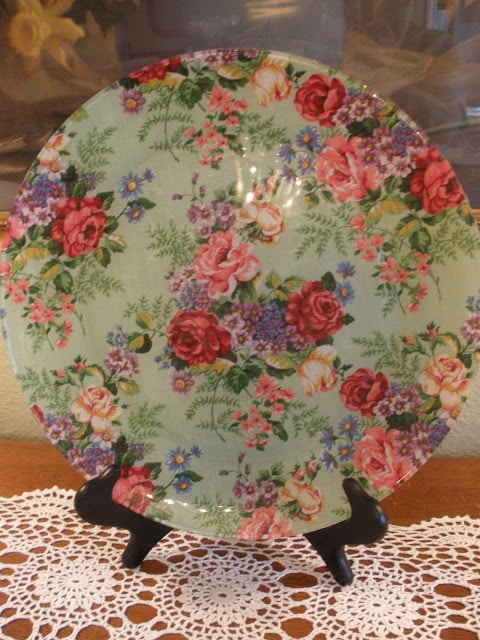 Search for cheap dishes at a local second-hand store and turn it into your very own decorative plate using simple decoupage artistry. Although they will no longer be able to be used for food, they serve as a beautiful addition to collections.
Conclusion
No matter whether you are familiar with this technique, or have been searching for how to decoupage photos and other images, hopefully, this article has provided helpful info about which decoupage medium and paper is best for the process. Your questions about how to make decoupage should be answered, and we would love to see what projects you have created! As always, please share!