Mat cutters are useful for the artist, craft guru, business owner, and student alike. Whether you're fitting artwork for framing or cutting strips of paper for crafts, a good mat cutter can be really beneficial for your art studio or office.
Note the word "good" though; you definitely don't want to spend your hard-earned cash on a flimsy mat cutter that breaks after a couple uses. Mat cutters are very expensive, so you want to make sure you invest in something durable and worth the investment!
You're going to see mostly products from Logan on this list, and that is because this brand is simply the best for mat cutters. They've got quality products ranging from high-end to cheap, from desktop to handheld.
Are you ready to see some handy dandy products? Read on to check out our list of the 4 best mat cutters for all of your paper cutting needs!
Comparison Table
IMAGE
MODEL
FEATURES

Logan Compact Classic Mat Cutter

Bevel cutting head

Open ended machine

Includes 1 cutting board

View Product

Logan Elite 450-1 Artist Mat Cutter

Fully Adjustable

Includes Five Extra Blades

Equipped with Parallel Mat Guide

View Product

Logan Graphic Products Pull Style Hand Held Mat Cutters

Uses Logan 270 blade

Includes a marker bar

Features an ergonomic knob

View Product
What to Look for in Your Mat Cutters
Professional vs. Hobby: Do you own an art studio or run a framing department? If you do, you're going to want to spend the money on a mat cutter that is professional grade. If you're a hobby crafter, a solo artist, an art student, or someone who works in an office, you don't need to shell out the funds for a mat cutter designed for hardcore artists. Luckily, this list includes some great budget mat cutters that work beautifully and precisely.
Size: Do you need to cut small paper frames or bezels? Do you need to cut small strips of papers for children's crafts, decoupage, or collages? A handheld mat cutter will do the trip for you. No need to go nuts with a desktop mat cutter that will take up all the space on your desk. Do you need to cut large-scale paintings or huge posters? A handheld mat cutter isn't going to "cut" it. Hahaha. Sorry.
Price: The cold hard truth about mat cutters is that any product even worth buying is going to be pricey. Sucks, huh? However, since mat cutters can be used for so many things outside of the crafting world, investing in one can be a wise choice. Once you get one, you won't understand how you spent every Christmas cutting 10,000 sheets of wrapping paper with flimsy blister-causing scissors.
4 Best Mat Cutter for Home Use
1. Logan Compact Classic Mat Cutter – Best Overall Mat Cutter
It's no surprise that Logan has hit the top of this list with their Compact Classic Mat Cutter as the best overall mat cutter on this list.
Designed for large-capacity precision cutting, this mat cutter can cut the big stuff and still manages to be compact and small enough to not take over your entire work area. Ideal for framers or poster-makers, this mat cutter can handle up to 32 inches (2.5 feet) of cutting capacity.
This cutter can handle anything from wrapping paper to thick mat board. You get a cutting board, mat guide, straight cut knife, and bevel cutter in this neat little package.
Of course, as stated previously, it ain't cheap. But if you're starting up your own framing business or need a mat cutter for daily use, the Logan Compact Classic Mat Cutter is worth the investment and has the durability to back it up.
Customer Feedback
A professional quality cutter that delivers consistent performance
Great for standard size photos and custom shapes and sizes
Ideal for art prints that have irregular lengths
Feels safe and secure while using, easy to get the hang of
Portable and great for moving around the house as needed
Check The Price
2. Lyfstyle SafeCut Professional Rotary Paper Cutter and Trimmer – Best Budget Mat Cutter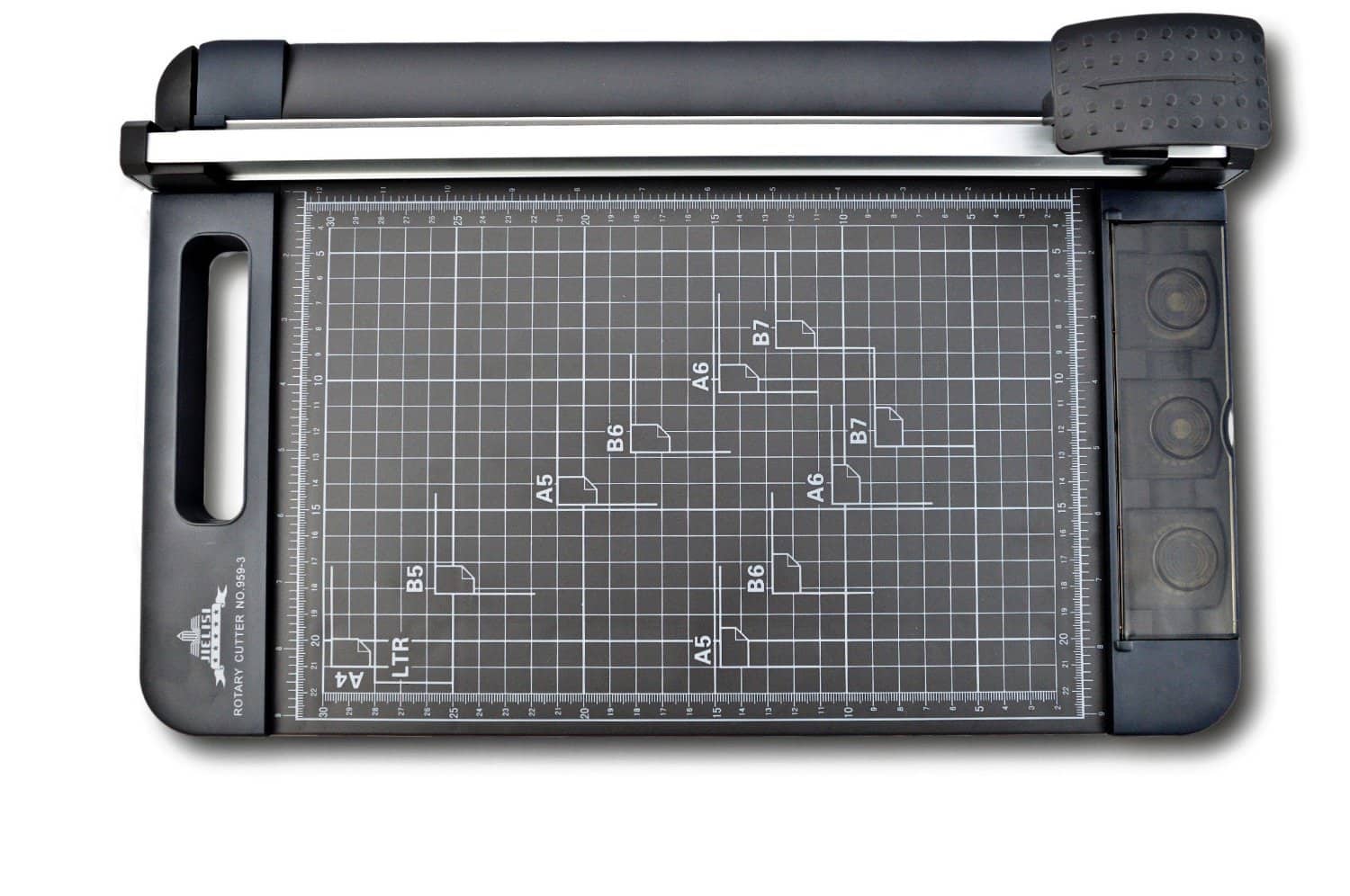 At half the price of the Logan Compact Classic Mat Cutter, the Lyfstyle SafeCut Professional Rotary Paper Cutter and Trimmer is a fantastic, cheaper alternative.
You get three blade styles with this mat cutter– straight, wavy, and perforated. You can do a lot with this. Use this mat cutter for scrapbooks, collages, family photos, and more.
This mat cutter would be great for an office. It can handle cutting several sheets at one time. That means saving you valuable time for looking at cat videos all day. (Lyfstyle and this writer are not liable for any readers who get fired from their office job for watching cat videos all day.)
The rail-mounted blade isn't shaky, either, which makes for a straight cut every time.
This mat cutter is considerably smaller than the previous one at only 12 inches. If you need something bigger, investing in the previous cutter may be more up your alley.
Customer Feedback
Great to use for beginners and intermediate artists
Easy to use different blades for different types of cuts
Ideal for making mats, cards and other cardstock projects
Doesn't take long to learn the cutting technique
Great construction and build for the price
Check The Price
3. Logan Elite 450-1 Artist Mat Cutter – Best Mat Cutter for Artists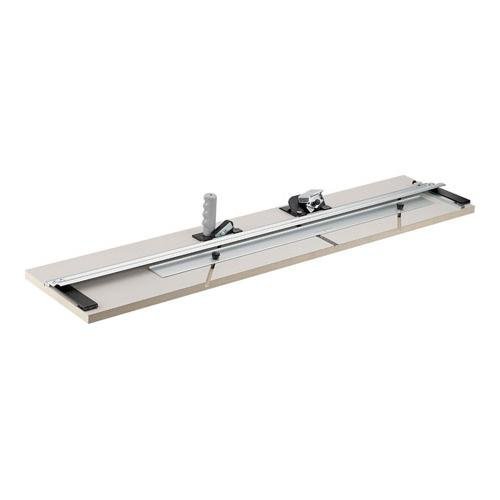 Logan steals the show with their Elite 450-1 Artist Mat Cutter reigning as the best mat cutter for artists.
This mat cutter is the biggest boy on the list with a 40 inch (3.3 feet) cutting capacity that is great for larger projects.
You can easily glide over mats with the featured straight cutter and pull style bevel cutter. This product also features a parallel mat guide, hinging guide rail, scaled measuring bar, and production stops for precision. Cut corners easily with this mat cutter.
With a little practice and good aim, you can cut multiple openings in a mat board with this product.
It is important to note that this device works better with thick mat boards than paper. If your work consists of mostly thin paper, try sticking some mat board under it when using this cutter.
You get a nifty little info DVD and five extra replacement blades as well.
Customer Feedback
Overdelivers in performance and capability
Easy to find video tutorials to make advanced cuts and projects
Incredibly easy to use and gets easier with time and practice
Helpful rulers make it easy to mark and measure where you need to cut
Create professional-level mats for photos
Check The Price
4. Logan Graphic Products Pull Style Hand Held Mat Cutters – Best Handheld Mat Cutter
Logan concludes our list with the best handheld mat cutter for all your little cutting needs. Crafts, scrapbooking, small bevels, little mat frames, and collaging are simpler and quicker than ever to cut with this device. What's not to love about something that works great, is durable, and also pretty cheap?
The Logan 4000 Deluxe Hand Held Bevel Mat Cutter is boasted as one of the most advanced handheld mat cutters on the market.
This product includes a marker bar system for quick and easy marking. The pivot and pull blade and the ergonomic handle makes for simple, easy use.
Try this handheld mat cutter for foamboard, craft paper, small photos, and small mats. This cutter is the best for the beginner framer or the crafter. This product is compact, comfortable to use, and overall very "handy."
Customer Feedback
Great quality and performance for such a reasonable price
Very functional, easy to use and practical cutting machine
Easy to mark mats and measure/cut them correctly
Very precise cuts and guides that make for professional mats
Straight, clean cuts over time, the blade lasts for a lot of use
Pound-for-pound one of the best mat cutters on the market
Works just as described, perfect cuts and solid T-square
Easy to change blades as needed, maintenance is low
Check The Price
Do you recommend a good mat cutter that works well for your projects at home?
Let us know! If you're looking for other DIY projects to tackle, check out the best airbrush kits for beginners, the best headband magnifiers, the best die cutting machines, or the top sewing machines under $200.