Brush tip markers are rad. It's like a marker and a paintbrush had a weird little baby somehow. You get the satisfaction of a smooth inky marker and the strokes of a paintbrush in one awesome little product. What's not to love?
You can use brush tip markers for so many different things: coloring books, calligraphy, stationery, illustration, design, doodling, and a lot more.
Pro artists can get a lot out of adding brush tip markers to their art supply collection. Kids love them too.
Plus, the mess is kept at a minimum. However, you don't want to spend money on expensive markers that don't live up to your expectations or needs. Lucky for you, we have a pretty sweet list of some of the best brush tip markers out there to suit any need.
Are you ready to see what awesome products we found? Keep on reading to see our top 5 best brush tip markers on the market.
What to Look for in Your Brush Tip Markers
Pigment: You're going to really want ink that has several qualities. Smudge-proof and bleed-proof are the main qualities you should look for. If you want to use your brush tip markers in conjunction with watercolors, waterproof ink may not be something you need. Tip: If a brand boasts a brush tip marker with water-based ink, there's a good chance it may not be waterproof.
Fineness: Nobody wants a blobby, flappy brush tip that just leaves uneven globs of ink on your drawing surface. You're going to want to find brush tip markers that are at least somewhat fine and firm. If a brush keeps most of its shape when pressed against a surface, with just a little bit of give and an even distribution of ink or paint, you've got a good brush tip marker.
Bleeding: (avoiding it, that is) I mentioned the importance of finding bleed-proof markers at the beginning, and I really want to reiterate that. Bleedy markers suck. If you're making a professional piece of art or doing crafts with kids, you want something that's not going to cause you an unnecessary amount of mess. Luckily, many of the items on this list are bleed-proof.
---
Best Overall Brush Tip Markers
Prismacolor is my go-to brand for top of the line colored pencils, markers, and pens. Naturally, they've made the top of this list with their Set of 12 Premier Double Ended Art Markers in Brush Tip and Fine Tip.
These markers have it all. A comfy grip. Two ends featuring a fine tip and brush tip.
A stunning array of colors that include lemon yellow, ochre, mauve, salmon, red, pink, fuchsia, deep blue, light blue, green, teal, and black. Pro-level distribution of rich color. Impeccable blending abilities.
Copic markers are usually the top tier for professional art markers (and if you're still not impressed with this list, you can purchase attachable brush tips for your Copic markers online and at art outlets) but this set of Prismacolor markers rivals them in quality and price.
The ink is alcohol-based and non-toxic as well. I've never had to deal with a Prismacolor marker prematurely drying out on me either.
Customer Reviews
Great contrast, excellent pigmented ink
Color like watercolor paints, good control of saturation of ink
Excellent for gradient work and blending colors
Ideal for beginner or professional artists
Double-ended markers are even more convenient
Tips work well and move smoothly
Check Latest Amazon Price
---
Best Water-Based Brush Tip Markers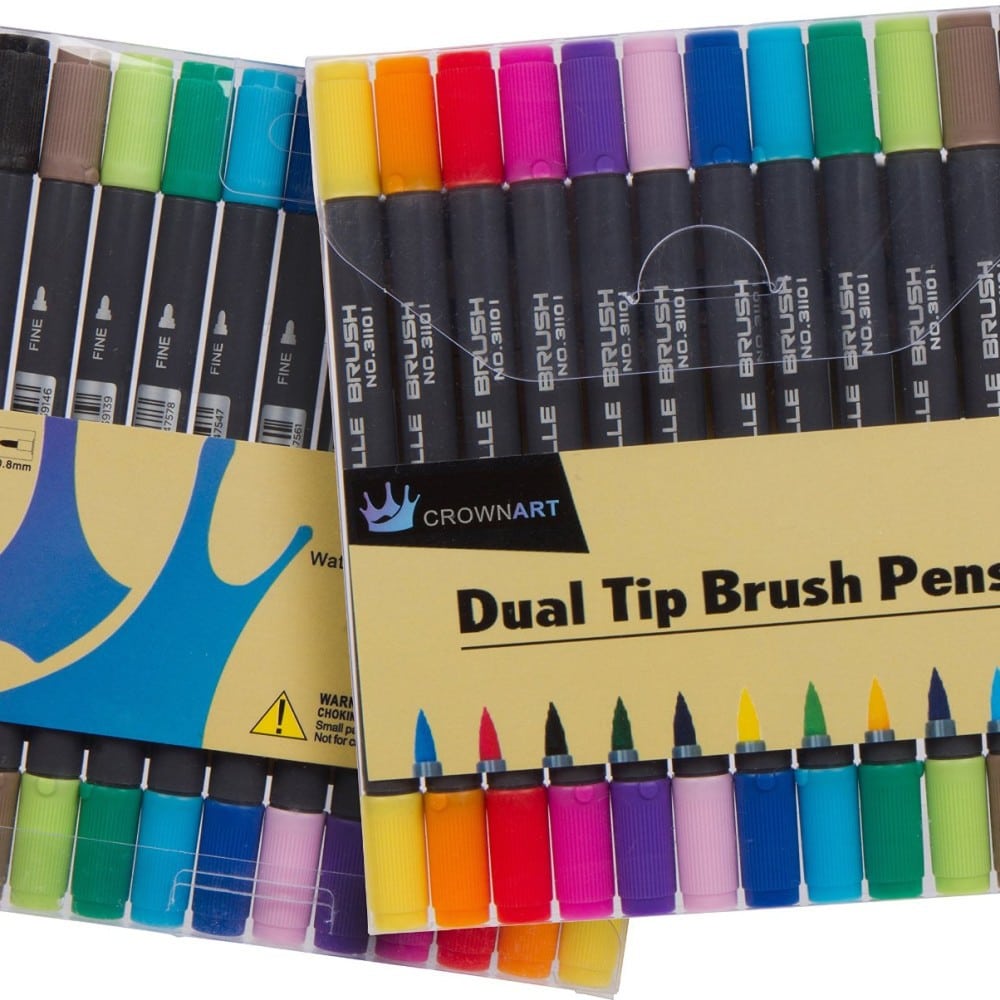 Talk about a set of vibrant colors! The CrownArt Dual Tip Brush Pens come in some really nice shades– yellow, orange, red, deep pink, violet, lavender-pink, blue, light blue, forest green, lime green, brown, and black.
They make this list not just for their really nice colors, but for their ability to be used with watercolors as well.
Since these water-based markers are non-toxic, they can be used with children. They can also be used with watercolors as well for whispy watery effects.
These pens have two tips– one side is a 2mm brush for shading and blending, the other is a 0.8mm round tip for creating consistent lines.
These markers have a really good flow of ink too. They can be used for art journaling, certain kinds of mixed media, doodling, or adult coloring books.
You also receive a neat little case with these markers that can be used as a palette! How nifty is that?
Customer Reviews
Very rich in color, vibrancy
Highly recommend these pens to other artists
Easy to use and get the hang of
Perfect for beginner or experienced artists
Works well on heavier material like poster board
Check Latest Amazon Price
---
Best Budget Brush Tip Markers
Sharpie 12-Pack Brush-Tip Permanent Markers
Oh, Sharpie, how loved you are. I remember having literally every single color as a teenager. Sharpie makes the best markers for posters, signs, archival needs, doodling, and defacing property.
Just kidding. Please don't deface property. That's very illegal.
The Sharpie 12-Pack of Brush-Tip Permanent Markers makes this list for being inexpensive and having a really nice felt brush tip. You can buy this particular set in a 4-pack or 8-pack, but the colors you get in the 12-pack make for a smart investment.
The colors are great. You get black, blue, red, lime, turquoise, purple, green, berry, yellow, magenta, orange, and brown.
The ink is made from a nice non-toxic, waterproof, smear-proof, fade-resistant, permanent pigment.
The only downside to Sharpies, as most of us with history know, is that they do tend to bleed if you use a heavy hand.
These markers are very responsive to pressure, so be careful not to ham-fist these and dig them into your desk.
You can experiment with strokes to get an idea of the proper pressure to use before diving into using them for something important.
Customer Reviews
Great grip and barrel makes them easy to use
Different style than traditional Sharpies
You have excellent control over lines and coloring
Great brush tip strokes and movement
Blend on paper well, great gradient lines
Check Latest Amazon Price
---
Best Watercolor Brush Tip Markers
The Akashiya Sai Watercolor 20-piece Brush Pen set is a testament to the quality art products that Sai comes out with. You can experience a unique way of creating watercolor artwork with the use of these pens instead of the traditional brush and palette.
These feature some really beautiful Japanese traditional water-based inks. Colors include deep pink, light pink, beige, ochre, teal, light blue, blue, lime green, violet, red, orange, lemon yellow, dark blue, indigo, garnet, orange-red, fuchsia, forest green, grey, and black.
The bristles of these brushes are synthetic and have a lot of give to them, which may not be your cup of tea.
However, with a trained hand, you can learn how to use them delicately and get some nice thin lines or even do calligraphy with them.
Since these are watercolor markers, with extended use they tend to run out quickly– anywhere from 2-5 months.
But the quality and uniqueness of these markers really make up for that.
Customer Reviews
Awesome watercolor pens, perfect for notecards and other materials
Blend well, even with heavier layers
Work well on wet paper
Excellent for detail and "dreamy" color effects
Great quality brush tip
Check Latest Amazon Price
---
Best Bleed-Free Brush Tip Markers
MozArt makes this list with their bleed-proof 12-Piece Brush Pen Set. Several reviewers of this item have stated that even when using them on flimsy printer paper, they are resistant to bleeding.
The brush tips appear to be made of a very soft, ultra-pointed felt that can be used for making broad and fine lines. You definitely get some great precision with these markers.
The colors in this set include dark blue, light blue, violet, brown, lemon yellow, lime green, black, forest green, grey, red, pink, and orange.
The MozArt 12-Piece Brush Pen Set can be used for coloring, doodling, and illustration. The ink is water-based, so they can be used with water and/or watercolor paints.
This set is also great for children to use for coloring books.
You are also able to be super economical and purchase refill ink for these pens instead of blowing the cash on a whole new set. Nice, right?
Customer Reviews
Overall wonderful quality and ink performance
Refillable feature is convenient
Brush tip lasts a long time, even with heavy use
Takes practice to get used to, but then very easy to use
Feels like a paint brush on a pen's body
Check Latest Amazon Price
---
Do you recommend a set of brush tip markers that we didn't review?
Great, let us know! You can drop us an email here, or check out the other arts and crafts reviews we've put up recently: