Adding a little color into the pictures that I draw takes time and consideration, not to mention the right tools for the job. Some of the other mediums that I've used were not able to do the work that I needed them to do.
I considered oil pastels, but they are messy and the same goes for watercolors. That is when I considered pastel pencils. Not only are they less messy, but they provide the right colors that jump off the page when I want them too.
They are comfortable and easy to use, and I can actually mix some of the colors to get the right shades for my pictures. Definitely worth an investment if you want to make some of the most beautiful drawings out there.
Consider these four, highly recommended pastel pencil products when the time comes for you to make the switch. I was able to easily do so, but perhaps you're not so sure.
I promise you, they will not let you down, even if you're a big time drawing professional or just someone that enjoys doing it in their spare time.
What to Look for in Pastel Pencils
Ease of use: Whether you're a professional, or just starting out with them then you want to ensure that they are going to be easy to use, provide you with some insight on how they work and provide the smooth covering that you want on each and every picture that you create with them.
Blending capabilities: The pastel pencils should easily be able to blend with one another to create some of the most beautiful colors.
Dependable light fastness: They should never fade and always provide the luminous, beautiful appeal that you would expect from a color product that is meant to last. Always check for color fastness, and if they provide a guarantee.
Choice of colors in set: You may want to go with a larger set if you are thinking that you're going to need a wide range of colors to go with. You want something that provides you with a versatile selection.
Acid-free: The pastel pencils should always be free of acid, since this can then be used on any paper. If there is acid, it is not only toxic but it needs specific paper so that the colors do not bleed through, which can become a problem.
---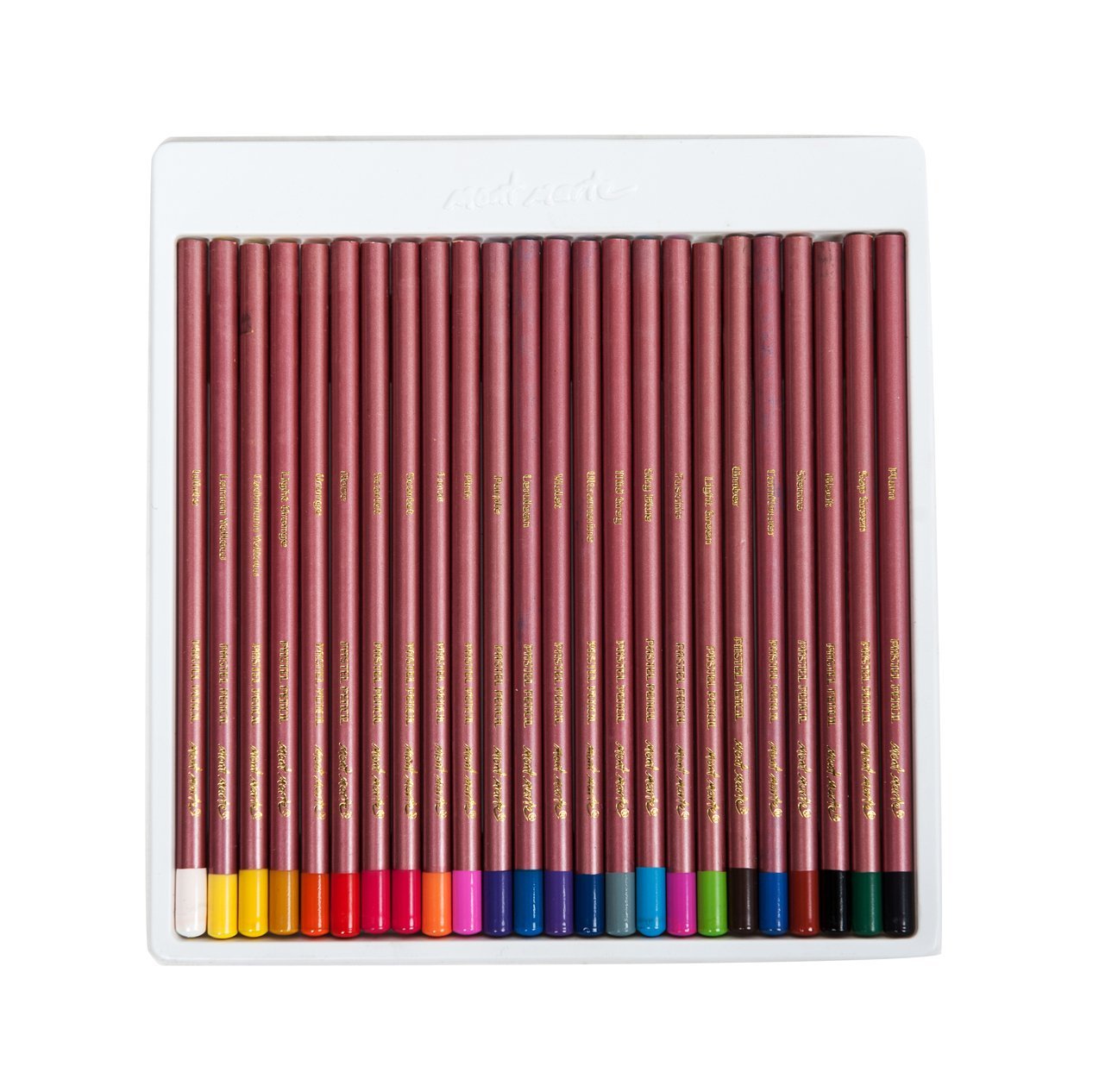 One of the highest recommended products on the list, the Mont Marte Pastel Pencils provide the user with the slick, brilliant color that they want for each and every one of their pictures that they create.
The high pigment in the pencils provides luminosity, while they also ensure that you can blend the colors together with ease, for any picture that you're trying to make.
Worried about acid content? They are also acid free, and provide you with a full range of papers that you're easily able to color on and not have to worry about the colors seeping through them and going to the back of the page.
The colors are brilliant, and they are color fast, so they do not bleed or fade with time, making your pictures beautiful forever. 24 colors in one kit to provides enough selection, as well. These might be the most ideal colors you've been searching for.
Customer Feedback
"These are wonderful pencils. My daughter is a budding artist and I can't keep her in colored pencils. I usually buy her the super inexpensive ones and she never seems to be happy. These aren't your sharpen with a cheap pencil sharpener pencils."
"These pastel pencils are truly amazing. It comes in a 24 pack of beautiful color pencils. The pencils were a little difficult for me to sharpen, but this was my first time sharpening pencils with an exacto knife. But it was worth it. The lead is so soft, and smooth."
"Just the right blend of texture; Medium. And just enough colors in this pack."
Check Latest Amazon Price
---
If you're searching for a larger set, at 24 pastel pencils, then the Stabilo Carb-Othello Pastel Pencil Set can be the ideal set for you, providing you with versatile options for coloring just about any picture that you come across.
Be able to cover just about any service, and have the heightened luminosity that you can expect from a high quality coloring utensil. In addition to this, the blending capabilities are some of the best on the market, allowing you to make your own additional colors.
They are acid-free, and non-toxic so you can blend away and not have to worry about the colors bleeding to the back of the paper when in use. Easily store them in the case, throw them in your bag and take them with you wherever you decide to go.
Enjoy all that comes from these easy to use, comfort based, brilliantly colored pastel pencils. You will not be disappointed.
Customer Feedback
"These are great. They are very well made and the cores do not crumble or break when used (like some brands on the lower price end do). These pastel pencils have very good and even distribution of color with each stroke."
"I had looked everywhere for chalk pastel pencils and finally found them here on Amazon! When I received them I was so excited that they were good quality and work perfectly! Highly recommend this item for any artist out there! They work great for details!"
"I was impressed with these pencils and their blending abilities. They work admirably and are compatible with airbrushing water colors in for the highlights later."
Check Latest Amazon Price
---
When it comes to the blending and bleeding capabilities of coloring utensils, you can make sure to get the most from the Pentel Arts Oil Pastels. They provide just the right of blend into each other to provide beautiful sceneries and backgrounds.
One of the best things about this product is that you can choose how many colors you'd like to get. With sets ranging from 12 pastel pencils to 432 pastel pencils, you're able to have the right amount of color and selection for all of your pictures.
Resistent to humidity and acid-free, they make some of the best pastel pencils out there because they do not become ruined when it comes to carrying them around or using them wherever you are.
These are ideal for any age artist that wants to experiment with a bit of color on the pictures that they make.
Customer Feedback
"And I enjoy these pastels. My teacher was happy with the quality of both the paper and the pastels I chose from Amazon and is considering buying both for the classes she teaches in public schools."
"I just love my set that I've got I started out, with a 12, then 25 color set of this brand . but advanced to 36 in no time, there really isn't a difference but that more colors are added to the set. Pentel is the only brand I trust for full rich color."
"I've actually only used these a couple times, but when I have used them they're fun. A nice range of vivid, blendable colors. Obviously the blunt ends aren't going to be great for fine details, but you can get some fun textured effects by pushing hard with some sweeping strokes."
Check Latest Amazon Price
---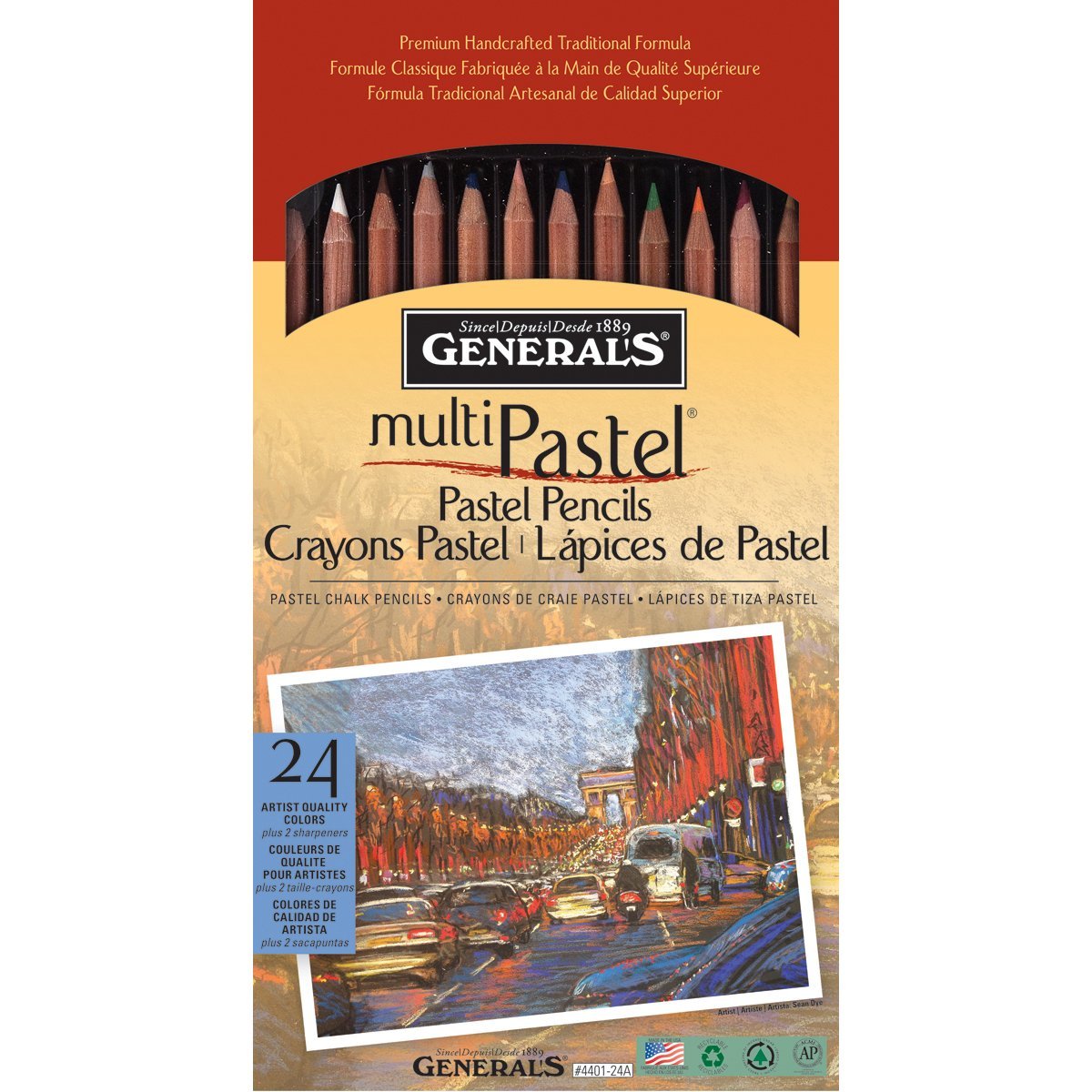 When it comes to choosing a set of high quality products, then the General Pencil Multi Pastel Pencils might be the ideal way to go. Not only do they come in a set full of 24 different colors, but you can blend these colors to come up with even more colors.
They are non-toxic, acid-free and are made in the USA, so they come backed with a quality guarantee for all of the drawing and coloring that you'd like to do.
The extra smooth, vibrant colors provide pictures that pop out of the pages, which is something that you're not able to get from any pastel pencil out there. Not only that, but they can provide different textures, based on the level of hardness that you push down with.
They are easy to use, and great for the beginner, or the professional artist looking for a bit more color to add to their work.
Customer Feedback
"As it turned out, these were so easy to use and gave me such lovely results, I'm glad I ordered them. They were soft, but not too soft, and lay on the paper nicely and were easy to blend. Because I liked them so much, I'm sure I'll be doing more pastel work–and will probably order General again."
"I use these chalk pastels to color black and white prints (on 100% cotton rag paper) and they are just beautiful! They are so easy to use and the results are stunning. Blending with these chalk pastels is so easy. The colors are true and rich and I love these chalk pastels!"
"These pencils are already my favorite drawing tools. I won't go back to chalk pastel sticks after using these. I like being able to create fine detail with the pencils which can be sharpened."
Check Latest Amazon Price
---
Do you recommend a set of pastel pencils that we didn't check out?
We'd be glad to hear about it. Drop us a line, and check out reviews for other drawing goods: