If you've never played pickleball before, it's like tennis with plastic wiffle-ball-ish balls on a smaller court. It's an exciting game, with fast-paced action and plenty of strategies involved.
Unfortunately, many people decide they don't like the sport after trying out one of the trashy wooden paddles that locations hand out for people to use. Sure they're cheap to buy and pretty durable too, but they just don't perform well like the best pickleball paddles do.
If you're into the sport at all, you should really think about buying a high-quality paddle after spending a bit of time playing with a cheap one. You'll love the way that your game improves, and how much more comfortable it is to play as well.
I spent a full year playing with garbage paddles before I sprung for a quality one, and I kicked myself for not doing so sooner. Pickleball is a blast, and it's a sport that I play with most friends and family members.
Below are some of my all-time favorite paddles, many of which I still use today. Take a look at the options and consider upgrading to a quality paddle as soon as you can after trying the sport. You won't regret the expense.
Comparison Table
IMAGE
MODEL
FEATURES

Pro Lite Sports Aero-D Graphite Pickleball Paddle

Minimal weight

Longer handle for extra comfort

Balanced weight distribution

View Product

Element Pickleball Paddle

Polymer core paddle

Average weight is 7.6 oz

4.25" grip circumference

View Product

Pickleball Now Classic Lite Paddle

Large hitting surface

Weighs approximately 7 7/7 ounces

Constructed with an aluminum core

View Product

Rally Graphite Pickleball Paddle

Size 4 1/4"

Wide paddle face

weighs from of 7.4 - 8.0 oz

View Product

4-1/4" grip size

Medium-Weight 7.5-8.2 oz

15.5" L x 8.3" W x 1.5" H

View Product

Pickle Pro Composite Pickleball Paddle

Decibels: 83.2

Weight: 8.9 ounces

Paddle Dimensions: 8.5" X 15.5"

View Product
What to Look for in the Best Pickleball Paddle
Cost: The best paddle is going to cost you a decent amount, but it shouldn't be unnecessarily expensive.
Control: Pickleball is a precision sport and you need to be able to control your shots effectively to win.
Look: The appearance of the paddle isn't a big deal, but it's something that you'll still want to pay attention to, most of the top paddles look nice too.
Grip: Your grip should be nice and comfortable while giving you plenty of control over where the ball goes.
The 6 Best Pickleball Paddles To Improve Your Game
1. Pro Lite Sports Aero-D Graphite Pickleball Paddle

I found the Pro Lite Sports Aero-D Graphite paddle to be a very capable tool for smashing down cocky opponents at the pickleball court.
It's light, it's maneuverable and very stiff for making power shots. Sure the face is a bit too smooth to put a huge amount of spin on your shots, but overall it's a solid racket. Tennis players will love the long handle and large grip, that's going to feel very familiar to them and probably be one of the best pickleball paddles for tennis players.
It definitely has one of the nicest grips, as compared to some of the other paddles on the market. You don't have to worry about grip when it comes to having a sweaty hand and having to finish out a game.
Customer Feedback
Very pleased with the paddle
Extremely lightweight
Easy to maneuver
Longer handle for better grip
Nice tacky handle for better game performance
Check The Price
2. Element Pickleball Paddle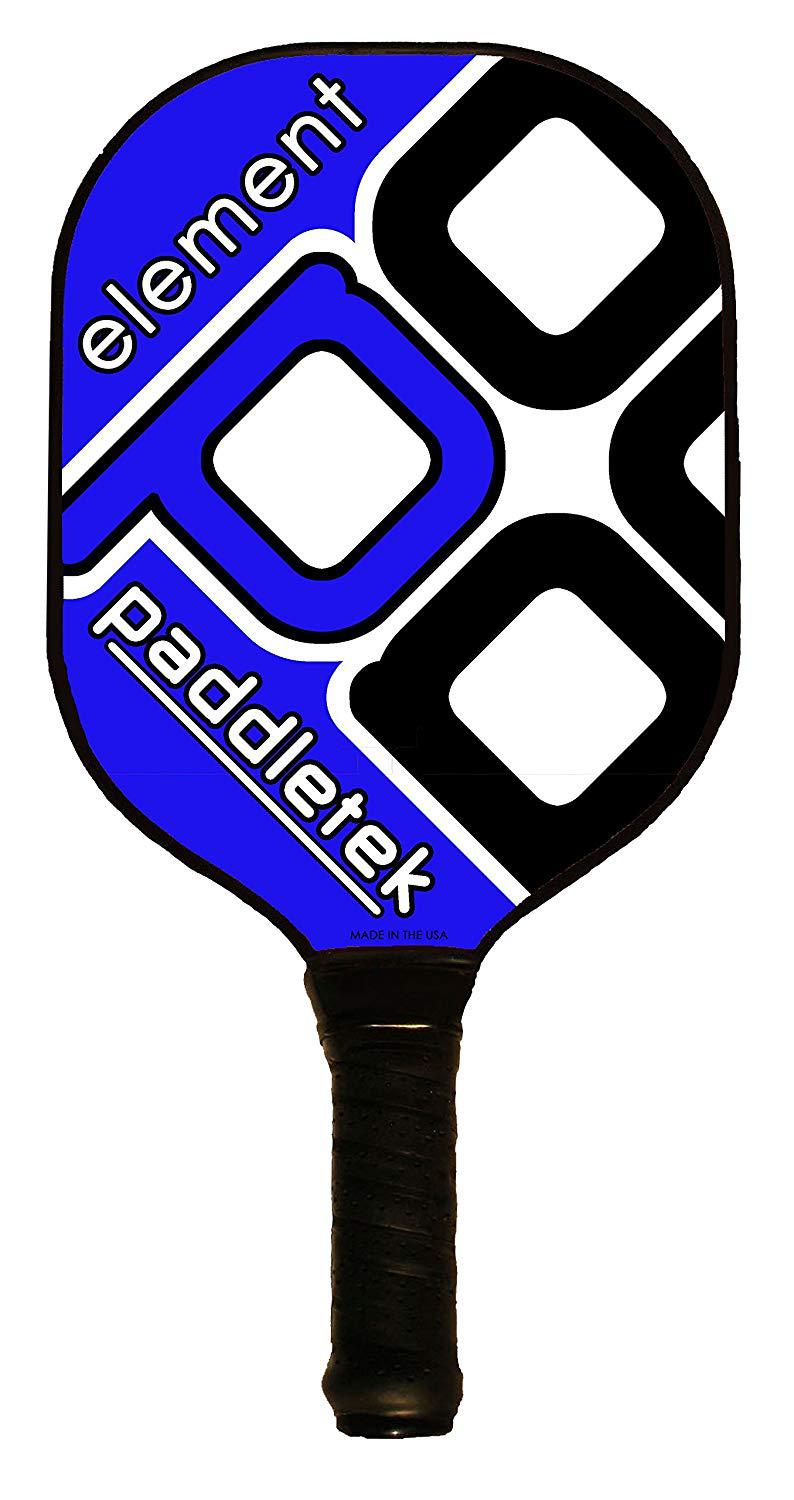 Element is one of my favorite names in pickleball. This Element Pickleball Paddle by the company is capable, it's light and it offers good all-around performance.
I can hit power shots with it, I can maintain high speed spins and it just feels good in the hand. The paddle has a less rounded shape than many others, and to me that's a good thing. The paddle is good for fast rallies and has helped me up my high-speed game while playing serious matches.
It's lightweight and utilizes the durable honeycomb structure that's in many top rackets today.
It provides a better way to have the comfort and control that you need during game play. Unlike some of the other paddles out there, you're able to get more out of this one that provides the high quality performance, comfort and game play that you need.
Are you ready to win a game with more confidence?
Customer Feedback
Provided the necessary confidence needed
Changed the way I played the game
Terrific paddle
Spin or make hard shots with ease and precision
Comfortable
Stylish design
Check The Price
3. Pickleball Now Classic Lite Paddle

It's one of the most affordable paddles on this list, and still very capable. The Pickleball Now Classic Lite Paddle comes in funky designs that stand out from the rest, and it plays well no matter what style of player you are.
The handle is highly comfortable thanks to a slight curve on one side and a flat on the other. Smaller players will be happy to hear that this racket is ideal for those with smaller hands, and it is light enough for most players to use comfortably.
If you want something that is going to be lightweight, providing you with more power behind your hits then this is the paddle.
Another great aspect of the paddle is that it provides the user with a pretty cool design that you're not able to get from some of the other paddles on the market. It provides a high quality way to play a favorite game for so many.
Customer Feedback
Very good paddle
Great price
Works great for even a beginner or intermediate level player
Enjoy control over power
Perfect paddle
Check The Price
4. Rally Graphite Pickleball Paddle

This Rally Graphite paddle is one of my all-time favorites for a few different reasons. It's incredibly lightweight and good for hitting back those truly tricky shots.
It is highly durable and comes with a comfortable handle that you can grip tight. The paddle is available in a range of colors, making it easy for several people to use the same one without confusion. It also has a nice squared off shape at the top that really helps with making shots consistently.
Sure, the light design of the paddle makes power shots slightly more difficult, but overall this is one of the best beginner paddles that you'll find. If you want to show off your moves with a high end paddle, then let this one be the choice that you make before you hit the courts.
Show off your moves with the right paddle, not the wrong one.
Customer Feedback
Grip is fine
Broad surface area
Low weight
Great bang for the buck
Great ball control using the inside and outside
Awesome design
Great handle
Comfortable grip
Check The Price
5. Onix Graphite Z5 Paddle

Onix is a well-known pickleball brand with top-level pickleballs, and this Onix Graphite Z5 paddle lives up to the same expectations. It's truly an excellent tool for high energy play. It's got just enough texture for a high level of control and decent spin.
This paddle has a large grip that tennis players will enjoy, and it comes with a durable honeycomb core that helps absorb shock during use.
It's one of the best paddles that I've used, and my favorite for competitive play. It comes in a bunch of different colors, so pick the one you like best and go to town slamming those little balls down on the court.
No one can say anything about the game that you're playing, because you're going to be using one of the best paddles out there. Are you ready for the game?
Customer Feedback
Great paddle
Much better than what is supplied on the court
Great weight
Great for ground strikes, solid volleys and serving
Lightweight and easy to control
Great comfort handle
Check The Price
6. Pickle Pro Composite Pickleball Paddle

This Pickle Pro Composite Pickleball Paddle is lightweight with plenty of stiffness, making it easy to control and use. The paddle looks nice and has a smooth aluminum face that really shines during use.
If you're looking for a rugged paddle, this is an excellent option. It has a durable core that doesn't become mushy over time like some other paddles, and it still offers plenty of power without being too heavy.
The only downside for some players is the slightly thick handle, that might be difficult to maintain a grip on.
It is one of the best out there for lightweight playing, or for those that are new to the game and want something that is going to provide them with the most control on the courts.
Customer Feedback
Very well made paddle
Nice and solid grip
Great feel
Great for the money
Check The Price
More Reviews