When it comes to a craft table, you want to make sure that you have the following:
Storage for craft supplies,
Enough height to either stand or sit at the table comfortably,
Ample working space, and
Space to put all your supplies, appliances, and more.
For those who enjoy crafts, these things are crucial to maintaining a good working atmosphere and also for storing those items that are not in use. Having the right workstation and table for your crafts can make the difference between an ok project and an absolute masterpiece!
That is why we are going to take a look at 30 creative craft table ideas you can try yourself.
Craft Table with Storage
1. Four Sided Craft Table
View on Wayfair
The ultimate craft table will be movable, lots of storage, a working space, and a natural color to match in with any décor. So essentially, it is this table. With the four sides providing different storage space (shelving of different heights, dowel rods for ribbons, etc.), this even offers a measurement guide on the working surface which means you don't have to second guess anything.
2. DIY Craft Table
For those that are handy when it comes to tools and carpentry – you want to check out this tutorial to make your own. You don't always have to rush out and purchase one if you have the means to make it yourself to your own specifications. This one features a large working space and ample storage; and by making it yourself? You can make it as big or as small as you like.
3. Wooden-Top Craft Table
A craft table that can double as a dining room table? Where do we sign up? This has a large wooden top that can easily fit all your supplies and appliances for crafts with slots for a chair. The four corners of this table feature drawers that pull out into the open space of the room so you never have to worry about banging your knee off them.
4. Shelved Craft Table
View on Etsy
Even if you aren't the handiest when it comes to building things, you will still be able to complete this thanks to the detailed instructions. This features shelving in every available space without losing any working space off the surface. High shelves are great for those hard to store items and the wide shelves allow you to fold and stack fabric with ease.
5. Cubed Craft Table
Perfect for smaller spaces, this table is shaped like a cube to give more than enough working space without taking up a lot of floor space. One side is left open for your chair and the other three sides are all cubed shelves, similar to what is found in classrooms for younger children. You won't have to worry about where to store your supplies with this one.
6. Sea Craft Table
Turn your love of the ocean and the tropics into a craft table with this tutorial for a sea-themed beauty. This has a glass working surface that protects sand, shells, and more for a truly unique craft table. Besides, what better craft to tackle next then the table you are going to use in the future? Lots of shelving rounds out this one.
7. Custom Craft Table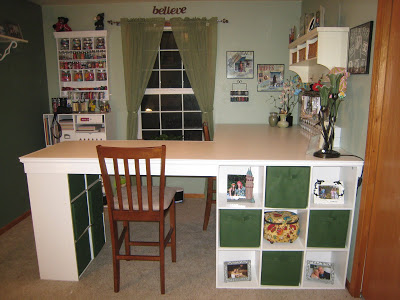 This table is built for two, with a version that features an L-shaped design to fit into the corner of a room comfortably. It has an open underneath to allow for chairs while canvas storage boxes on the shelves provide a clean, organized look. Don't want to use storage boxes? Then use wooden boards on the back of the shelves for an open look.
8. Hinged Work Surface Table
View on Etsy
Wooden surface, white legs; this can be placed in the corner of the living room or playroom and act for both crafting and gaming. So what makes this one stand out as a top pick? The fact that the top surface has two hinges so you are able to open it up and store your supplies inside the desk. No fuss, no muss; just organized craft supplies.
9. Rolling Craft Table
View on Amazon
Hanging baskets for supplies, shelving for bigger supplies, and surface sides that extend out to give you more working space? Awesome right? How about the fact that this is on four wheels which allow you to move it to whatever location is best for you. Once it's placed, lock the wheels to prevent movement and get to crafting.
10. Saw-Horse Craft Table
You can easily make this out of items that are lying around in the garage if you have two spare sawhorses. These are generally used for holding up boards or lumber during measuring, sawing, etc. but in this case? They are used as the legs and support for a craft table. With a large piece of pressed board on top, this can be completed both rapidly and easily.
11. DIY Workstation
Using old filing cabinets, this repurposed workstation provides not only storage with locked drawers (ideal for small children that could harm themselves on the supplies such as scissors, cutters, etc.); it also provides a large, open working space. This version has three, two-drawer cabinets but you can go even higher if you want!
Ikea Craft Table
12. Bright Craft Table
With its brightly colored body and wooden working surface, this project is just gorgeous. It also has four wheels, making it portable and it has numerous drawers/shelves for all those hard-to-store supplies. While there aren't any open slots for chairs, a wooden stool fits perfectly underneath the lip of the counter.
13. Repurposed Desk
Repurposed an old desk that doesn't have much life left in it for a craft table that has a lot of life. This version features a wooden surface, large wide drawers on the end, and hooks along the sides for hanging items such as scissors. You can even place a dowel rod between two hooks to create a ribbon station.
14. Open Space Craft Table
Rolling wheels that lock once in place? Check. Large working surface? Check. Ample storage? Check. This craft desk has it all from a spot for a chair to large cabinet drawers with doors for organization. It also has open spaces between the cabinets and the working station that fit a wicker basket easily, allowing for even more storage.
15. L-Shaped Craft Table
This large project will definitely require a fair amount of floor space so it is perfect if you have a room dedicated to just crafting. Its L-shape offers more than the average working surface for those larger projects while the sliding drawers provide storage. This is definitely the type of desk you want if your projects take longer amounts of time for comfort and support.
16. Solid Wooden Craft Table
Featuring both open spaces and drawers for storage, this is also solid wood which means it will outlast a lot of the furniture in your home. With six wheels instead of four, moving this table from one location to the next is easy and simple. The drawers are different sizes so you are able to store whatever you can think of from appliances to supplies such as paint.
17. Peg Board Craft Table
What sets this apart from others on this list is the sides that feature peg boards. These peg boards can be fitted with hooks, nails, or even screws to hang all those supplies that normally get jumbled up in drawers. While there aren't any drawers for storage, you can easily put a plastic cart next to this project to avoid that from becoming a complication. The other best thing? This is 100% DIY.
18. Wooden Sewing Table
Available on Wayfair
While it's listed as a sewing table, this can also easily be used for crafts. Rolling wheels that lock into place makes setting this one up in your craft room a breeze while the different sized drawers/shelves provide storage. This one even features slots to hang organizers on the outside of the desk for easy access to supplies.
19. Easy Craft Table
Straightforward, easy to make, minimal supplies needed in construction, and a substantial leg height makes this wooden craft table a good starter project for those who aren't confident in their building abilities. Metal posts provide support and sturdiness while the wooden working surface has room to spread out craft supplies.
20. Small Space Craft Table
Don't have a lot of space to put a craft table in your apartment or home? This doesn't mean you can't have one, it just means you need to get craftier when it comes to finding one. This is meant for a smaller area with its compact size while still providing more than enough storage in the form of bins that can be pulled out as needed.
21. Wood and Metal Craft Table
Planning on making crafts that could potentially damage a wooden working surface due to the nature of them? Then you want a craft table that is only wooden on the legs and shelving. This DIY idea uses a sheet of metal as the working surface so you don't have to worry about damage. Shelving that is built up on the workstation also provides storage without losing working space.
22. Folding Table Craft Table
Turn an ordinary folding table into your craft able with the aid of some well-placed storage baskets, tubs, and hooks. This is easily assembled and disassembled if needed but it does provide working space for those masterpieces. In this version, hooks are placed on an overhead ledge for even more options.
23. Glass Craft Table
Check on Amazon
If drawing and painting are more up your alley when it comes to craft projects, then you want a craft table that will make this process easier. This glass craft table has a stand that can be raised and doubles as an easel while the height is adjustable for your needs. You can also leave it flat to create an open work surface. There are three drawers to the side of this table for storage.
24. Corner Craft Table
Stationary and compact at the same time, this wooden craft table has been designed to fit into the corner or nook of a room to maximize the floor space available. Built higher rather than wider, this has shelving overhead, a lamp that can be clipped in place, and storage on either side of the chair slot.
25. Dual Purpose Table
Create this project and this will serve as a spare table for when socializing or hosting dinners with friends. This craft table does just that with its pressed board wooden surface and space for not one but two chairs. While this project doesn't have any storage options, it is small enough to fit into the corner of a room.
26. Sawhorse Craft Table – Large Version
This idea uses sawhorses as well for the legs and overall support system but it also has a larger surface. Solid pieces of wooden boards are placed in the bottom of the sawhorses for storage of larger items or wicker storage baskets. That large surface? Is a repurposed metal door as well for practical purposes and a guarantee you won't damage it.
27. Sewing and Craft Table
View on Amazon
This is completely designed and constructed using metal for longevity and stability. It has fold-out sides for a larger working surface as needed while the four wheels adds portability. With a shelf and two wire mesh baskets, you won't have to worry about where to store your supplies at all.
28. Children's Craft Table
Instill the love of arts and crafts in your children by gifting them their very own crafting table that has a small working surface in an easy-to-clean material. Designed like a miniature sawhorse, this also has a small bench for them to sit on so they are able to concentrate on their crafts with ease.
29. Adjustable Craft Table
View on Etsy
If you are completing the type of crafts that you need a sliding work surface for, then look no further than this metal craft table. The entire work surface lifts up on an angle and it can be both adjusted and locked into place for your crafting needs. The metal construction provides stability and security which means you can place heavier items on this project.
30. Stained Wooden Table
Create your own craft table from stained wooden boards and posts, such as this one. Easy and inexpensive as you can use boards that are just lying around; this project will match any current décor. You can choose to stain it in whatever shade you want and you can also customize it by building storage drawers!
Conclusion
You don't have to be cramped up when it comes to completing your crafts but instead, you can have a wonderful workstation that increases the experience. You don't need to have your kitchen table taken over by supplies or lose out on valuable home storage space; you just need to get creative with your craft table as well!
Did you create a craft table that is magnificent or do you know of some ideas that you could add to this list? We want to hear from you in the comments below. Have crafty friends and family that also struggle with a proper craft table and working space? Share this article with them!