Christmas is all about buying presents, and part of that process is being able to hide what you purchased in the weeks and days leading up to Christmas.
With that in mind, it's probably a good idea to have some DIY wrapping paper projects in the back of your head in case you just can't make it to the store in time, or if you do go, maybe you'll see that the only options you have are the typical, cliched Christmas wrapping papers that everyone has. As if!
Here are 32 DIY wrapping paper ideas you can use to make your gifts look as good on the outside as they are on the inside!
DIY Inspirational Wrapping Paper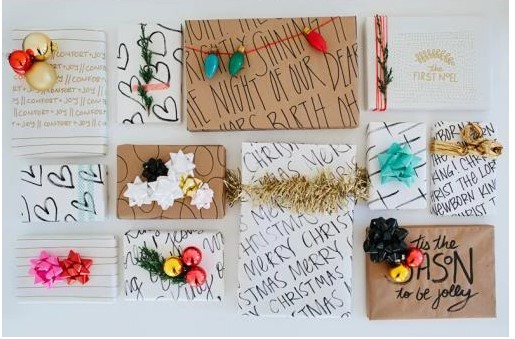 It might be hard to tell here, but this inspirational wrapping paper from shop walk in love is a great way to kick off our Christmas wrapping paper post.
http://www.papercottonlove.com/product/gift-wrapping-kit-christmas/
Christmas is the perfect time of year to get lost in inspirational sayings and quotes, and they way they made this paper, you'd get inspired just by making it for someone else. Throw in your own personal quotes and sayings to make it even more personal.
Here at MostCraft, we're fans of Thoreau, Emerson and the like – you can't go wrong with the Transcendentalists.
Handmade Christmas Lights Wrapping Paper
Consider this the first of many brown paper-based wrapping ideas. The reason is simple: it's a great cheap foundation to really go crazy.
At Burlap and Blue, they make a great case for going with old fashioned Christmas lights, and the way they make it is so cute you'll want to wrap extra gifts just because it's so damn fun.
via burlap and blue
Chalk Wrapping Paper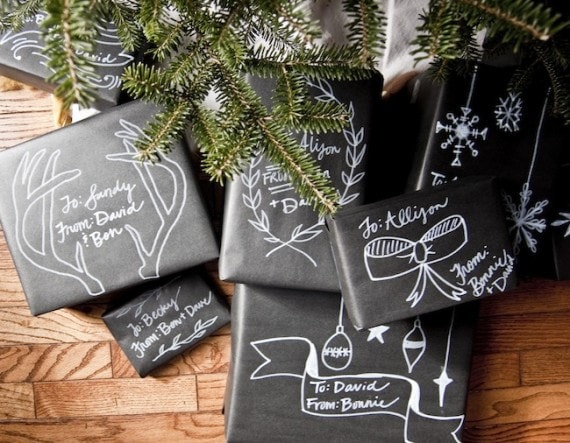 We're all about chalkboards and stuff like that, things that can be personalized for short periods of time. This project goes perfect with that, and you can write or draw your own decorations to personalize your gifts for friends and family.
Or frenemies, if you're wont to do that sort of thing.
DIY Monogrammed Wrapping Paper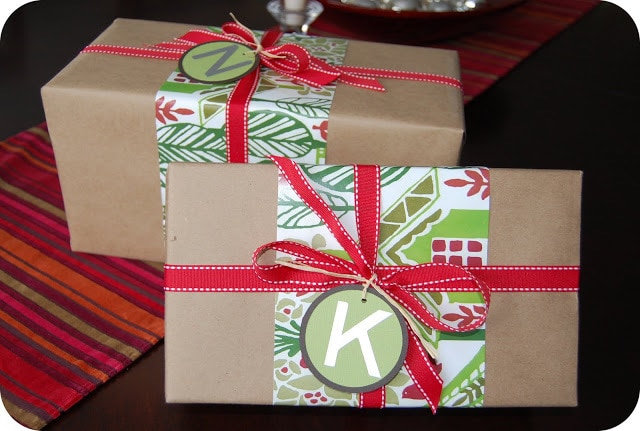 This wrapping paper also uses the blank brown paper, but instead of going all crazy with string light decorations, this one goes simple and traditional with hints of regular wrapping paper and monogrammed gift tags.
These would be great for newly wedded couples or families who are really into their heritage and would love to see their family initial on a gaggle of gifts.
Really Cute Wrapping Paper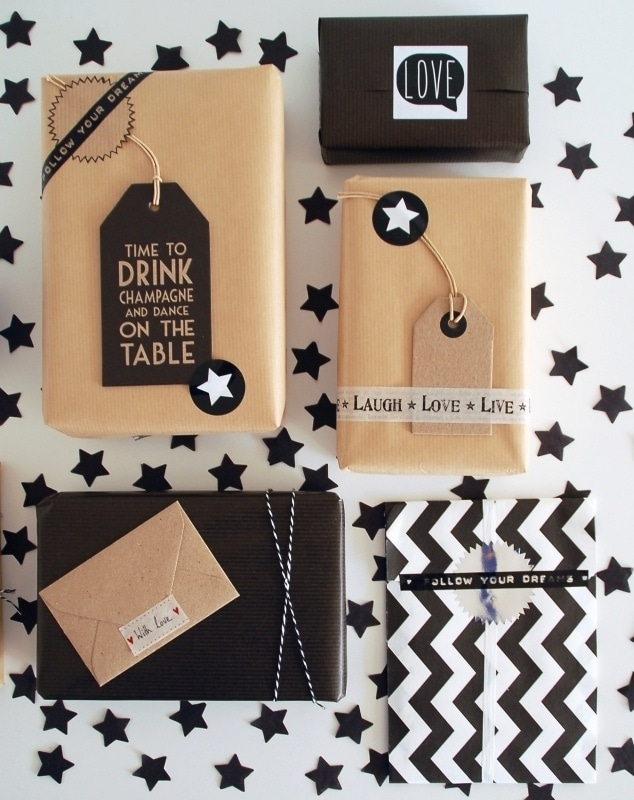 Some people are traditionalists when it comes to Christmas wrapping paper and they only go with classic green and red color schemes.
With this DIY project, go with alternative but classy colors like gold, silver, white and black. It looks formal but still fun, and you can be sure that your gift will stand out from the crowd.
via byzenz.nl
DIY Christmas Wrapping Paper for Kids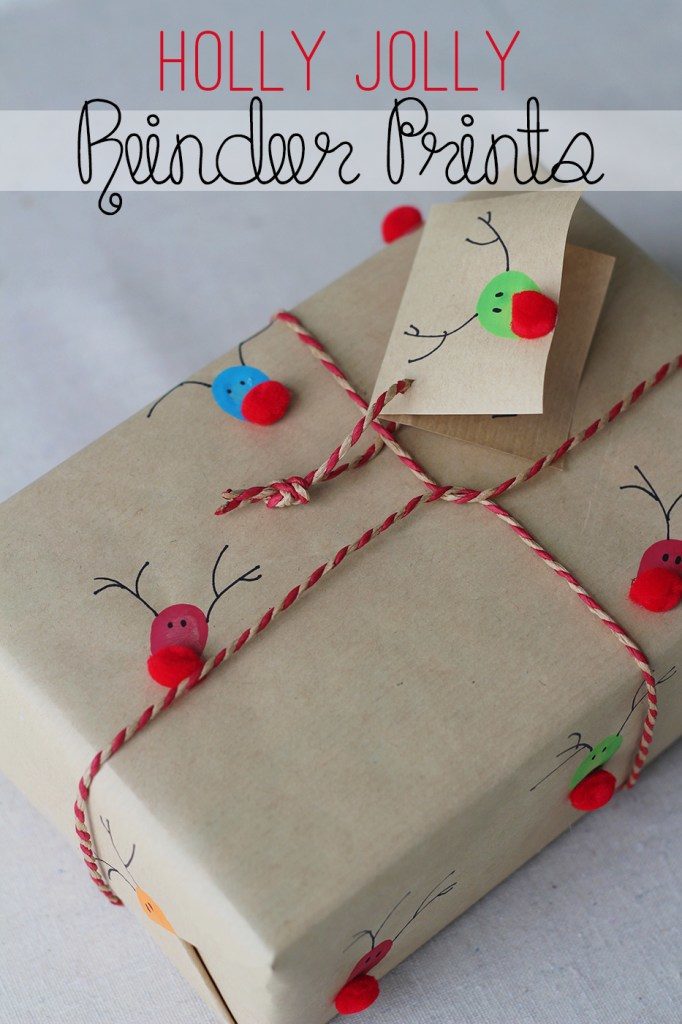 Sometimes you just have to do a project that has "kids" written all over it. It might not be sexy and modern, but it'll give your kids a really good time.
The cutest part of this project is the little reindeer, which could all be Rudolph, or they could all be named something else. Who knows.
Shabby Chic Crafty Wrapping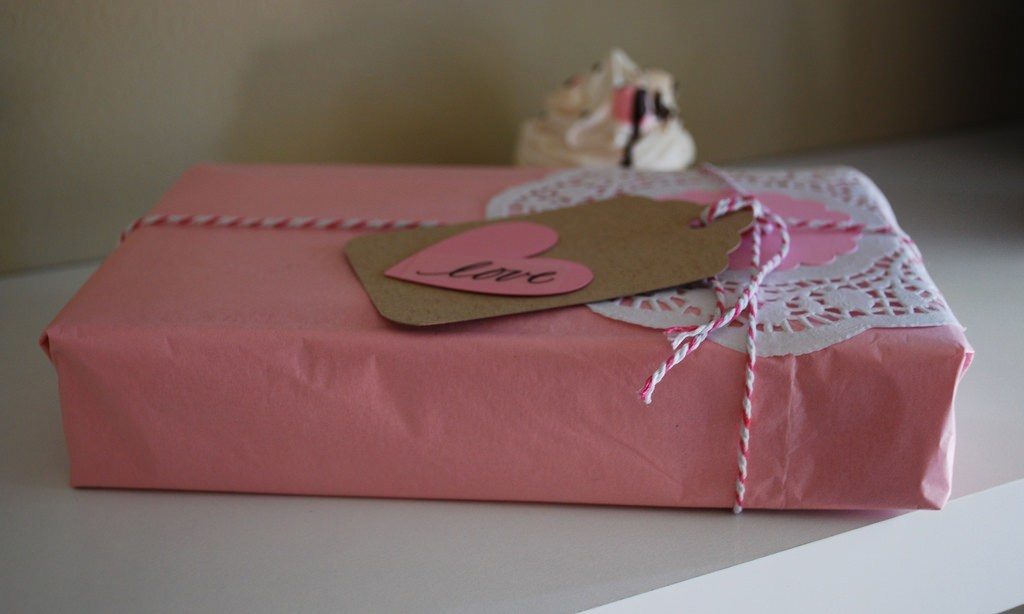 When brown paper just doesn't cut it, consider throwing in some handmade gift tags, twine, clips, tape, string, bows, whatever.
This little wrapping kit from paper cotton love is a great way to combine a lot of elements into something cute, crafty and definitely DIY-fabulous.
via paper cotton love
Instagram-Worthy Christmas Paper
I don't care who you are: this project deserves to be shouted from the rooftops like a Hoobastank video.
In all seriousness, this project is awesome and although it's DIY, the wrapping paper you end up with looks like something out of an expensive store or those kiosks that pop up around the holidays and only serve to overcharge you.
DIY Wrapping Paper with Polka Dots Round 2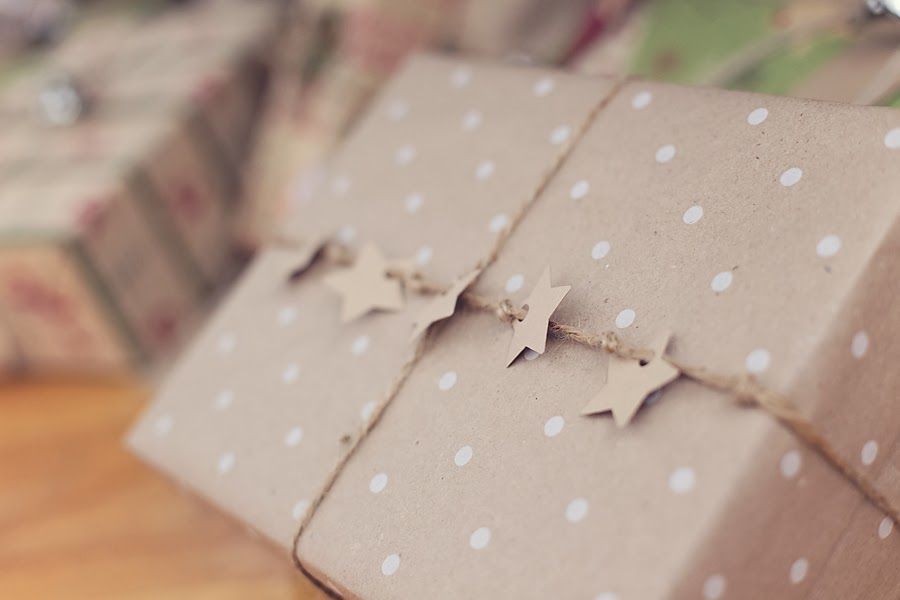 We just couldn't get enough of the above styled Christmas wrapping paper, so we found another project that looks similar.
We love the twine and stars added to this one, and you can get even crazier if you want to bring in another decoration or even add a little color to the mix.
DIY Snowflake Wrapping Paper
This wrapping paper is so damn cute and it's all about the snowflakes. Check out the tutorial and figure out what you can do with your gifts.
They're easy to make, but you can also make it more challenging by doing different stencils of more complicated snowflakes.
Kid Footprint Wrapping Paper
Here's that all-important brown wrapping paper again, but this time it's pushed to the limit with what we at MostCraft refer to as reindeer feet.
To be honest, this could turn out weird and we're not sure if we're going to do this one ourselves, but it's different and catches the eye and we respect that like hell.
Check out the tutorial and see what you have to do to get your kids' feet into present-worthy reindeer.
via skip to my lou
Santa Claus Handwriting Paper
When we were kids, our mom disguised her handwriting as Santa's and we didn't know the difference. This project showcases that kind of handwriting, and it looks cool, and it also reminds us of our childhood. Back when we weren't worried about DIY wrapping paper, we were concerned with tearing up wrapping paper no matter who or what made it.
via popsugar
Wrapping Paper for Grandma
Don't take this as discriminating or prejudiced against older people, but this project reminds us of wrapping paper that would either come from or go to our grandma. Also our great-grandma. She's still alive. So is our great grandpa. They're doing well, and you better believe they love a good Christmas present, and even more if it comes in a nice DIY package.
Impress the old people in your life and get your mind right.
via robbie and erin
Vintage Christmas Wrapping Paper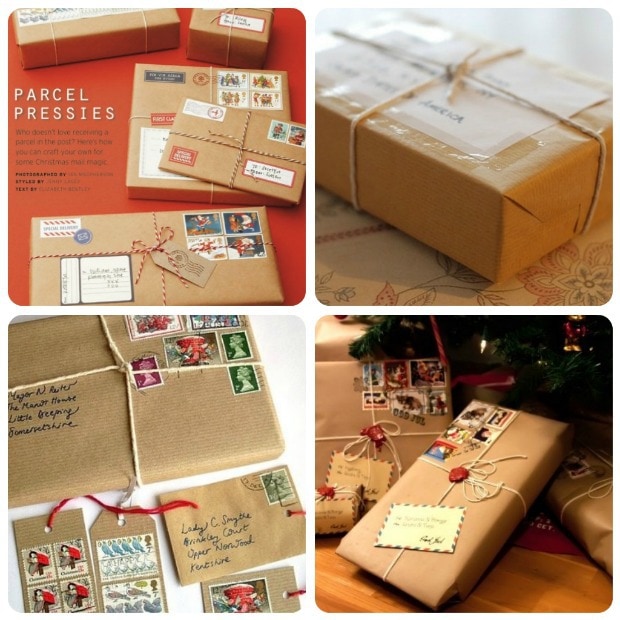 As far as we understand, in the old days Christmas presents were sent via mail, or USPS, and this project captures that vintage look with the stamps and other cool labels and stuff like that.
Add a few buttons and twine and you have yourself a nice vintage looking Christmas scheme.
Candy Apple Wrapping Paper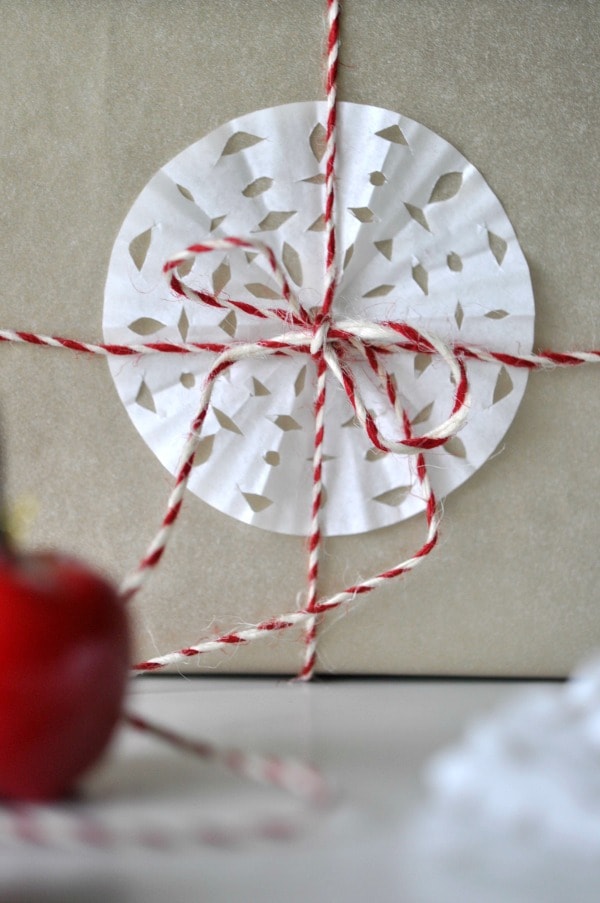 Remember earlier in this post when we mentioned that brown paper would make a few appearances? We didn't lie. We weren't raised like that. We're not saying that if you were raised like that, that you are doing something wrong, but it's just that we do our thing and you do yours. It's not a right and wrong thing. It's not black and white.
via ihobblog
Cute Colored Wrapping Paper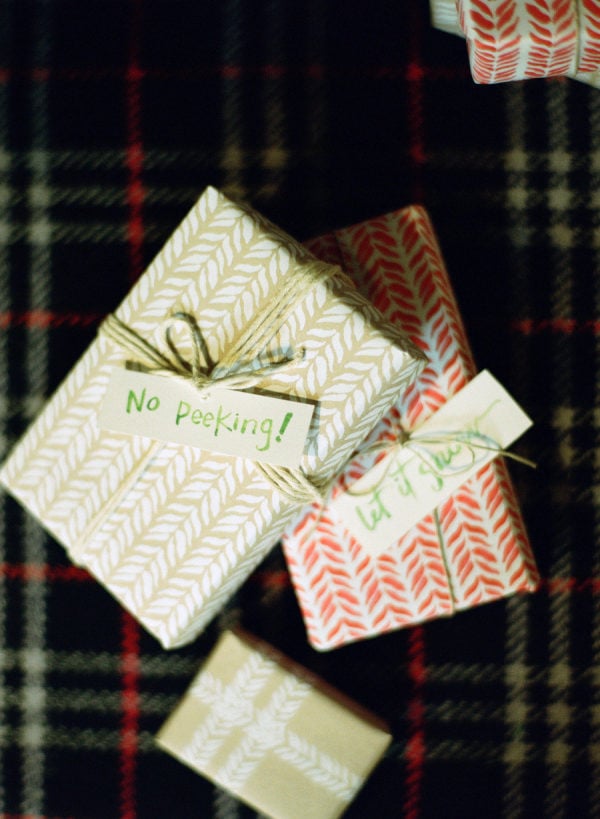 There are a lot of tutorials online on how to make cool designs for accent walls in your home. You can take that same approach to Christmas wrapping paper, and that's what you get here.
Try doing a herringbone design or something a little more exotic and it will pay off big time. In fact, it might pay off so much that by next Christmas, people will be making DIY Christmas wrapping paper gifts for you instead of the other way around.
via style me pretty
Frilly Wrapping Paper
Ah, here we are with that old friend the brown mailing paper. This time, things are a little different thanks to some frilly stuff going on, plus the addition of twins and buttons that really brings the whole thing together for that cute country Christmas look. Check out some more rustic wrapping paper ideas here.
via cosmo cricket
Christmas Tree Wrapping Paper
This is one of our favorite DIY wrapping papers, courtesy of Handmade Charlotte. This tutorial shows you how to make what is essentially a rolling Christmas tree decorator, which you can use for wrapping paper, but also other projects like Christmas cards, cardstock, paper plates and the like.
Once you have the gist of it down, you can make other shapes and decorations to really expand your DIY paper selection.
Gold and Black Christmas Wrapping Paper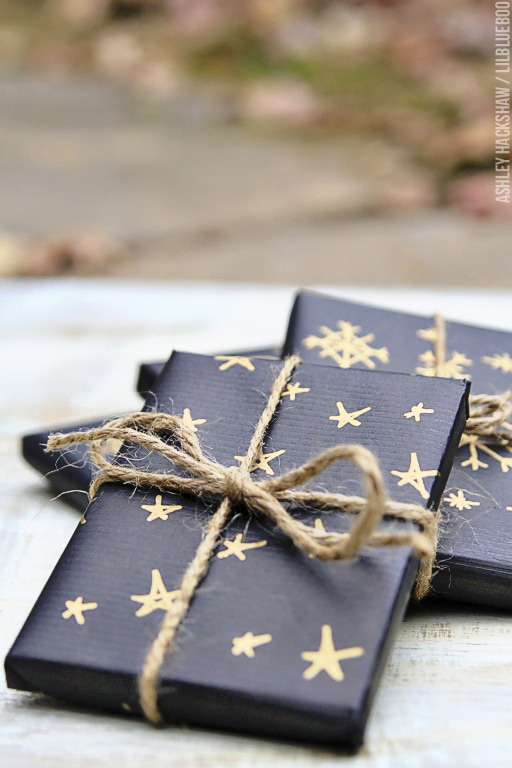 This joins our favorites list because it combines a couple of great looking formal colors that again gives you a wonderful alternative to the greens and reds of most of the papers on this post.
These would also be great for New Year's Eve gifts and decoration should you decide to skip Christmas because of religious or cultural beliefs or maybe you're just not into spending money on things that, by the same time next year, will seem irrelevant and out-of-date.
via lil blue boo
Green Wreath Wrapping Paper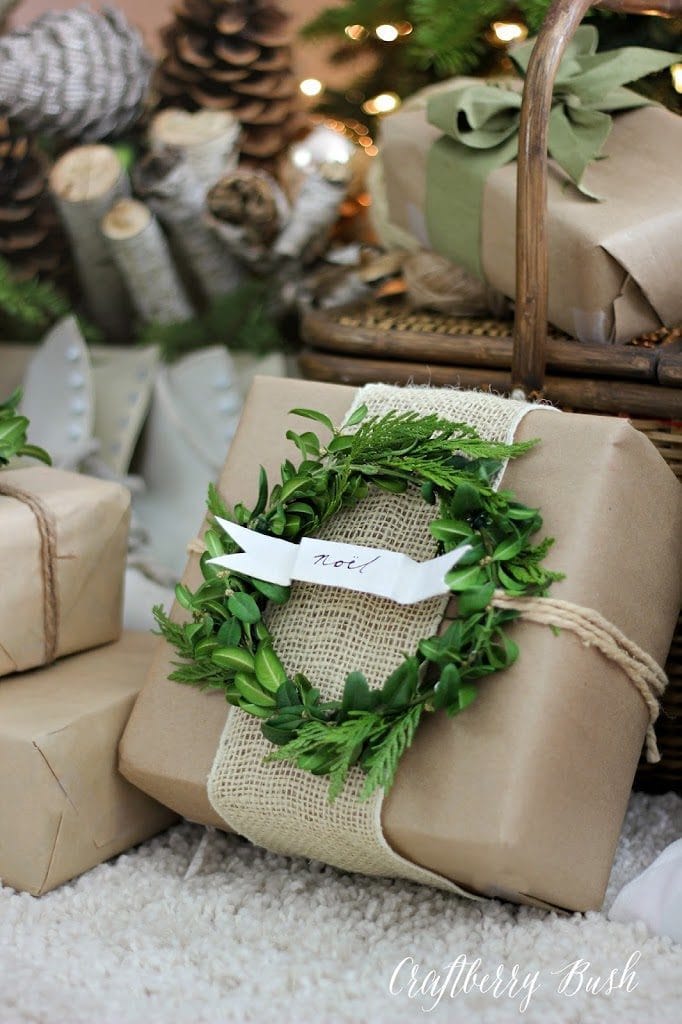 We go from black and gold to brown and green, and for those of you who love brown and green, boy do we have a surprise for you.
The beauty of this wrap job is the texture of the wreath. This, combined with the burlap and twine, make this a shabby chic Christmas package we just couldn't ignore. Props to craft berry bush for giving us a taste of our own medicine. And that's just what the doctor ordered.
via craft berry bush
Brown and Gold Wrapping Paper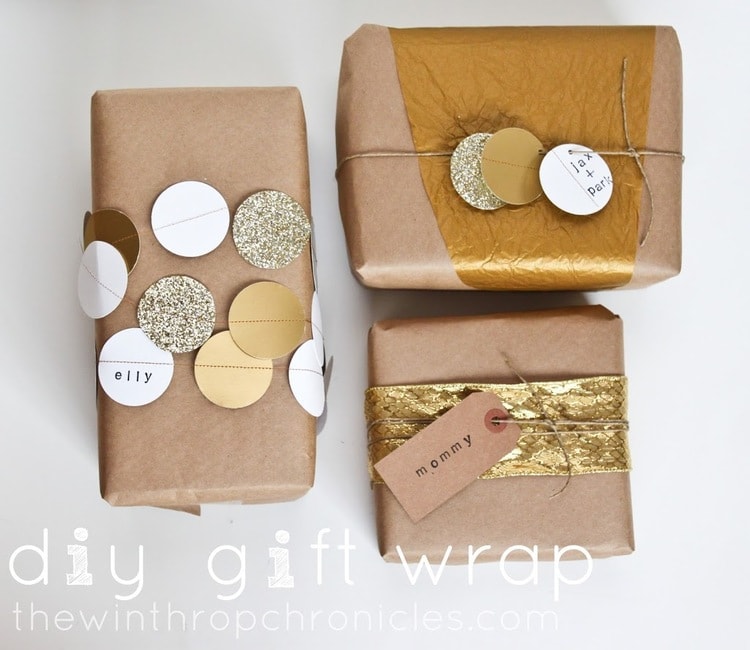 Another brown wrapping paper, but the gold and silver circles and accents really make this a simple but sophisticated looking wrap job.
The circles could also be replaced with other shapes, and you can find all sorts of cool tags and labels to add at your local craft store, be it Joann's, Michael's or something else. Is there anything else? Yes there is. LOOK BEYOND CORPORATE AMERICA PEOPLE!
Hipster Christmas Wrapping Paper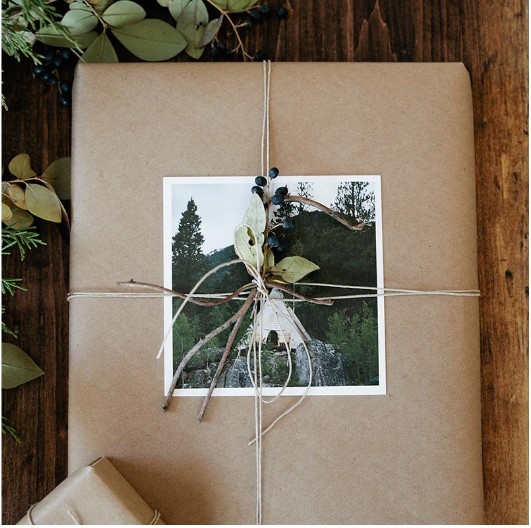 Of course we need to appease our hipster audience, so we'd like to feature for your pleasure this wrapping job showcased by artifact uprising.
As an aside: these guys have a lot of great products you can order, and we've made multiple orders because we love the quality of their work. Not paid to say that either, we just really like what we get from them and we're not afraid to say it.
White Christmas Wrapping Paper
We can't figure out why we love this one so much, but we do. Part of us wants to smell the little green thing to see if it's still fresh, and the other part of us wants to just watch and see how long it takes for it to turn brown. You can tell which parts of us are optimistic and which are a little bleak.
via skonahem.com
3D Wrapping Paper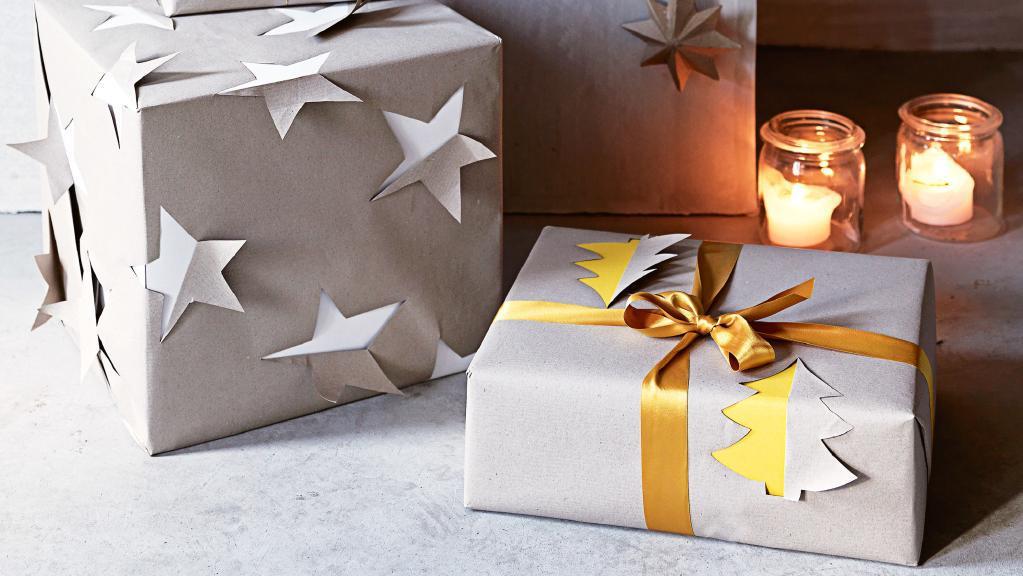 In theaters they always say 3D is the way to go, so we figure it might also apply to Christmas wrapping paper. But we could be wrong. It wouldn't be the first time. The first time probably happened in the early '90s, but even then, who could be sure what was right and wrong? It was a totally different time back then. You could check your mail at night without worrying about mountain lions, and you could dial up the ol' Internet without the hassle of knowing wifi passwords. Like we said, things were just different.
via homelife
Sweater Wrap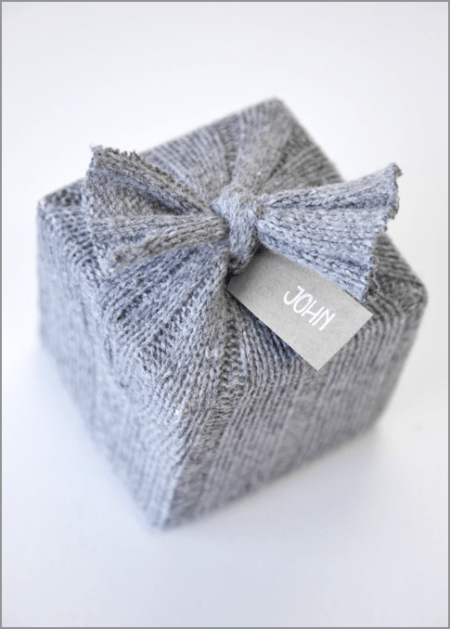 Although we live in a place that is not exactly conducive to sweaters, for the few weeks that it makes sense, we go sweater crazy. We mean like absolutely crazy; we even wear sweaters to bed, and in the middle of the night we have to turn the A/C on to something like 70 degrees just so it feels like we should have sweaters on. The whole thing makes no sense and yet here we are, repeating ourselves just like always. Isn't that the name of the game when it comes to human beings?
Artsy Fartsy Craftsy Paper
All there is to say about this DIY wrapping paper is that it's so cute and there's just a lot you could do. You could make ten of these and they'd all look different, and October Afternoon gives you a lot to work with. The endless options make this one of the more fun DIY projects you can tackle this Christmas.
Blue Skies, White Snow
Sometimes the best wrap jobs are the most simple, and we love the clean, functional color scheme chosen for this project. While most of the wrapping papers we've highlighted are dark, it's nice to see a lighter color that really pops when compared to everything else under the tree or on the desk or wherever you happen to have Christmas presents.
via bloesem
Snowflake Paper
By now you should see the recurring pattern: we go a few projects without mentioning brown paper, but then, BOOM, right in your face, there's another one. And so it goes.
This cute little presentation from Fellow Fellow is perfect because it combines a few of our favorite things: polka dots, snowflakes and…brown paper.
via fellow fellow
Christmas Grab Bags
Time to change things up! Instead of wrapping up your presents this Christmas, try bagging it just like you would bag up a litter of kittens who happen to roam around the neighborhood looking for food and clean water, when really there's plenty of food if they really tried looking for it, so you wonder if they've even really put in any effort or if it's all for show or something strange like that.
via the idea room
Red and White Presents
Here's a collection of cute and red and white themed packages that look great together and would be the perfect option for those times when you have a lot of gifts all at once, maybe for the kids or if you don't have kids, maybe you're the kind of person who gets presents for their dogs or cats and then pretends to open them because the animal clearly isn't equipped to handle something like opening presents and then afterward the whole thing feels like a weird charade that you just forced upon your sweet little animal and now you feel even worse than you did before the holiday season, which is saying something.
via song bird blog
Candy Cane Wrapping Paper
If there's one way to make sure people know what you're celebrating, it's by adding a candy cane to it. Do you think Jewish folks add candy canes to their gifts? Probably not. But we don't know for sure, and it would be rude to ask.
Twine & Snowflake Wrapping Paper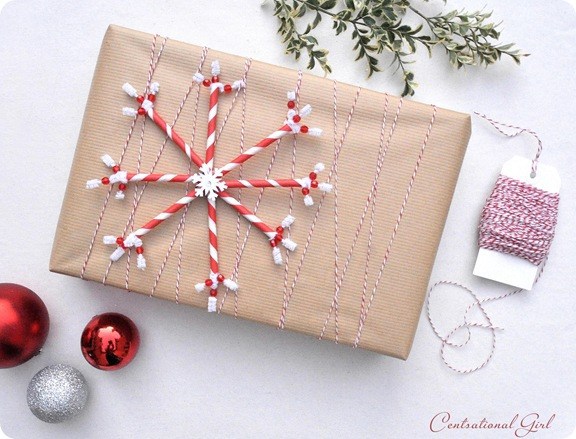 And finally, we end with what we expect is our favorite wrapping paper from centsational girl – the snowflake and twin combination 1-2 punch.
With this, you'd be able to wrap something really boring, like a book, and the person who gets it will be so excited about the cute wrapping paper that they'll be willing to overlook the fact that you gifted them something boring like a book. Yay!
What are You Wrapping Up This Christmas?
Please tell us it involves brown paper. But if not, we hope it at least involves three of the following:
burlap
pinecones
number 2 pencils
snowflakes
stamps
buttons
twine
grapevine wreaths
Tell us what Christmas wrapping paper you're working on this holiday season!
Further Reading