Are you looking to take your pyrography art to the next level? One of the easiest ways to make your wood burning projects stand out is by adding a pop of color to your designs. Color is a surprisingly effective way to enhance the dark lines in pyrography and it's also really fun to work with!
We've put together a tutorial on how to add color to wood burning projects. If you're wondering whether or not you can wood burn over paint, or which color media works best on wood, then this article will help you find the answers you need, as well as provide some helpful tips and techniques to enhance your art.
Supplies You'll Need To Follow This Tutorial
There are a number of different supplies needed to complete your pyrography design and add color to your finished piece. Here are all the things you'll need to get started:
Pyrography Supplies
As with all pyrography projects, you will need to have access to a wood burning pen and a variety of different metal pyrography tips for outlining, shading, and detailing your design.
You will also need a piece of soft, light-colored wood or a wooden box to apply your pattern to.
Tracing Paper
Tracing or carbon paper are frequently used in wood burning, as they speed up the process of outlining your design and make it possible to work off of patterns and vector images.
Although some pyrography artists may prefer to draw their designs directly onto the wood by hand, tracing paper is an especially necessary tool when it comes to colored wood burning projects, as these typically require a greater degree of precision and incorporate more fine details than other woodworking projects.
Sandpaper
Before you can add paint to your pyrography piece, you will need to use fine-grit sandpaper to remove any rough spots or imperfections in the wood. Sandpapers in the range of 180-220 grit are best.
Lint-Free Cloth
You will also need a thin microfiber cloth, like a glass cleaning cloth or cloth wipe for electronics, to remove any excess sanding dust or eraser rubbings that might get trapped in the paint and detract from your finished piece.
Coloring Media
There are a variety of different coloring media you can use to add color to your wood burning projects. Different media will achieve different artistic effects, and you can select one based on your desired aesthetic, or apply a combination of coloring media to achieve the perfect look.
Some of the most popular options are:
Colored Pencils
Colored pencils are the easiest way to apply color to wood. They are perfect for beginners with little painting experience and create a sketch-like, hand-drawn appearance.
Typically colored pencils are used to apply a color sketch to the natural wood and then painted over using watercolor or acrylic paints. The pencil markings serve as a guide for inexperienced painters to follow, resulting in a more polished, professional look.
Watercolor pencils are another popular option as they eliminate the need for separate pencils and paint products. You can simply sketch onto the wood with watercolor pencil and use water or alcohol to blend the sketched lines like paint.
Watercolor Paints
Watercolor is a popular media for pyrography art because it produces translucent washes of paint that add color to the piece while still allowing the burn marks and wood grain to shine through.
Watercolor paints are also one of the best painting media for beginners as they are easy to blend and don't require a great deal of precision.
Acrylic Paint
Unlike watercolors, acrylic paints are completely opaque and will produce a bolder and brighter pop of color.
While the majority of pyrography artists prefer to use watercolors in order to preserve the natural look of the wood and the rustic aesthetic of wood burning art, acrylic paint is still a useful tool for adding color to your work.
White acrylic paint, in particular, can be added over the top of a watercolor wash to add contrasting details.
Markers Or Brush Pens
Markers and brush pens are another alternative to colored pencils and paints. These are good options for anyone with limited access to art supplies or difficulty painting.
However, colored pens will not produce the same longevity as true watercolor or acrylic paints. Over time, the color will fade more easily and the overall look will not be as polished.
Paint Brushes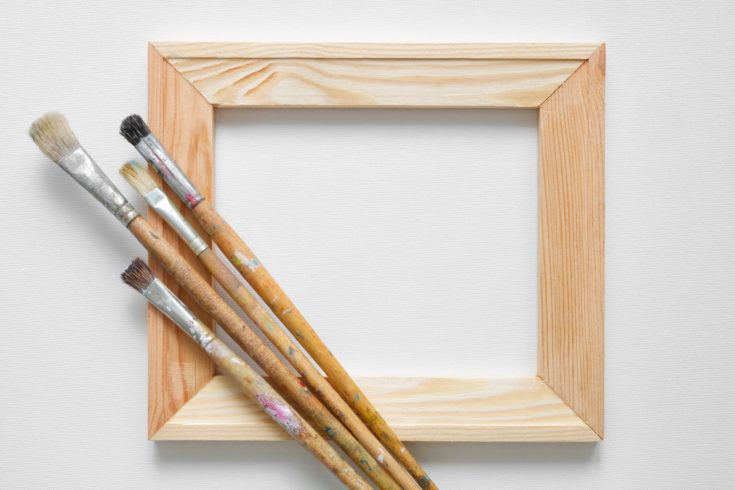 If you are working with watercolor or acrylic paints, then you will need access to a variety of small painting brushes.
At the minimum, you should have one round head brush that you can use to apply fine details, and one flat head brush for blending, shading, and applying paint washes.
Depending on the size of your piece, you will want to look for brushes in the size range of 4/0 to 6.
Wood Finish
Finally, you will need a suitable wood finish to seal and protect your finished art piece.
Spray-on finishes are preferable as they ensure you don't accidentally drag the paint or smudge the color application when finishing your project. However, you can still use brush polyurethane as long as you allow up to a day for your colored pyrography art to dry before finishing.
How To Color A Wood Burning Project
Step 1: Select Your Design
When choosing a design for your colored pyrography project, you want to make sure you select a pattern with enough negative space to properly show off the different colors. Wooden signs with large, bubble letters as well as floral wood burning designs and images of animals are some good options with enough surface area to showcase the colored paint.
When you have a design in mind, either print or draw it onto a sheet of paper approximately the size of your wood.
A good way to get a sense of how your finished project will look is to color your printed drawing with pencil crayons and play around with different color combinations before you commit to burning the design.
Step 2: Transfer Your Design Onto The Wood
Lay your design on top of a sheet of carbon paper and tape the two sheets onto the wooden surface. This process works best if you cut the design and tracing paper into the same shape as the piece of wood. That way you don't accidentally place the design off-center.
Trace overtop of the design with any sharp writing or scribing tools, such as a pen, pencil, or specialty woodworking tool. Make sure you go over all the lines and markings in the design as you will not be able to see the transferred piece until after you remove the tape.
Remove both sheets of paper and draw on any additional detail work with a fine pencil.
Step 3: Burn The Design
You are now ready to burn the design. Make sure your wood burning tool is sufficiently hot and fitted with the correct pyrography nib before you begin.
Burn over all the lines in your design, ensuring all the fine details are burned into the wood before adding any shading, cross-hatching, or gradients using a shading tip.
Although you may be tempted to color the wood before burning the design, you should never burn over acrylic paint. Acrylic paint, in particular, creates a raised surface that will lead to uneven and difficult wood burning applications.
Watercolor paint is much thinner and easier to burn over top of. However, you should still always burn the design first before coloring as the heat from the pyrography tool may interact negatively with the paint, smudge the design, or produce color bleeding.
Step 4: Prepare The Wood
Once you have completely finished your wood burning, you will prepare the piece for coloring. Use your sandpaper to gently remove imperfections and raised fibers in the surface of the wood, sanding in gentle, circular motions all across the top.
At this time, you should also remove any visible pencil marking using a standard eraser or by sanding them off.
Once the surface of the piece is completely smooth to the touch, use your lint-free cloth to remove sanding dust and eraser shavings from the surface. This step is especially important in colored pyrography projects, as any excess shavings that remain on the surface will become trapped in the paint, resulting in an uneven texture and overall unfinished look.
Step 5: Apply A Color Sketch
Next, you will apply a preliminary layer of color using colored or watercolor pencils. Apply the color very lightly so as to minimize unwanted pencil strokes. You can always go over your coloring with a second layer, but it will be very difficult to remove color after it has already been applied.
You do not need to apply color to all aspects of your design. In fact, some of the most interesting pyrography pieces are those that feature pops of color sparingly throughout.
Step 6: Paint The Design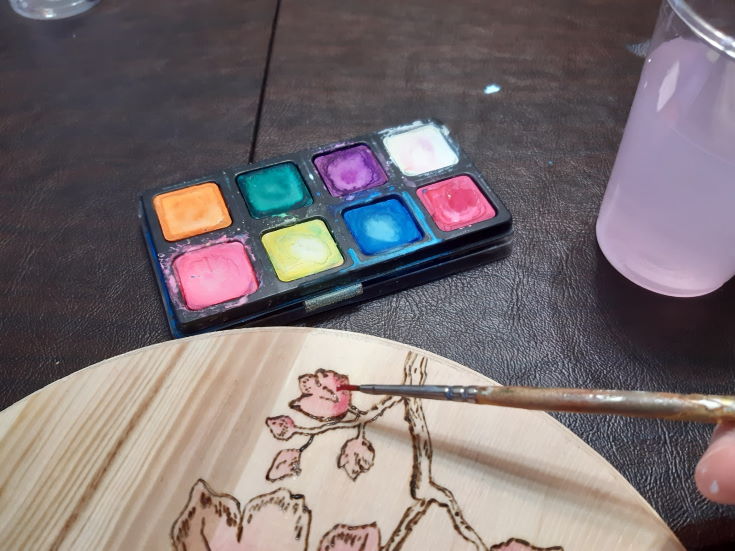 After you are satisfied with your color sketch, you can move on to painting your design.
If you used watercolor pencils, you can use water or alcohol to blend the pencil markings into a smooth wash of color.
For regular colored pencils, soak a brush in water fully before dipping it into your watercolor paints. Apply the paint with smooth, long strokes overtop of the colored pencil, remembering to begin with a very light wash and slowly build up the color in layered applications.
Step 7: Add Fine Details
Finally, add in fine details with a paint pen or acrylic paint. You always want to make sure to apply acrylics last, as these paints are opaque and are much thicker than watercolors.
Use acrylic sparingly to preserve the rustic effect. Alternatively, you can paint the entire piece in acrylics for bold, intense colorations that do not expose the natural wood grain.
Step 8: Apply A Suitable Wood Finish
Apply a wood finish to your completed project to preserve the wood and color. Spray polyurethane is particularly well suited to colored pyrography as it preserves brush strokes and resists smudging.
You can use brush polyurethane or other varnishes as long as you wait up to 24 hours for the artwork to fully dry before applying the sealant. This will help prevent the paint from bleeding and ensure the wood finish has properly sealed the surface.
Conclusion
Adding color to your pyrography pieces is a fun and simple way to enhance your artwork and draw attention to the fine details of your wood burning lines. Although there are a number of different ways to color wood, one of the most effective is to create a sketch with colored pencils and finish the piece with watercolors.
As long as you remember to build up your color slowly, starting with very light applications and adding layers to increase vibrancy as you go, you'll end up with a beautiful and professional-looking piece of wood burned art.
Did you enjoy this tutorial? Let us know your thoughts in the comments and be sure to share this article with pyrography artists and woodworkers alike.