Wildlife patterns are some of the most popular when it comes to pyrography art. These woodburning designs not only compliment the natural texture and rustic feel of the wood, but they're a great way to practice more complex pyrography techniques like shading and different tones.
Woodburning fish patterns are particularly great for this purpose because they have lots of scales and come in a wide variety of difficulty levels. We've put together a list of 15 of our favorite fishing patterns you have to try at home.
A Simple Silhouette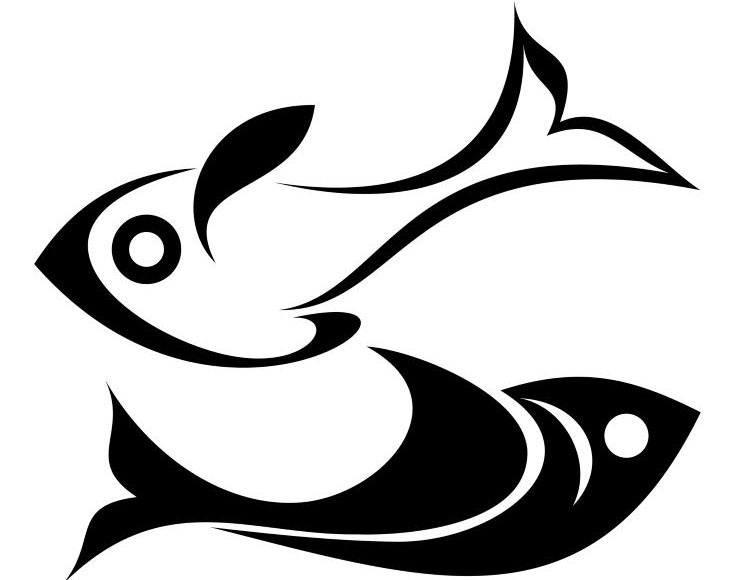 If you're looking for a wildlife pattern, but are an absolute beginner when it comes to pyrography, then this simple fishing silhouette is perfect for you. Although the lines are very simple, the alternating black and white silhouettes add interest and create a bolder look that's perfect for wooden signs or display pieces to hang alongside your fishing poles.
Download Here
This Adorable Fish Mosaic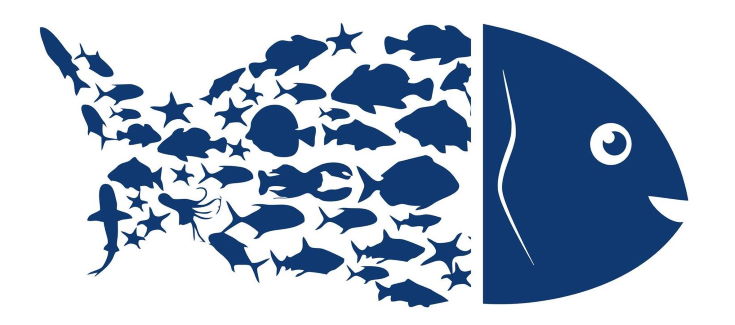 This amazing pattern is made up of lots of miniature sea creatures that come together to form one adorable fish image. This is another beginner-friendly option that only requires one type of pyrography tip. It's also a great way to practice creating bold silhouettes and maintaining the same pressure throughout your work.
A Blue-Nosed Southern Bream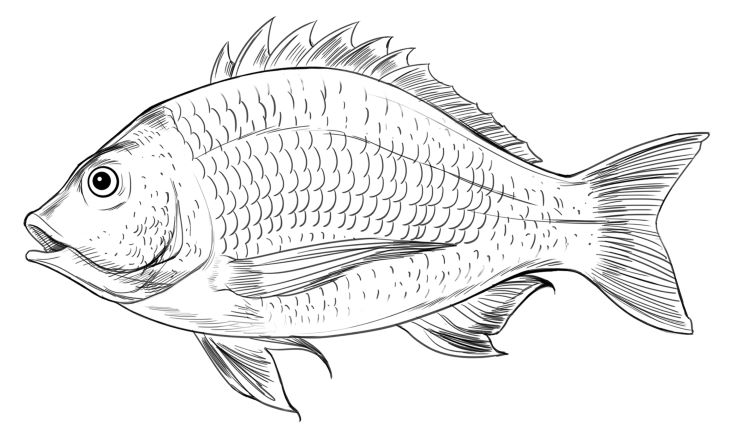 This intermediate design depicts a freshwater southern bream fish commonly seen in lure fishing and sporting. The pattern itself consists of a hard outline accented by wispy gills and light shadows. This is a great design for practicing more delicate features without having to worry about distorting the overall image.
Download Here
A Unique Flying Fish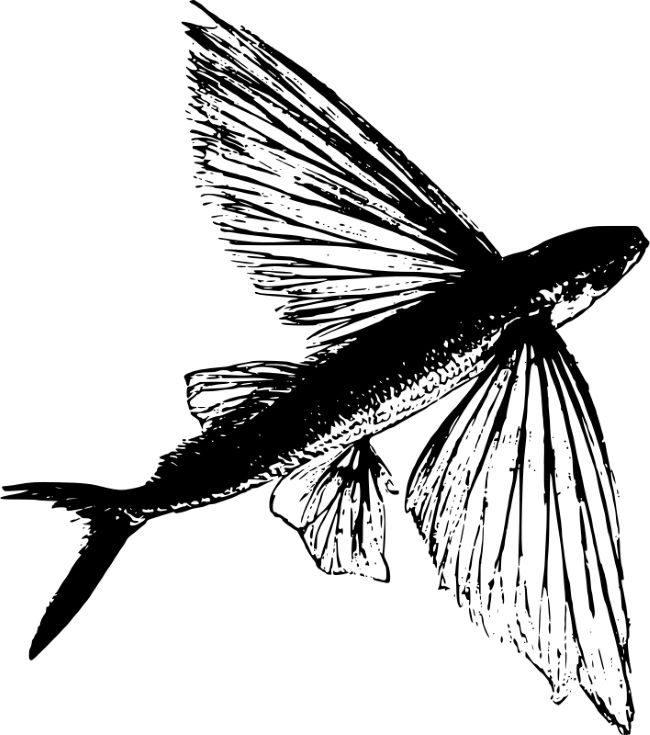 Flying fish are far less common than freshwater fish. They're an exotic marine fish with beautiful wing-like fins that allow them to hover just above the surface. Although this pattern appears simple, it features a lot of close lines and very small patches of light.
In order to achieve these effects, try using a mini universal point or a texture and tone point, which creates a series of finely burned lines in a single stroke.
Free Download Here
A Line-Drawing Effect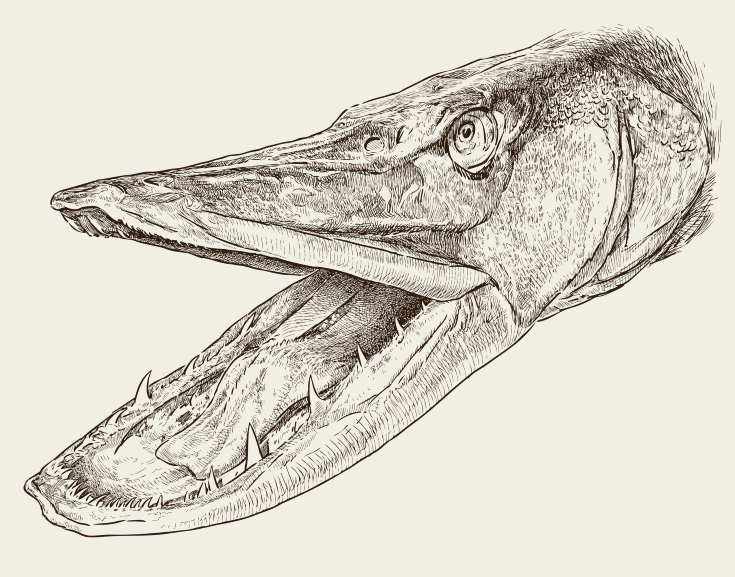 This classic fish head has a hand-drawn effect that adds a vintage quality to the overall piece. These line-drawing pyrography patterns are better suited to more advanced crafters, as they require a lot of patience and finesse to pull off.
In order to achieve this look, you'll need to practice lots of cross-hatching and experiment with using a variety of different pen tips.
Download Here
This Graphic Design Inspired Fish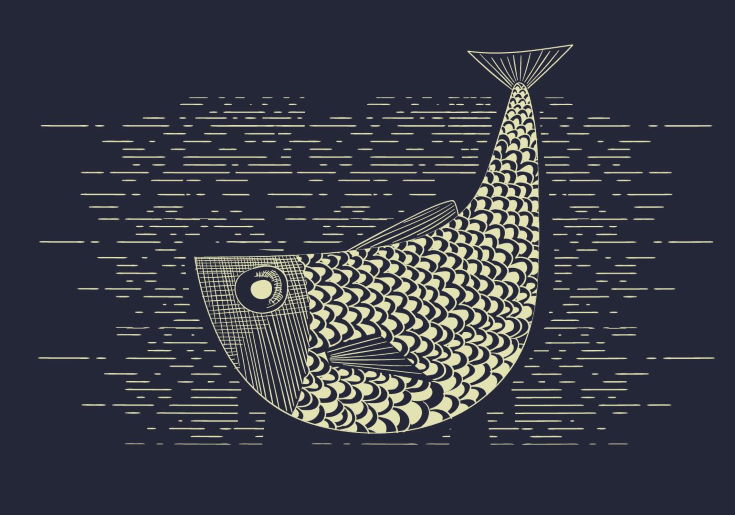 This curved fish pattern is another design that's perfect for wooden signs, logos, and display pieces you can hang in your cabin. Although the pattern is similar to other simple silhouette pieces, the geometric shapes, perfectly straight lines, and significant use of negative space give this image a graphic design feel that really grabs your attention.
These Squiggly Mosaic Style Outlines
If you like the idea of a mosaic piece, but don't want to spend hours burning tiny shapes and creating realistic shading, this is the pattern for you. This stencil has that special line-drawing effect, but is far more beginner-friendly.
The squiggly lines that fill the fish body give the appearance of unique scales but can be produced with a few simple pen strokes. You can also add more squiggles throughout your work to emphasize the mosaic quality.
Download Here
A Humpback Whale Breaching The Ocean Surface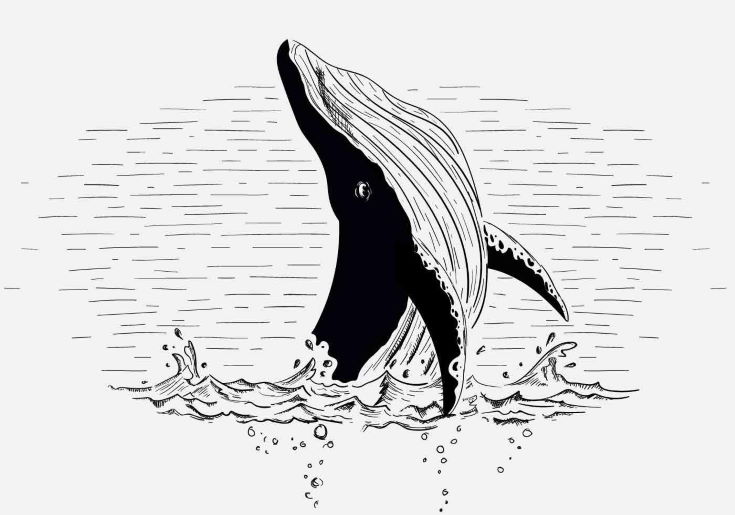 Humpback whales are some of the most majestic and fascinating creatures on earth. They can descend to tremendous depths and stay underwater for up to 45 minutes at a time! If you're looking for a more unique and striking pattern, try this adorable humpback whale.
The combination of simple lines and small amounts of cross-hatching gives this design a cartoon-like appearance that lends itself well to the image of the whale breaching the surface.
Swimming Koi Fish
Inspired by classical Japanese paintings, this woodburning pattern is stunningly beautiful and requires a great deal of skill to properly execute. Because of the intricacy and range of tones, this art piece works best when it's done on a large scale. When you're done, hang this dramatic piece as a full-sized focal point in your living room.
Download Vector Here
A Vintage Whale Drawing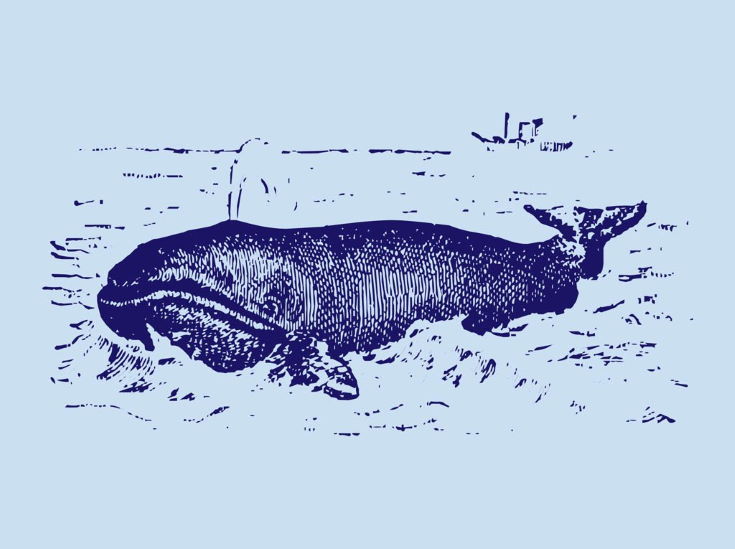 This vintage whale drawing recalls the simple lithographs that were used to print images in 19th century literature. The tightly spaced, criss-crossing lines in this whale pattern give it a dark cast that looks like something you would find in an old copy of Moby Dick.
The best part about this pattern is that the jagged lines make it easy to cover up your mistakes or even burn the inner shading free handed.
Photo Realistic Coral Reef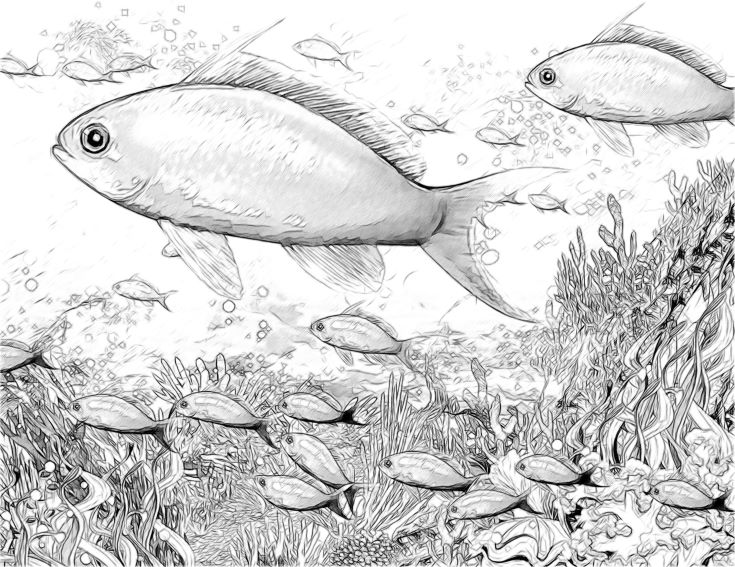 This image of fish swimming through a coral reef is perfect for pyrography artists looking to create photo realistic work. Not only does this design have a lot of interconnected parts, but it also features extremely delicate shading that fades seamlessly into the darker patches to create realistic movement and light.
Download Vector Here
This Pointillism Fish With Exaggerated Features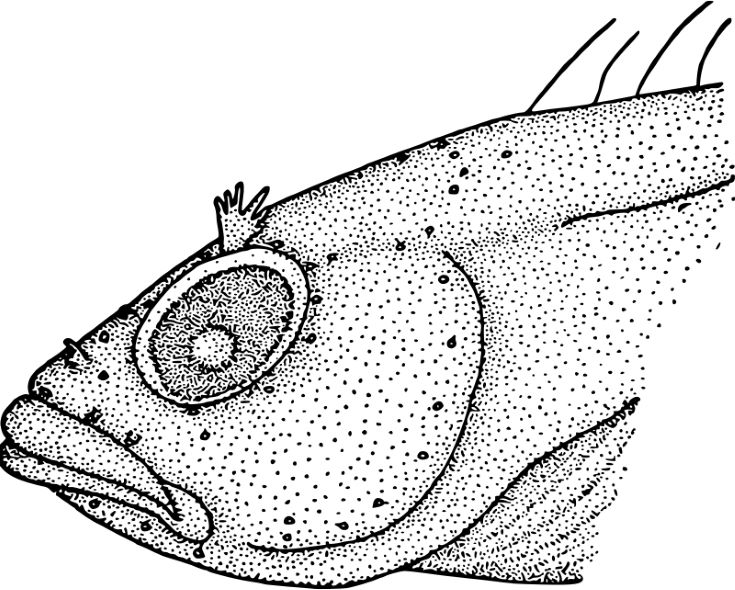 Pointillism is another advanced technique that can be used to create interesting tonal effects. This exaggerated fish face is created using only small dots that vary in size and density to give the fish dimension. If you're looking to experiment with a new technique, then this project is a great option.
Free Download Here
This Realistic Tuna Design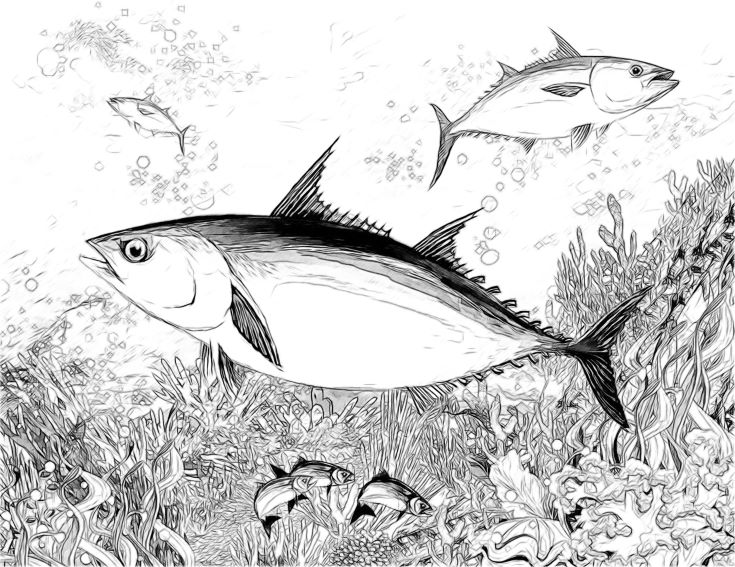 Tuna is one of the most common and easily recognizable varieties of fish. This woodburning pattern depicts a highly realistic tuna fish with soft shading throughout that produces a light drawing effect. It will make a great gift for avid fishermen, fishing enthusiasts, and anyone who loves the outdoors.
Download Vector Here
A Cute Cartoon Fish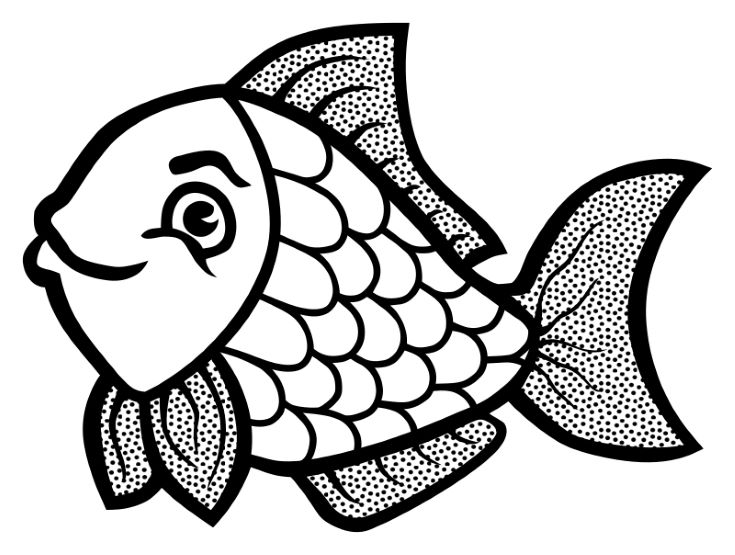 If you're looking for something simpler and a little more kid-friendly, then you should try out this cute cartoon fish for your next pyrography project. It's an easy design for beginners and can be made on either a small or large scale.
If you want, you can even make your own cartoon woodburning fish pattern using coloring book pages.
Free Download Here
Marine Fish With Colorful Wave Background
If you're looking to add color to your woodburning designs, then this simple marine fish with a swirling watercolor background is a great option. Once you have burned the fish design into the wood, you can use watercolor paints to decorate the background and create beautiful blue and white wave patterns.
Download Vector Here
Conclusion
Sea creatures make fantastic woodburning patterns, as they complement the grain of the natural wood and provide many opportunities for experimenting with different techniques. Additionally, there are a huge variety of patterns available and you can always find a design that suits your taste and pyrography abilities.
Did you enjoy this list? Let me know what you thought in the comments and be sure to share this article with any avid pyrography artist!