When it comes to DIY home decor, there's nothing more essential than a reusable stencil. Stencils are a great way to save time, achieve more precise design transfers, and create unique and personalized decor pieces. They're also great for pyrography projects!
We've put together a tutorial on how to make wood burning stencils out of adhesive vinyl. These custom stencils can be used to create professional-looking letters on DIY wood signs or to achieve perfectly uniform patterns for repeating design motifs.
If you are looking to simplify the process of making wood signs or want to create a replicable pyrography product you can sell, then this tutorial will help you get there.
Supplies You'll Need To Follow This Tutorial
DIY vinyl stencils are an affordable alternative to purchasing custom metal or mylar wood burning stencils. Here are all the things you'll need to get started:
Adhesive Vinyl Or Stencil Film
Vinyl is perfect for creating custom stencils because it has a reusable adhesive backing for precise, non-slip design transfers and because it is easy to manipulate and cut. You can even cut vinyl using a Cricut machine, which will save a tremendous amount of time and enable you to create far more intricate designs.
When cutting your stencils manually, you may want to consider using stencil film in place of vinyl. Stencil film is a slightly stiffer adhesive product that is sturdier and thicker than vinyl. This can be beneficial if you are looking to create reusable products like a number or letter stencils, as it is easier to manipulate by hand and lasts longer.
Because not everyone has access to a smart cutting machine, this tutorial will focus on how to create stencils manually.
Cutting Mat
When cutting out your design, it is important to have a robust surface like a cutting mat to work on. A quilters rotary mat or a flexible kitchen mat work best.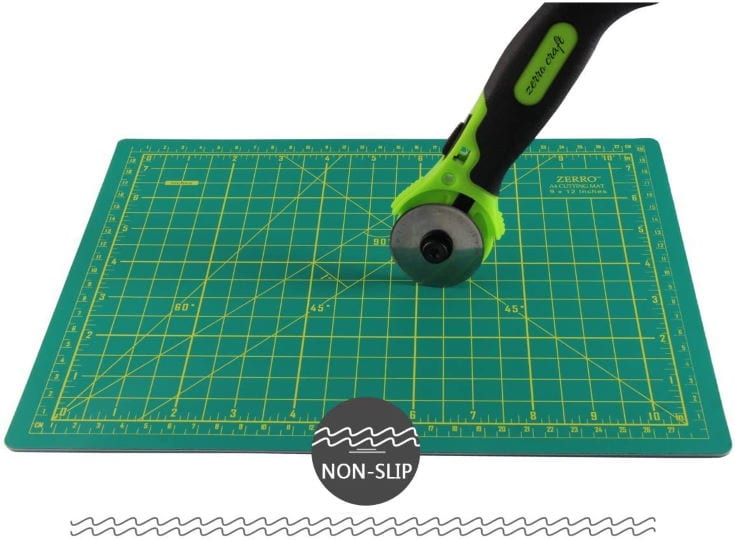 If you don't have access to either of these, then you can use a piece of thick cardboard or styrofoam.
Craft Knife
You will also need an X-Acto knife or a precision craft knife to cut out your pattern. Be sure that your knife is sharp before you begin creating your stencil or your final product may not be uniform.
If you are using an X-Acto knife, it is a good idea to have extra blades on hand.
Transfer Paper
Finally, you will need carbon paper and tape in order to transfer your pattern onto the adhesive vinyl.
If you are working with a purely geometric design, you can draw the pattern directly onto the vinyl using a ruler and a fine tip marker.
For numbers, letters, and other digital patterns, you will need to use transfer paper.
How To Make Wood Burning Stencils
Step 1: Select Your Design
When choosing a design for your stencil, you want to make sure you select a pattern that is simple and features clean, easily distinguishable lines.
It takes quite a bit of time to create a reusable stencil. Although this can be beneficial in the long run if you plan on using the same design multiple times or want to create lettering for wooden signs, it would be unnecessarily time-consuming to create a new stencil for every pyrography project.
Use carbon paper to transfer more intricate designs and pyrography art pieces directly onto the wood. When selecting a pattern for vinyl stencils, stick to geometric shapes, silhouettes, and letters.
Step 2: Transfer Your Design Onto The Stencil Material
Begin by taping the adhesive stencil material onto the cutting mat using ordinary office tape. Do not remove the liner backing as this will cause the stencil to stick to the mat, making it impossible to remove the cut pieces.
Next, tape a sheet of carbon paper and the pyrography design on top of the stencil material. Trace overtop of the design with any sharp writing or scribing tools, such as a pen, pencil, or specialty woodworking tool.
It is also possible to tape the design directly onto the stencil and cut out both pieces simultaneously without the use of carbon paper, however, this method only works if you have a very sharp cutting tool. There can also be issues due to the differences in texture between computer paper and vinyl.
Step 3: Cut Out The Design
Use your craft knife to cut along the image lines. You will need to be very careful to only cut the areas that you want to show up on the wood. If you are worried about getting confused, you can color these sections in with a black marker to mimic how the design will appear when it is fully burned.
Apply steady pressure to ensure the cut edges are sharp and precise. Remove the cut pieces as you go using a weeding tool or the tip of your knife.
Step 4: Adhere The Stencil To The Wood
When you have finished cutting out your stencil, remove the liner paper, and adhere it to the wooden surface. Save the liner paper in a safe place so that you can reattach it and reuse the stencil at a later date.
Because the stencil is made from a plastic material, you will need to trace the design and remove the stencil before you can begin burning. Be sure to store the finished stencil away from hot pyrography tools.
Conclusion
Creating your own custom wood burning stencils is an easy way to ensure uniformity and precision in your pyrography work. Although stencils are not suitable for all wood burning art, they are perfect for homemade wooden signs and other DIY home decor projects.
Did you enjoy this tutorial? Let us know your thoughts in the comments and be sure to share this article with pyrography artists and woodworkers alike.
Check out our infographic and don't forget to share!