Ready to try wood burning but not sure where to start?
Wood burning border designs are a great way to begin experimenting with pyrography. Instead of acting as the sole focal point in a work of art, wood burned border patterns serve as beautiful accents to an otherwise functional piece. They range from the very simple to the incredibly complex, so whether you are a beginner or a woodworking master, there is a pattern out there for you.
Here are 11 of our favorite wood burning border designs you can try out at home.
Pyrography Border Designs
1. This Classic Inverted Rounded Corner Frame
The inverted corner is a classic motif used in elegant picture frames, graphic design templates, and sophisticated signs. It looks great when used as a border around text like inspirational quotes or family names. It can also be used with cartoon drawings and pictures to create a more elevated finish that is suitable for hanging as an office or home decor.
2. Or An Elegant Calligraphy Message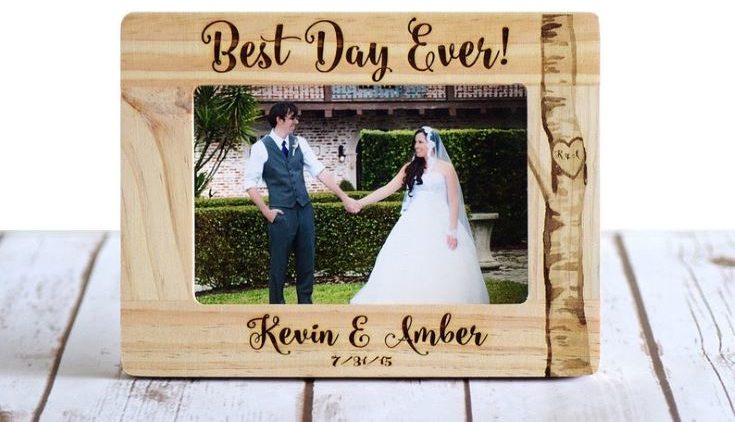 If you are not very good at drawing, another simple but elegant border idea is a thoughtful message written in a calligraphic font. This design works really well on photo frames and can be used to commemorate special occasions with names, dates, or congratulatory words. It is also easy to combine text with more intricate patterns like nature motifs!
Check The Price
3. The Fully Burned Edge
Another option that is suitable for beginners is the fully burned edge. This design can be used on beveled or ogee edge signs to create a bold effect that will really make the text pop. Instead of drawing a thin border, this border treats the pyrography tool as if it were a paintbrush, filling in the entire edge so it almost looks like two different types of wood.
4. These Cute Photo Frame Patterns
This trio of repeating polka dot, triangle, and star patterns make for a series of really cute picture frames, proving that even the simplest designs can be beautiful. To achieve the best effects, use small frames with large borders made of light wood. You can freehand your designs directly onto the wood or stencil the shapes with a pencil first.
5. Or An Intricate Celtic Scroll Corner
This wood burning stencil features an intricate Celtic knot pattern traditionally used in scrolls and ornate wooden furniture. However, even inexperienced woodworkers can achieve this really exquisite look with a simple corner stencil. Simply use a straight line to connect the four Celtic corners and you can create a beautiful border for tables, wooden chests, and bespoke cabinetry.
Check on Amazon
6. This Easy and Rustic Bark Motif
This nature-inspired design resembles a row of birch or poplar trees and has a wonderfully rustic feel to it. Although it looks quite elaborate, it is actually incredibly easy to accomplish. All you have to do is freehand horizontal lines along the border of any plain wood frame, and then use your pyrography tool to burn little dashes and circles in between the lines.
7. Or This Ultracool Flamed Edge
If you are looking for something a little more flashy and exciting, try out this interesting flamed edge. Instead of using a traditional wood burning tool, this design employs a propane torch similar to the ones used by bakers and welders, creating an edgy and weathered finish that is perfect for pirate signs and other rustic wood crafts.
8. A Simple Border to Emphasize Shape
Not all borders have to be exceptionally detailed. Wood burned edges can also be used as simple outlines that emphasize the shape of household tools and crafts. In this case, a burned edge is used to highlight the rock-on symbol in a unique guitar hanger. This kind of edge can also be used to outline initials and other simple shapes.
Available on Etsy
9. This Incredible Aztec Picture Frame Pattern
This Aztec style pattern is by far one of the most difficult ones we have seen. Although it does not require any special drawing abilities, it is incredibly time consuming and involves a lot of pre-planning. To make this pattern, you will need to divide your picture frame into rows of 1-inch squares, each of which will be filled with a different dot or line motif.
10. An Homage to the Grateful Dead
This skull pattern with a rose border is a terrific throwback and tribute to the Grateful Dead. However, you do not have to be a fan of the band to enjoy this beautiful and unique pattern. The rose detailing looks great on wooden chests and craft boxes and is simple enough that even beginners will be able to try it out.
11. This Fractal Burned Bowl
Wood burned borders are not just suitable for picture frames and wooden boxes. They can also be used to create beautiful designs around the outside of wide-rimmed bowls, cups, or plates. In particular, fractal burning using high-voltage electricity creates natural images resembling lightning bolts or bonsai trees, perfect for dishware and similarly functional wood pieces.
Conclusion
Each of these wood burning ideas is suitable for beginners and experienced woodworkers alike. For the most part, these borders are easy to make and not prohibitively time consuming, so all you need is a few simple tools and you can dive right into making your own custom pieces.
Did you like this list? These eleven designs are just a small sample of all the amazing border patterns out there. Let me know which design you're most excited to try in the comments, and be sure to share this article with all the woodworkers you know.