Shooting, whether for archery or for hunting is something that you have to practice. However, when you're practicing, what do you shoot?
You do not want to worry about hitting the little squirrels or rodents that come into your yard, but you need something that is going to give you a good target. I found that using 3D deer targets worked the best.
Not only could I see where I was hitting when I made the shot, but I was easily able to aim for the areas that I would have wanted to hit when I go hunting. This is something that made my life a bit easier.
Also, since I chose a 3D deer model, it was way easier to practice target shooting instead of using those square boxes that really did nothing for me. If you're looking for something like this, I made a list of some of the best 3D deer targets out there.
Choosing something that is going to stand strong against the types of arrowheads that you use, but is not going to wear down too fast is essential. Looking into all of the options available is also a must, which is exactly what I did!
Ready to get hunting this season? Do some practice shooting on these bad boys first.
Quick Comparisons of the 4 Best 3D Deer Targets for Archery & Crossbow
IMAGE
MODEL
FEATURES

Field Logic Big Buck Shooter 3D Archery Target

Stands 51" tall, 33" shoulder height

Includes a replaceable, high-density core

Ground stakes are included

View Product

Delta Intruder Buck Target

UV-resistant coating

High-end core material

Resistant to arrow wear and tear

View Product

GlenDel Full-Rut Buck 3D Target

Height: 37"

4-Sided Replaceable Insert Core

Easy arrow removal

View Product

Rinehart Woodland Buck Target

Replaceable locking insert

Windproof and water-resistant

Simulated Weight: 100 lbs

View Product
What to Look for in 3D Deer Targets
Size: The size of the deer target might also make a difference. You want something that is more lifelike and true to the natural side then something that is too small or overly large. Practicing means getting better at shooting the real deal, so the real deal should be close to what you're practicing on.
Durability: Since you're going to be shooting this target over and over, having something that can stand up to this abuse is a must. Also, having something that is weighted down pretty good can also help you hit it with more ease and precision than something that is just going to run away in the wind.
Ease of use: Some of the targets out there do not provide much of a target. Not only that but once you hit them with your arrows, it is going to be hard to get them back out of the deer target. You do not want to waste your time and strength pulling arrows out or perhaps breaking them. The easier to use, the better.
The 4 Best 3D Deer Targets for Archery And Crossbow
1. Field Logic Big Buck Shooter 3D Archery Target
If you want something that looks like the real thing, then check out the Field Logic Big Buck Shooter 3D Archery Target that provides a real-life experience to the user.
The replacement core in the middle of the target is much bigger than what you'd find on the other models, making replacements after wear and tear much easier to do than ever. Not only that, but the buck looks true to life.
The size of the buck is not overly big, but still provides you with an adequate target wherever you choose to stand and aim from, whether its from a tree stand or on the ground. This provides a much easier target practice than having to decide where to hit those smaller boxes from.
Enjoy having a durable solution that can last for some time, and then provides replacement parts when you want to keep the target aim going.
Check The Price
2. Delta Intruder Buck Target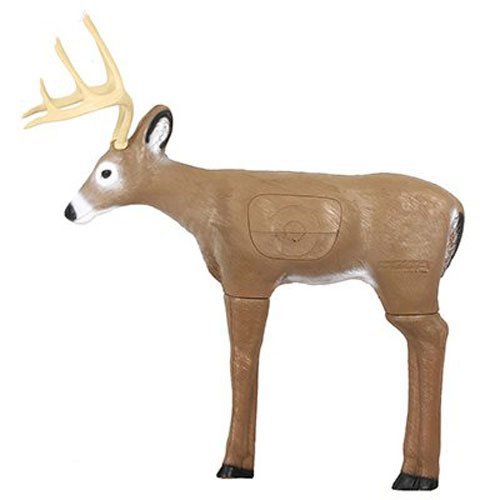 One of the toughest buck targets on the market, this one is able to stand strong with loads of wear and tear from arrows that hit it. Use the Delta Intruder Buck Target for all of the practice shots that you need to take before the big hunt.
The padding is easily replaceable in all of the vital parts of the target, allowing you to keep the target practice going for some time to come.
The target is much like a real buck and stands tall just like one. Not only that, but it is perfectly weighted so that it does not fall over every time you hit it with an arrow.
One of the coolest aspects of this target is that each time it is hit with an arrow, the padding inside the area that is hit will go back to normal once the arrow is removed and puff back out. However, with repeated use, these areas will have to be replaced.
Check The Price
3. GlenDel Full-Rut Buck 3D Target
One of the most upscale targets on the market currently, the GlenDel Full-Rut Buck 3D Target provides multiple areas for you to shoot and practice at, while also being able to replace them when they become broken down with repeated use.
This is one of the biggest targets on the market, as well. It is the actual size and weight of a real buck that you'd find in the woods, giving you, even more, to go off of when you want to practice on something lifelike.
With a four-sided core, it provides even more target practice than some of the other models on the market.
Easy to set up or take down, you have the right target practice right in front of you that will last for years and they can last for years more when the core elements inside the unit are replaced for even more target practice fun.
Check The Price
4. Rinehart Woodland Buck Target
With the Rinehart Woodland Buck Target, you can keep your target practice going for longer. This is because, with the high-quality materials that the target is made out of, it takes a while to break down.
Once broken down though, you just replace and keep the target practice going.
The authentic deer look of the target provides a way to simulate the way you do shooting while out on the open fields ahead. This is one of the greatest ways to practice your shot and know where you're going to hit on the deer each time you pull the string back on the bow.
It is sized much like a 100-pound deer and does have weights inside it, so you do not have to worry about the target falling over when you shoot it. This also helps to simulate the real-life experience of shooting a real deer with a bow and arrow.
Check The Price
Do you recommend a better 3D deer target that you use for hunting?
Let us know! We're always on the lookout for new and upcoming products that our readers find useful.
**You might also be interested in – Best headlamps for hunting.**