Hunting isn't just a fun sport, it's a way of life for many people. It's a good way to get high-quality meat for my family, and it's a tradition that I've been following since my early 20s.
Hunting is an activity that I take seriously, and in recent years I've taken to getting out to my stand earlier and earlier. Unfortunately, that means lots of night walking in order to reach my destination.
For years I simply brought a flashlight with me to help make my way through the brush, but over the past few years, I've taken to headlamps instead. They make hauling gear easier, and they work just as good as my large flashlights, if not a bit better.
I have a bunch of headlamps, but some work well and others are cheap. The tricky thing is that price alone won't tell you which is which. Instead, you have to buy a bunch and pick the good from the bad and then just consider all the cheap toys a loss.
That's why I have such an extensive collection, and why I'm constantly recommending lights to my family.
I'm passionate about headlamps because they let me hunt more successfully, and hopefully my passion will show through in this guide and help you pick out the best-suited headlamp for your particular needs.
Comparison Table
IMAGE
MODEL
FEATURES

Smiling Shark 5000 Lumen Headlight Headlamp

Up to 5000 lumens

Powered by rechargeable batteries

Made of aluminum alloy and rubber

View Product

168 lumens of light output

Powered by 3 AAA PANASONIC batteries

You can see up to 360 ft.

View Product

Bushnell Rubicon H250L Headlamp

250 Lumens plus 312 Lumens

Red Halo low-lumen mode

Rear mounted external battery

View Product

Topwell Light Tactical 5000LM Headlamp

It comes with a AC Charger and a car Charger

The view angle of the light is adjustable

Comes with 2 Rechargeable 18650 Battery

View Product

168 Lumens

Up to 120 hours of run-time

2 Separate buttons for white and red light

View Product
What to Look for in a Headlamp for Hunting
Brightness: Hiking or hunting in the dark can be pretty dangerous if you can't see where you're going, the right headlamp is going to be a very bright one.
Wide Beam: Not only do you need a bright headlamp to hunt successfully, you also need one with a wide beam. Narrow beam headlamps make it difficult for you to see all the little holes, and brush that's in your way, while a nice wide beam allows you to walk comfortably.
Comfort: With a light that's worn on your head comfort makes a difference. The best headlamps are also comfortable enough to use for a few hours at a time.
Ease of Use: Turning the stream of light on shouldn't be difficult. The buttons should depress simply and the headlamp can't be too complicated.
The 5 Best Headlamps To Have When Hunting
1. Smiling Shark 5000 Lumen Headlight Headlamp
The Smiling Shark 5000 Lumen Headlight Headlamp is a good solid hiking and hunting light that stands up to regular abuse well. It's made from aluminum, which gives it a more lightweight and durable feel than plastic options.
The headlamp offers above-average brightness and provides a clear, focused light source. It offers a reliable four or five hours of light per use and is easy to charge using rechargeable batteries.
You can make sure to see everything that needs to be seen when it becomes dark with the use of these highly affordable, highly efficient lamps.
Customer Feedback
Great to use when you're alone
Great for hunting, fishing, camping or anything else
Strongest light to keep you on track
Lights up the night
Works amazing
Check The Price
2. Vitchelo V800 Headlamp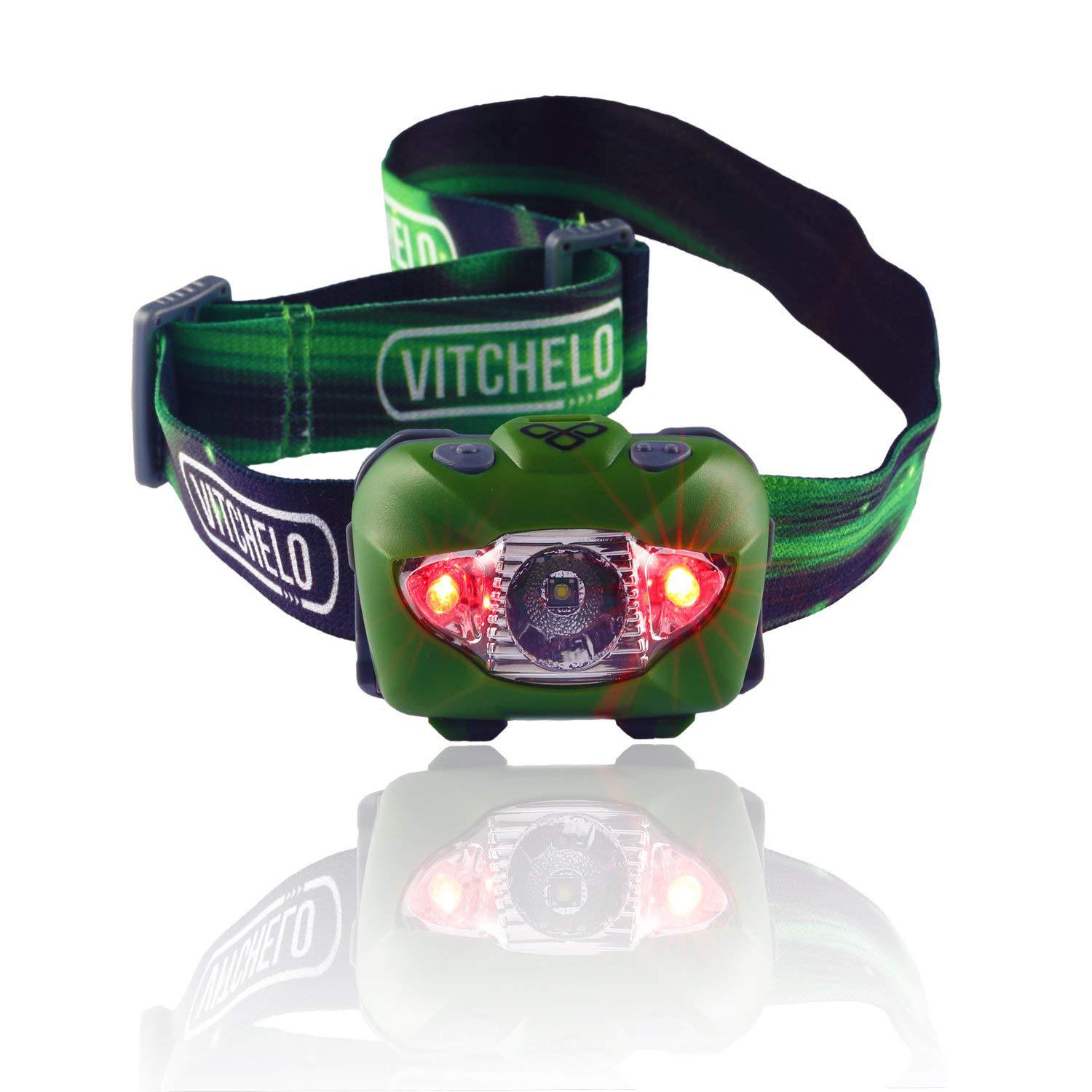 My first impression of the Vitchelo V800 Headlamp was that it wasn't going to be very powerful. It's small and a bit more lightweight than expected. It's surprising how bright the light it throws is. It runs off AAA batteries and lasts through many days of hard use on a single set.
The headlamp has both red and white light settings, and it comes with separate buttons for each light feature, making it exceptionally easy to get the right kind of light beam when you need it.
When you want a good lightweight headlamp, this one works nicely, though it's not quite as bright as some of the larger and more expensive headlamps out there.
Ready, set, light up the night!
Customer Feedback
Works for a long time, non-stop
Works in all types of weather elements
Lightweight
Stays in one place
Steady stream of light
Works perfectly
Check The Price
3. Bushnell Rubicon H250L Headlamp
The Bushnell Rubicon H250L Headlamp is a comfortable little headlamp with a good build quality. The light itself is quite bright and offers excellent visibility when looking over long distances or at objects nearby.
The best thing about this headlamp is that it auto adjusts the beam width depending on how far objects are that you're looking at. This makes close-range and long-distance viewing comfortable respectively.
If you want to make sure that you can see for some time and at long distances, then this is the headlamp that you want to use. It is a headlamp that will not let you down.
Customer Feedback
Works insanely well
Allows you to see everything around you
Great for hunting
Comfortable and lightweight
Comes with many different modes
Easy to use
Check The Price
4. Topwell Light Tactical 5000LM Headlamp
As long as you don't mind a bit of weight, the Topwell Light Tactical headlamp is one of the more powerful options that you can get your hands on. It's good for looking through brush and a bit of night hiking.
This potent tool comes mounted on a rugged headband that keeps it in place nicely. Even during a light run this light doesn't bounce around too much. There are three different settings, two white light, and a unique green light that looks pretty cool and provides a softer illumination.
As long as you keep on top of the batteries with this headlamp, you won't have to worry about running out of light at any point. That's because there are two different batteries in the set, along with a charger so that you can always keep them topped up.
Slip it on and head out on your next hunting adventure with a hands-free way to see where you're going or what you're shooting.
Customer Feedback
Very high quality
Very bright main light
Side green lights are bright
Comes with the two rechargeable batteries needed
Easy to slip on and use
Comfortable to wear
Check The Price
5. NyteBright T6 Headlamp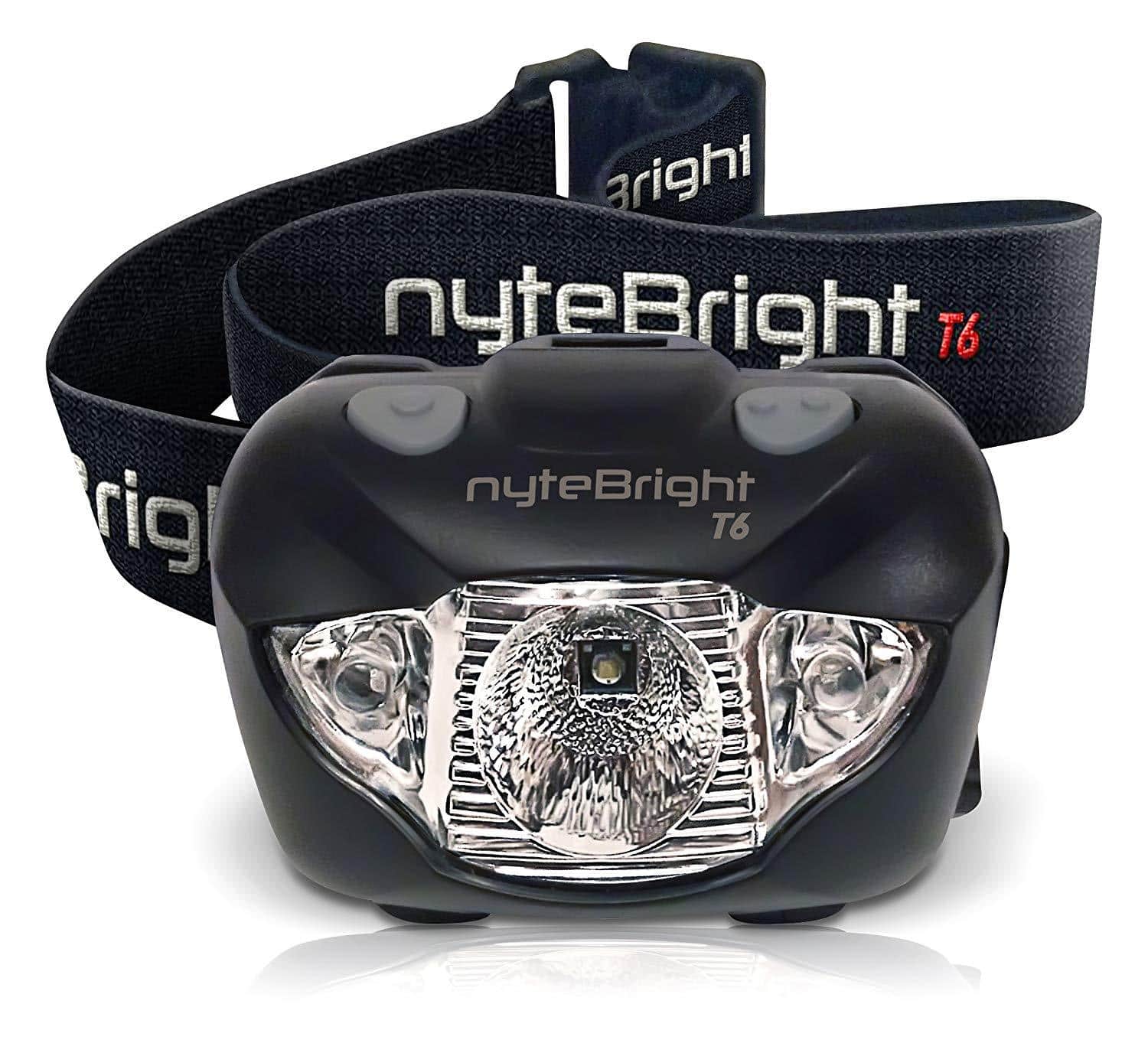 The NyteBright T6 headlamp makes use of powerful Cree XP-E LED lights to cast a brilliant light out in front of you. It offers a decent halo of light around the central beam, creating a view that's easy to use while out in the woods or in other natural environments.
This light is pretty lightweight, so you won't be hurting your neck with the weight over a period of several hours. This also makes it particularly well suited to running and other physical activities.
It has both red and white lights which are nice, and what's even nicer is that they are operated by two different buttons so you don't have to cycle through a bunch of different light settings to get the one that you want.
You can change it out however you'd like and make the most use out of it for the next trip you go on.
Customer Feedback
Exceeds expectations
Great price and high quality
LEDs are located on the sides
Operate everything with different switches
Headband is comfortable
Lightweight
Bright lights
Lasts all night and day
Check The Price
More Reviews