There's nothing worse than catching a face full of lead plastic when you're out fighting the good fight with your boys. It hurts a whole lot, and more importantly it distracts your aim away from your targets! That's why every airsofter needs a good mask setup.
I've been competing in airsoft most weekends out of the year for quite some time now, and I didn't start enjoying the experience until I picked up a quality mask to wear out of the house. It's easy to find an option that's going to fit your head and look cool, and who doesn't want to look cool? But it also has to offer protection against those little plastic balls of death, and it shouldn't fog up too much either or you'll be shooting your own teammates, and that stuff will get you sent home early.
The mask I'm using now is sturdy, it looks cool and I'm able to keep shooting throughout a match without dealing with a terrible haze of fog. It's one of the best airsoft masks you'll come across and there are quite a few like it. If you'd like the same thing you probably won't mind taking a short glance at the masks I've come to love over my years of play.
Quick Comparisons of the 5 Best Airsoft Masks for Full-Face Protection
IMAGE
MODEL
FEATURES

Outdoormaster Full Face Airsoft Mask

Complete face protection

With padding and adjustable straps

Maximum breathing and communication

View Product

Full Face War Game Steel Mesh Mask

Great air intake

Easy to see

Breathable, no fog up

View Product

Andway Skull Skeleton Full Face Mask

Eco-friendly material

Eye Shield, no fog up

One size with adjustable strap

View Product

TooGoo 2 in 1 Protection Steel Mesh Face Mask and Goggles

Durable quality

No scratching

Comfortable and adjustable

View Product

Fog resistant lens

180 field of vision

Integrated visor

View Product
What to Look for in the Best Airsoft Masks
Price: Sure you can probably find a nice airsoft mask for $300, but who really wants to spend that much when there are $15 options available. The price of a mask determines whether it's worth the purchase or not and I consider it strongly when deciding which options are worthwhile.
Look: It's true the look of a mask doesn't affect its function, but who wants to wear something that's going to get laughed at? When buying an airsoft mask looks really matter, that's why each and every one of the options is evaluated not only on function, but also on whether it's going to make you look like a bad**s when you're facing the enemy.
Fog resistance: Most masks fog up a little, but I try to avoid recommending anything with serious fog issues. The less fog the better and the more enjoyable your time playing is going to be.
Breathability: If you've ever played Airsoft before, it's a lot of running, jumping, hiding, and you'll do a lot of breathing, well hopefully anyway. That's why the mask needs to be easy to breathe through. If it isn't you have a pretty big problem, and you certainly aren't going to be the hero of the match.
5 Best Airsoft Mask
1. Outdoormaster Full Face Airsoft Mask
This Outdoormaster Full Face airsoft mask comes in a bunch of different looks that are creepy/cool while being protective at the same time. The mask comes with metal mesh eye holes that stop the plastic bb's effectively while allowing you to see where you're going. The metal mesh is awesome because there's no chance that's ever going to fog up.
It can't be over emphasized how awesome these masks look and there are many different styles to choose from. Each comes with plenty of small breathable holes in the bottom and slightly larger holes at the nose for breathing comfort.
Six elastic straps lock this bad boy in place, ensuring that it doesn't slip off while you're running around, and thick rubber padding will keep you comfortable as you jump, dip and dive your way through a game.
There are currently 9 different looks to choose from, so you can look like the Predator, Captain America, a British Flag faced soldier, a skeleton and a bunch of other cool creatures as you roam around playing airsoft.
This mask is one of the best airsoft masks because it offers protection, comfort and cool looks all at once.
Customer Feedback
Padded on the inside for comfort
Takes hits like a champ
Looks cool
Reduces face sweat
2. Full Face War Game Steel Mesh Mask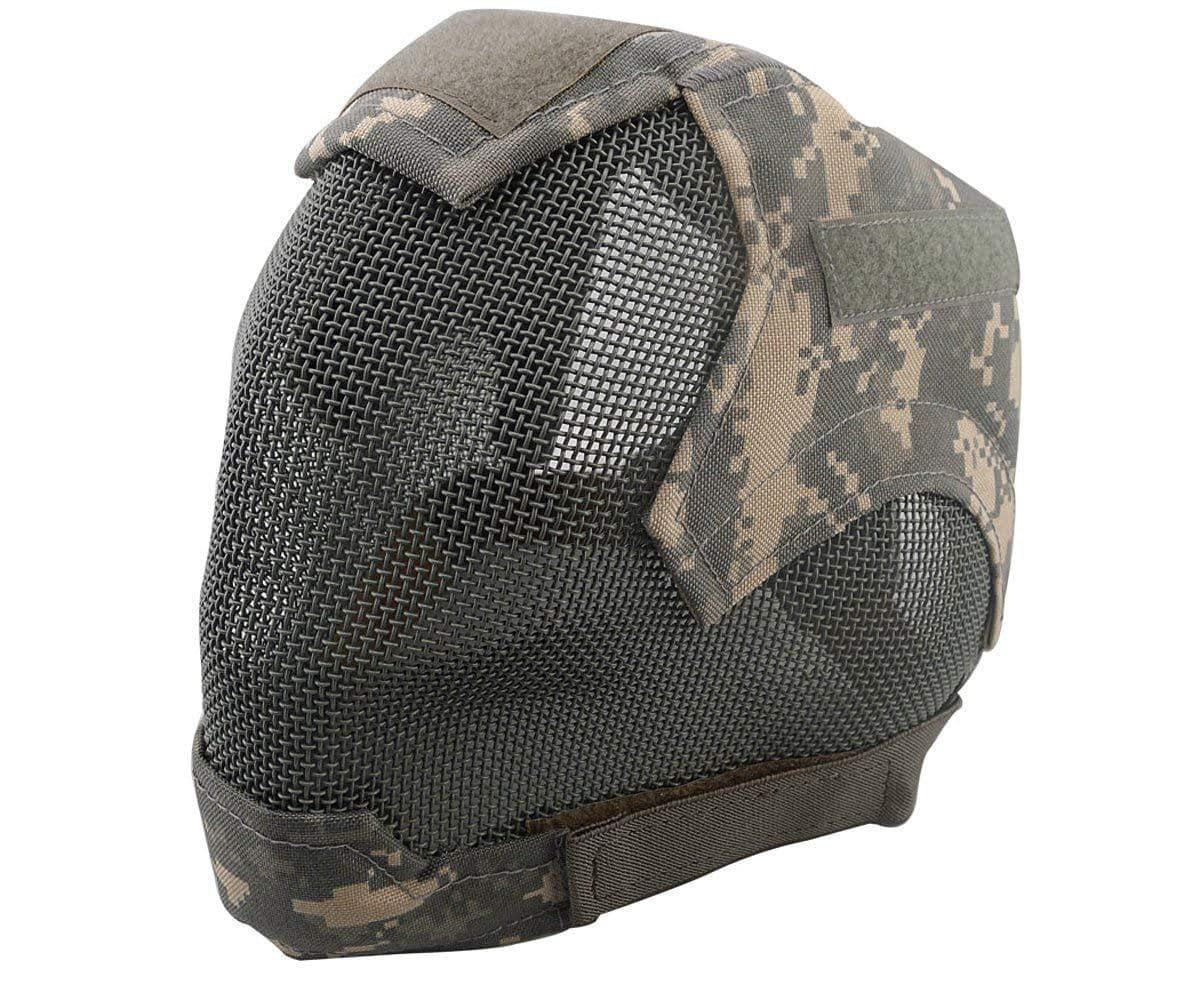 This Full Face War Game Steel Mesh Mask relies on steel mesh to protect your entire face and it looks pretty cool while doing it. There's a lot to like about this product, but I'll start with the two most important points that stuck out for me.
It's highly breathable and doesn't fog up so you'll keep seeing straight all game. The whole mask is rigid metal mesh and that means that you can breathe as easily as if you weren't wearing a mask at all. The mesh takes a minute to get used to looking through, but once you are used to it you'll be shooting just as accurately as you do with no mask while target practicing at home.
The full face War Game Steel Mesh Mask is tough too, and can withstand shots over 700 fps without issue. I fired off more than 20 rounds into the face of this mask and it didn't show any signs of denting.
It's a good solid performer and a highly recommended option for players that want lots of air and don't want to mess with wiping away fog while playing. There are a bunch of different looks, but these are mostly variations of color and the shape of the mask stays about the same.
This product offers more space for players with glasses as well, while some others can be a bit tight for that.
Customer Feedback
Mesh works well
Coated wires are sturdy
Great protection
Wide range of view
Durable and protective
3. Andway Skull Skeleton Full Face Mask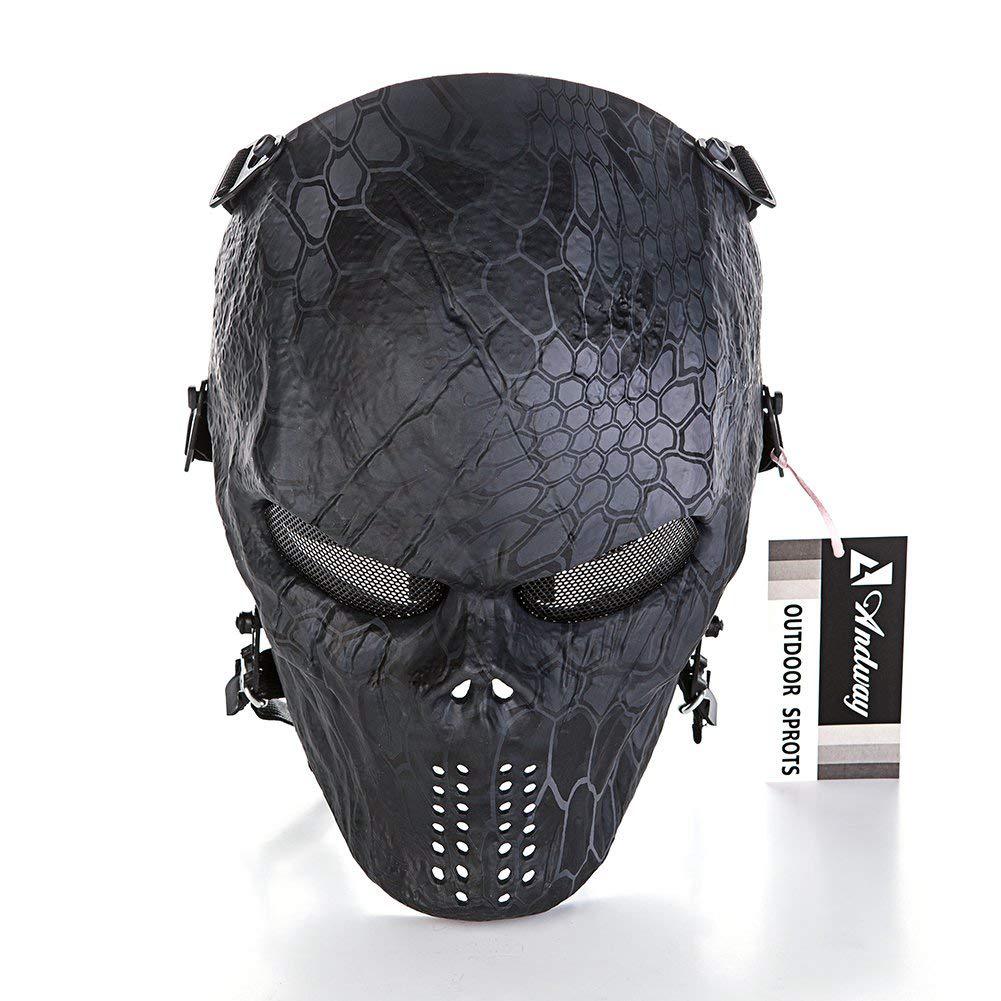 With the Andway Skull Skeleton Full Face Mask you can look like a beast while playing with confidence. It's highly protective, very breathable and absolutely stunning to look at.
There are a bunch of different styles to choose from, and I'll leave it up to you as to which one is the best to pick. The lower breathing holes offer plenty of ventilation for fast-paced play, and the eye mesh gives you a decent view while protecting you against enemy fire.
This mask is a bit tight to the head and has a nice snug fit. Plenty of padding and three sets of elastic help lock it into place during use. Slip it on and cinch it tight to get ready for battle. You'll love the way you look while playing, and you may even strike fear into the hearts of your enemies.
Heck, some people bought this mask for Halloween or for costumes for special events, that's how good these masks look, they aren't even just being used for protection.
Overall it's sturdy, looks good and helps ensure that you can breathe as you play.
Customer Feedback
Perfect for airsoft
Lightweight
Breathable
Comfortable
Durable and deflects BBs easily
Great look
4. TooGoo 2 in 1 Protection Steel Mesh Face Mask and Goggles
This TooGoo 2 in 1 Protection Steel Mesh Face Mask and Goggles comes with the lower mesh mask and a set of goggles for ample protection. It does have the tendency to fog up a bit, but it's a manageable amount that you can easily wipe away without issue.
The goggles are quite comfortable and offer a clearer view than mesh eye protection does. The elastic keeps them firmly in place so there's no need for adjustment during play.
The lower mesh mask offers plenty of tiny breathing holes and keeps your nose, mouth, cheeks and all those other important features protected. It's easy to slip on, and effective for intense airsoft play.
This setup will have you looking like a tactical fighter. Some will say you have the commando look, others will say that it reminds them of a member of a SWAT team. Either way you'll look cool while remaining protected, and that's the ideal blend when searching for the best airsoft masks.
Customer Feedback
Fast shipping
Great price
No scratching
Durable
Comfortable
5. JT Elite Prime Goggles
The JT Elite Prime Goggles offer all the protection you'll need for airsoft or paintball for that matter. It's the only option on this list designed for both sports, and it's very effective at what it does.
The clear goggles offer an excellent field of vision and don't fog too badly during use, though there is going to be some fogging. It fits snug and shouldn't shake around much during use.
The JT Elite Prime Goggle mask has a nice tactical look to it, and there are even matching gloves sold for it if you're into that sort of thing.
Customer Feedback
Awesome design
Somewhat smaller than other masks
Fits good and snug
Great quality
Fast shipping
Great price
Comfortable
Do you recommend an Airsoft Mask?
Drop us a line!