Running is an exhilarating sport that puts you out into the great outdoors and gives you goals to shoot for. Runners build on their results and can track progression every week they go outside and hit the pavement.
Unfortunately, running is really hard on my body and I've had my share of injuries over the last 20 years that I've been running.
Shin splints, calf cramps, chronic fatigue, and sprains have all been issues for me in the past. I rely on stretching, foam rollers and excellent warm-up techniques to help minimize these problems, but they don't fix them entirely.
It wasn't until I started relying on compression socks and compression sleeves that my pain decreased and I suffered fewer injuries.
The compression helps blood flow and it cuts down on the negative side-effects of running. I have a whole drawer full of compression sleeves today (I prefer them to socks because they are cooler) and I use them for every single run that I go on.
I love the sleeves, but I went through many low-quality sleeves while building up my collection. If you're interested in finding relief from shin splints or other running-related issues, consider compression sleeves, they work pretty darned well for me.
These compression sleeves are great for more than just running as well. They can be used for a specific sport like basketball, tennis, volleyball, or any other sport-related activities that you may find yourself being a part of as well.
**You might also be interested in reading up on the best knee braces for torn acl.**
Quick Comparisons of the 6 Best Calf Compression Sleeves for Shin Splints
IMAGE
MODEL
FEATURES

Thirty 48 Graduated Compression Sleeves

Colors black/gray and blue/gray

Improves blood circulation

Increased airflow

View Product

GXQ Calf Compression Sleeve

80%Nylon, 20%Spandex

Protection from Scratches and Abrasions

Antibacterial & SPF 50 Sun protection

View Product

Run Forever Sports Calf Compression Sleeve

Comes in 4 different sizes

Alleviates leg pain and swelling

Improves blood circulation

View Product

BeVisible Sports Calf Compression Sleeve

14 – 23 mmHg true graduated compression

Available in 5 colors and 3 sizes

1.2 inch anti slip strap

View Product

Camden Gear Calf Compression Sleeve

Comes in 4 different sizes.

Reduce pain from shin splints

Reduce fatigue during your run

View Product
What to Look for in Calf Compression Sleeves for Shin Splints
Compression: They need to give your calves a good tight squeeze while you workout. This promotes blood flow and will help make you feel better.
Comfort: Good compression sleeves are a pleasure to wear. They won't make you too sweaty or itchy or squeeze your legs too much. Good comfortable sleeves are hard to find.
Attractive: Any sleeves that you have around your legs should look halfway decent as well. After all, you're probably running in public and it doesn't hurt to have attractive sleeves on as you do it.
5 Best Calf Compression Sleeves for Shin Splints
1. Thirty 48 Graduated Compression Sleeves

Thirty 48 graduated compression sleeves offer relief from calf injuries or leg pain after a lengthy run. They come in two different compression levels making it easy to get a nice firm level of compression that you're comfortable with. Personally, I prefer a lower level of compression.
The sleeves slip on above regular running socks and can be worn comfortably with a variety of footwear. They don't fix shin splints entirely but do ease the pain from them and also work well for a variety of physical activities.
If I had to say what to wear, then these sleeves would be one of the top choices because they fit perfectly and provide the compression that is needed. Whether it is for long distance sports or competitive ones, these sleeves are able to get the job done.
Customer Feedback:
Feel less fatigue in muscles during and after running
Do not get rid of the shin splints, but make a difference
The best option out there on the market
The only thing that helps with muscle pain relief
Check The Price
2. GXQ Calf Compression Sleeve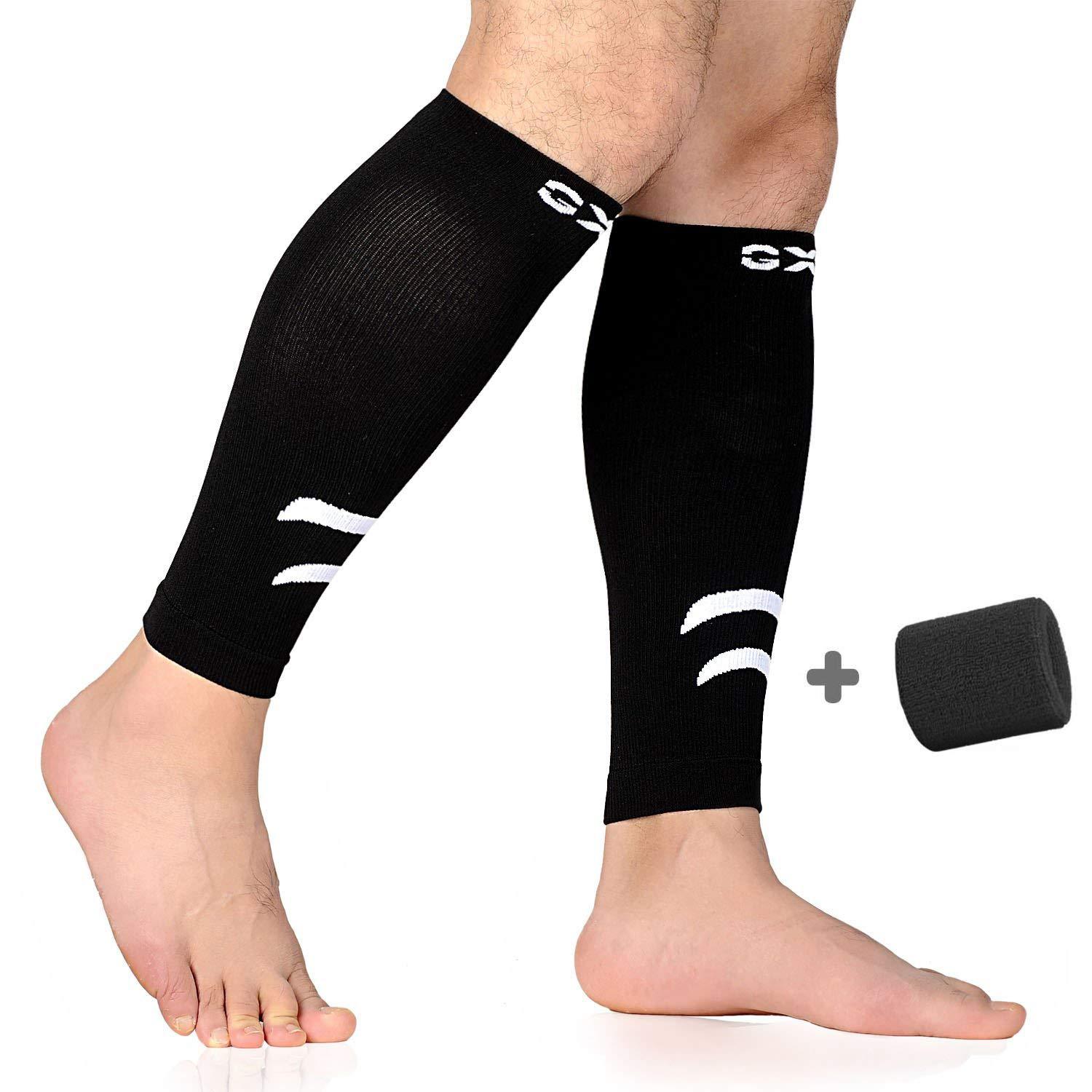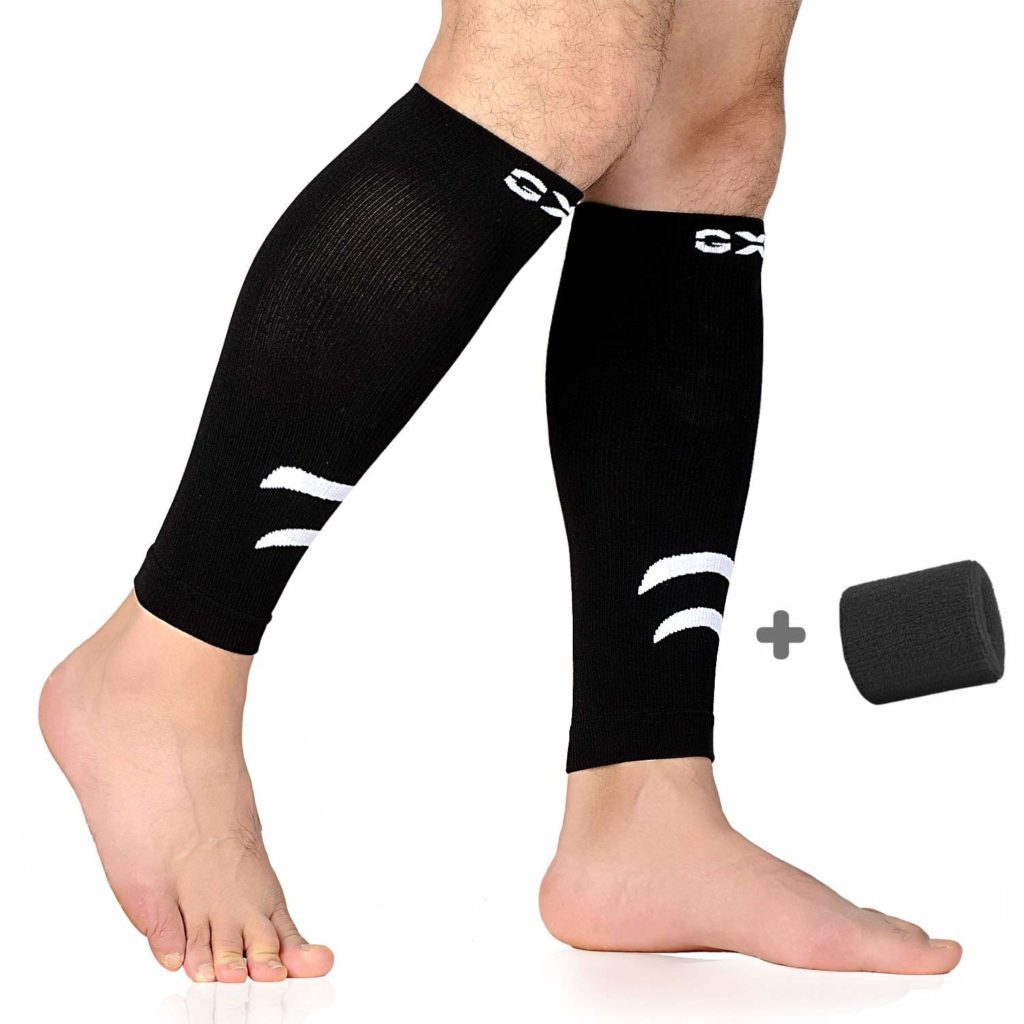 The GXQ calf compression sleeves look pretty attractive and are excellent for men or women. They're made from nylon and spandex and actually allow your legs to breathe nicely. I love the neutral design of these beauties and I find myself wearing them quite often.
The sleeves slip right into place and offer a nice tight feel during workouts. They take a bit to get used to but are relatively comfortable overall. The added wrist band was a nice bonus that I use even when using a different pair of sleeves.
Definitely, a pair of sleeves that are going to help your muscles heal and do what they need to do without letting you down. These sleeves are easy to slip on, fit comfortably, and allow you to run faster, for longer periods of time.
Customer Feedback:
Easy to take on and off
Provide the benefits of compression
Make my legs and calves feel great after exercise
Reduces cramps
Lessens muscle fatigue
Check The Price
3. Run Forever Sports Calf Compression Sleeve

The Run Forever Sports compression sleeve is one of the most comfortable that I've tried when sized properly. They slip right on over my calves and offer support without squeezing too hard. I use them for regular workouts because they help me avoid fatigue and soreness and the dreaded shin splint.
The sleeves work to alleviate pain in sore legs after a workout as well and are useful for treating shin splints. They come in many different sizes and are worth considering if you want comfortable support.
For those long distance runs, these can hold your legs during the entire run, making you more comfortable and reducing the pain in the muscles.
Customer Feedback:
Do wonders for sore calves after long runs
Forget you're wearing them because they're so comfortable
Easy to put on and take off
Help with shin splints
Lower price than others but work well
Great reviews
Check The Price
4. BeVisible Sports Calf Compression Sleeve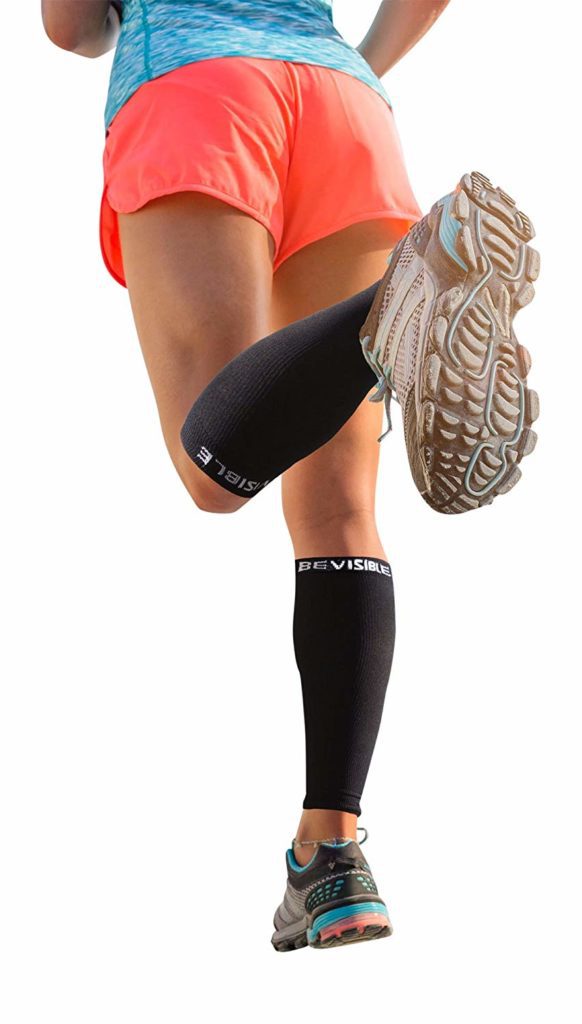 When you want a whole lot of compression the BeVisible Sports calf compression sleeve set is the product to go with. They aren't the most comfortable of the bunch, but the most effective for treating shin splints I believe.
I use these for recovery quite often to help enhance blood flow, but I prefer a different set for active exercise because these are quite warm during use and not too breathable. They're an excellent tool, but not the only sleeves I would purchase.
Slip them on and forget they're even there when it comes to hitting the roads and running away. You can make the most of the exercise that you do when you do it.
Customer Feedback:
Feel great after a 20-mile run
Keeps the pain away
No cramps or tight feeling in the legs
Makes my shins feel great after a run, without splints
Fits over the legs perfectly
Easy to get on and take off
Check The Price
5. Camden Gear Calf Compression Sleeve

As long as you don't mind having a sizable logo on your leg the Camden Gear calf compression sleeves work really well for running and relieving shin splints. They breathe quite well thanks to the lycra used, but will still make you warm if you use them on a hot day.
The sleeves help boost my recovery and they cut down on soreness after a long run, but they aren't a cure-all for shin splints by any means.
Wearing them will help me avoid the splints from occurring, but once they are there they won't make them go away, they simply dull the pain and speed recovery.
If you're a runner, then you want to make sure to use these compression sleeves to your advantage when the time comes. Slip them on and head out on the open road.
Customer Feedback:
No calf pain
Legs feel great with them on
Reduces the pain from shin splints and reduces them entirely
Improvement is seen right away
Well made
Fit me nicely
No slipping when used correctly
Check The Price
**Also read up on the best pepper spray for running.**