I was recently using my current die cutting and embossing machine, and realized that it was severely outdated. Not only did I have to constantly worry about my fingers getting cut off, but it just wasn't cutting the paper as it should be. This is a problem, especially since I am ready to go when it comes to scrapbooking.
I didn't want to wait forever, either. I wanted something that would be there soon, and actually work out in my favor.
Thinking of getting your own die cutting and embossing machine? Worried you're going to get something that is not so good? Me too. So I checked out some of the best die cutting and embossing machines on the market. These, I felt and others, are supposed to be those 'go-getters' that you can rely on when it comes to doing crafts with them.
Never miss a beat when it comes to cutting and embossing again, why?
Because you're the boss.
What to Look for in a Die Cutting and Embossing Machine
Ease of use: As with many other machines, being able to easily use it is also a big factor. If the machine is large, bulky and requires too much muscle, then this is not something that you're going to want to mess with. Something that is a bit more compact, has an easy to roll handle and works with you is essential.
Versatility: The die cut machine should be able to go with small to large sized dies and embossing tools. You probably have a wide assortment of items, like me, so you need to make sure that the machine is going to be able to handle them, no matter how big or small they are going to be.
Affordability: Being able to afford the die cut and embossing machine is key, but keep in mind that the lower in price you go, the lower the quality might be. Consider an ideal amount to spend and then stick with that.
Durability: This is one of the biggest things I look for when it comes to a product. Not only should it work easy, but it should last for a long time. My last one was able to last for years, but now that it is gone, I have to consider one that is going to do the same type of job. The more durable, the better.
---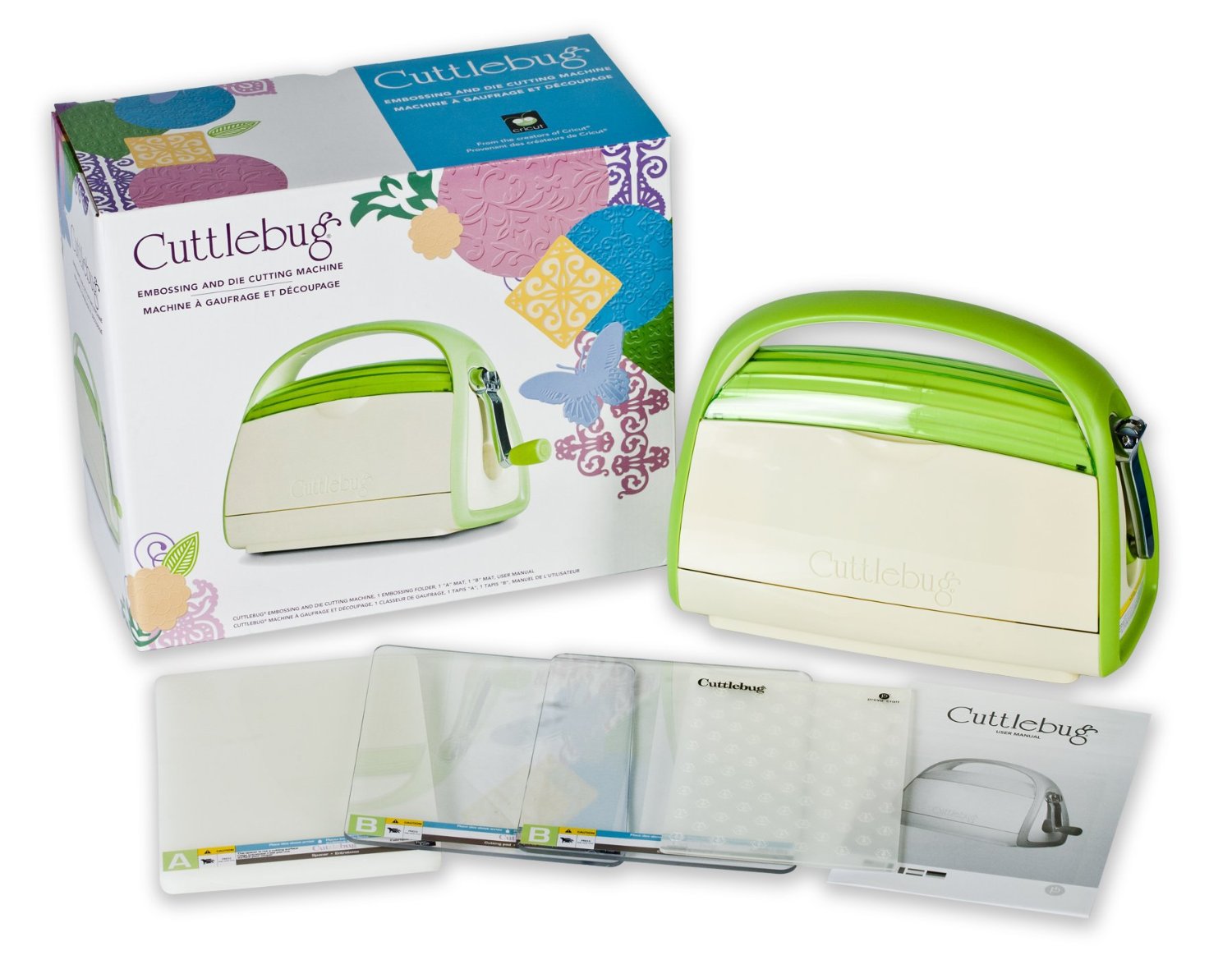 With the Cricut Cuttlebug Machine, V2 Green, not only are you going to be able to do die cuts and embossing in style with its sleek design, and I love green but it is compact.
Worried you're not going to be able to do your crafts at camp? No longer worry, because it is completely versatile and works with you and your needs.
One of the best parts about this machine is that it can cut a wide range of materials. It loves whatever materials you love, and for that, we are grateful. Comes with the pads and accessories needed to get started, all it needs is your inspiration.
The set is also one that can change out different sizes, so you can go from large to small with a click of the machine. You're able to make the most of your die cuts and embossing through the use of this tiny, compact machine that truly packs some power.
What Users are Saying
Works with a lot of smooth movements, easy to maneuver materials
Receive crisp, high quality cuts and images from this machine
Works much better than more expensive machines used
Excellent for making scrapbook and cardmaking elements
Easy to use and get the hang on, performs really well even after a lot of use
Check Amazon Deals
Read customer reviews
---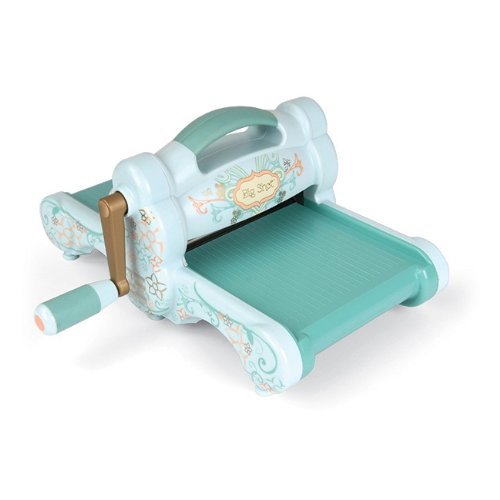 The extended multipurpose platform is the highlight with the Sizzix 657900 Big Shot Cutting/Embossing Machine. You're able to create some of the biggest, and best projects when you choose to go with this machine.
Its teal base is also very attractive. The smaller size makes it a bit more compact than some of the other items on the market that are more bulky.
You can choose the size of the project, making it completely versatile for a wide range of crafts and projects that you want to work on.
It also works with any type of material, so whatever you're looking to custom create, you can do so with the help of this handy teal machine. So small, but with so much power and versatility, you can have it all.
Comes with everything that you need to get started as soon as you take it out of the box and get down to doing the crafts you want to do.
What Users are Saying
Great for making weird, odd cuts and angled images that would be difficult otherwise
Excellent selection of accessories and complimentary items
Never disappointed by the end result of die-cuts made by this machine
Great platform size makes it easy to make big cuts, extremely versatile
Check Amazon Deals
Read customer reviews
---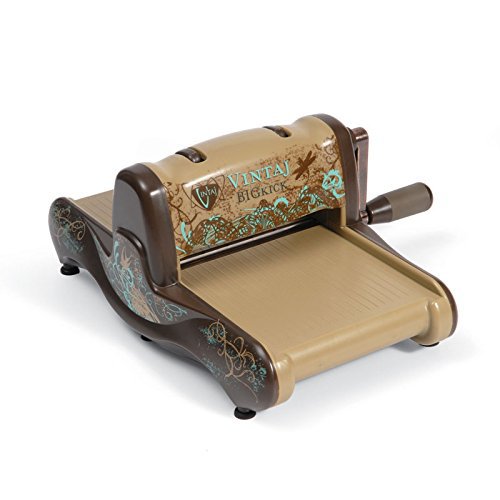 Through the use of the Sizzix 657650 BIGkick Cutting/Embossing Machine Special Edition, you're able to die cut and emboss in style, or like a boss.
Be able to use a wide range of different sizes, depending on the specific project that you're working on. Of course, you cannot forget the many different materials that are out there that you can use the machine to cut through. The sky is your limit when it comes to using this quick machine for all your cutting needs.
The vintage, beautiful look is much different than the other options that they have on the market, currently. You can look different, but get the best cuts using the easy to use handle. Never struggle again, or worry about getting one large muscle in your dominant arm from so much crafting that is being done.
Cut in a whole new way, and in style!
What Users are Saying
Convenient for die-cutting metal and other materials
Works just as well on paper and foil materials
Use to create high-quality jewelry for home business
Great cuts even after working on metal over time
Check Amazon Deals
Read customer reviews
---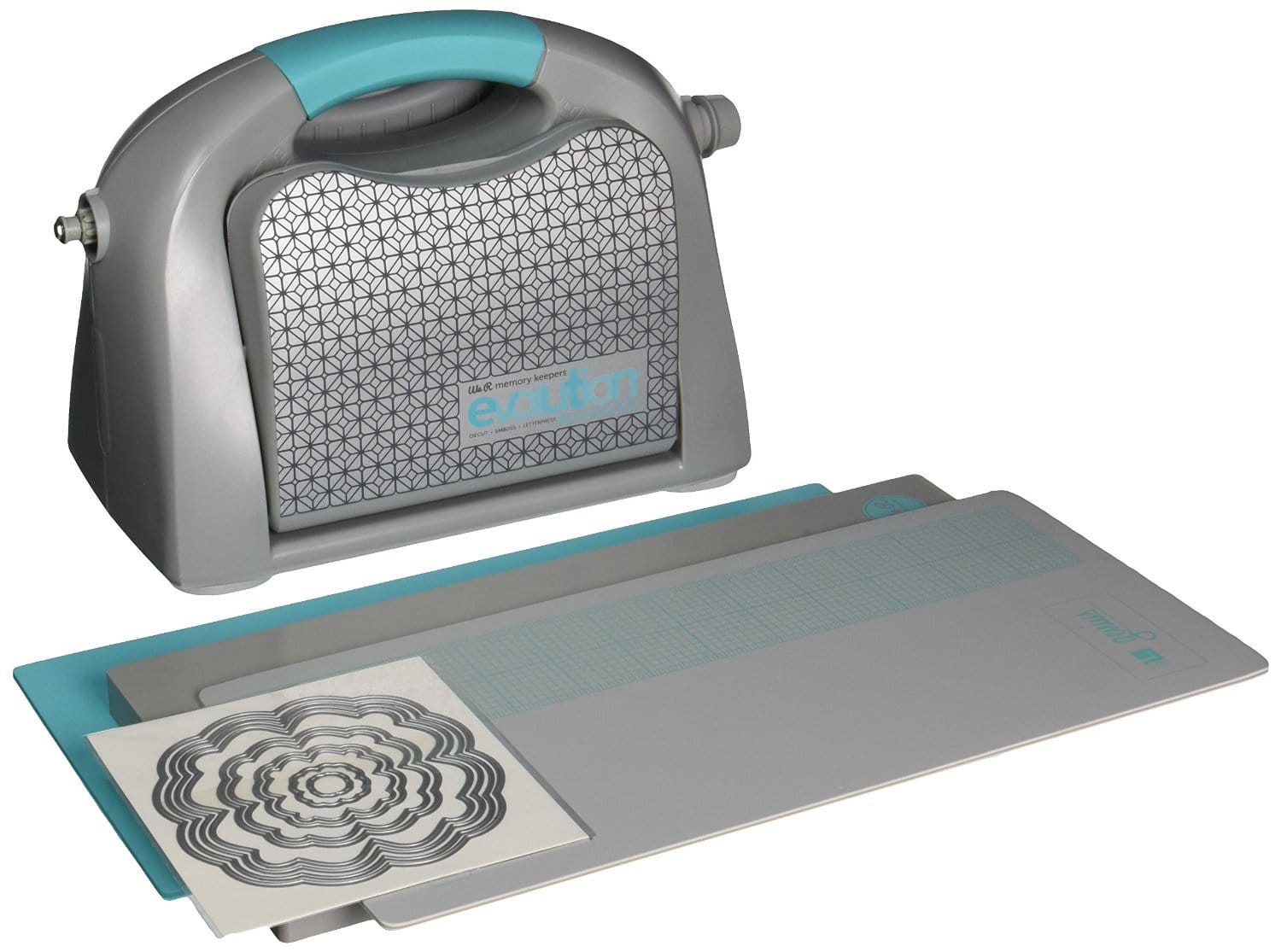 Who said that cutting has to be hard? With the use of the We R Memory Keepers Evolution Advance Die Cutting/Embossing Machine, you can make sure that each and every cut that you make is ideal, precise and easy to do!
Not only does this machine come with everything you need, but you can use the older tools from your previous machine with it. It is complete, and utterly versatile. So I won't have to throw out that old stuff anyway. I can keep it and use with this machine.
The silver and teal look is stylish, but it also folds up nicely, so you can use it on the go, wherever you decide to go. It is just that easy to craft and go.
Just choose your folder and die, and the material you want it to cut through and you can get started since it does not hate any materials out there.
What Users are Saying
Extremely convenient because of the adjustable dial use instead of multiple plate-stacking
Many users went from Cuttlebug to this machine
Cuts well and crisp each time
Simple learning curve makes it easy to create advanced cuts and products
Check Amazon Deals
Read customer reviews
---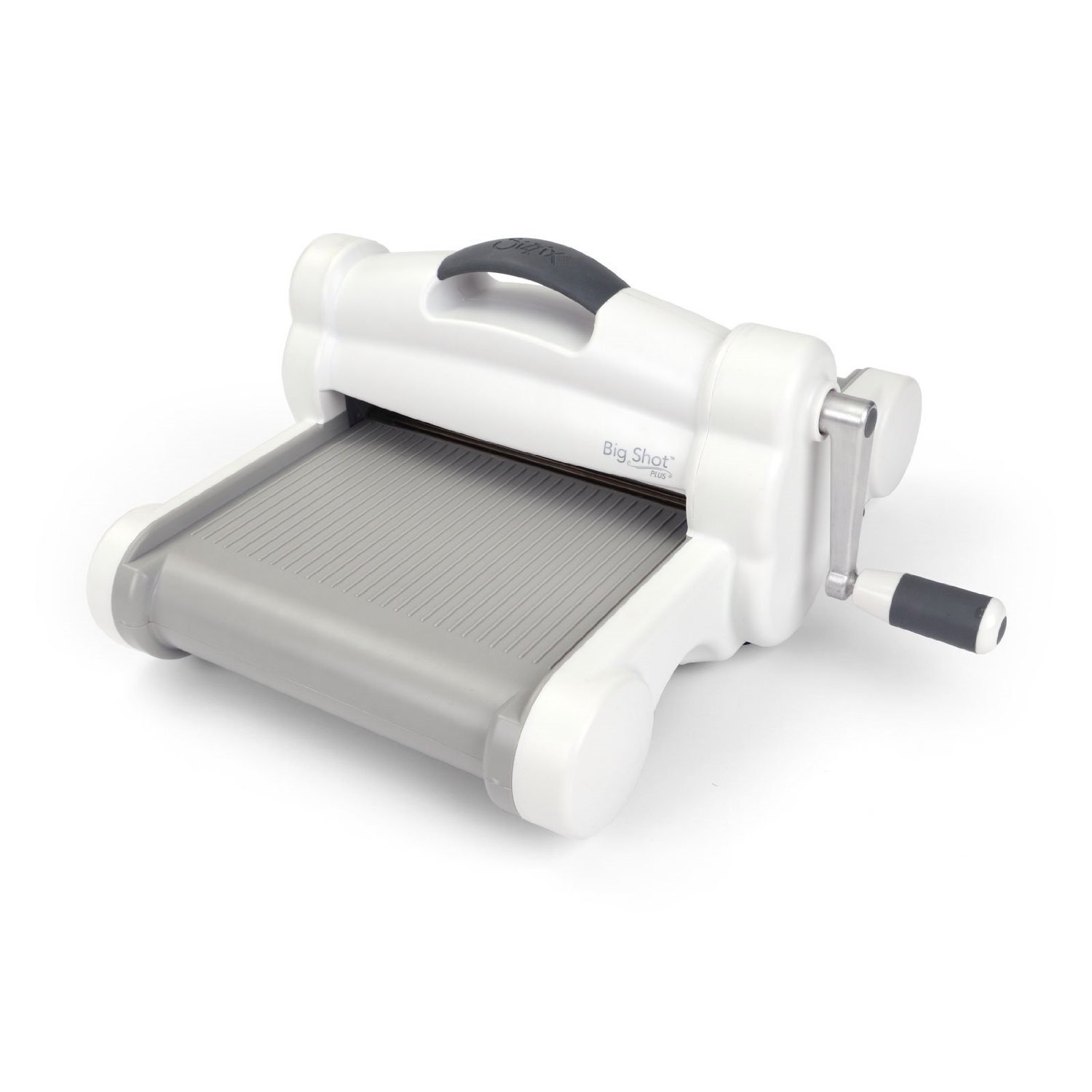 With the Sizzix 660340 Big Shot Plus Cutting/Embossing Machine, you can use this sleek, stylish machine to cut through a number of materials, depending on what type of craft you're working on at the time.
Completely versatile, and lightweight, you can get it out whenever the crafting mood hits you, and it hits me a lot.
The crank on the side is smooth, it glides effortlessly, and you get clean, precise cuts every time that you do not have to go back over. You can go from the smallest, to the largest of tools. This gives you no holds on what you can and cannot make when it comes to using the machine.
Comes with everything you need and is already set up and ready to go when you take it out of the box, so make sure to get crafting right away!
What Users are Saying
Gives users a lot of room to maneuver materials
Wide opening and platform is ideal for bigger projects
Superior cutting performance, have never had issues with crisp cuts
Check Amazon Deals
Read customer reviews
---
Do you recommend a die cutting and embossing machine that we didn't cover?
Let us know! In the meantime, check out reviews for more arts and crafts products, including the best sewing machines under $200, the best ergonomic crochet hooks and the best embroidery machines for beginners.