It's a beautiful day outside and you're celebrating by hitting the disc golf course. You're in the middle of a great round when: bam, you tear up yet another pair of running shoes.
Unfortunately, disc golf is well known for eating up shoes. Running shoes may be comfortable to play in, but the constant planting, rotation, toe dragging, and concrete tee pads can quickly destroy these types of shoes. After a couple rounds, you'll blow out the sides, find the fabric coming undone around the toes, or wear down the tread quicker than you can say Jack Robinson.
Sound familiar? If you're tired of cycling through pairs, it may be time to consider a shoe that's designed to play on the uneven rocky terrain and dew-covered fairways that you play on.   From cushioning to support, waterproofing to weight, there are many factors to consider when looking for a new disc golf shoe.
Comfort is the ultimate factor, but you also need to consider your early morning rounds with dew-covered grass, how the shoe supports your foot during the miles of walking, and the all-important grip strength on any surface. You need a shoe that will blend comfort and functionality to keep you going no matter what the weather or the course conditions throw at you.
Comparison Table
Men's Disc Golf Shoes
IMAGE
BRAND
FEATURES

New Balance Men's 410 V6 Trail Running Shoe

50% Synthetic, 50% Mesh

Featuring a strong rubber outsole

Truly a premium underfoot comfort experience

Buy Product

PUMA Men's Ignite Nxt Disc Golf Shoe

Textile and Synthetic

Performance Mesh +TPU

Waterproof Mesh

Buy Product

Keen Men's Saltzman WP Hiking Shoe

Lace-up vamp

100% Textile and Synthetic

Waterproof mesh upper

Buy Product

Salomon Men's Speedcross 3 Trail Running Shoe

100% Synthetic

Water-resistant

Protective rubber toe cap

Buy Product

Adidas Men's Terrex Swift R GTX Hiking Shoes

100% Mesh

Traxion sole

Ripstop mesh

Buy Product

Merrell Men's Moab Ventilator Hiking Shoe

100% Leather/Mesh

Vibram sole

Air Cushion midsole

Buy Product
Women's Disc Golf Shoes
IMAGE
BRAND
FEATURES

Merrell Women's Moab 2 Waterproof Hiking Shoe

100% Suede Leather, Mesh

Vibram TC5+ sole

M Select DRY seals out water

Buy Product

New Balance Women's WT410v5

75% Synthetic, 25% Mesh

NB response 2.0 performance insert

Rubber sole

Buy Product

KEEN Women's Targhee II Hiking Shoe

100% Waterproof

Rubber sole

4mm multi directional lugs

Buy Product

Salomon Women's Speedcross 3 Trail Running Shoe

100% Synthetic/Fabric

Rubber sole

Heel measures approximately 1.75"

Buy Product

Merrell Women's Siren Sport 2 Hiking Shoe

Synthetic sole

Air cushion in the heel

EVA contoured footbed

Buy Product

Adidas Outdoor Women's Kanadia 8 Trail Runner

100% Textile and Synthetic

Rubber sole

Synthetic overlays

Buy Product

KEEN Women's Voyageur Hiking Shoe

100% Leather and Mesh

Rubber sole

Torsion stability ESS shank

Buy Product
What to Look for in Disc Golf Shoes
Waterproof or breathable: Sadly, you can't have your cake and eat it too. Highly waterproof shoes tend to be less breathable than those that feature light, or no, waterproofing. Some disc golfers find waterproofing necessary, which is especially important when playing in morning dew conditions or on courses with a lot of creek crossings. Some shoes have waterproof lining only, while other have treatments on the inside and outside of the shoe materials. If dry feet are the most important factor for your game, then waterproofing is definitely something you'll want to consider. If you prefer your feet in a more breathable situation, consider a lighter waterproofed shoe.
Grip: Tread is an all important factor, especially in wet grass conditions. You also need to consider that your game will cover a number of different terrains, such as concrete tee-boxes, dewy fairways, dirt, roots in wooded holes, and less than ideal situations like mud and snow.The tread of your shoe should give you good grip on a variety of terrains, as well as giving you control and the ability to pivot. Don't let wet grass cause your confidence to falter: choose a shoe with the right type of grip to perform under pressure.
Strength: It is extremely important to have a well stitched shoe to avoid the sole or the sides of the shoe ripping out. Constant wear-and-tear is evidenced by the number of shoes that have already ripped in the same exact place. In addition to strong, well-constructed fabric, the shoe itself needs to have some structure and strength.If the shoe isn't strong enough, you will run the risk of rolling over the sole when you plant your foot, causing your foot to slide sideways inside the shoe in an uncomfortable way. The ideal shoe should be reinforced with strong material to prevent this type of foot movement. Don't forget about strength and durability of the sole, too, as concrete teepads are notorious for eating up shoes.
Weight: Depending on how you play your game, the weight of the shoe should be a factor that you consider. Some players prefer a lightweight shoe, as being weighed down when you're trying to generate maximum power and momentum can affect your game.Other players prefer the durability of a heavier weight shoe, giving them the confidence to maneuver on any course condition without risk of rolling an ankle. Walk around in the shoes, do some practice spins, and make sure the shoe weight is compatible with your game style.
Comfort: You're going to be walking miles out there today. Proper foot support is crucially important to ensure maximum comfort, both while you're out on the field and to prevent repetitive play injuries such as shin splints.A good insole with proper arch support will keep your feet from feeling worn out after the round. Get to know your feet: do you have wide feet? High arches? Pay close attention to how your foot responds to the shoe, and think about what it will feel like after hours of walking around.
Based on these factors, we found the KEEN Men's Saltzman WP Hiking Shoe to be one of the best disc golf shoes for men, and the KEEN Women's Targhee II Hiking Shoe for women. Let's look at our top picks.
Buyer's Guide Overview
Men's Disc Golf Shoes
KEEN Men's Saltzman WP Hiking Shoe
Salomon Men's Speedcross 3 Trail Running Shoe
Adidas Men's Terrex Swift R GTX Hiking Shoes
Merrell Men's Moab Ventilator Hiking Shoe
---
Women's Disc Golf Shoes
KEEN Women's Targhee II Hiking Shoe
Salomon Women's Speedcross 3 Trail Running Shoe
Merrell Women's Siren Sport 2 Hiking Shoe
Adidas Outdoor Women's Kanadia 8 Trail Runner
4 Best Men's Disc Golf Shoes
1. KEEN Men's Saltzman WP Hiking Shoe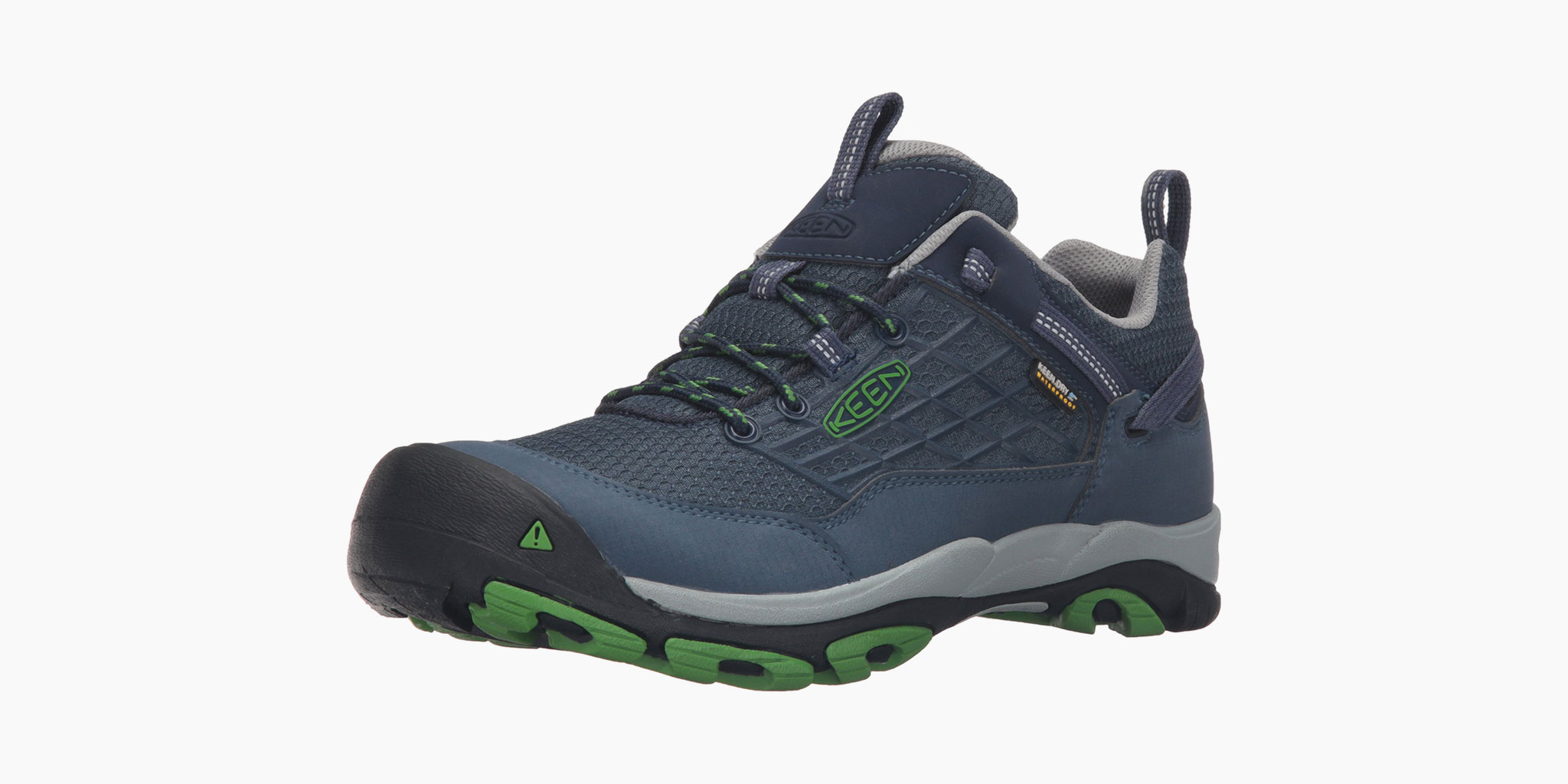 As the official footwear partner of the Disc Golf Pro Tour, it's no surprise that KEEN is a top choice for disc golfers around the nation. Their superior waterproofing makes them a no-brainer for out on the disc golf course, in addition to providing a lightweight feel, excellent foot support, and high-traction tread.
KEEN is known for its legendary waterproofing technology. The Saltzman includes a hydrophobic mesh lining, a waterproof mesh upper, and a waterproof breathable membrane. What does that mean for you? Exceptionally dry feet, no matter if it's pouring rain or you're walking through a creek. Surprisingly enough, all of this waterproofing still makes for a lightweight shoe.
The comfort features of the Saltzman will keep your feet fully supported, even after hours of walking on rough terrain. The removable dual density EVA foot bed has a springy midsole to provide long-lasting cushioning. The solid rubber, high-traction outsole not only supports your foot while walking on a rocky or woody-rooted course, but also gives you solid grip no matter what the weather throws at you.
An added bonus of buying shoes from KEEN is that you're supporting the American economy. They perform the final and most critical steps of assembly in their Portland, OR, factory, and they make every attempt to make their products as "American Built" as possible.
Wearers commented that the Saltzman is a sturdy shoe that feels lighter than they expected for having this kind of support and stability. Many users commented that they use this shoe for disc golf, and it offers all the protection they're looking for in a waterproof shoe. Several users noted that their feet were warm and dry, even in the coldest winter conditions. In addition to finding the Saltzman sturdy on rough terrain and durable over long periods of time, users noted that the comfort ratings for these shoes were off the charts.
Because of their lightweight support, comfort, and waterproofing, the KEEN Saltzman WP Hiking Shoe gets our Editor's choice.
Check The Price
2. Salomon Men's Speedcross 3 Trail Running Shoe
There is no better company dedicated to the outdoor sports community than Salomon. They are committed to creating innovative and progressive gear, while at the same time maximizing sustainability and reducing environmental impact.
The Speedcross 3 Trail Running shoe is designed to maximize speed on the trails with its lightweight, no frills design. Salomon's focus on this shoe was to provide excellent cushioning in a lightweight and durable package. These shoes are lightly waterproofed with water resistant textile, so you get some waterproofing features, but the main focus in the design is breathability.
Saolomon promise a super precise fit with their Sensifit system, cradling the foot to provide a precise and secure fit. The injected EVA midsole support and protect your feet with underfoot cushioning. The soles are designed with Contragrip to provide ultimate grip no matter what the weather condition.
An extra bonus of this shoe is "easy-on, easy-off" with Salomon's Quicklace technology, which tightens laces evenly as you pull the one strong polyester cord. The shoe also features a protective rubber toe cap, which could be helpful for those of you that toe drag as you play.
Many users report the comfort of these shoes, even after miles of walking. Of the review that reported using these for disc golf, most commented that the shoes are grippy on all types of tee pads, including cement, dirt, and gravel. The low-to-the-ground forefoot is helpful for avoiding ankle twisting and feet rolling, and the grip has been noted by a number of users as being sufficient for disc golf.
Check The Price
3. Adidas Men's Terrex Swift R GTX Hiking Shoes
Adidas is well known for producing sport shoes, but did you know that they make hiking shoes too? The company produces over 301 million shoes a year, so you know they're well versed at what they do. In fact, the world's top ranked disc golfer Paul McBeth announced he would be sponsored by Adidas in 2016, and 850 pairs of this shoe sold overnight.
The Terrex Swift R GTX series is designed to be a light, waterproof outdoor shoe. The low-to-the-ground design aims to give you control while trekking through rocky terrain, making this a perfect choice for disc golfers on wooded or rocky courses.
The lining of the shoe is GORE-TEX to protect your feet from wet conditions, including pouring rain and creek crossings. The TRAXION outsoles grip in all directions to give you optimal grip in any terrain, even on slippery surfaces. The heel support provides impact cushioning that protects feet from uneven terrain, and EVA midsoles cushion feet at each step.
Users love these shoes for disc golf, and most rate them as providing excellent comfort and support even after hours of play. They were described as "lightweight but rugged," being a very sturdy shoe on the roughest of terrain while not weighing the wearer down.
The tread is noted by a number of different users as providing excellent traction on inclines, declines, and even on wet leaves. One user described these shoes as "legitimately waterproof," commenting that the GORE-TEX lining kept his feet very dry even after hours of playing in wet grass.
Check The Price
4. Merrell Men's Moab Ventilator Hiking Shoe
In 1988, Backpacker Magazine named Merrell the creators of the best hiking boots ever made. Since then, Merrell has continued to live up to this name by creating some of the most comfortable and functional boots in North America.
The Moab Ventilator is well known for providing hikers traction with ventilation. The shoe is designed with leather uppers and a breathable, mesh lining that wicks to keep feet cool and dry from sweat. The shoe features a leather toe cap, which can be helpful for those who toe drag on the course.
Comfort is at the forefront of Merrell's design, with a compression molded EVA footframe for cushioning as well as a heel air cushion to add stability and absorb shock. Vibram soles guarantee traction on both wet and dry surfaces, and the lug patterns are strategically placed without lugs under the arch on this shoe to allow for natural foot flexibility and improved comfort.
Users report that these shoes hold up even after hundreds of rounds and abuse on concrete tee pads. In addition to durability, many comment that their feet were not only comfortable throughout miles of trekking on the course, but they were also kept cool even on 100+ degree summer days. One user found that these shoes actually contributed to his confidence on the course: knowing that his shoes would provide great traction has positively impacted his game.
Check The Price
4 Best Women's Disc Golf Shoes
1. KEEN Women's Targhee II Hiking Shoe
The KEEN Targhee II is available in both boot and shoe versions, but we prefer the shoe version for disc golf because it is more lightweight than its boot counterpart. KEEN's legendary waterproofing comes through again, this time in leather.
Featuring KEEN.Dry proprietary technology, a waterproof membrane lets vapor out without letting water in. Combined with a hydrophobic mesh lining and waterproof leather uppers, your feet will be dry and stylish at the same time.
The grip on these shoes is created by 4mm multi directional lugs that are designed for grip on any terrain, including loose rocks and slippery mud. Comfort is unsurpassed with multiple features to keep your foot supported and stabilized.
A metatomical footbed design cradles the natural contours of the foot for excellent arch support mile after mile, and the ESS shank in the midsole helps prevent foot fatigue by stabilizing the foot as you move.
Finally, a contoured heel lock provides structure and stability to your foot on impact, helping to prevent ankle related injuries. A thick leather toe guard is a bonus for those who toe drag on the tee.
Users find these shoes to have excellent grip on slippery and rocky surfaces. One user has tried several different brands of hiking shoes and found these to be by far the most comfortable and supportive, both while walking in them and because they left her without foot fatigue afterwards. Many users comment on how their feet were dry even after intense rainstorms and when stepping in shallow streams or puddles.
Check The Price
2. Salomon Women's Speedcross 3 Trail Running Shoe
A trail running shoe is a great option for a lightweight but durable disc golf shoe. Anything that designed for speed on rugged terrain should hold up well against the disc golf course. The Women's Speedcross 3 is designed as a lightweight shoe with a highly cushioned interior to protect feet against impact on rocks or wooded roots.
Salomon's commitment to comfort is evidenced with a molded EVA midsole that provides cushion, stability, and anatomical support. They go one step further and built in an Ortholite sockliner with foam to create a cool, cushioned environment under the foot.
The comfort is rounded out with an EVA heel cup for heel support and stability. In addition to comfort, the grip is not to be overlooked on this shoe. Lug patterns on the sole are designed for aggressive grip and precise foothold on soft terrain, making this an excellent choice for grip on wet or muddy terrain.
Users find this Salomon shoe to have excellent grip, even on rocks, sand, mud, and dirt, and that the soles hold up after hundreds of miles of trail running. Despite their lightweight design, users find that these shoes support their feet as well as heavier shoes. The lightweight feel and breathable design is so natural that one user felt that she could have been running barefoot.
Check The Price
3. Merrell Women's Siren Sport 2 Hiking Shoe
If you're looking for a disc golf shoe that will keep your foot cool all day long, even in hot weather, the Siren Sport 2 is a great option for you. This well designed shoe melds the beauty of leather with breathability of a mesh upper. The mesh fabric is designed to wick to keep feet dry while simultaneously allowing airflow in and keeping body heat out.
Your foot will be comfortable as well as dry with Merrell's built-in comfort features. An EVA contoured footbed and molded nylon arch shank smooth things out in the midsole for all day comfort. An air cushion in the heel adds stability to the shoe, preventing ankle related injuries and absorbing shock for a softer landing.
The soles are created with Vibram to provide a high-performance durability, increased stability, and great grip to prevent slipping. These shoes are engineered to provide traction on wet or dry surfaces, while lug patterns are specifically designed without lugs under the arch for natural foot flexibility.
Users report happy, dry feet. One user commented she loved that she could feel the wind coming in through the side of the shoes to cool her feet down. Multiple users found these shoes to be both comfortable and supportive while still maintaining a lightweight feel. Grip was observed as being excellent, even on slick rocks or wet grass.
Check The Price
4. Adidas Outdoor Women's Kanadia 8 Trail Runner
Adidas has recently broken into the trail running shoe game, with trail running shoes being the fastest growing category for this massive shoe producer.
The Kanadia 8 is the eight generation of this trail shoe, and it is engineered for agile off-road performance. Adidas has focused on three main features in this shoe: excellent support, breathability, and superior traction.
Support is provided with SUPERCLOUD cushioning foam in the sole to create flexible and comfortable support that will make you feel like you're walking on air. Synthetic overlays wrap your feet in a secure and supportive feeling to provide study support, while mesh lining and an OrthoLite sockliner create breathability to keep your feet dry.  The Adidas TRAXION outsoles grip slippery ground with multi-directional grip, while the lug design will keep you sturdy on uneven ground.
Users love how lightweight these shoes are but still provide comfort, structure, and support. One user commented how much she loves the cloud foam on the inside. The tread is reported as extremely grippy, even on snow and ice.
Check The Price
Tips for Taking Care of Your Shoes
Now that you've invested time and money into identifying the perfect disc golf shoes, you're going to want to take care of them. Your shoes will stand up to the test of time if you put in the time and effort into caring for the fabric, soles, and insoles.
After all, if you take care of your shoes, your shoes will take care of your feet.
To avoid odor buildup, air out your shoes after each use. Remove the insoles and allow them to air dry. If you don't have time to air dry, you can stuff your shoes with newspaper or paper towels to dry
Take some time to clean your shoes. Regular cleaning of the exterior fabric and the soles will result in longer lasting shoes. Never use a washing machine, as the spin cycle can cause damage to the shoe's structure and the detergent can break down the glue used in the midsoles. Using an old toothbrush, gently wash off the mud by hand with some mild, anti-grease dish soap. Brush off any mud clinging to the treads to prevent them from wearing down more quickly.
Never dry your shoes in the clothes dryer. Even if they are soaked through with rain or constant creek crossings, the clothes dryer is the wrong way to expedite the drying process. The glue that holds together the inner parts of the midsoles can be compromised by the heat of the dryer, and the structure of the upper can weaken and crack from the heat. Placing shoes in direct sunlight or in front of a fan are great wasy to dry your wet shoes. If you really need to dry them quickly, use the low power setting on a hair dryer.
Store your shoes in a dry environment with circulating air. Don't store your shoes in a gym bag or a box where air cannot circulate. In the winter, avoid storing your shoes in freezing temperature areas such as your car or a garage, as the cold can cause stiffening in the midsoles.
Take the time to unlace your shoes and gently slip them off your feet. When you kick them off, you can warp the heel and they will become misshapen over time.
Sources & Further Reading