Wood carving is a fun pastime and an easy to acquire skill with just a little practice. Simple to follow patterns allow you to get started with new techniques, and help you hone your own personal, artistic touch. Spoon carving is a popular way to get started with soft curves and more delicate techniques, but also allows you to add your own personal flair.
To create the best product from your block of wood, you need to choose the type of wood that carves easily. Not all wood is created the same, and there are many that you want to avoid altogether. This article explores the best woods for carving, especially when carving simple, yet stylized objects such as spoons.
**You might also be interested in the best wood for wood burning**
Quick Comparisons of the 5 Best Wood for Spoon Carvings
IMAGE
TYPE
FEATURES

Size: 12 to 24 inches x 2 to 3 inches

Amount: 5 logs

Best for: Smooth, flawless finishes and easy carving

View Product

Size: ~ 6 inches x 1 inch

Amount: Choose 2 to 10 pieces

Best for: Decorative, unique grained finishes

View Product

Size: 5 inches x 5 inches x 3 inches

Amount: 4 pieces

Best for: Utensil carving and warm, smooth tones

View Product

Size: 2 x 2 inches by 6 - 19 inches

Amount: 4 pack

Best for: Solid, dark grained carvings

View Product

Size: 12 x 3 x ¾ inches

Amount: 2 pieces

Best for: Textured, colored grains, and smooth, shiny finishes

View Product
Why Carve Spoons?
Spoons are easy to carve, useful, and challenge your wood carving skills the more comfortable you get with its use. They are something you can do by the side of a campfire for immediate use, or spend a bit more time on creating useful tools for your kitchen. They also can be stylized and decorated.
Characteristics to Look for in Spoon-carving Wood
When determining which wooden option is best for your spoon carving endeavors, first you need to consider whether this is a decorative piece, or a functional piece. Decorative carvings are best highlighted by unusual grains, color stains, or unique natural shapes. However, if you are looking for a more functional piece, you need to pay closer attention to the details of the raw wood.
Fresh
Choosing a block of wood that isn't too seasoned, or dried out, makes it easier and quicker to carve. This is a popular choice for whittling, which is what many spoons results from. But it makes carving more intricate styles and designs easier as well.
Hardness
The hardness of a wood deals with the cellular structure of the species. Hardwoods come from deciduous trees and are the preferred option for carvings that are being used for durability. The hardness of your carved items is important for durability, and for spoons you want a good hardwood. But you also want a tight, non-porous cellular structure to avoid the wood from being easily stained by oils.
Straight
Choose a block of wood that helps support the finished shape you are looking for. Straight grains unmarred from knots helps create a durable handle, while interesting wood details make a cool ladle. Starting from a generally straight piece of wood allows you to make the curves you desire.
Green Wood vs Seasoned Wood
There is much debate over which is best, green wood or seasoned wood, for carving. Although you can use either, many prefer to work with greener wood in order to have a softer working surface. This wears less on your knife and allows you to truly shape and carve the designs and shapes you desire. Plus, as the wood ages, it tightens up, hardens, and becomes more durable.
Harder, drier, more seasoned woods may require more tools to get the finished look you desire. Saws and chisels are common tools to help shape the wood as knives dull more quickly. If you are looking to simply whittle, or quickly carve, your spoon, choose the most fresh piece you can find.
Concerns About Wood Toxicity
Anytime you use natural products you might ask yourself about toxicity or allergy possibilities. Although you really don't need to worry much about this since the actual part of wood you are carving comes from inside a tree, and is not subject to the barks, saps, pollens, flowers, and oils that could cause issues.
If you do a quick search online you may find all sorts of claims, all of which are unsubstantiated. I even ran across people saying to watch out for water hemlock- which is a perennial flower and is hardly large enough for carving anything (but that hemlock name sure sounded good to get people worried!).
If you DO have concerns, however, please use the wood database that offers a plethora of information on ALL wood to help you determine if you might possibly have an issue due to personal sensitivities.
Treated Woods
It should go without saying, but if you are creating spoons for use, you definitely want to avoid pressed OSB board, old pallet wood, and other treated woods. These have glues and chemicals added for waterproofing, longevity, weather protection, etc… all of which are things you really shouldn't put in your mouth.
Best Wood for Carving Spoons
As mentioned, you can use just about any wood for spoon carving, but if you want a long-lasting option that is both functional and beautiful, then you need to consider a few things before choosing your wood.
You can easily practice your spoon carving on softwoods, such as pine, but if you want it to be useful and last, you need to pick from a fine-grained, tight cellular structured hardwood species. For new carvers, pick from woods such as birch, black walnut, soft maple, or even cherry to provide a more malleable option that allows your knife to move through it with less resistance.
Once you are more adept at the practice, choose some woods that are a bit harder, such as pecan, mesquite, or various fruitwoods. Also, avoid options like oak or ash that may seem very hard, but offer a porous surface that will stain and dirty easily.
Top 5 Wood For Spoon Carving Reviews
The following options are considered some of the best for spoon carving. They provide a beautifully easy to carve option and leave behind a smooth, tight grain that is preferable for regular use. They do not stain easily with oils and clean up will without breaking down. See our post on where to buy wood for wood carving here.
1. Birch Wood
Size: 12 to 24 inches x 2 to 3 inches
Amount: 5 logs
Best for: Smooth, flawless finishes and easy carving
Check The Price
Birch is a very popular option for spoon carving and is considered a favorite wood to work with for utensils. This set of logs provides you various lengths of a raw template and provides plenty of material to work with for your spoon carving needs. It also isn't as difficult to carve when dry compared to other species.
Who This is For
If you want a classic finish to your spoons and a nice, tight, smooth grain, birch is a fantastic option.
Pros 
Great size selection
A lot of wood to work with
Smooth and natural-looking
Cons
Larger sizes require cutting down
2. Maple Wood
Size: ~ 6 inches x 1 inch
Amount: Choose 2 to 10 pieces
Best for: Decorative, unique grained finishes
Check The Price
Maple wood is another popular carving choice due to the variations and colors that often showcase themselves in the wood grain. This maple burl wood is already cut to the perfect carving length, and each piece is varied to provide a completely unique result.
Who This is For
If you love the burled variations the darker and lighter grains mixed together to create, choose from these prepared blocks for carving.
Pros 
Each block is different
Great size for small carvings and whittling
Beautiful burled grain
Cons
Pieces are smaller and limit the finished size
3. Black Cherry
Size: 5 inches x 5 inches x 3 inches
Amount: 4 pieces
Best for: Utensil carving and warm, smooth tones
Check The Price
These large, kiln-dried cherry wood blanks provide a hefty amount of materials to work from for all your carving needs. Cherry is a popular carving wood as it provides a nice, hard, smooth finish, but isn't too difficult to work with. This is a warm-colored wood with rich tones and is a great contrast for use when serving foods.
Who This is For
If you love rich, warm tones and are looking for plenty of wood to work with, this is a great option.
Pros 
Great size to start carving from
Ready to carve
Rich, quality grains
Cons
Kiln-dried so might be more difficult to work with
4. Walnut
Size: 2 x 2 inches by 6 - 19 inches
Amount: 4 pack
Best for: Solid, dark grained carvings
Check The Price
Walnut has a rich, deep color that is popular in woodworking. It is malleable and shapes easily under a knife and other wood working tools, and leaves behind beautiful grain designs and a smooth, useful surface. It also is a wood that is durable and long-lasting, making it an awesome addition to any kitchen.
Who This is For
If dark, classic wood grains and sturdy use is what you want out of your spoons, this is a wood worth taking on.
Pros 
Beautiful, dark grains
Ideal for cutting and turning
Strong and durable
Cons
Dried, so may be harder to work with
5. Apple
Size: 12 x 3 x ¾ inches
Amount: 2 pieces
Best for: Textured, colored grains, and smooth, shiny finishes
Check The Price
Fruitwood, particularly applewood, is beautifully grained for carving purposes. It provides a soft enough feel for easy carving and leaves behind a smooth, durable surface. Still green, these are a perfect choice for carvers since they are still supple enough to keep from having to put forth too much effort.
Who This is For
This is some of the best green apple wood you can find short of cutting it down yourself. If you are serious about carving and love the texture and grain of fruitwood, check this out.
Pros 
Deep colored grains
No two sections are the same
Great moisture content
Cons
Not as commonly available
Conclusion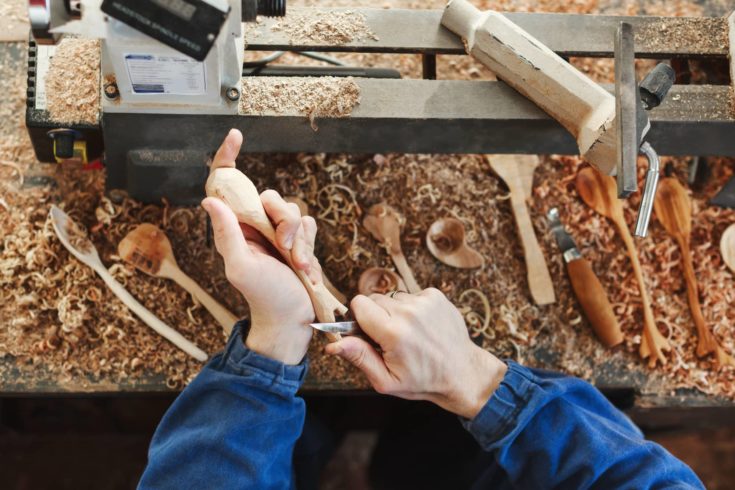 A good carving wood is important for any carving projects you may have. A strong durable and smooth looking wood is especially important for carving useful tools, such as spoons. If you have been wondering what is the best wood for carving spoons, and other utensils for home use, gifting, and displays, then your best bet is to pick one of the options we have provided above.
Although green woods are ideal for any carving, with the right tools you can definitely use just about any block of wood you want. The options we've highlighted are the best for spoon carving due to their durability, their smooth finish, and beautiful finishes.
We'd love to see your own creations! As always, please share!