Halloween is a holiday that is for not only children, but also for adults. The chance to play dress-up, eat lots of chocolate and candy guilt-free and the opportunity to spend with your family while making memories going around your neighborhood just as you once did is good for the soul.
Monsters and other supernatural creatures gained a second life due to Halloween and to this day, monsters are one of the most sought-out costumes and décor ideas. You can have a family of monsters, both scary and lovable, or a couples costume for your significant other and yourself. Plus, there is something about making the normally scary and hair-raising a little bit more ridiculous. That is why today we are going to take a look at why monster décor for Halloween is a huge hit and some of the best décor ideas you can use next Halloween!
Why is Monster Décor so Popular for Halloween?
There isn't exactly a reason why monster décor is so popular for Halloween but it definitely is always one of the trending searches as October nears. It is because we are confronting our fears of the monsters under our bed? It's because we are remembering all those classic horror films that both intrigued and scared us as kids? Is it because there is more than one type of monster that you could use in both terms of decorating and costumes?
Maybe it's simply because there is such a large array of options available for monster décor for Halloween! You can keep it as simple as a monster wreath or you can go all out! You can make your own Halloween decorations, purchase any item you can think of in a Halloween theme, and you can decorate with a combination of the two.
Halloween Monster Décor Ideas
1. Full Door Mural
AVAILABLE ON WAYFAIR
This scary yet easily installed mural of monster teeth fits securely over the door of your garage or it can be placed on the side of your home. It comes with a guarantee that placing this mural on the garage door will not interfere with its abilities to open and close, so you are able to use it as per normal. You could even have this as the entrance for your Halloween party! Made with durable and weather-resistant plastic, this mural will be used for Halloweens to come.
2. Archway Décor
CHECK THE PRICE
Want to transform the entrance way of your home for those little trick-or-treaters or for your party guests? Then you want to check out this monster décor for the archway or doorway of your home!
Featuring razor-sharp looking teeth and creepy glowing eyes made from durable foam and outdoor element resistant plastic, this décor will require some minor assembly but the instructions will be included in your package. You use the included double-sided tape for security and watch as everyone on your guest lists askes, "where did you get that?"
3. The Classics
It doesn't matter whether you believe The Nightmare before Christmas is a Halloween or Christmas movie, Jack Skellington is a classic character in pop culture thanks to director Tim Burton.
Add a special something to your front door with this Jack Skellington mural of his slightly sinister grin and watch as people stop to say "that is amazing!" Just print the template for his eyes, nose, and grin then use double-sided tape to securely fit the stencils to your door.
4. Realistic and Relatable
AVAILABLE ON AMAZON
Zombies have saturated pop culture in recent memory and this mural is up with the best of what zombie culture has to offer. It's extremely realistic and will leave your guests wondering if your home truly has been invaded when they see this greeter on the front door!
Made using plastic, it measures 3 feet wide by 6 feet high but can be trimmed to fit your current door. It's easy to hang and remove without damaging the finish of your door, so you don't have any worries there.
5. Truly Creepy
Want to really creep out your party guests and visitors on Halloween? Want to create something that is actually creepy when you walk past it? Exercise your creative side with this truly eerie tracking ghost décor that can be made right at home using the straightforward and easy instructions.
This decoration uses sheets, sparkle tulle, a craft full face mask, and magnets (along with other supplies listed at the beginning of the tutorial) to create hanging ghosts with eyes that follow your every move. The slightest breeze will send this ghost into a lazy spin (it's braced on a wire hanger) and it is something that is straight out of a Hollywood horror movie.
6. DIY Halloween Décor
Create a Halloween and fall-inspired full porch and door décor theme with this tutorial. Add the element of creepy and Halloween with the monster door featuring eyes and streamers that flutter whenever the door is opened to up the creepy factor.
Cater to the natural décor found in the elements of fall for the porch and use a combination of pumpkins, gourds, and flowerpots to showcase the array of colors that fall can offer.
Then tie it all together by using Halloween decorations to show your visitors that while you can try to relish in the fall season's beauty – Halloween is just around the corner!
7. Interactive Décor
Using this online video tutorial, create an interactive Halloween decoration that is truly life-like. With materials that can be purchased at your local craft store, dollar store, or department store; invent and showcase an interactive Halloween experience.
Changing your door to a giant monster eye, this interactive experience allows the candy and treats for the kids to be passed out through the eye of the monster. So if they want the treat? They have to face their fears and face your trick!
8. Beware the Glowing Eyes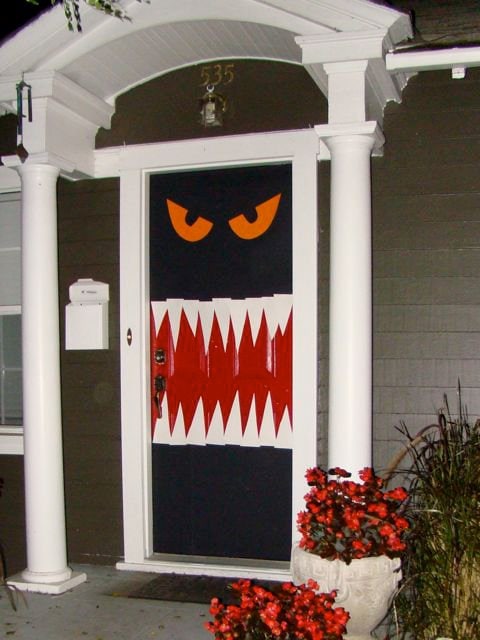 Surprise the neighborhood kids with this glowing eye door decoration. Using a piece of black foam or fabric, get stencils for glowing eyes and a gaping mouth full of fangs, to create a door piece that will be seared into their minds.
Use double-sided tape for security and watch as this creation unfurls to show off a more sinister look to your front door. All materials can be purchased at your local craft or dollar store.
9. Versatile
VIEW PRODUCT
Not sure if you want to decorate your window, wall, or door for Halloween? Then check out this skeleton decoration that adheres using special adhesive to avoid damage to the finish. This creepy trio will welcome your guests with a ghastly grin, and it can be used on any flat surface as mentioned (although it is listed as a door decoration). It measures 30 inches by 72 inches and is ready upon arrival for your next big spooky party!
10. DIY – I C U
Easy, inexpensive, and fast to make, this tutorial teaches you how to create a door hanging for Halloween night using materials that you have in your home. The only thing you'll need to purchase at a craft store or dollar store will be a pair of big googly eyes that move around in their casing.
Using black garbage bags, white duct tape, and your googly eyes; transform your front door into a set of peepers that will follow the trick-or-treaters walking up to the front door, every single step of the way.
11. Best for Kids
CHECK THE PRICE
Having a party for children this Halloween? While you still want to incorporate the basic themes of Halloween into the décor, you don't want anything overly scary or creepy that can cause the friends of your children nightmares or unease.
This is why this monster wall decal is perfect for those children's Halloween parties! It showcases a monster, a Halloween staple, but in a fun, cartoonish way without looking like it is meant for a child. Featuring body decorations, along with the mouth, eyes, and arms; this decoration can be stuck to the wall, doors, and more without any sticky residue to clean up.
12. Full House Facelift
This Halloween decoration definitely shows commitment and creativity as it involves covering the entire façade of the front of your home. Using a combination of paint, stencils, and decorative items, you can completely transform the front of your home into a monster's face or with a few minor changes; a monsters palace.
13. Cute Monster Door
Looking for a cheap and easy Halloween monster door décor that you can make at home? Then look no further then this easy tutorial that has an online video. Using materials that are easily accessible, you can create a monster door for any type of finish. Glass patio doors? Not an issue. Wooden finished doors? Sure. Paneled doors? Absolutely.
This cute monster door is spooky enough to be called a Halloween decoration but cute enough that even the most Halloween disbeliever got to say "Ah ok, that's good".
14. Textured Halloween Door Décor
Shredding garbage bags have never been so creative! Using black garbage bags, or a piece of fuzzy material from the craft store, create a textured backdrop for your door for Halloween. Print out creepy eyes or stencils that you can paint or color; then put it all together to create a door that is just creepy to look at.
The eyes pop on the black background and the textured finish makes them look as if they are really following your every move as you walk up for the party or for your treats.
15. Trolling for Scary Door Decorations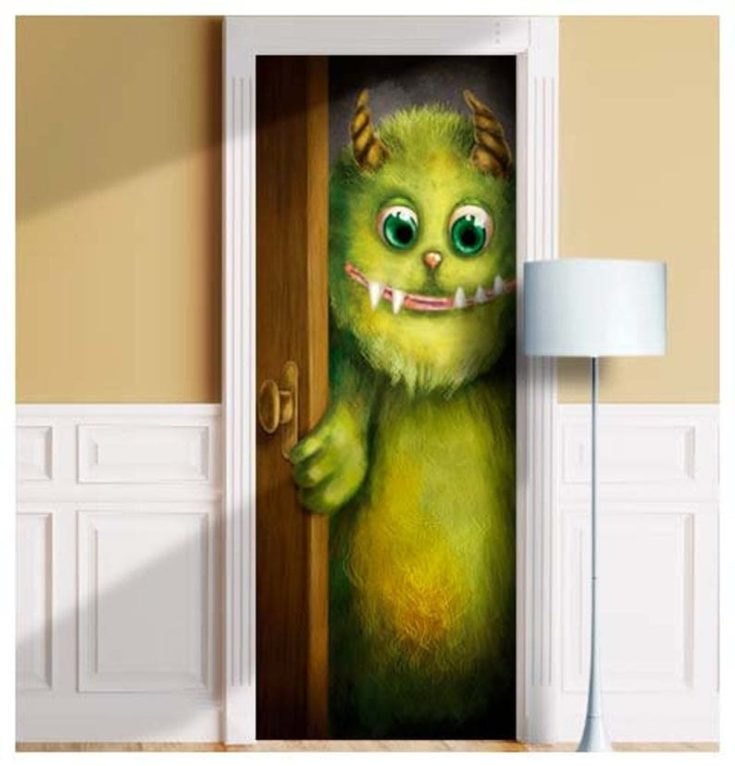 GET ONE HERE
Part monster, part ogre, part troll; this Halloween door mural is inviting and a warning to stay away once stuck in place. Mimicking opening the door for the trick-or-treaters, this easily installed mural is fantastic for quick decoration and a quick cleanup.
Using a special adhesive to avoid damage to any painted surface, peel the stickers off the backing and place them on your door, windows, walls, or even the furniture for a scary surprise!
16. Enter If You Dare
Using a sturdy material like plywood or wooden paneling, create an outdoor Halloween masterpiece that will withstand generations to come. Using stencils, trace out monster eyes and treat on the wood then cut out the images using a saw.
Paint your eyes and teeth then use screws or nails to install this monster face onto the façade of your home for a shockingly good entrance to your Halloween mansion.
17. Made By You
Designed and installed by you, this spin on a classic Halloween monster – Mr. Frankenstein himself, is both inspiring and creative with these Frankenstein door decorations. Using craft or art paper of a green shade for the background hanging; complete your craft with black paper for the hair and then stencil out Frankenstein's eyes and mouth.
Being able to make this decoration yourself definitely adds a twist to this decoration because as the classic story goes; this creation was the mastermind of a human.
18. Fun For The Kids And The Adults
Ask your children to help create a monster on their bedroom doors with some simple craft supplies and a lot of imagination. Using stencils, paint, and felt along with googly eyes from a craft store; you are able to transform an ordinary door in your home into a masterpiece of a monster's face!
Monster Wreath Ideas
19. Monster Faces
GET ONE HERE
Scary Halloween monster faces? Check. Easy to install and use for decoration in any room? Check. Textured wreaths to add a real-life flair? Check.
Anything you could want in a monster wreath you will find with this Halloween decoration! Multiple colors, workable sizing, and eyes that tend to follow you around the room; you will be loving the addition of these fuzzy monster face wreaths to your decoration pile.
20. Cute Budget Wreath
Don't want to spend a large amount of money on your Halloween decorations because you are only going to use them for a child's party where there is a chance that they could be damaged? How about a Halloween decoration that is not only creepy but easy to make with a downloadable tutorial? Then you want to check out this wreath for Halloween with its creepy bloodshot eyes.
21. Visual of a Monster
If you're the type of person that finds a visual tutorial is better when it comes to making your own arts and crafts; then check out this video. You will learn how to make a monster face wreath for your door and it's that easy – you can even get your kids involved. You are the master of the monster and you are free to choose your own colors, googly eyes, the shape, and length of the teeth. Make them in different colors and sizes for a truly unique Halloween decoration.
22. Classics
GET IT HERE
Want to incorporate a touch of a classic into your Halloween decorations? How about a wreath that can be used for both Halloween and Christmas décor? Not sure how that is possible? It is when you use the classic Grinch for your monster face. This wreath meshes together the colors of Christmas with a classic character whose sinister grin makes him a perfect fit for Halloween scariness as well!
23. It's All in the Eyes
Creepy yellow eyes that follow your every move, classic dark décor for Halloween shenanigans and an easy tutorial that you can follow in a snap. That is what you will find when it comes to this Halloween wreath. Strategically place the eyes all over the wreath so no matter where your visitors on Halloween night are, eyes are on them! Just the thought is enough to send shivers down your spine.
24. Christmas VS Halloween
GET ONE HERE
Remember the argument about how certain movies are either Christmas movies or Halloween movies? Well, one movie that is truly a mesh between the two holidays is The Nightmare Before Christmas and with this wreath; you invoke the classic trash monster with his gleaming white teeth, festive coloring, and snazzy bow. This wreath can be left up after Halloween as Christmas décor or you can choose it for one particular holiday only – he's that versatile.
25. Foraging Design
Easy to make with items that are found at both your local craft store and your backyard; this pinecone monster wreath has googly eyes that jiggle with the slightest movement, gleaming white teeth that end in sharp points, and a sturdy construction that means not only will this decoration be cheap to make – it will last for years to come! Missing part of the wreath after a couple of years? Simply paint up some new pinecones and get that hot glue gun warm to fix.
26. Green with Envy
GET IT HERE
You're a mean one, Mr. Grinch. He was a mean one until the day his heart grew in size but with this Halloween wreath; he is still sporting his classic sinister and greasy grin. With those yellow, knowing eyes watching the little trick or treaters coming up the front pathway; he's scary enough for Halloween but also a character that people of all ages will enjoy seeing during this scary night. The layers of green tulle give this wreath a textured and big appearance, so it is perfect for the front door, front of the patio, or even at the entrance to your driveway on Halloween night.
27. Child's Play
Not all Halloween decorations have to be scary but instead, they can be child-friendly and soft. This tutorial teaches you how to make a fuzzy, cushiony Halloween monster wreath with googly eyes of differing sizes, a stencil of a spider web, and bright colors that are perfect for your younger children's bedroom door. The best part about this monster wreath? It's 100% DIY so as long as you pick up the supplies.
28. Speedy Decor
Ten minutes and you have a Halloween wreath worthy of a catalog? Ten minutes and you make it completely yourself from items found around the house? Where do we sign up?
With this online tutorial, you are the mummy maker. Using a white fabric (such as muslin or cheesecloth), duct tape, and googly eyes with a circular base; you are in business to make a creepy but easy mummy wreath for your front door!
29. Worthy of the Pumpkin King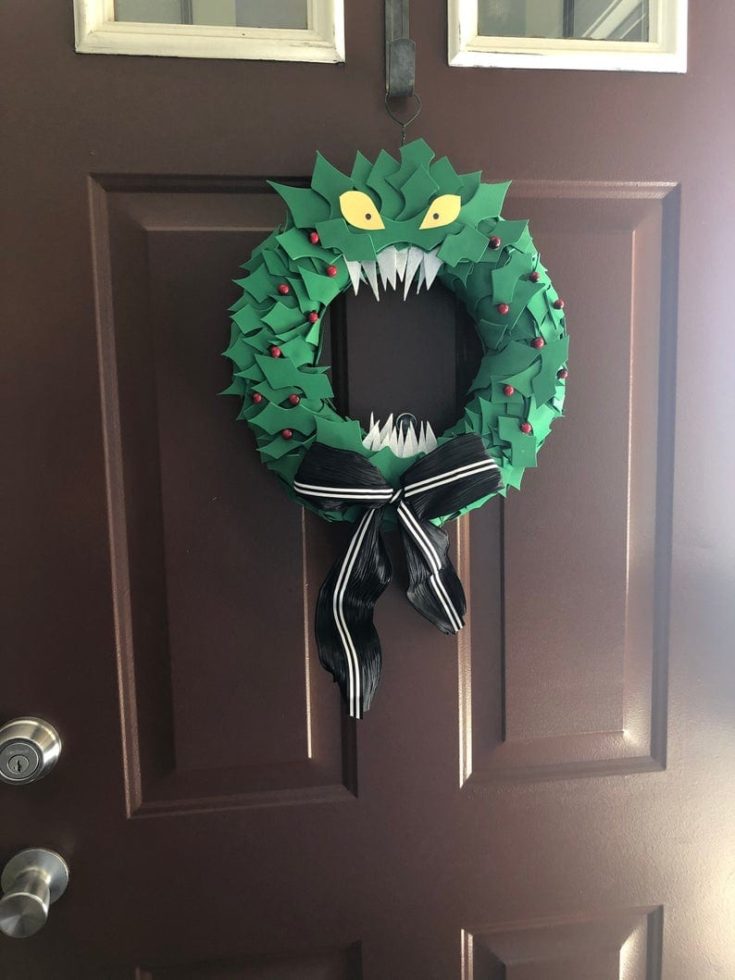 GET ONE HERE
Handmade and inspired by the classic tale The Nightmare Before Christmas, this foam, ribbon, and wire wreath is perfect for Halloween night. Simply hang it using a wire hanger or wreath hanger with the attached wire loop for hanging and you are in the candy-handing out business. The foam is treated for the outdoor elements and the treatment also helps it maintain its shape.
30. Eerie and Beautiful
Sinister, black, and invoking the elements of the fall season with dyed leaves, sunflowers, and branches; this wreath strikes the perfect chord between the beauty of the season and the creepiness of the holiday. With its black tulle base and eye-catching design; you will not be sorry for downloading and completing this Halloween decor wreath! Bonus fact? When someone asks, where did you get that? You can say you made it with your own two hands!
31. Mind Your Manners
CHECK PRODUCT
A little silly, a little scary, and with impeccable manners; this Halloween wreath is a combination of all three. With the waving arms greeting those little trick-or-treaters on their big night, the tufts of white tool bringing forth the spirit of the holiday, and the laughing face sticking out its tongue, this wreath is the perfect addition to your Halloween house. You only need a wire hanger or a wreath hanger to secure the built-in loop for hanging.
32. A Tim Burton Best
There is something about The Nightmare Before Christmas that makes you watch it during both occasions isn't there? Director Tim Burton had a massive hit on his hands without even realizing it and this DIY wreath tutorial brings forth all the elements of the film that made it so.
Easy to make in your own kitchen with supplies from your backyard and the local craft store; you will be the proud and accomplished owner of this wreath in no time – the best part? It's a video tutorial so you are able to see someone else completing the steps and you have the option to pause it if need be!
33. Style on a Budget
A little bit of Christmas is around the corner but first, you have to make it through Halloween, a little bit DIY to get those creative juices, and a little bit cheap to make without looking like it; this wreath is able to transcend seasons and the holidays with ease. The same ease that you will find during the tutorial for making it.
34. Creepy Cyclops
AVAILABLE ON ETSY
Ever notice how that one-eyed monster in Halloween movies and kid's movies is always the creepiest in a way? How that massive eye tends to see everything and follow your every move which gives you these cold shivers down your back? Then check out this wreath for Halloween night that will make you feel that each time you walk up to your front door!
35. Slithering Style
Slithering snakes running over anything and everything in their path. Makes you shudder a little but with the thought of it, doesn't it? If so? You want to check out this online tutorial for making your own slithering snake wreath with different size creatures. The tutorial sprays their snakes all one glittering, shimmering color but as with any DIY project, the final decisions are yours so this snake wreath? Will truly slither into Halloween with style.
Conclusion
Are you now inspired for your Halloween decorating adventure? Do you have a pocketful of ideas for Halloween monster décor to whip out next? Well, hopefully this was both inspiring and thought-provoking for your next Halloween party and that you will choose a monster theme!
If you enjoyed this list and you want to share it with your family and friends or your decorating partner, then please do! Have you come up with a twist on the Halloween monster décor idea that was a hit at your last Halloween party? Then let us know in the comments below!