Looking for your next woodworking?
For many people, walking sticks are essential mobility tools that can develop tremendous personal significance with repeated everyday use. Wooden walking sticks, in particular, are often adorned with ornate patterns and carvings that hold sentimental value and make great family heirlooms. They also happen to be one of the most popular projects for new woodworkers!
If you're looking for a wood-burning project that can be personalized, passed down for generations, or simply given as a thoughtful gift, then check out this roundup of 9 beautiful walking stick wood burning designs that you can try at home.
1. A Swirling Floral Pattern
Floral patterns are commonly used in walking sticks made for hiking and other outdoor activities. This wistful floral design is perfect for any outdoorsy person with a sense of wanderlust.
The light holly wood contrasts beautifully with the engraved design, helping to bring out every element of the intricate, swirling detail. The pattern is both elegant and natural, combining durable functionality with an implicit call to the outdoors.
Get One Here
2. Or This Colorful Meta-Design
I love this colorful, tongue-in-cheek design that features cartoon people using their very own walking sticks.
You can easily re-create your own version of this cane using simple acrylic paints and some varnish. You can even play around with the cartoons by incorporating famous television and movie characters who used canes, like Charlie Chaplin or Nanny McPhee.
3. The Transformed Broomstick
We're loving this DIY tutorial for making a walking stick from an ordinary broom handle. The black stripes and carved floral details with bead inlay prove that mobility devices do not have to be ugly to remain functional.
If you enjoy DIY crafts and aren't afraid to get your hands dirty, then this is a great upcycling project to try.
4. A Simple Message
If you're less creative or just looking for something a little bit simpler, then a heartfelt message is a great alternative to carving out a decorative pattern.
Even beginner woodworkers can easily engrave monogram initials, names, and inspirational messages into a rustic wooden walking stick to give it that added personal touch without detracting from the wood's natural beauty.
Check The Price
5. Freehand Nature Patterns
Leaves, trees, and flowers are all great designs for beginners because they are so easy to draw and don't require any sketching or drafting. All you need is an engraving pen, and you can immediately begin freehanding your own nature-inspired images.
You can even try using rose petals or rich soils as a natural wood stain, giving your stick a truly rustic finish.
6. Medieval Runes
This design is perfect for fantasy lovers. If you're planning on dressing up as Gandalf for Halloween, or just want to give your walking stick a centuries-old feel, then engraving a pattern of alternating runic letters is a great way to achieve a truly authentic looking piece.
You can even make this pattern your own by carving a medieval oath, alchemy potion, or magical spell into the staff.
7. A Butterfly Design for Children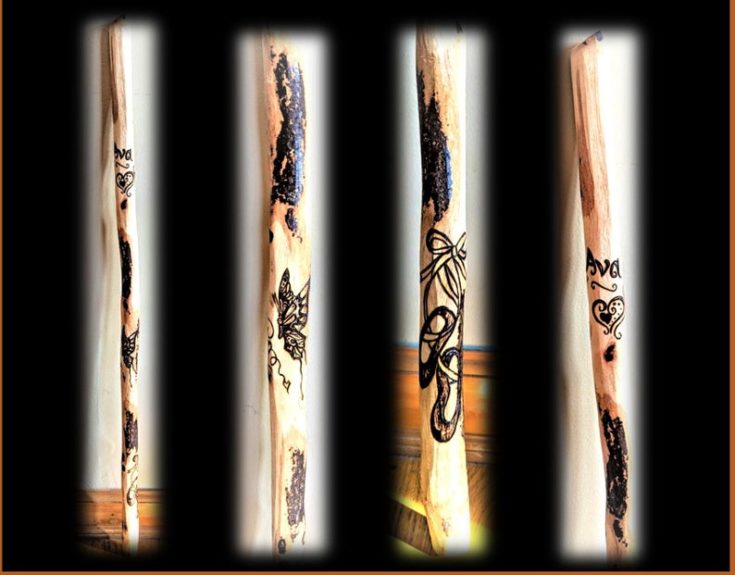 Walking sticks can also make wonderful gifts for children. This design incorporates a detailed line drawing of a butterfly, adorable heart shapes, bows, and a little child's name.
If you're a family that enjoys the outdoors, then consider a design that is personalized with your child's favorite animal or cartoon character to help inspire them to get outside!
Available on Etsy
8. A Fractal Burned Design
Fractal burning is a special burning technique that uses high-voltage electricity to create spontaneous designs in the wood. The electricity results in a series of Lichtenberg figures, or fractal burns, that look like interconnected lightning bolts or tree roots with hundreds of spindly offshoots.
The process is simple and makes use of the natural properties of the wood. Just be careful when working with high voltages.
9. The Place-Inspired Traveller's Stick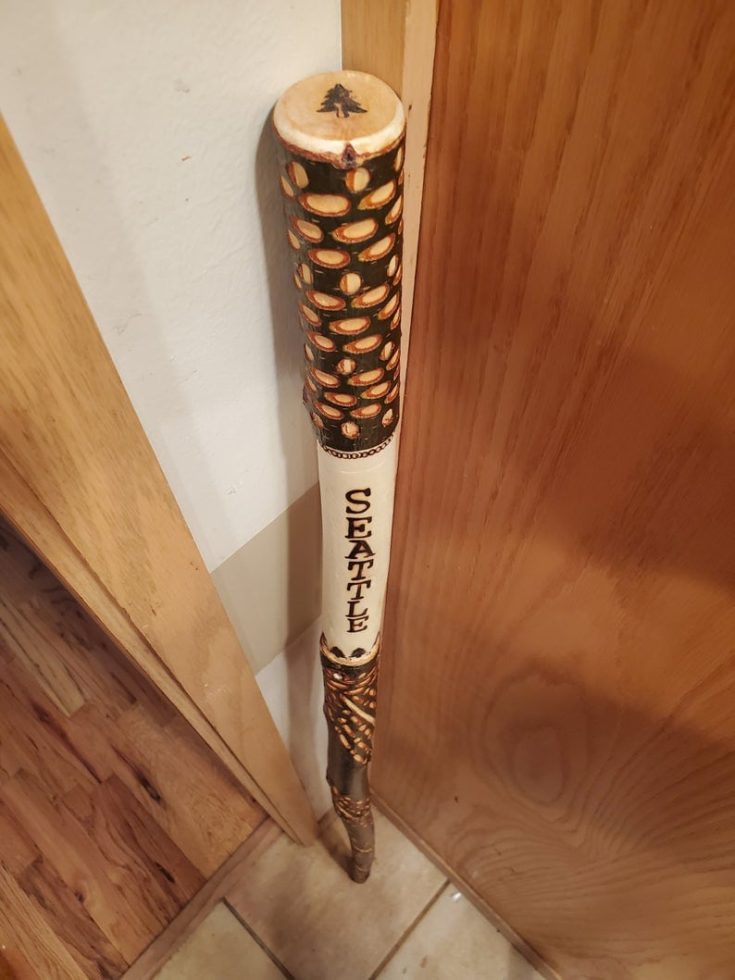 This design serves as a traveling reminder of home, featuring an engraved place name and geographical motifs. Travelers and backpackers will love being able to take their hometown along for the journey.
This design also utilizes the color and thickness of the natural bark to create textural details and depth, making this more of a mobile art piece than a wooden stick.
View Product
Conclusion
Whether you're just looking for a new woodworking project, or you want to add a little bit of excitement and fun to otherwise functional mobility support, these wood burning ideas for walking sticks are a great place to start. You can replicate these designs at home or draw on them for further inspiration!
Did you enjoy this list? Let me know what you thought in the comments and be sure to share this article with any avid woodworker!
Want more free patterns? Great!