Looking for ideas for your next pyrography art project? Floral designs are some of the most popular when it comes to woodburning patterns. Not only do they enhance the rustic feel of the natural wood, but they also add softness and charm to the rigid surface.
There are a number of different ways to incorporate flowers into your pyrography work, whether as a repeating symbol in a pattern or as a stand-alone piece. We've put together a list of 11 gorgeous woodburning flower patterns that are suitable for a wide variety of projects and simple enough that even beginners can easily try them at home.
1. Poppies on Pyrography Paper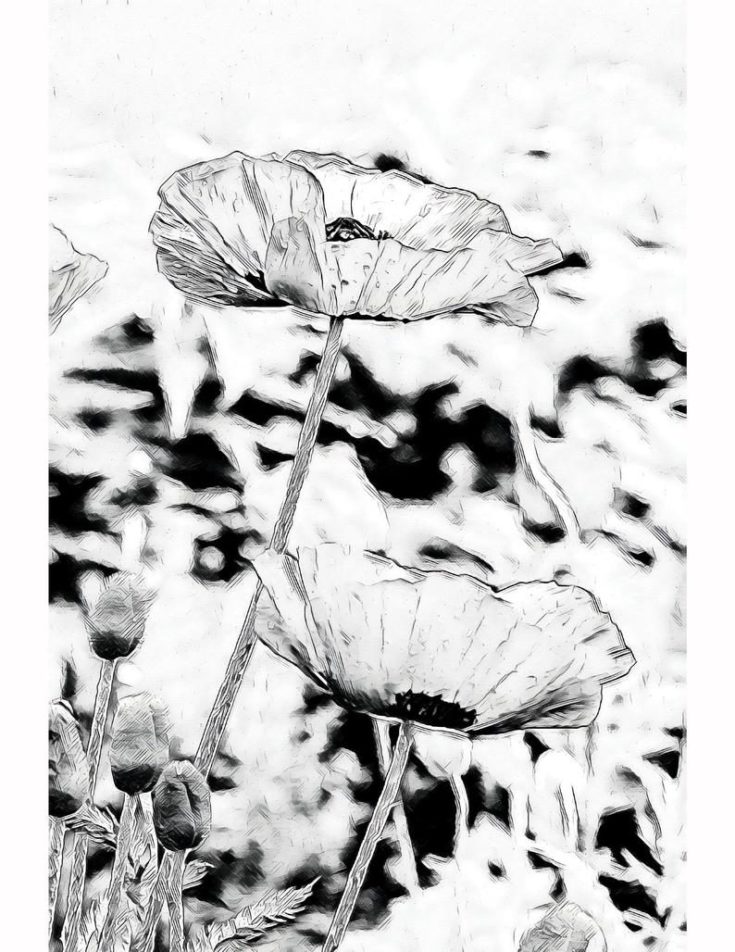 Check Product
This beautiful poppy pattern is modeled off of a real photograph and printed on pyrography paper. The special paper allows you to tape the pattern to the surface and burn directly from the stencil, eliminating the need to transfer the design using graphite paper.
This technique allows you to achieve highly realistic burnings with the same level of intricate detail found in real life.
2. A Simple Valentine's Day Crest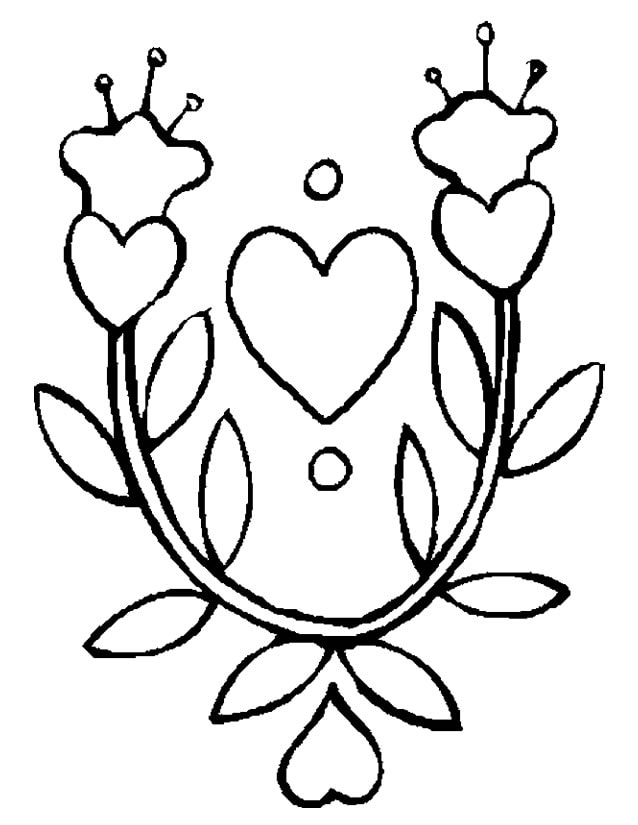 If you're an absolute beginner, this simple floral crest motif is a great choice for your first project and a wonderful gift to give that special someone on Valentine's Day. The design doesn't require any shading or specialized techniques, making it the perfect option for first-time woodburners.
You can make the project your own by repeating the flower and heart shapes or by adding a message of love to celebrate Valentine's Day.
3. These Vintage Rose Buds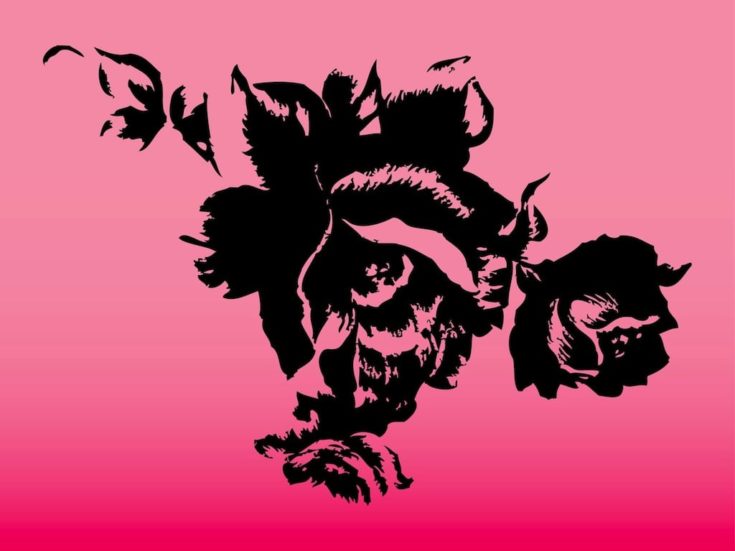 Roses are always a great option for pyrography art. These vintage roses feature uneven edges and high contrast buds that contribute towards a grunge-rock, retro feel. This pattern is great for gifts, mementos, and home decor pieces.
If you're looking for a design that will really pop on light-colored wood, then these silhouetted rose buds are a fantastic choice.
4. This Realistic Blooming Rose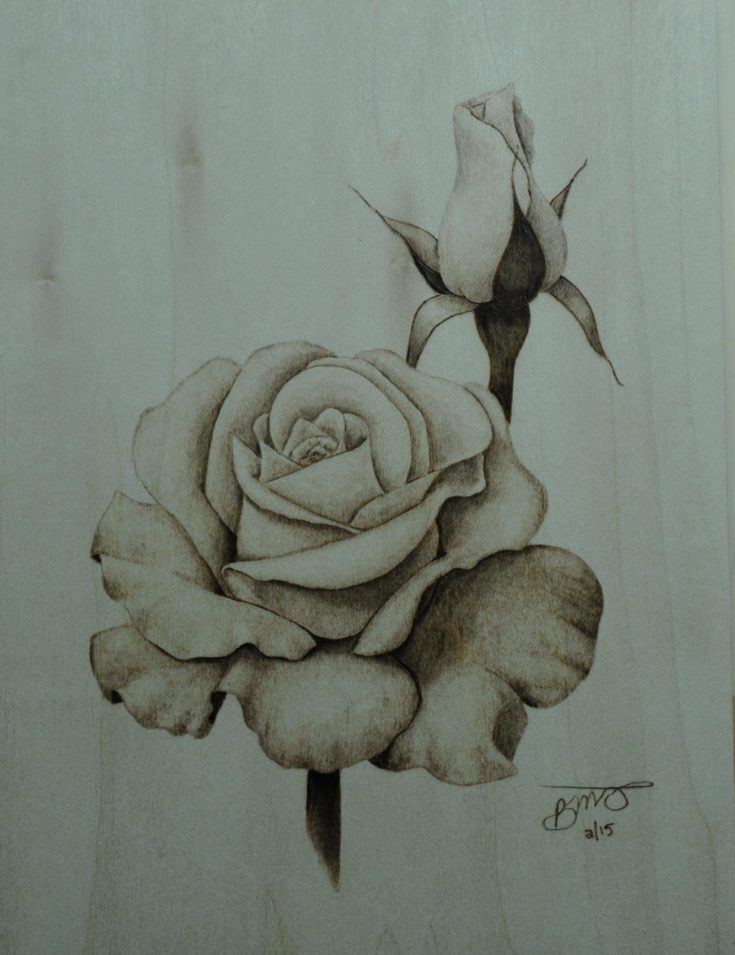 If you're looking for something slightly more challenging, then this photo-realistic blooming rose is perfect for you. The outline of the design is simple enough that even beginners can burn it, while the rose's photo-realistic beauty comes from highly detailed layers of shading.
This pattern is a great opportunity to practice your technique on a larger scale art piece. When you're finished, add a sweet message at the bottom to turn the final result into a beautiful and romantic gift.
5. A Floral Wallpaper Pattern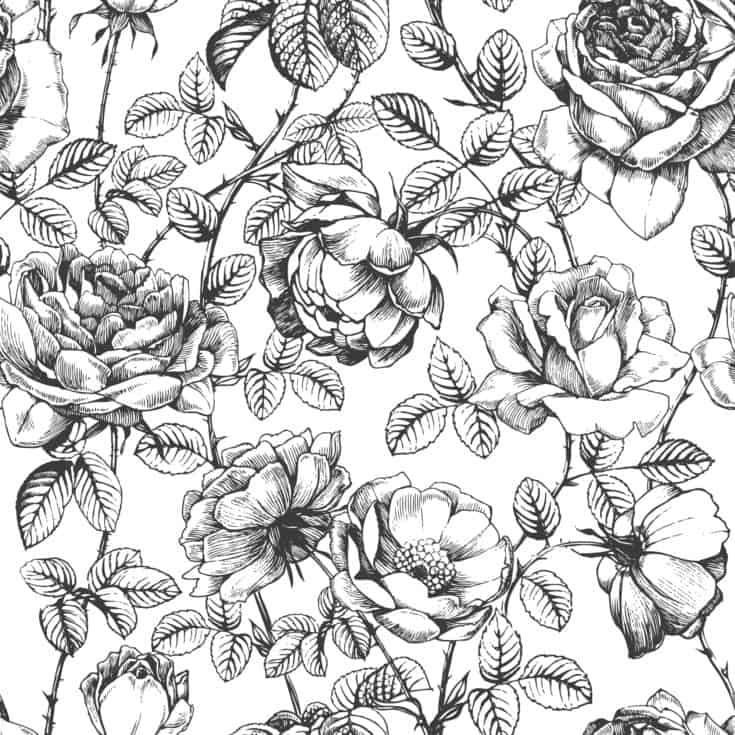 GET IT HERE
One of the great things about pyrography is that you can turn almost any image into a pyrography stencil. If you're looking for a pretty design you can burn onto wooden signs, chests, or home decor pieces, then try using a floral wallpaper pattern.
Wallpaper patterns are great source material for pyrography because they feature interesting combinations of shapes and shading. We love this black and white pattern from depositphotos, which features a variety of different flower types with finely detailed lines.
6. Swirling Flower Doodles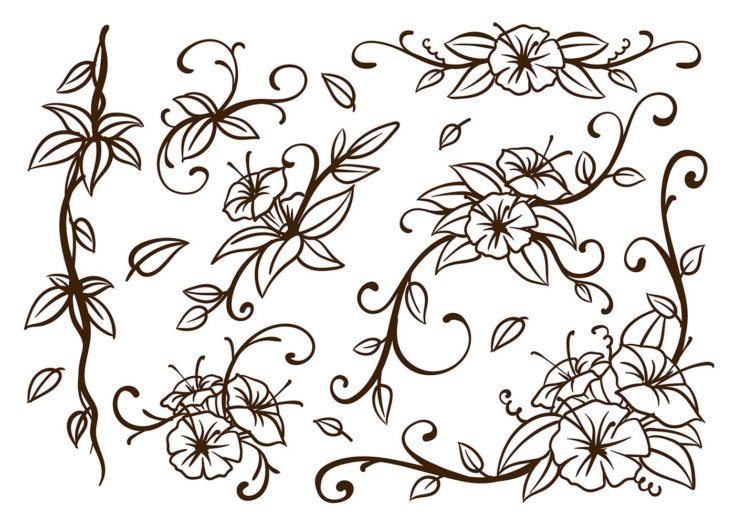 These simple flower doodles are a great option for beginners and experienced pyrography artists alike. The swirling stems and minimal hibiscus flowers give off a hippie vibe that is perfectly suited for walking sticks, furniture legs, and cutting boards.
You can also combine this design with your own freehanded doodles to further emphasize the spontaneous and free-flowing aesthetic.
7. This Artistic Flower Graphic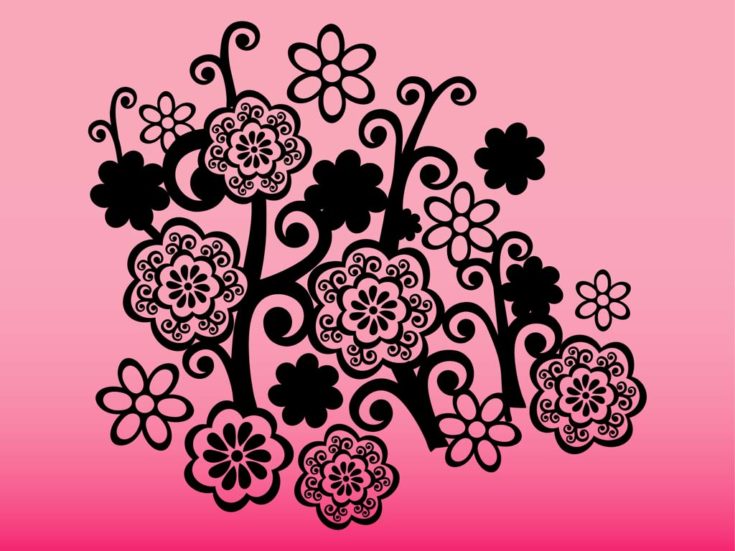 This artistic design draws from the swirling symbols and motifs present in mandalas and other geometric patterns. The flower buds are made from repeating crescents and swirls, which are offset by dark floral contrasts and well-defined swirling stems.
This is another design that lends itself well to freehand drawing and improvisation.
8. A Simple Rose Icon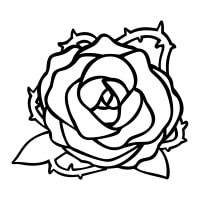 Not every pyrography project has to be tremendously detailed or large in scale. This simple rose icon is the perfect pyrography design for miniature projects like key chains, trinket boxes, and drawer knobs.
You can also recreate the design on a larger scale and create interest by adding in your own texture, shading, and fine details.
9. This Abstract Flowers and Birds Design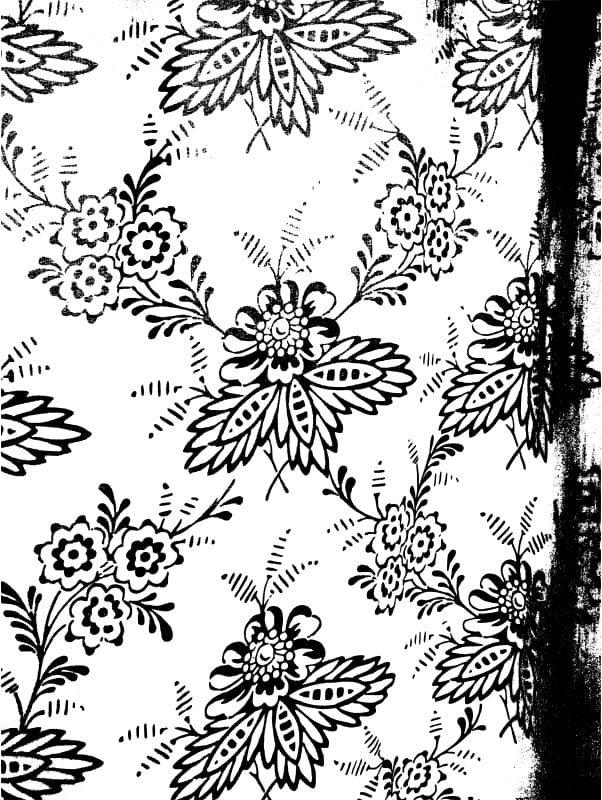 This abstract pattern was inspired by flowers and birds. The stems and leaves resemble the intricate mosaic of interlocking feathers, while the flower petals feature a wide variety of shapes and contrasting values of light and dark.
Nature lovers will adore this beautiful pattern, and the minimalist shapes are well-suited for beginners.
10. A Simple Floral Silhouette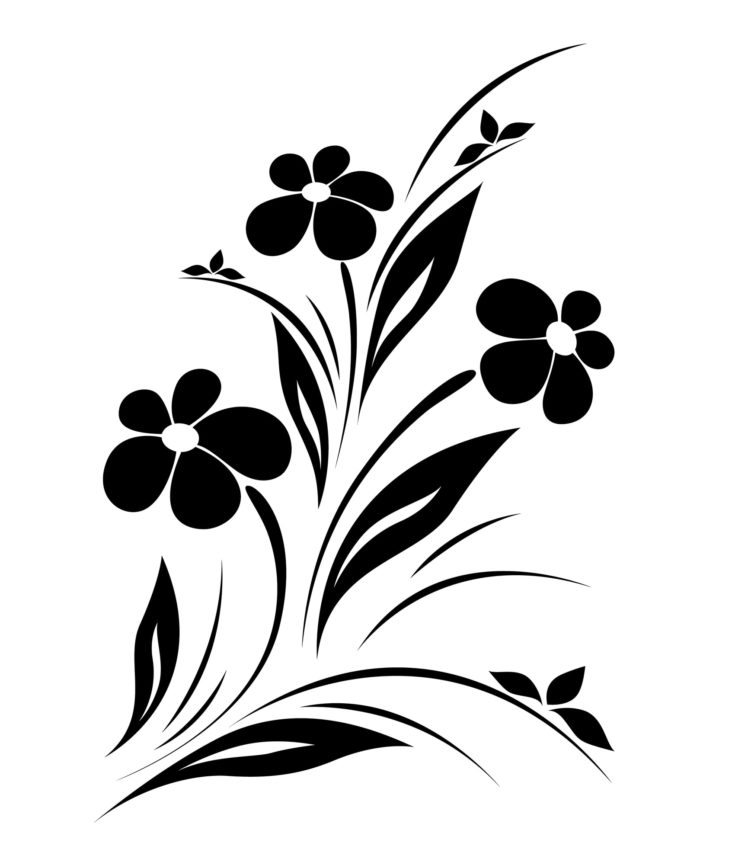 GET IT HERE
This simple floral silhouette from depositphotos is a great option for large scale projects and display pieces, as the thick shapes and intentional use of negative space make for a great deal of contrast when burned onto the wooden surface.
The simplicity of the design also lends itself well to decor items like home signs, display chests, and furniture pieces.
11. Heart-Shaped Flowers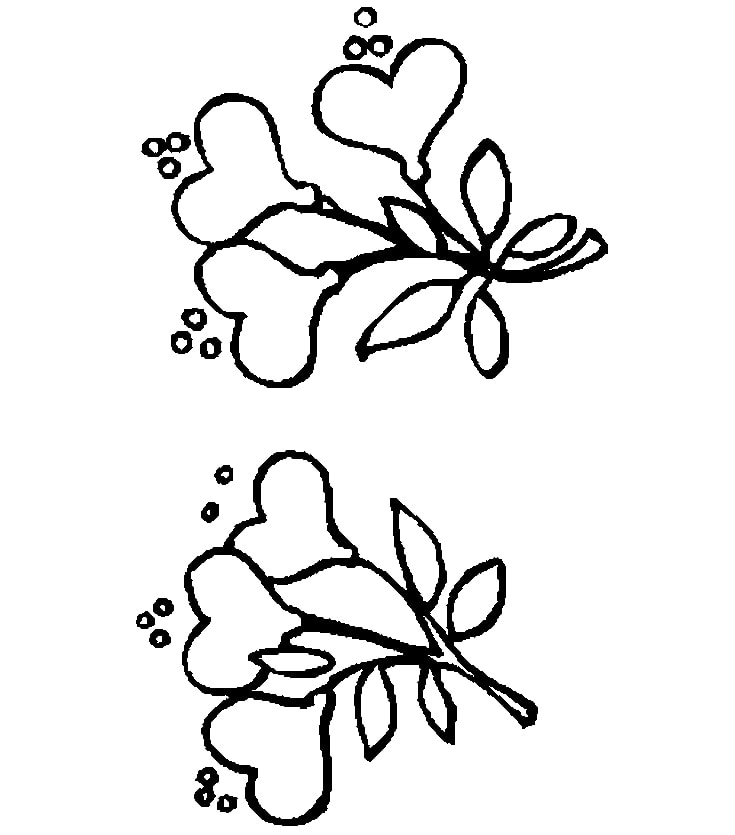 Another great place to look for new woodburning patterns is in the pages of a coloring book. Coloring templates make great pyrography designs because of their clearly defined outlines and opportunity for creativity in the form of shading and textural effects. These simple heart-shaped flowers are very easy to burn and can be stylized however you like, making it the perfect gift to give your loved one on Valentine's Day.
Conclusion
There are lots of different ways to use flowers in your woodburning projects, whether as a photo-realistic focal point or as a series of repeating motifs and shapes.
One of the many benefits of pyrography is that you can look for stencils and patterns in all sorts of places, whether it's in the pages of a coloring book, in patterned curtains or fabrics, or photographs. If you're not sure where to start, then try one of these gorgeous flower patterns, all of which are simple enough for beginners to easily recreate them at home.
Did you enjoy this list? Let me know what you thought in the comments and be sure to share this article with any avid pyrography artist!